What is keyword search volume?
Keyword search volume represents the number of searches for a particular keyword during a selected time frame. The number of searches is usually an average value. The most popular metric is the average monthly search volume. It's used in Google Keyword Planner and many keyword research tools.
As for an SEO person, the keyword search volume is one of the most important metrics. It helps to estimate the website traffic potential when optimizing for keywords.
However, many SEOs still tend to base their keyword research solely on this metric. Yes, it truly is an important value, but not the only one you should focus on.
How is keyword search volume calculated?
In general, there are two main sources for gathering the keyword search volume
Google data
Clickstream data
Google search volume
The search volume as we know it is calculated by Google. Most of the keyword research tools used to display exactly the same data as Google Keyword Planner.
In 2016, many of them got spoiled because Google stopped showing exact search volumes to users who didn't spend enough money in Google Adwords.
Another important factor which influenced the data is the keyword clustering, also called as close variant keywords. It means that Google clusters topically similar keywords, especially long tail terms.
Based on this, other tools started showing a bit different data or they use the clickstream data.
Clickstream data
Clickstream data is collected via browser extensions, plugins and other applications that you install on your computer. They request your permission to collect certain data before installing.
The data is then aggregated from all permitted sources and various companies buy it to use further. Moz, Ahrefs and some other SEO tools display search volumes based on the clickstream data.
Google vs. clickstream
Both Google and clickstream data have pros and cons. The biggest downside of Google search volumes is that no one really knows how they gather the data and many SEOs say that they are not that relevant. On the other hand, Google owns amazing data sources.
When it comes to clickstream data downsides, the most significant is that only a small amount of people uses this kind of extensions and apps, so the collected data isn't that reliable.
How to get search volume of a keyword?
You can use Google Keyword Planner if you have access to exact search volumes or one of many tools specifically designed for keyword research. They usually include a lot more data that are vital for SEO.
The most popular keyword research tools are KWFinder by Mangools, the tools by Ahrefs, SEMrush or Moz.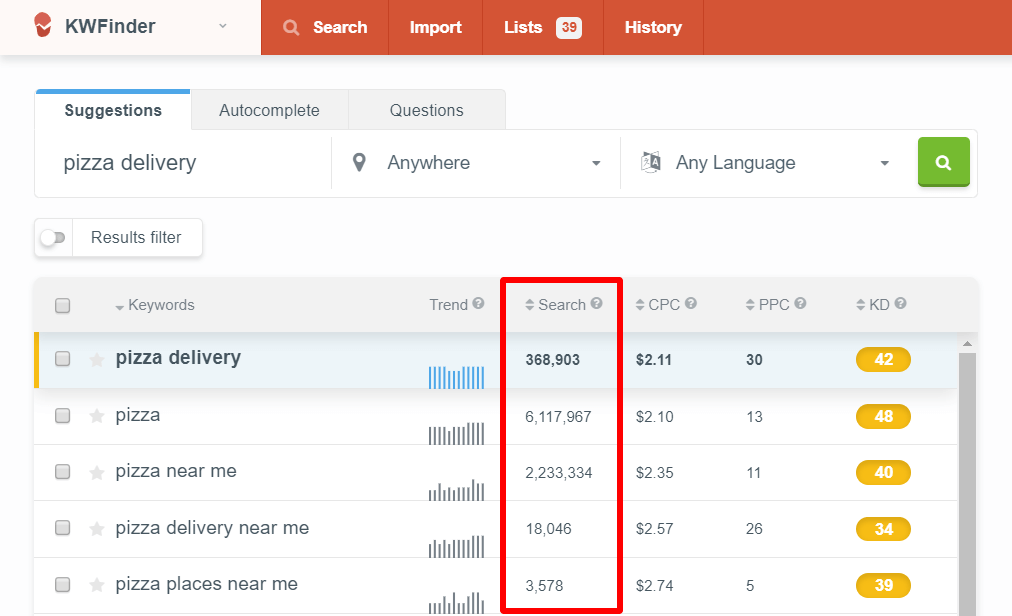 When choosing the right tool, keep an eye on the data sources. There is almost no doubt the search volumes will differ from one tool to another. That's not only because of Google vs. clickstream data. Each tool may post-process the data in a different way.
Quick tip:
Don't become a slave of search volumes. Compare the data across the tools, but focus on the trends and correlation instead of small discrepancies.
If the same keyword has the search volume 10,500 in one tool and 10,900 in another, it's perfectly fine.
Historical search volume
Most of the tools display the average search volume in the last 12 months. In some of them, you can see these search volumes of the last 12 months as an additional information or in a chart.
But if you wanted to see historical search volumes let's say from 2 or 3 years ago, it could be a problem. When the updated Keyword Planner was released, probably the best new feature was the option to see historical search volumes. Depending on the keyword, there are search volumes from 2014.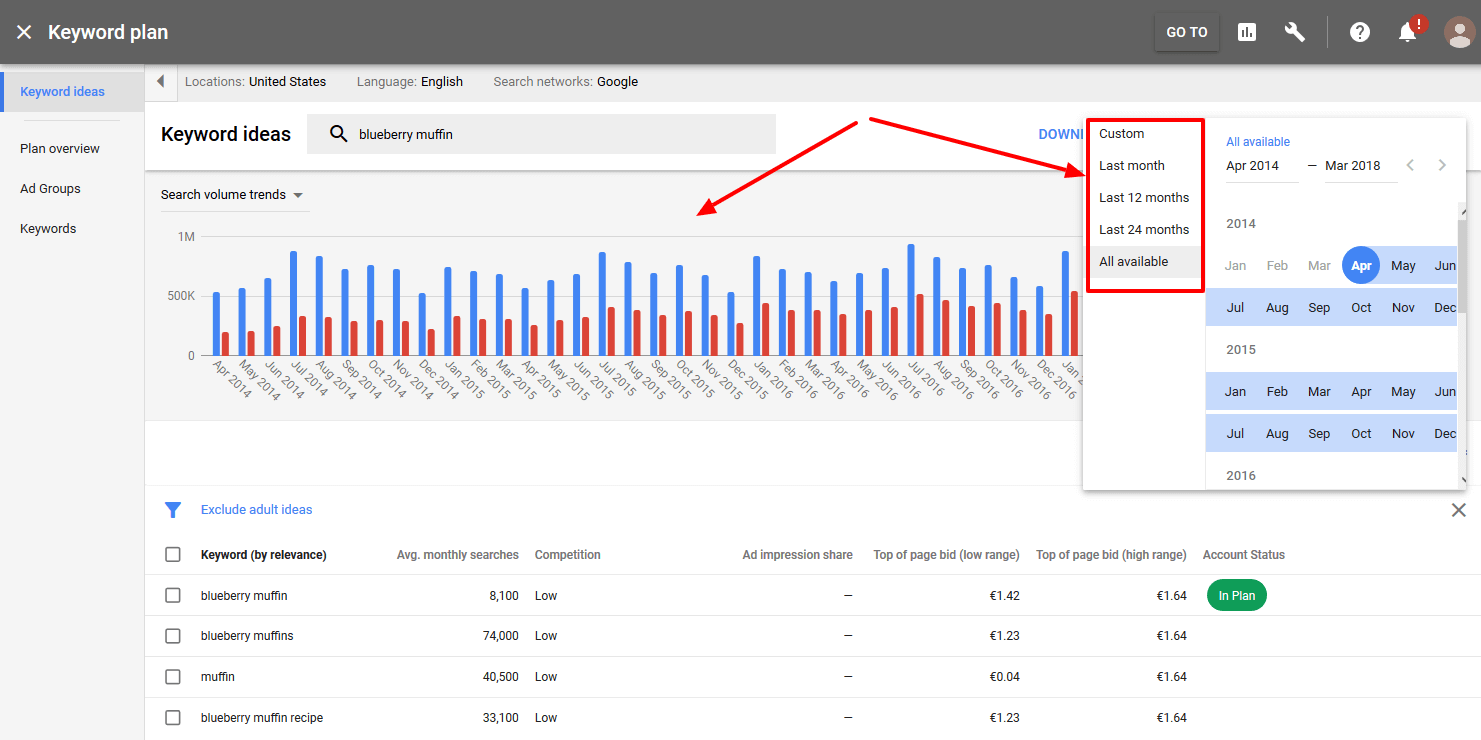 In case you are not eligible to see the exact search volumes in Keyword Planner, you can try other tools with historical search volumes. This is an example from KWFinder: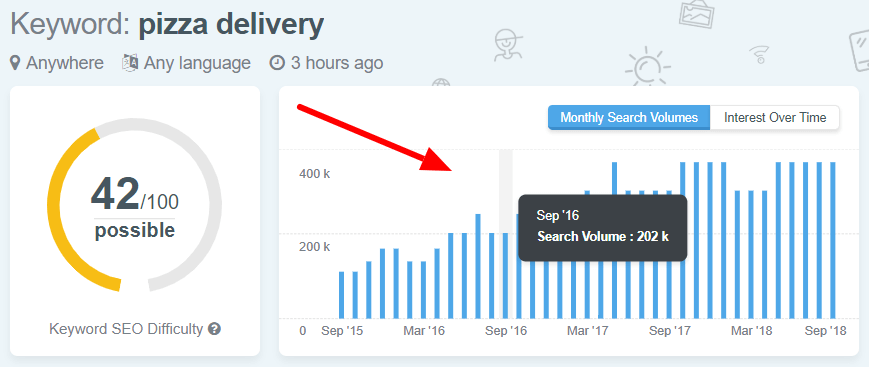 Search trends and seasonal keywords
Search trends are great to identify the overall popularity and seasonality of keywords. Thanks to the historical search volumes, you can see keywords with high search volume during a specific time period of a year.
One of the typical examples is "ice cream" which is popular during summer. The search volume can be 2 or 3 times higher than in winter. Similarly, "parka" is 4 times more popular in November than in June.
Besides the historical search volumes, you can use Google Trends to identify the popularity and seasonality with a lot of useful information such as interest by subregion, various time frames or search types.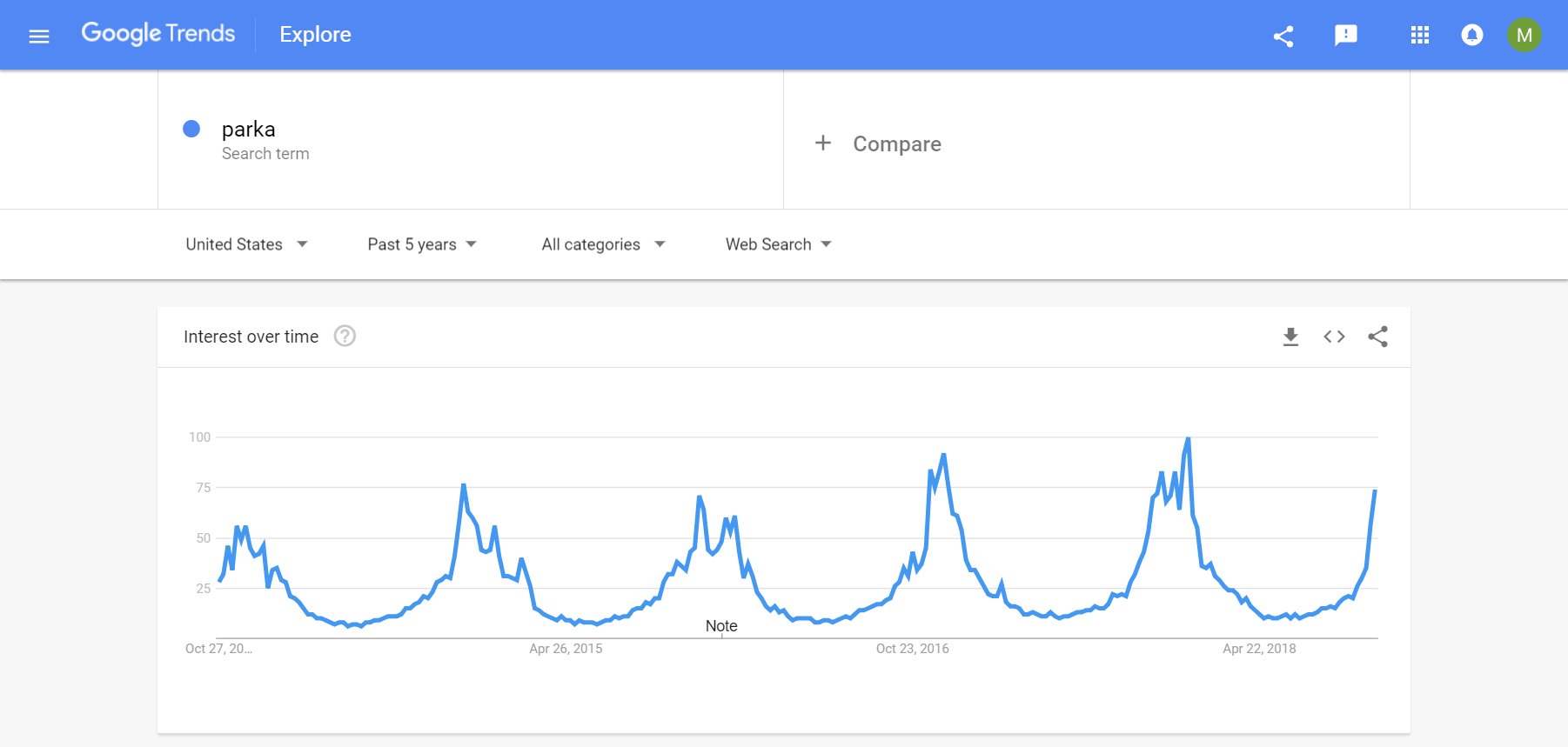 Keyword clustering
Keyword clustering is a technique that Google started to use in order to put topically similar keywords into groups.
From the SEO point of view, keyword clustering makes it harder to get exact search volumes for similar keywords. Sometimes, the keywords are close variants such as "SEO" vs. "search engine optimization".
In this case, you don't need to think which of the two to use in your content. Not being able to see exact search volumes for both is not a big deal because the search intent is identical.
The background of keyword clustering comes from Google Ads as it is a common technique when creating ad groups that contain similar keywords. It leads to better organization, higher quality score and CTR.