Find keywords of your competitors
Competitive keyword analysis is an effective way to discover great keyword ideas with very little effort. You can use it to find keywords your competitors rank for, simply by entering your competitor's domain or URL.
Currently, our competitor-based data consist of:
200 million keywords
258 million domains
34 countries
1. How to start your competitor-based keyword research
The main point of keyword research is to find the most relevant keywords people use in your niche. The option to find keywords that your competitors already rank for is perfect for this.
You don't need to start with the main seed keywords and browse through hundreds of suggestions. In this case, just use the Search by Domain feature in KWFinder.
Enter the domain of one of your competitors and KWFinder will fetch their top ranking keywords.
Let's say you plan to blog about "homemade coffee" and one of your competitors is theroasterie.com. Type their domain in the search form in Search by Domain tab and hit the green button.
In case, you want to target a specific location, select from the countries in the dropdown menu.
The website's rank for different keywords depends on the selected location. Keep in mind that the search volume of the keyword can be 1,000 in one country and 5,000 in another.
Quick tip
Once you pick the keyword from the list, you can switch the tab above the search form to "Search by keyword" and analyze its search volume and SERP for your specific location (let's say, Los Angeles). There are more than 50k locations with local SERPs to select from.
If you pick more keywords, copy them to the clipboard and use the bulk import feature while selecting the desired location.
Depending on the number of keywords the domain ranks for on the 1st SERP and on your subscription plan, you will see up to 2000 keywords.
The bigger the competitor is, the more keywords the domain ranks for.
Try KWFinder now
Reveal competitor's keywords with one click.
2. Narrow down your research with exact URLs
In many cases, the keywords that the root domain ranks for are not exactly the kind of data you are looking for.
Let's review theroasterie.com. This domain ranks for keywords such as "arabica coffee", "roastery coffee" and some other terms that are not that relevant since we plan to write a specialized blog post about "homemade coffee".
That's why analyzing the exact URL such as theroasterie.com/blog/diy-coffee-how-to-make-the-best-homemade-latte/ is the right input for our keyword research.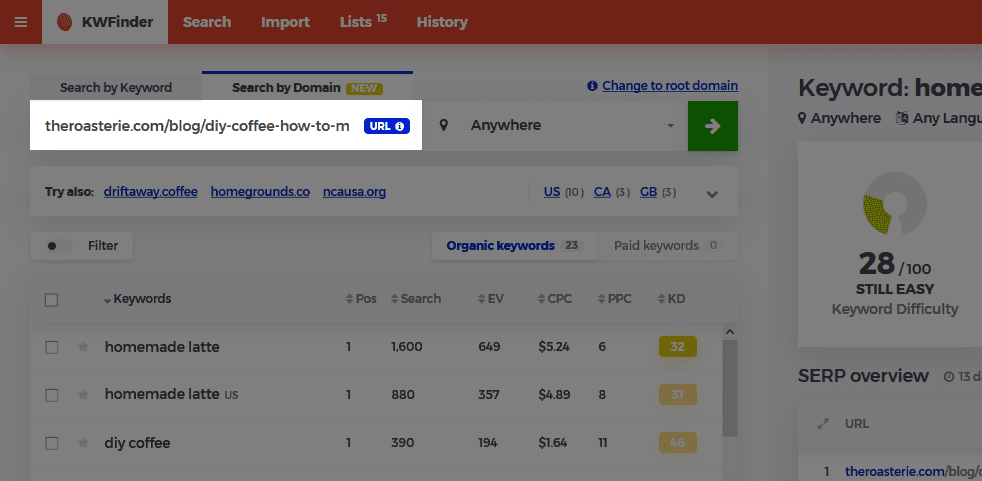 Among other relevant terms, the URL ranks for "homemade coffee". Exactly what we are looking for!
3. Optimize your content for the most relevant search terms
The competitor-based keyword research in KWFinder gives you the most relevant keywords thanks to:
Top keywords your competitors rank for
The highest organic position reached for each keyword
Top paid keywords the domain is advertised for in Google Ads
The Estimated Traffic per Month based on the search volume and the organic position
Exact search volumes, historical search trends, CPC and PPC
The most accurate Keyword Difficulty
Immediate SERP analysis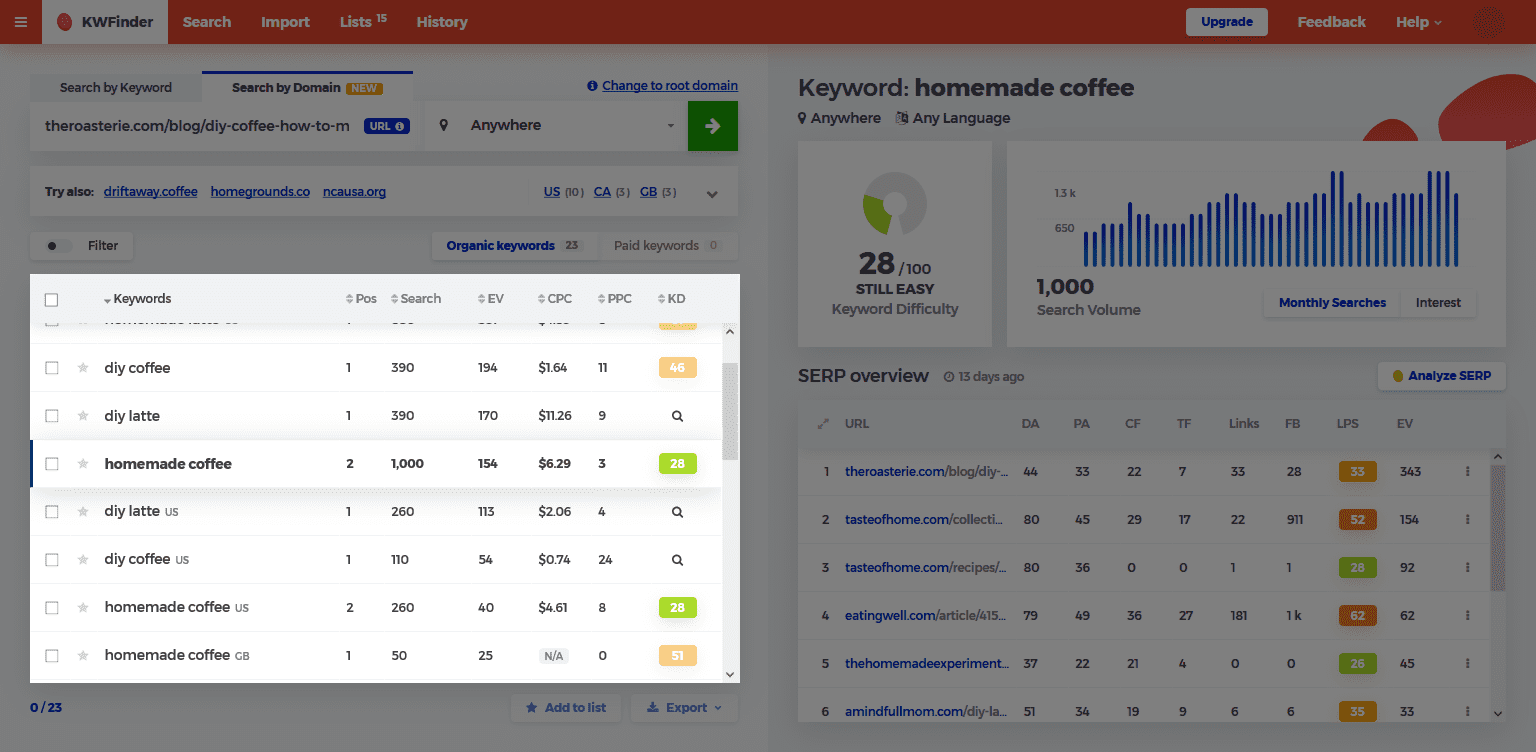 This feature makes Mangools and ideal alternative to Ahrefs or SEMrush.
4. Pick keywords that you can really rank for
Once you explore the keywords of your competitor and analyze the search volumes and historical trends, it's critical to pick the ones you can really rank for.
The Keyword Difficulty is a metric that will inform you about this by estimating how hard it is to get on the 1st SERP when optimizing for that particular keyword. It's on a scale from 0 to 100.
When we get back to our example, the Keyword Difficulty will tell you how hard it is to rank on the 1st SERP together with "theroasterie.com". Don't forget to use the Filter to get rid of keywords with high difficulty or low search volume.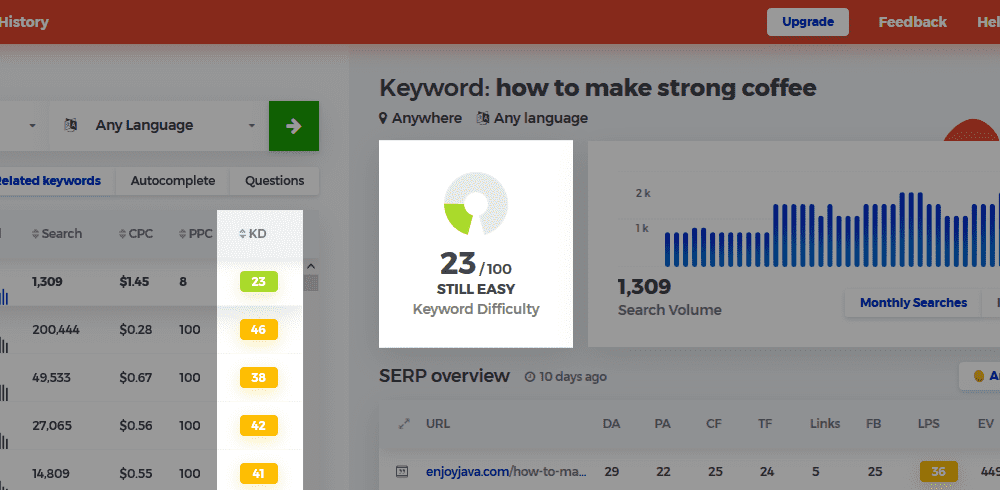 5. Find new competitors and their keywords
Once you finalize the list of keywords you plan to optimize for, save them to a keyword list and continue with the analysis by spying on other competitors.
Find more competitors
You don't have to know all of your competitors! Based on the original domain or URL and keywords it already ranks for, KWFinder suggests other competitors you might have missed.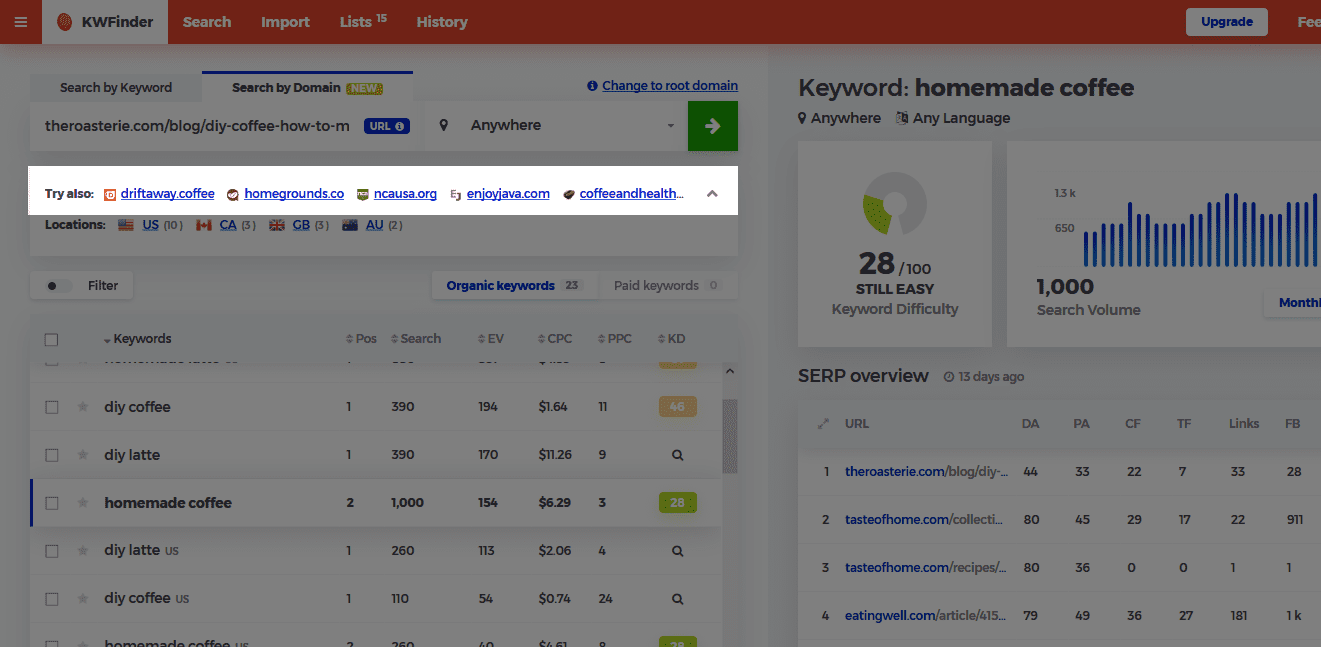 Analyze them and find new super relevant keywords. Or you can expand the competitor research in SiteProfiler to analyze the SEO and popularity metrics, website traffic, top content, backlink profile and other useful information to get a detailed view of your competitor. SiteProfiler is part of the Mangools SEO package.
Likewise, you can find keywords of competitors that are in the SERP table. These options will help you find a lot of keywords that you should start optimizing your website for.
Reveal competitor's keywords
Find the most relevant keywords and profit from them.