The no. 1 Keyword Planner alternative
Get exact search volumes, not useless ranges. KWFinder is the ultimate keyword research tool.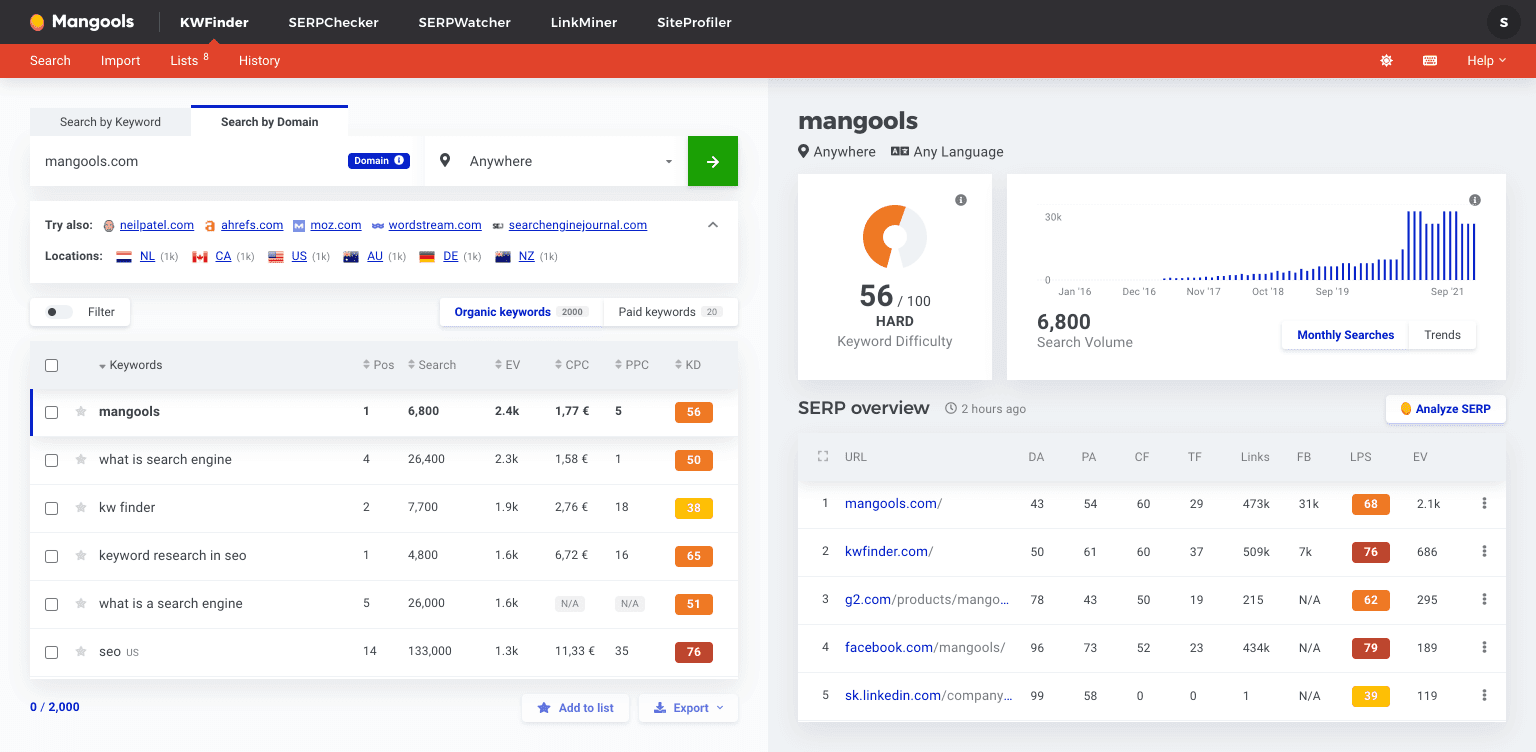 Get exact search volumes, not useless ranges
Are you tired of Google Keyword Planner search volume ranges? With KWFinder, you will get exact search volume data for any of the keywords. The Keyword Planner stopped showing exact data in 2016 for users who don't spend enough money on their ads.

So why would you spend additional money and the only outcome would be exact search volumes? How about having exact search volumes and features of one of the most popular keyword research tools on the market?
You can test them all by doing your first keyword request. This is what you will get:
Exact search volumes even for close variant keywords
Historical search volumes and Google trends charts
Average CPC and the level of PPC competition
The most accurate keyword difficulty score on the market
Google SERP analysis with valuable SEO metrics
Unlimited keyword suggestions (depending on your subscription plan)
Try KWFinder now
Get hundreds of keyword ideas with all SEO data with one click.
The most accurate keyword difficulty and SEO metrics in one click
When you do keyword research, you need a lot more data than the exact search volumes. The mentioned features are all available by doing just one search request.
The keyword difficulty is a major keyword research metric. It estimates how hard it is to rank on the 1st SERP for the keyword. The higher the value, the harder it is to compete with websites on the 1st SERP using that keyword.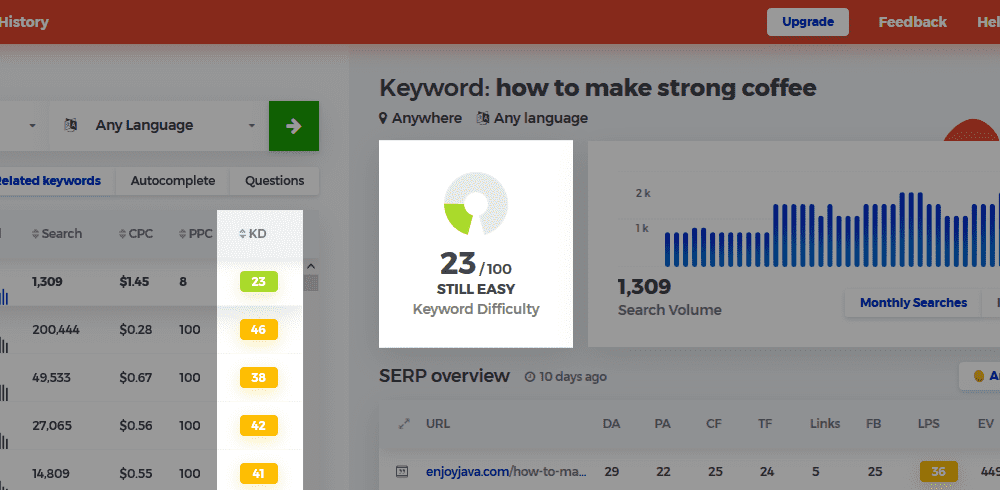 Don't get fooled by the "Competition" score in Google Keyword Planner. Many people think it's the SEO competition score but that's not true. The competition in GKP is a level of competition in Google Ads. The value doesn't represent how hard it is to rank in organic search results for the keyword.
When it comes to other SEO metrics, you will find them in the right part of KWFinder's screen. Historical search volumes and search trends from up 2014 will help you to find seasonal keywords so you can prepare your content on-time.
Then there's the SERP analysis that helps you to identify whether you picked the right keyword or not. It means you can see the authority and popularity of URLs in the 1st SERP - your competitors.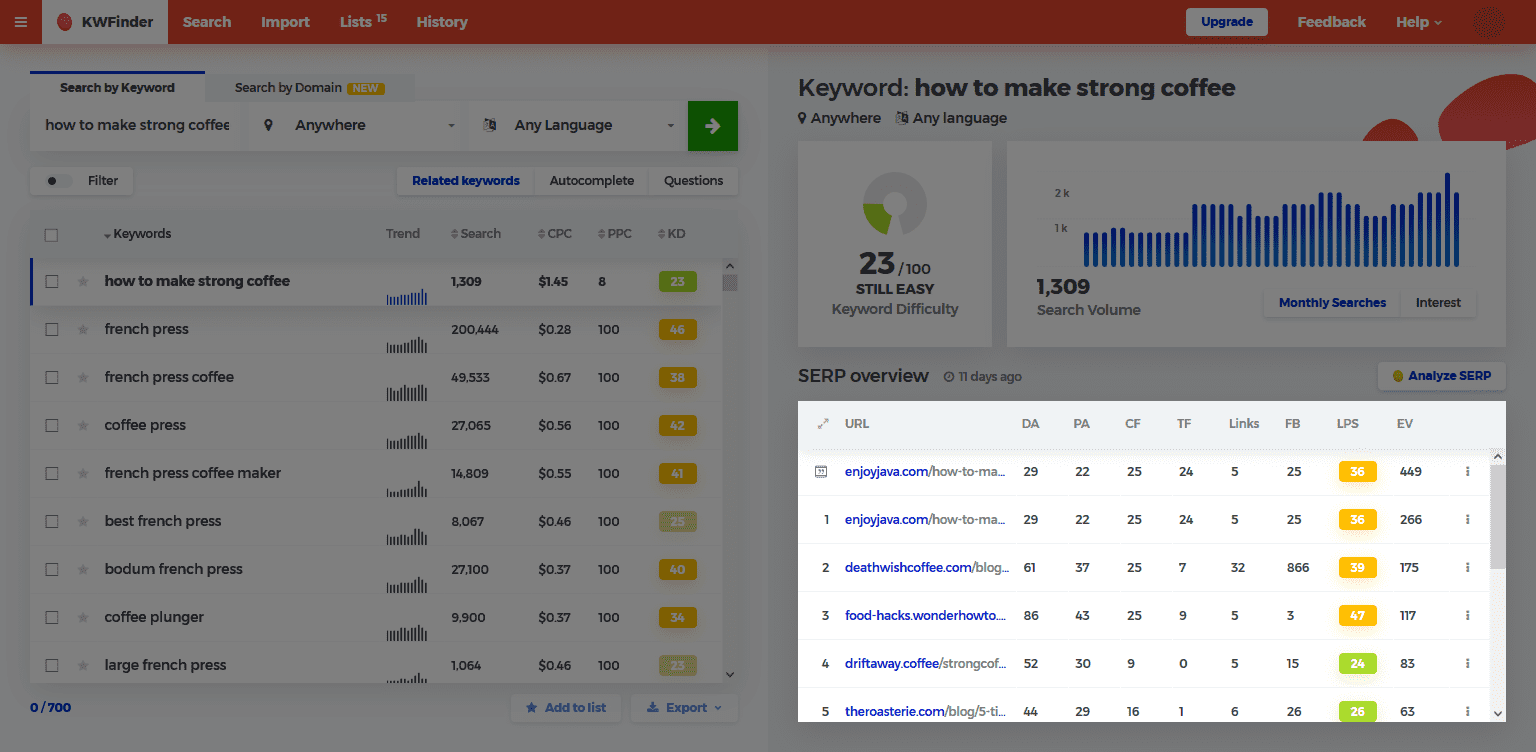 Get local search volumes and SERP data for more than 50k locations
Doing local SEO in KWFinder is super easy. You can select from more than 50,000 locations worldwide including countries, states, counties, departments, regions, DMA regions, and cities.
Type of locations included in KWFinder
Cities (London, Perth, Boston, Paris, ...)
Regions, DMA regions (Bratislava Region, Los Angeles DMA, ...)
Counties, Departments (North Yorkshire County, Paris Ile-de-France Department, ...)
States (New South Wales, Kansas, British Columbia, ...)
Countries (USA, Germany, Australia, ...)
What's more, you'll always see SERP for the selected location. As we mentioned earlier, SERP analysis is one of the key parts of keyword research and that's one of the many features you will not find in Google Keyword Planner.
Import up to 840,000 keywords daily!
Do you have your own list of keywords to analyze? You can import it into KWFinder. This counts as one request. Depending on your plan, you can import up to 700 keywords 1,200 times a day, which makes 840,000 keywords in total!
You can import the keywords by writing them down, by uploading a file or by dropping a file to the import area.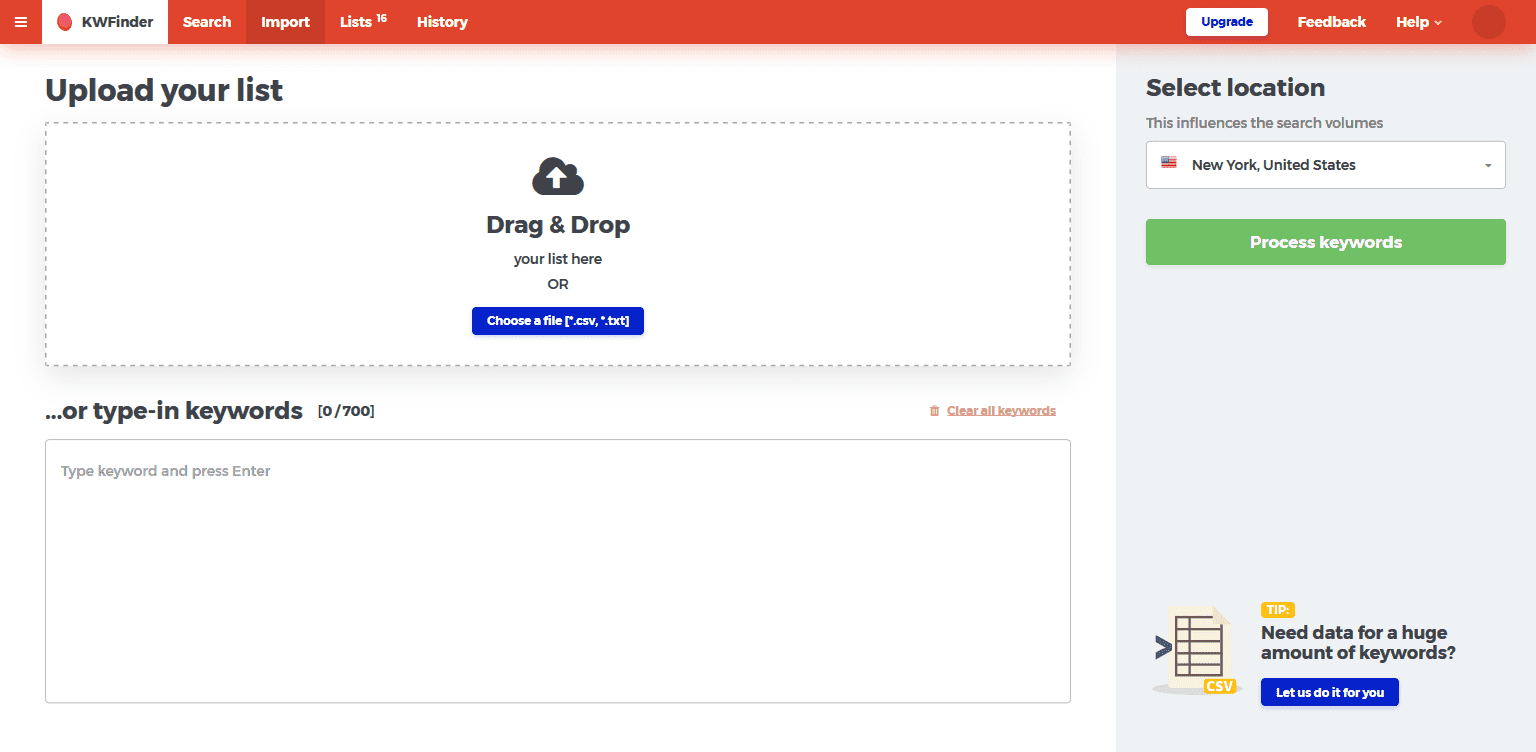 Optimize for keywords that your competitors already rank for
This is something that Google Keyword Planner can't do at all. Digging in tons of related keyword ideas may cost you a lot of time. So how about stealing the top-performing keywords from your competitors instead by analyzing their domain or exact URL?
This feature is designed to dig into the database instead of you. You'll get a list of keywords that your competitor ranks for on the 1st SERP. In other words, you'll immediately see the keywords that bring the most organic traffic to their website. How cool is that? All the above-mentioned features and metrics including the SERP analysis are at your disposal.
With a combination of keyword-based and competitor-based keyword research in KWFinder, you have everything you need to optimize your website to gain a lot of organic traffic.
Other features included in the #1 Keyword Planner alternative
Besides the above-mentioned features, by using KWFinder you will get access to:
Creating an unlimited number of keyword lists
Exporting the results in a CSV file
Filter to get rid of any keywords you aren't interested in
Google suggest integration with the Autocomplete and Questions features
Try KWFinder now
Get hundreds of keyword ideas with all SEO data with one click.
What people are saying about KWFinder

Try KWFinder now
Get hundreds of keyword ideas with one click.