Find your new niche keywords in less than 3 minutes
Do you want to find long tail keywords for your niche in less than 3 minutes? Find out how to boost your keyword research with KWFinder.
1. Start your keyword research with the seed keyword
Let's say you want to write a blog post about home made coffee. All you need to do is to type the keyword to the "Search by keyword" form and click on "Find keywords".
You will see up to 10,000 keyword ideas (depending on your subscription plan) from each data source:
Suggestions
Autocomplete
Questions
Usually, the number of keywords in the "Suggestions" tab is higher, so the other two serve as additional keyword sources.
Keyword research consists of three main steps - finding, analyzing and using the keywords. KWFinder will help you with the first two of them. If you want to learn more about the whole process, check out the ultimate keyword research guide on our blog.
As soon as you can see the keyword suggestions, it's time to start with the analysis. The keyword metrics are in the left part of the screen:
Trend - the search volume trend in the last 12 months
Search - the average monthly search volume based on last 12 months
CPC - the average cost per click in Google Ads
PPC - the level of competition in Google Ads
Keyword Difficulty (KD) - based on the Link Profile Strength (LPS) of URLs on the 1st SERP
All search volumes are exact values. We do our best to post process and detect close variant keywords in order to display more precise results than Google Keyword Planner.
Try KWFinder now
Get hundreds of keyword ideas with one click.
2. Benefit from long tail keywords with low keyword difficulty
Selecting an ideal combination of search volume and keyword difficulty is one of the first steps of keyword research. Yeah, it would be nice to rank #1 for keywords with millions of monthly searches but if you are not in the Fortune 500 list of companies, you should aim for more specific keywords with higher engagement potential.
When we take a look at our keyword "homemade coffee", we can see that there are many keyword suggestions with solid search volumes. However, their keyword difficulty values may be high for a starting blogger.
To see the keywords with low difficulty scores, we will set up a filter. We can start with a maximum value of 35. If you watch the video, you'll see that among others, the keyword "How to make strong coffee" looks promising. It's relevant, search volume is more than 1,300 and the difficulty is 23.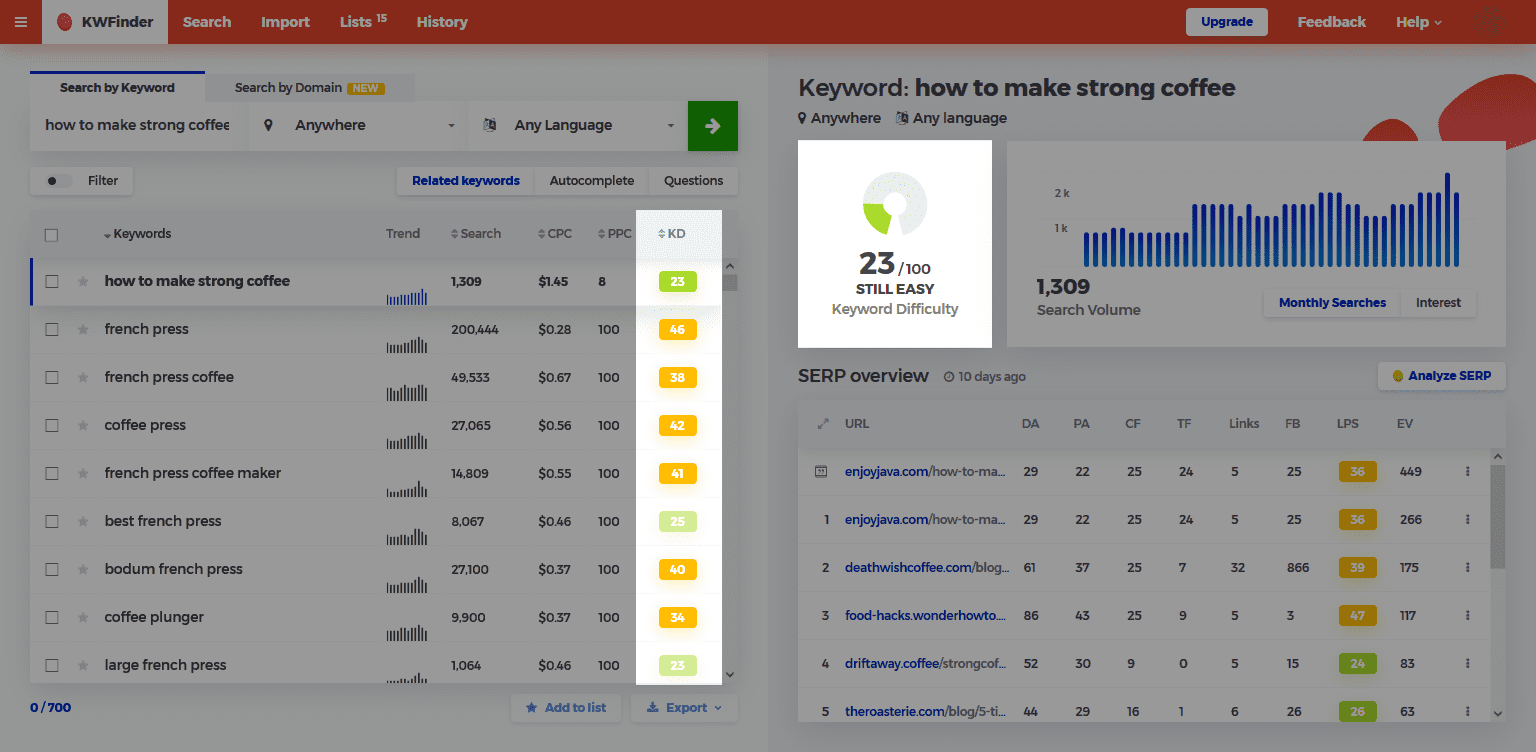 3. Find out whether you can outrank competitors in the SERP
Analyzing Google search results is critical to see whether you are able to outrank the URLs in the 1st SERP. We recommend inspecting the SERP of all the keywords you plan to optimize for.
You will do this in the right section of KWFinder. The SERP analysis shows all URLs ranking in the 1st SERP. The most important SEO metrics will help you to decide whether you are able to compete with websites.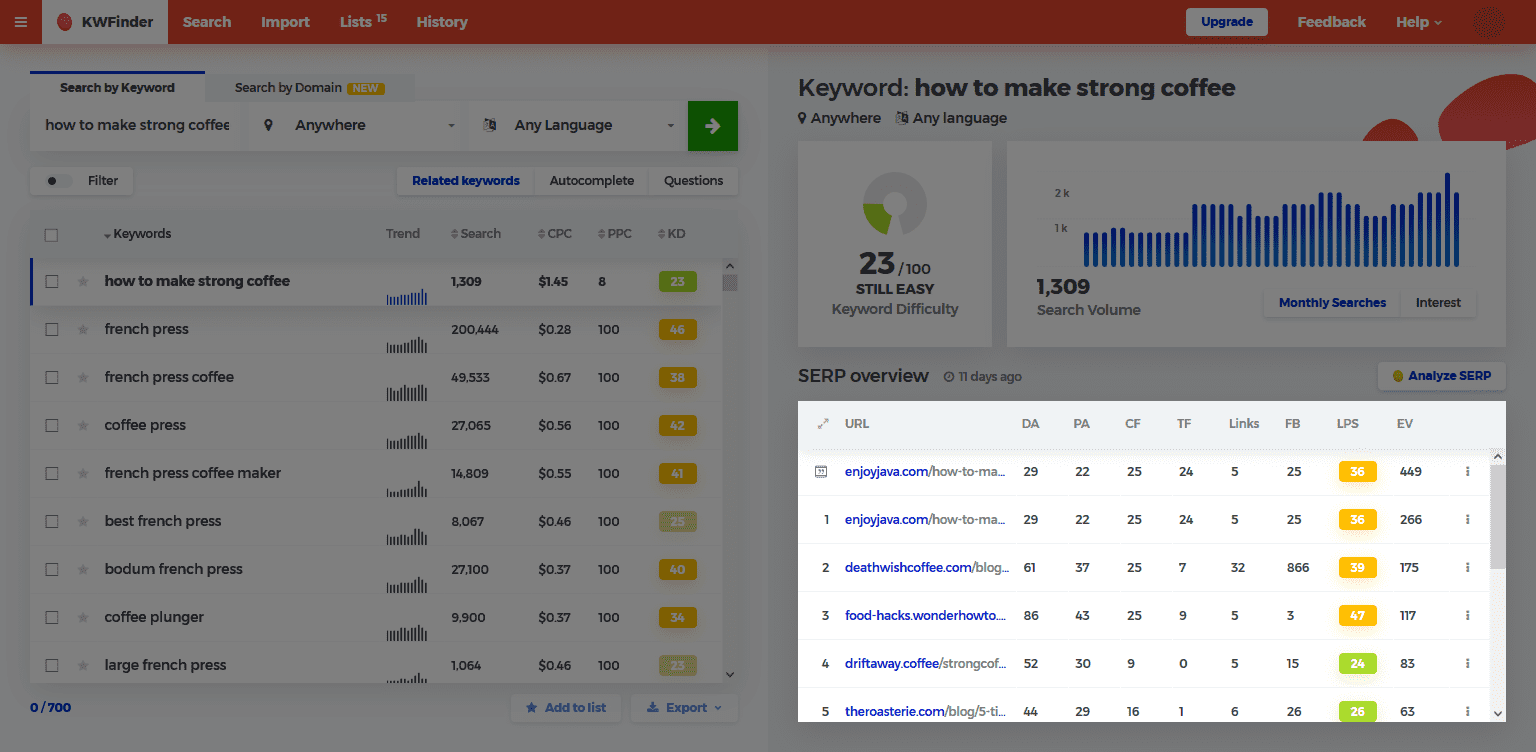 The ideal way is to expand the analysis in SERPChecker where you can quickly benchmark your website with competitors, see the estimated CTRs and possible SERP features which can influence them.
When we get back to our keyword in the video, the results look good. The Link Profile Strengths (LPS) and other metrics of the competitors are low. Not to mention the fact that you can rank with a featured snippet for this kind of a question long tail keyword.
To find keywords that your competitors already rank for, just switch to "Search by domain" above the search form. Enter your competitor's domain or exact URL and KWFinder will show you search terms the website ranks for on the 1st SERP.
4. Get even more related keywords
The keyword suggestions in the left table can bring you even more ideas. We have developed a handy feature, small arrow next to each keyword, that will take the keyword and generate related terms to it.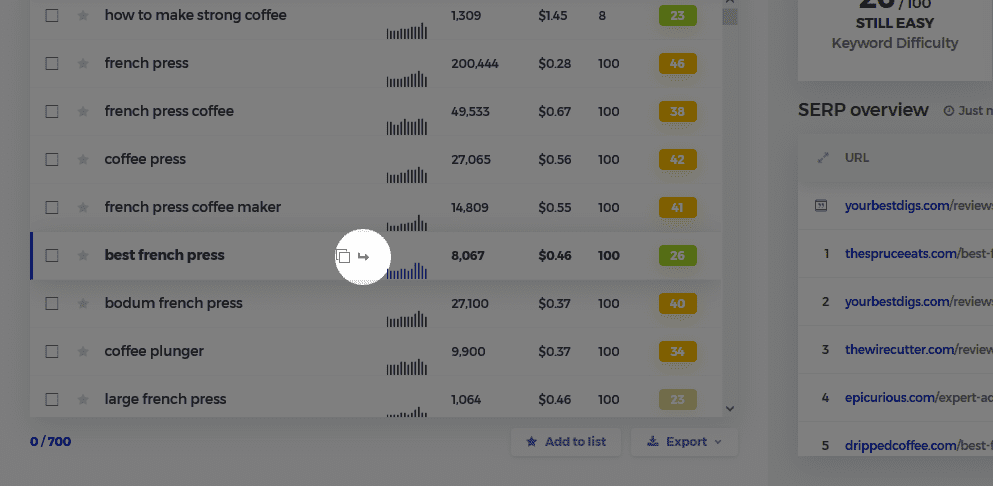 You can click on the arrow and open it in a new tab for a multi-tabbed keyword research. That means, you will not lose the earlier data.
Over here, simply reactivate the filter to get new keyword ideas based on your preferences. Once done, save the selected keywords into a list or export them as a CSV file.
Try KWFinder now
Get hundreds of keyword ideas with one click.
Explore all features of KWFinder