Save relevant keywords into keyword lists
Save the most profitable keywords into keyword lists. Create, edit, export or delete your lists anytime in KWFinder and keep your research organized.
1. Save the best keywords into a list
When you find keywords you plan to optimize for, it's good to save them into a list. This will keep your keyword research organized.
Select the keywords you want to add to the list and click on the little star or on the button "Add to list" located below the keywords table. Once a pop-up window appears, you will be asked to create a new list or update the existing one.
The little star also indicates whether the keyword has already been added to any list.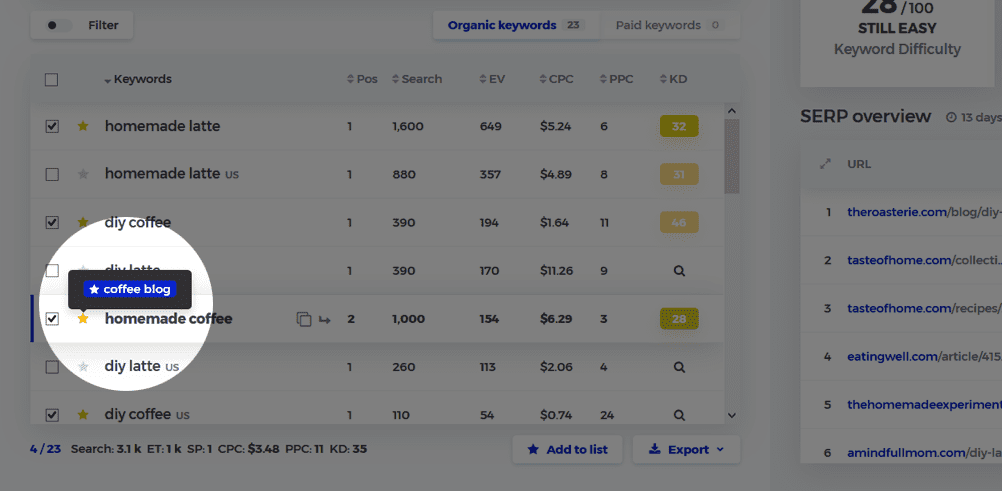 2. Many websites, blog posts or clients? Use as many keyword lists as you wish
In KWFinder, you can create as many lists as you want. Each of them can contain up to 1,000 keywords. It doesn't matter whether the goal is to find new keywords for a blog, PPC campaign, e-commerce website or an SEO agency's clients, you probably don't want to have a bunch of uncategorized keywords in one list.
3. Agregated stats of a list
Keyword lists in KWFinder come with a quick aggregated pieces of information based on keyword that are saved in a list. In each list detail you can see:
Search volume summary
Avergae CPC
Average PPC
Average Keyword Difficulty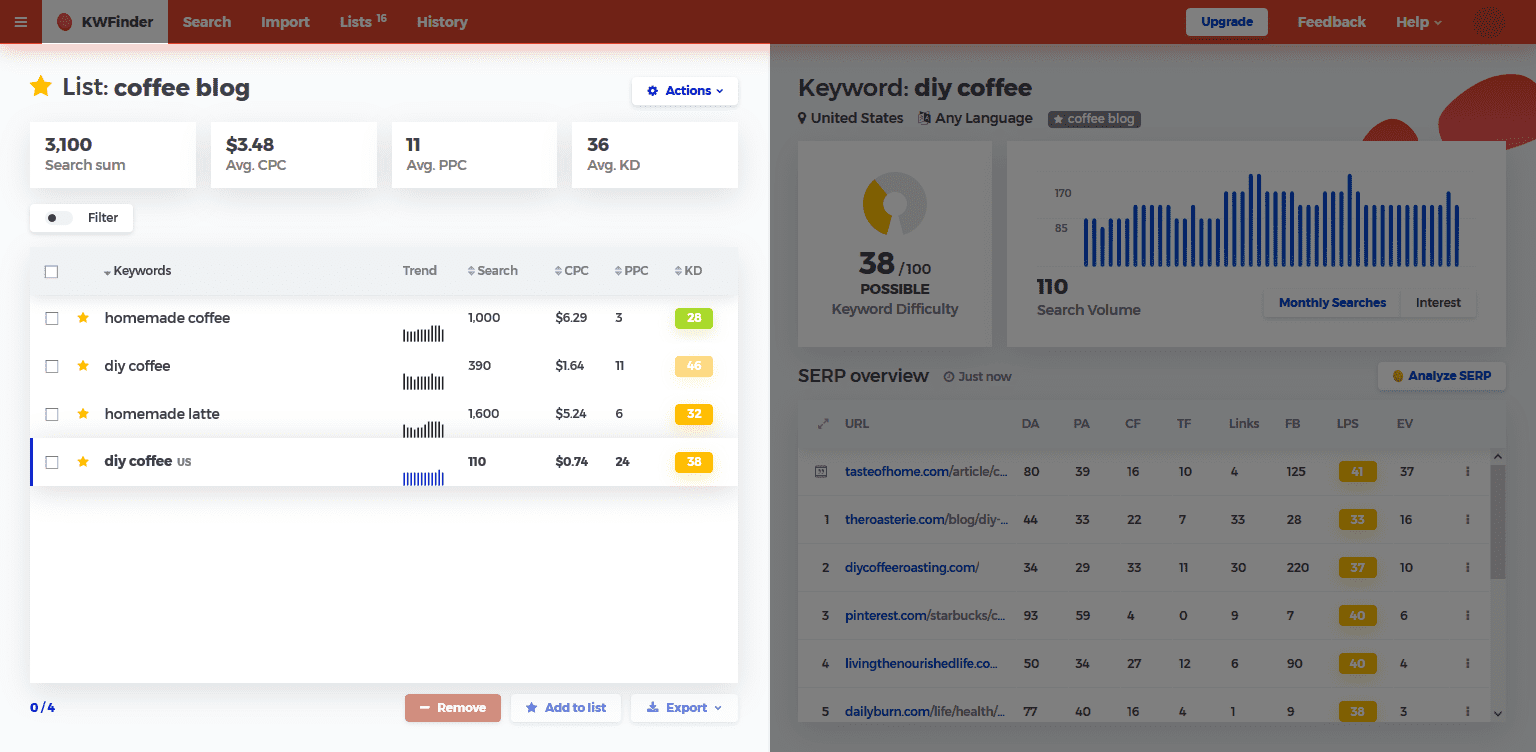 4. Edit your keyword lists anytime you need
To access your keyword lists, go to the "Lists" in the top left menu in KWFinder app. Here you can open, export, or delete any of the lists by clicking on the three dots menu.
You can do the same within each open list. If needed, you can select keywords you want to remove, add to another list, copy to clipboard or download as a CSV file.
If you wish to rename the list, just open the list and click on the list name. Rewrite the name and hit enter. Done!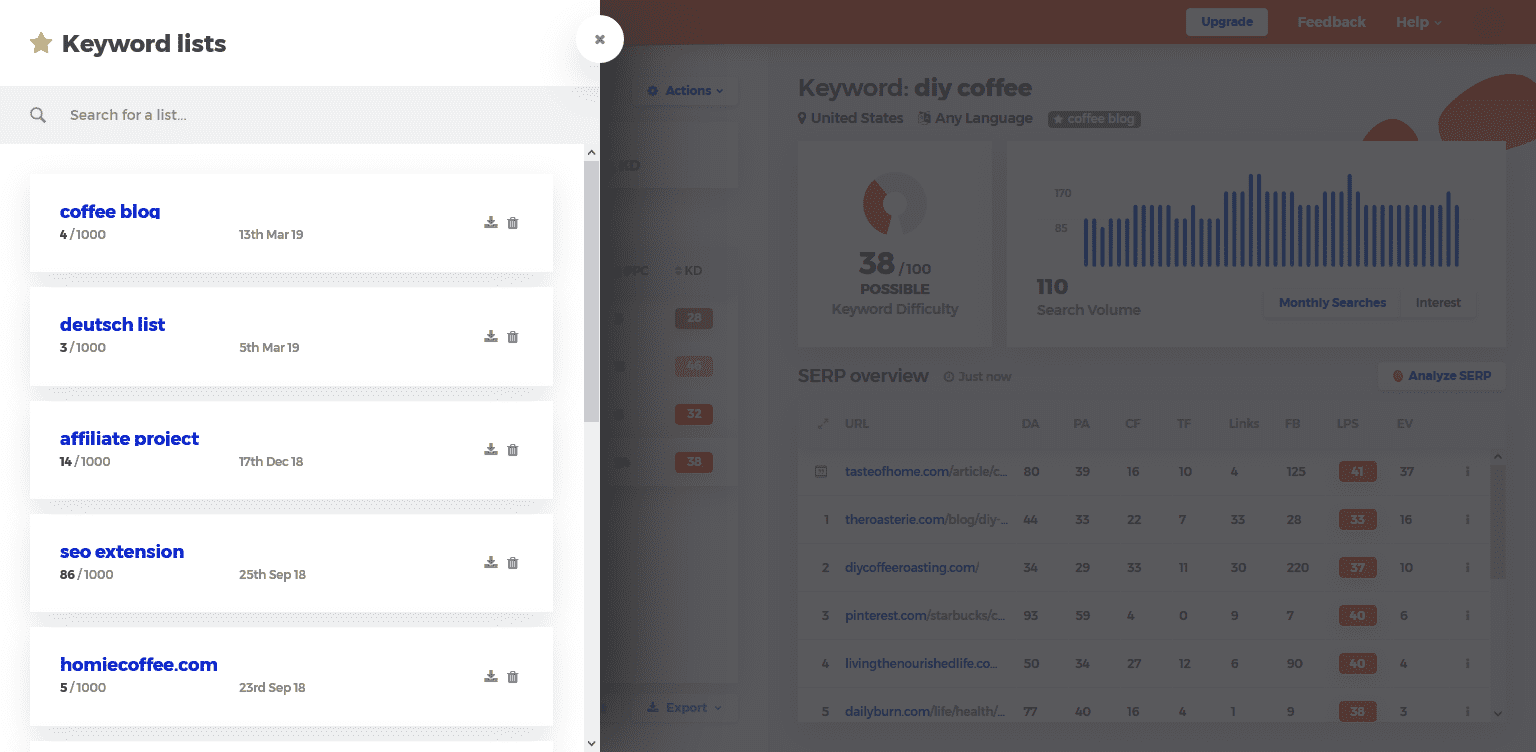 5. Export keywords for further processing to a .csv file
Sometimes you need to go further with your keywords. No problem. We've got it covered.
If you want to continue the keyword analysis by using your own spreadsheets, you can export the lists by clicking on the button "Export". You will find this option next to each list in the list overview or under the keyword table when you open one of the lists.
Try KWFinder now
Get hundreds of keyword ideas with one click.
Explore all features of KWFinder