The keyword SEO difficulty or keyword competition is a major keyword metric when doing a keyword research. The higher the value, the harder is to compete with others on the market using that keyword.
It's a critical metric alongside with exact monthly search volumes and SERP analysis. It determines a selection of keywords that will help you to improve SEO, bid on keywords in PPC campaigns, and much more.
How is the SEO Difficulty calculated?
We've combined selected SEO metrics developed by Moz and our know-how, namely:
Domain Authority
Page Authority
MozRank
MozTrust
The calculation itself consists of the following steps:
We calculate the overall Link Profile Strength (LPS) for every website featured on the first page of Google SERP.
The SEO rank considers the quality of the website link profile. It's based on a calculation of Moz metrics.
We take into account the Domain Authority of each website.
Finally, we generate an average of the mentioned above and this is the final value – the SEO Difficulty.
What is a good value of the SEO difficulty?
The SEO Difficulty is indicated on a scale from 0 to 100. It shows the keyword difficulty based on a comparison of keywords on a market-wide basis. The lower the value, the easier it is to rank for the keyword.
Keep in mind that the "real" SEO difficulty may vary. It depends on your on-page and off-page SEO skills.
Why KWFinder is the right choice?
KWFinder's keyword SEO difficulty is one of the most accurate on the market. As we calculate the difficulty score in real-time, it is always good to click on the keyword to get the most accurate and up-to-date value.
A research by Authority Website Income compared 8 tools and analysed the correlation between keyword difficulty and the higher ranking in Google. KWFinder ended up to be the most accurate keyword difficulty tool.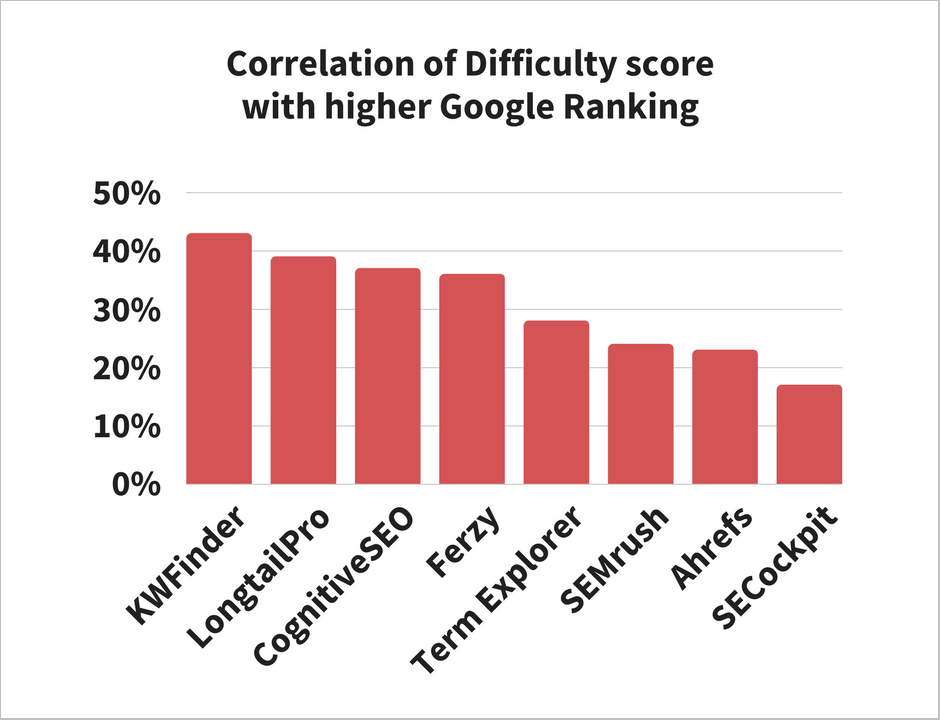 "The tool provides to have the highest correlation of any tools researched and remains true across various search volumes. This tool is the absolute leader of all analyzed."
–Authority Website Income
Another review by Authority Hacker rated KWFinder's keyword difficulty metric with 5 stars: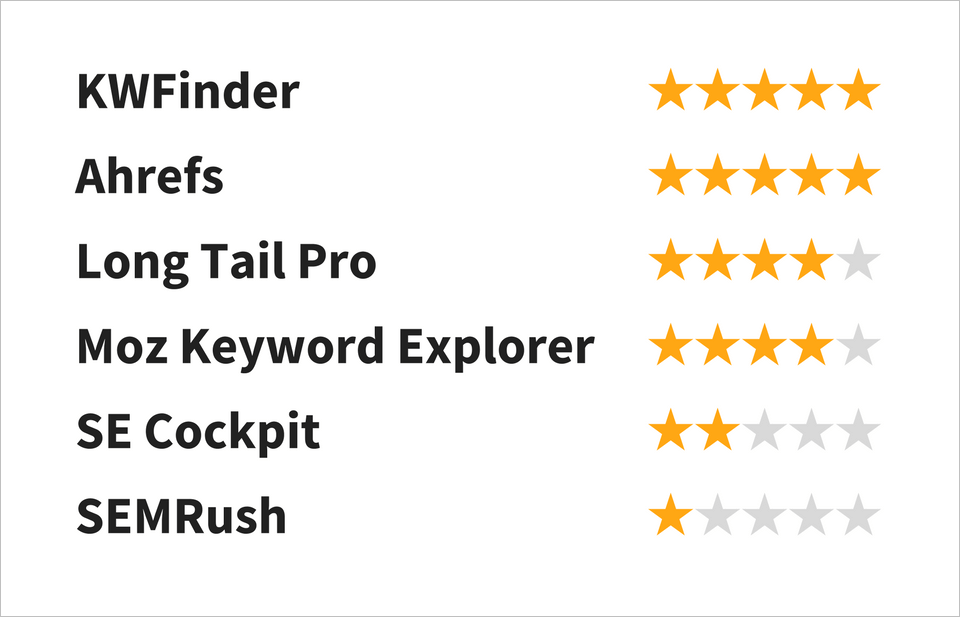 Not only is it easy on the eyes, but I also found KWFinder's keyword difficulty metric to be surprisingly accurate."
– Authority Hacker
Things to keep in mind
The SEO Difficulty isn't the only metric on which you should base the keyword research.
You're on the good track once you created a list of keywords relevant to your niche with low SEO Difficulty. However, it doesn't indicate your job is done.
You should take into consideration other metrics such as search trends, average monthly search volumes, CPC and PPC competition. You'll find them in the left panel of KWFinder. Furthermore, you can expand the research with Google SERP thanks to results from SERPChecker in the right panel.