The SEO Difficulty is the major metric of a keyword when performing a keyword research. The higher the value, the harder is to compete with others on the market using that keyword.
The SEO Difficulty is a critical metric of the keyword research alongside with exact monthly search volumes. It determines the selection of keywords that will extremely help you improving the SEO of a website, blog, targeting the right keywords in PPC campaigns, and, much more.
It is calculated immediately and in real-time, exactly when you request to analyse a keyword or click on one of the suggested keywords in the list below. Many of them could have the SEO Difficulty cached even before, it depends on the term itself. If there's no historical data, specifically for niche keywords, you will need to click on it to be calculated in real-time. Accordingly, it depends on the geographical and language settings.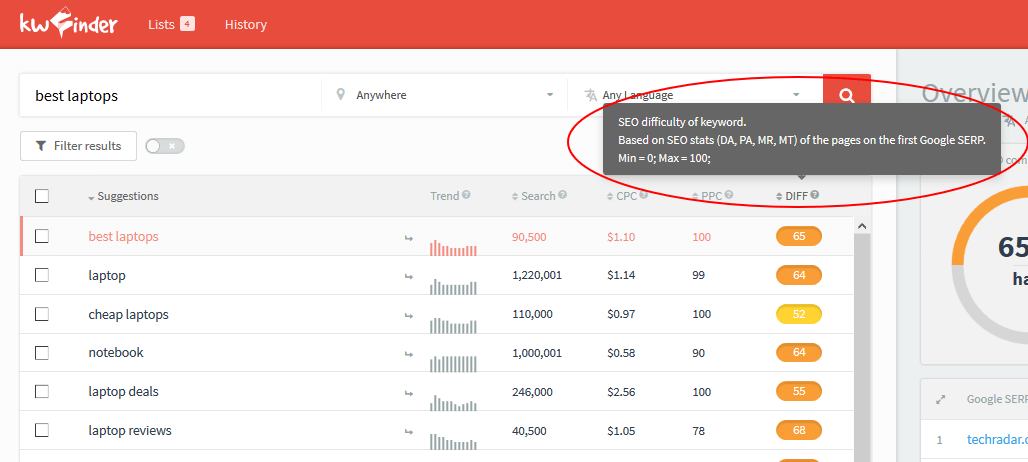 How is the SEO Difficulty calculated?
It's a combination of SEO metrics developed by Moz and our know-how, namely:
Domain Authority
Page Authority
MozRank
MozTrust
The calculation itself consists of the following steps:
We calculate the SEO rank for every website featured on the first page of Google SERP.
The SEO rank considers the quality of the website link profile. It's based on a calculation of Moz metrics.
We take into account the Domain Authority of each website.
Finally, we generate an average of the mentioned above and this is the final value – the SEO Difficulty.

What is a good value of the SEO Difficulty?
The SEO Difficulty is indicated on a scale from 0 to 100. This shows the keyword difficulty based on a comparison of keywords on a market-wide basis. The lower the value, the easier is to work with the keyword.
Keep in mind that the "real" SEO difficulty may vary, as it depends on your on-page and off-page SEO skills.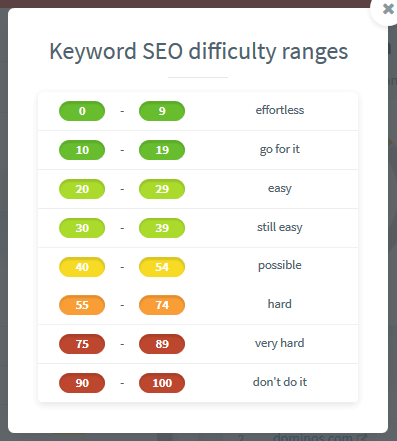 Things to keep in mind
The SEO Difficulty isn't the only metric on which you should base the keyword research.
Having a list of keywords relevant to your niche with low SEO Difficulty is great, however, it doesn't indicate your work is done.
You should take into consideration other metrics such as search trends, average monthly search volumes, the CPC and PPC competition, etc. These are situated in the left panel of KWFinder. Furthermore, you can expand the research with Google SERP thanks to SERPChecker add-on in the right panel.
Do you like this post?