Why is SERP analysis so important for keyword research?
Find out what's behind the rankings of your competitors in the SERP thanks to 45+ SEO metrics, snapshot previews and rich snippets detection.
1. Understand the importance of the SERP analysis
SERP analysis is a vital part of keyword research. Why? Here are 2 short examples:
Example 1: You've finished a monumental piece of content about baking a perfect homemade pizza which is optimized for a keyword with a solid search volume and reasonable Keyword Difficulty. And now, all of a sudden, you check the 1st SERP and find out that all the ranking URLs are pizza delivery services. Whoops, you have targeted a keyword with totally different search intent.
Example 2: You decided to write a blog post optimized for a keyword that will boost your organic traffic yet you forgot to check the SERP. Once you do that, you'll find out that you are not able to compete with the URLs in the 1st SERP because your website simply isn't authoritative enough.
To sum it up, the importance of the SERP analysis lies in the following 2 points because it helps you to decide:
Whether you can outrank competitors.
Whether you picked the right keyword in terms of the search intent.
Quick tip:
If you are still not sure about how SERP analysis may boost your keyword research, check our detailed guide.
2. Check local SERPs in more than 50k locations worldwide
Having the ability to analyze local SERPs that are relevant for your target audience is basically the first and most important point of doing SERP analysis. Yes, there are many ways to simulate local results such as using developing tools in Chrome, but at the and of the day, it will cost you a lot of time.
More than 50,000 locations in SERPChecker will help you to analyze the search results for local markets whenever your target audience is and that's how you pimp your local SEO. They include the following:
Cities (London, Perth, Boston, Paris, ...)
Regions, DMA regions (Bratislava Region, Los Angeles DMA, ...)
Counties, Departments (North Yorkshire County, Paris Ile-de-France Department, ...)
States (New South Wales, Kansas, British Columbia, ...)
Countries (USA, Germany, Australia, ...)
Just start typing the location, select the one you are looking for from the dropdown suggestions menu and you will see the results in a second or two.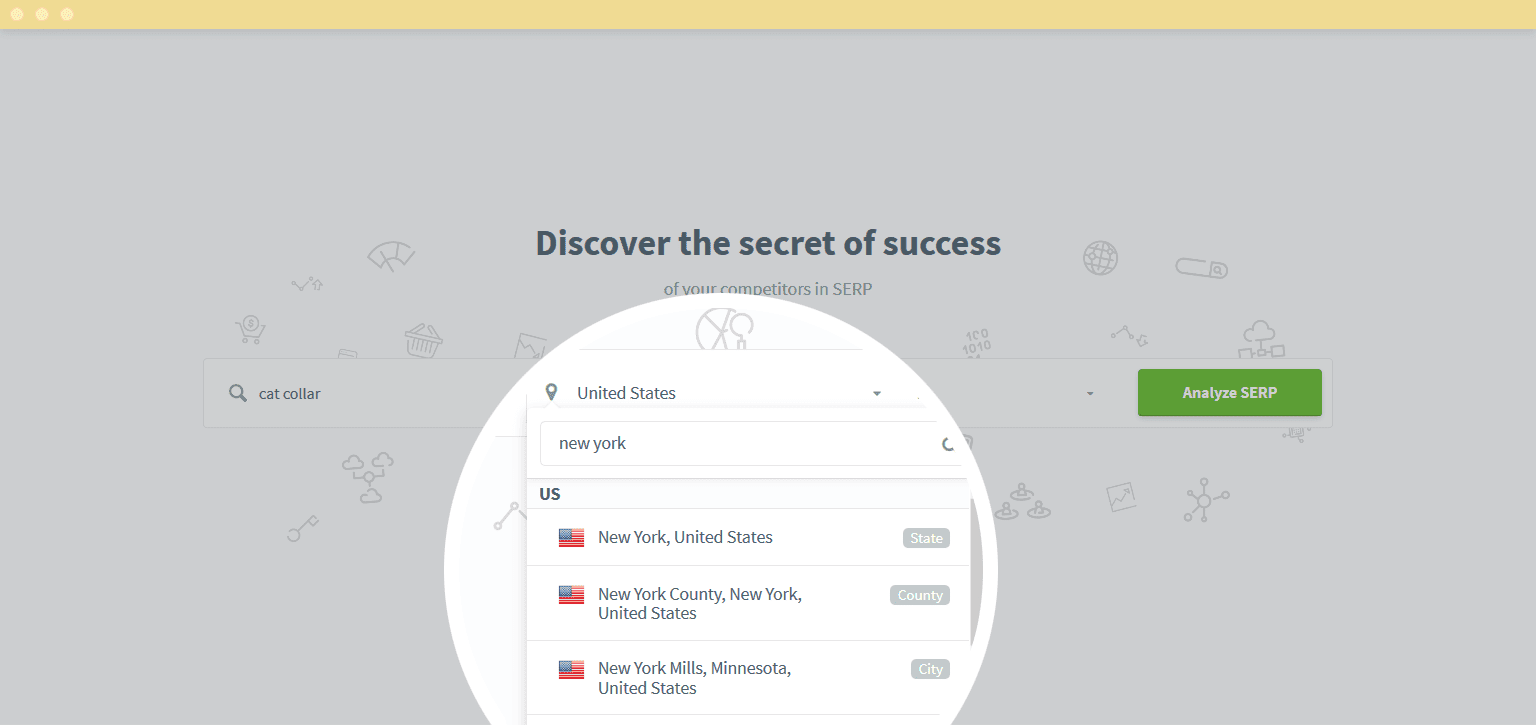 Quick tip:
You can switch between the desktop and mobile results. On top of that, you can check the actual SERP appearance in the Snapshot preview.
Try SERPChecker now
Get local SERPs for more than 50k locations
3. See behind the competitors' rankings thanks to 45+ SEO and popularity metrics
Your ability to outrank the competitors determines whether you picked the right keywords for your website or not.
To do this, you need proven metrics that will help you to understand the strengths and weaknesses of the ranking URLs.
We have included more than 45 metrics that evaluate the website authority, popularity and backlink profile. It's up to you which ones you want to see. You can pick the ones you are interested in by clicking on the "Manage metrics" button in the top right corner.
The default view includes the following metrics:
LPS - Link Profile Strength
DA - Domain Authority
PA - Page Authority
CF - Citation Flow
TF - Trust Flow
FB - Facebook shares
AR - Alexa Rank
Links - External backlinks
RD - Referring domains
RI - Referring IPs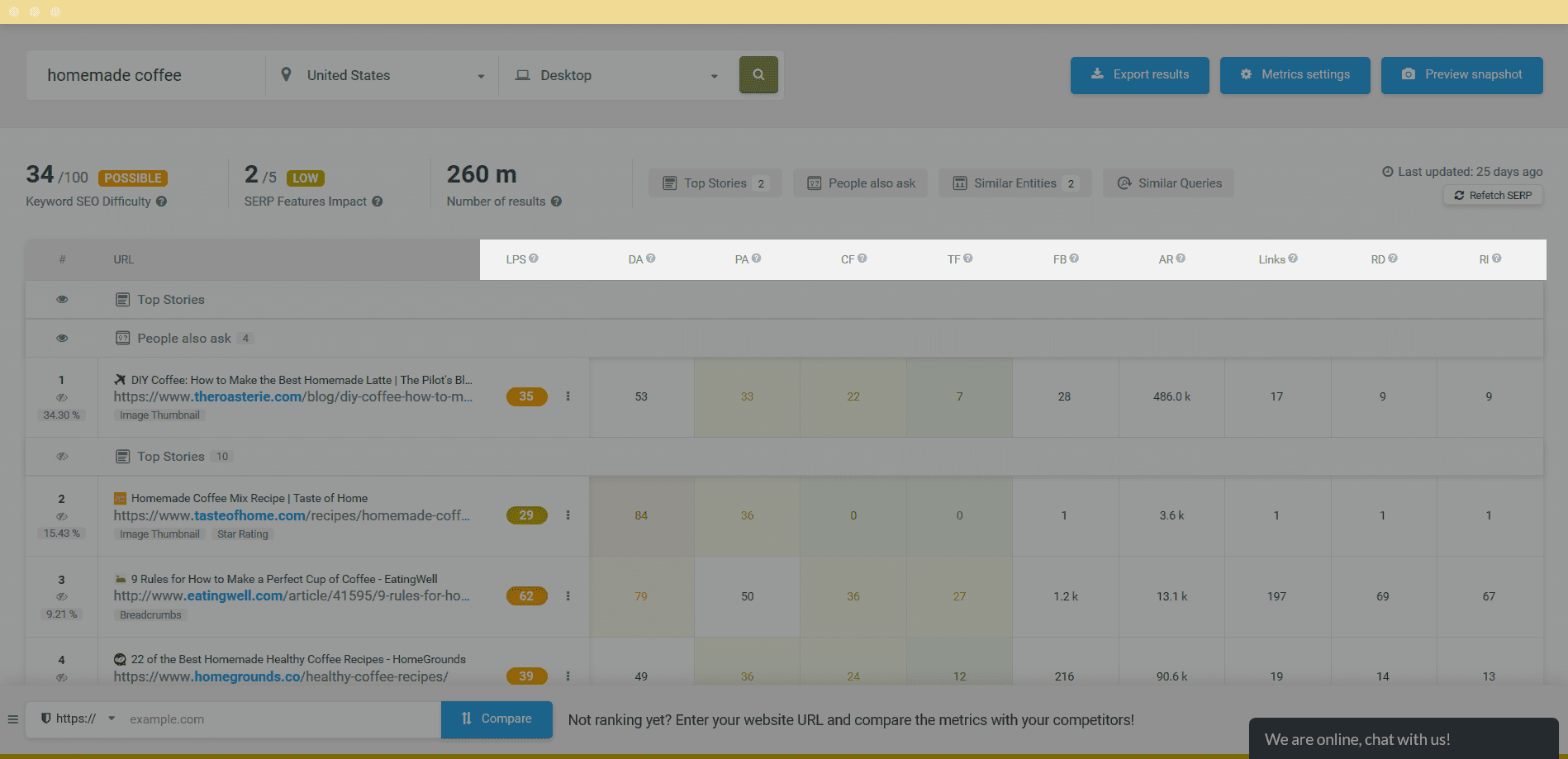 These metrics inform you about the authority and popularity of the websites in the 1st SERP. The LPS is an aggregate metric developed by Mangools to estimate how hard it is to compete with the URL ranking on the particular position.
Quick tip:
Find out how to use all the SEO metrics in SERPChecker on a dedicated page.
4. Analyze the impact of SERP features on the common organic results
Google SERP features are enhanced search results with a bigger visual appeal that the common results, therefore, they may lead to different click-through rates (CTRs). They are now displayed for many search queries. Here are some of the examples:
Featured snippet
Answer box
Carousel (images, videos, products)
Image pack
Map pack
Sponsored features (Google Ads, flights, shop on Google)
Knowledge graph
Top stories
Events
Sitelinks
and many more
Once you see such results in the SERP table in SERPChecker, you realize that other results may reach lower CTR. On the other hand, if you manage to have your website, let's say, in a featured snippet, your CTR can skyrocket. Of course, this depends on many factors.
The main reason why we detect the SERP features is to give you precise results on which you can base your SEO efforts.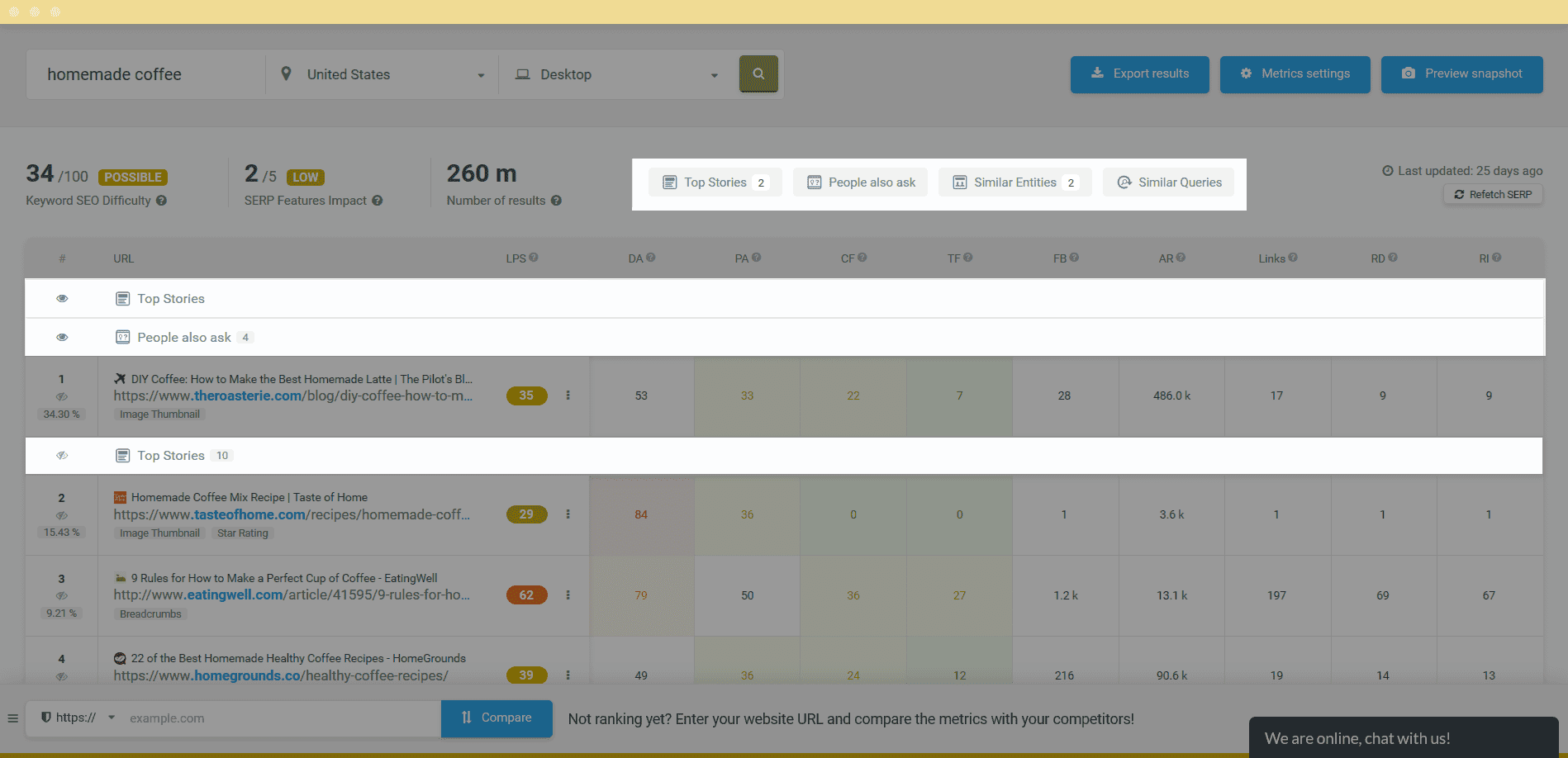 As you can see in the screenshot above, the search results for keyword "homemade coffee" include the following rich snippets: featured snippet, people also ask, top stories, related searches.
Now the question is: How can they influence the CTR? There are two ways you can find out:
Open the snapshot preview to see the actual appearance of the SERP Check the "SERP Features Impact" metric that estimates the possible impact on a scale from 1 to 5.
Try SERPChecker now
Get local SERPs for more than 50k locations
Explore all features of SERPChecker