Online marketing is no rocket science. But if you're just getting into it, SEO and SEM might still be confusing terms to you.
The answer to the common question "What is the difference between SEO and SEM?" depends on what definition of SEM you prefer.
So let's start with that…
What is SEM?
Search engine marketing (SEM) is a term used to encompass both SEO and PPC as two main search marketing activities.
However, the term is sometimes used to refer only to paid advertising in the search results. In this understanding, it is basically used as a synonym of Pay-per-click (PPC) ads in the search.
In this post, we'll stick to the first definition (SEM = SEO + PPC) as we think it's more semantically accurate.
"SEO vs. SEM" is actually "SEO vs. PPC"
Strictly speaking, comparing SEO and SEM is essentially a wrong question since SEO is a part of SEM. There's no opposition really.
Despite that, both terms are often compared, mainly due to the similarity of the two abbreviations. But what people usually want to know by searching "SEO vs. SEM" is the difference between:
organic search marketing (SEO)
paid search marketing (PPC)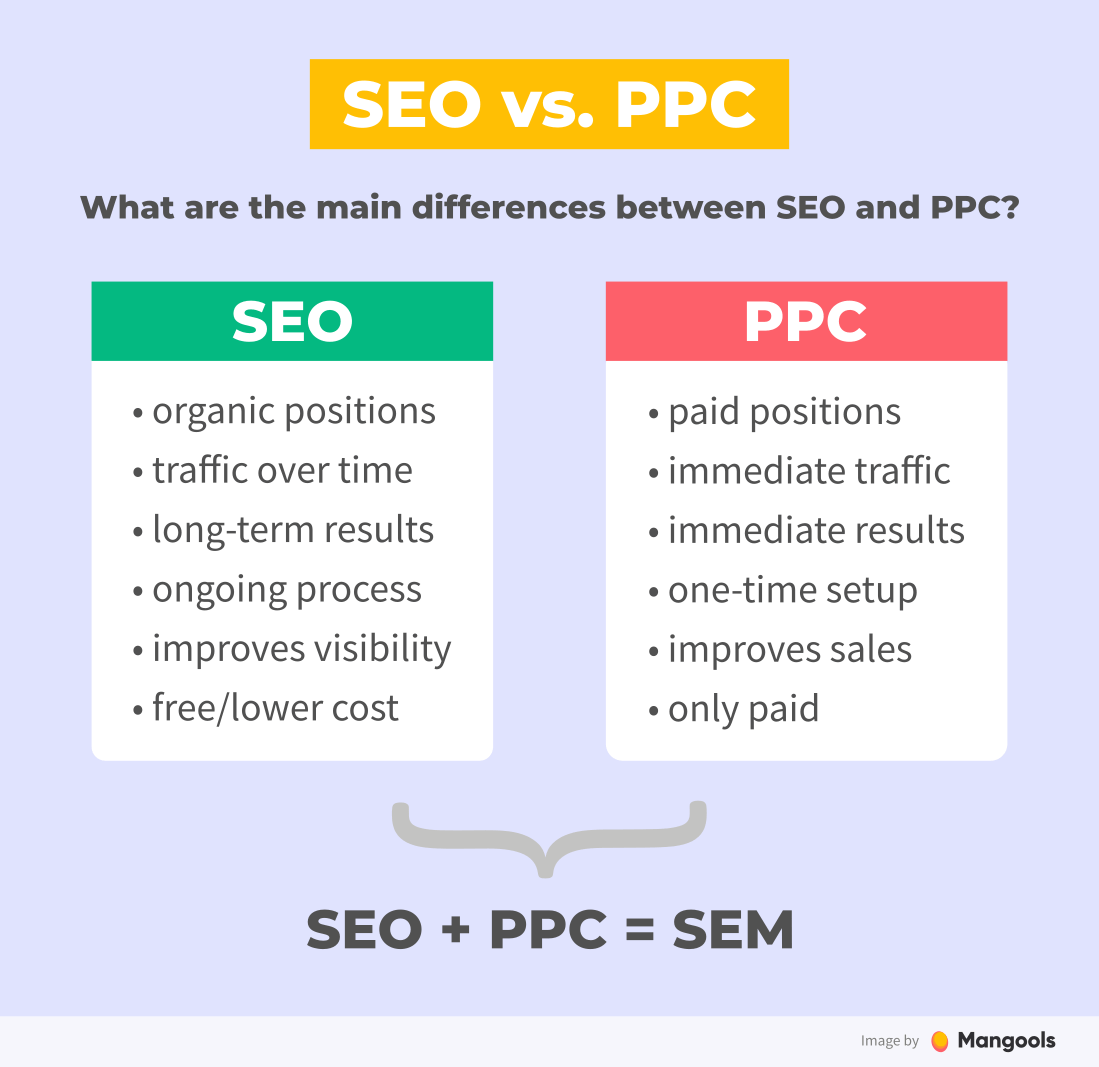 Search engine marketing involves both the SEO and PPC methods. The general idea is that SEM helps you grow on two fronts, boosting your online presence:
Both SEO and PPC contribute to your website's increased search visibility.
SEO requires you to put in a sustained effort for much longer periods of time. It is a long-term process that usually doesn't bring results from day one.
PPC, on the other hand, can bring immediate results. The main goal is to take a "shortcut" and overcome those who made their way up to the highest positions in SERP through SEO.
Both strategies require a lot of work – SEO though is an ongoing process while a specific PPC campaign usually requires a one-time setup (+ maintenance).
Let's take a closer look at what each of these concepts entails and how they're used in general marketing practice.
What is SEO?
The term SEO (Search Engine Optimization) refers to the changes and tweaks you make in order to raise your website's or a specific page's rankings within a search engine at no cost.
Doing SEO is one of the primary goals whenever you're launching or updating a website because frankly, without good optimization, Google's bots can't find and read your content properly.
It consists of these 3 main areas:
On-page & technical SEO
Content creation & keyword research
Off-page SEO & link building
Note: SEO gets you free traffic but can be just as costly as PPC since you're putting in the time, human resources, and tools necessary.
1. On-page & technical SEO
On-page SEO consists of all those small changes you do within one individual page. From adding your main keyword to the title tag and other elements to improving your website's readability and the quality of your internal links.
It also refers to all the technical settings and optimization of user experience on your website, such as:
page speed
site architecture
mobile friendliness
use of HTTPS
etc.
2. Content creation & keyword research
No matter how well-optimized your page is, the quality of the content you create is the first and most important SEO ranking factor. This is why creating quality content can be also understood as part of your SEO strategy.
To find the content topics and use the right keywords in your content, you need to master the process called keyword research.
It includes finding and using keywords that are:
popular (they have high search volume)
rankable (you will be able to rank for them)
relevant to your website and content
3. Off-page SEO & link building
Off-page SEO is anything that happens "outside" your website – from getting backlinks, to improving your social media presence and gaining the overall trust and authoritativeness.
Naturally, the most important part of this process is link building – gaining links from other websites, preferably ones with a higher authority.
The real value of link building lies in the quality of the links you get and not just their number. Depending on the performance and influence of these link sources you'll also increase your brand awareness and grow your social following/bookmarking.
What is PPC?
PPC (pay-per-click) is an advertising model that allows marketers to place an ad in the search engine results and be charged only when the ad is clicked.
The main goal is to increase a website's visibility within search engines trough paid ads that appear above the organic search results.
Note: Although PPC as an advertising model is used on many platforms (Facebook, Twitter, Pinterest, Quora, Reddit), we refer ONLY to the search engine pay-per-click ads in this post, as we are talking about search engine marketing.
Compared to the SEO strategy, which brings in traffic for free, with PPC you're paying for the top exposure. Depending on the keyword you want to reach for, costs can go beyond the $20/click mark and you'll be paying every time a person clicks on your ad.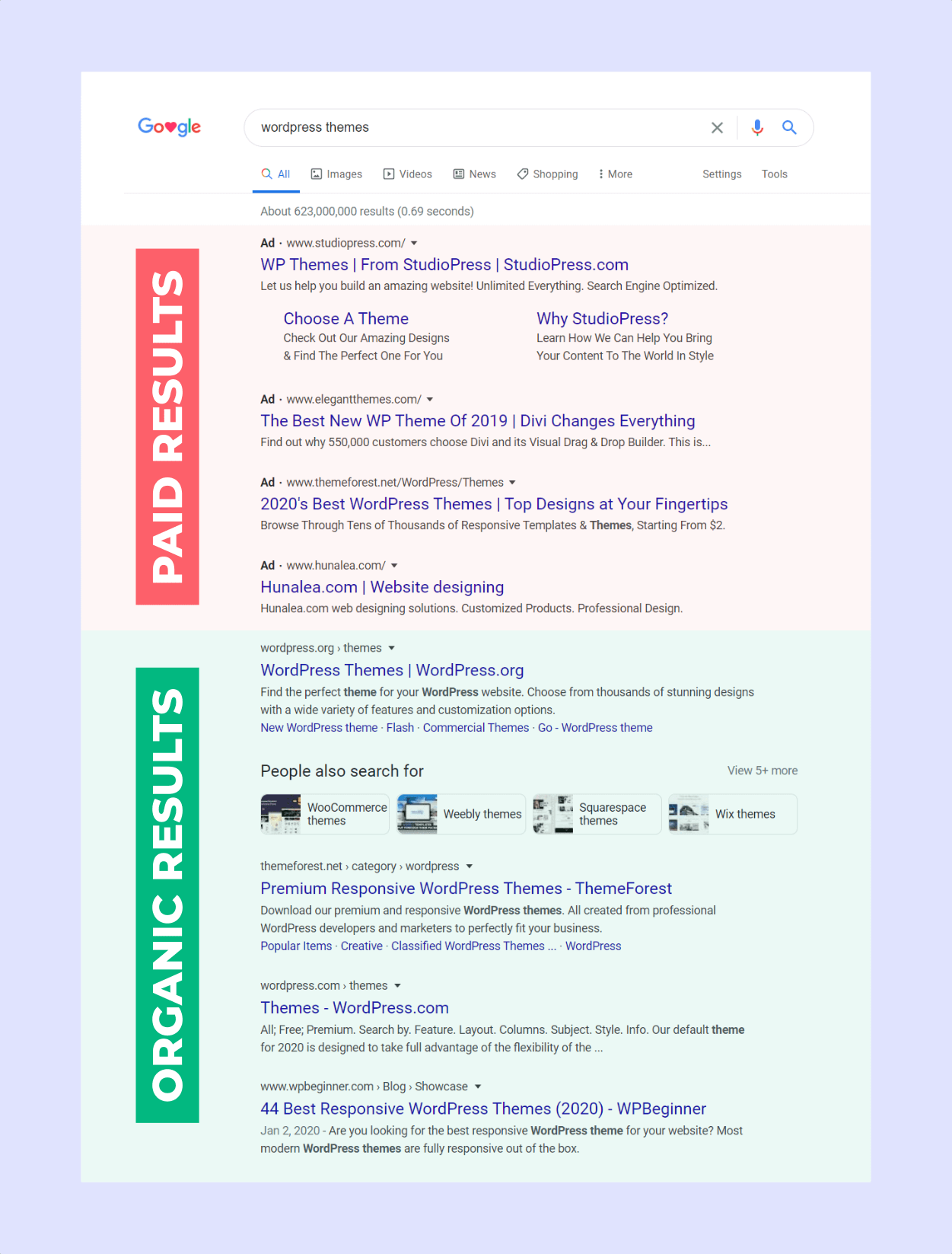 If you don't exactly know where to start with PPC, your safest choice is to do SEO properly and then use PPC to:
Bid for highly competitive keywords you wouldn't be able to rank for with organic optimization alone.
Execute time-sensitive campaigns that need to be quick and precisely targeted.
Boost brand awareness by focusing on branding your search ads with your company's name or motto (especially good for companies that are just getting started).
These companies bidding for "yoga mats" are doing an exceptional job at creating brand awareness: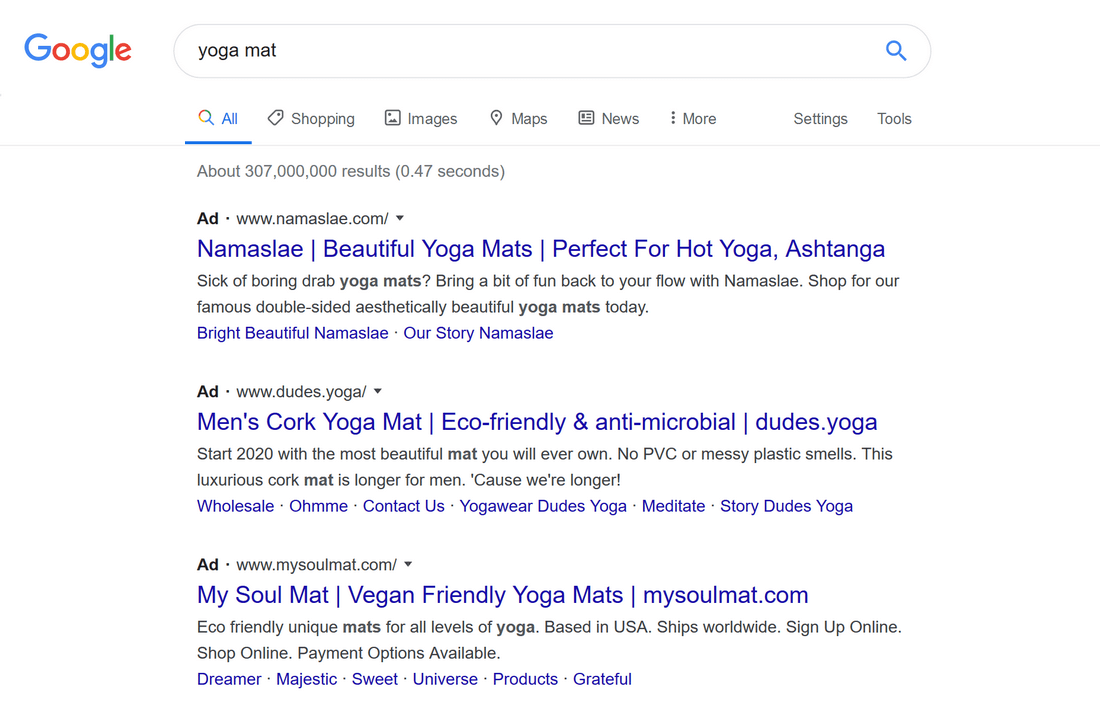 Note: One of the big problems of search PPC ads is many people have a form of ad blindness and just skip these results automatically.
Last but not least, PPC can be very handy for e-commerce websites that want to get their products out there.
Here's what a simple search for "wireless phone charger" looks like with a separate section dedicated to sponsored product ads: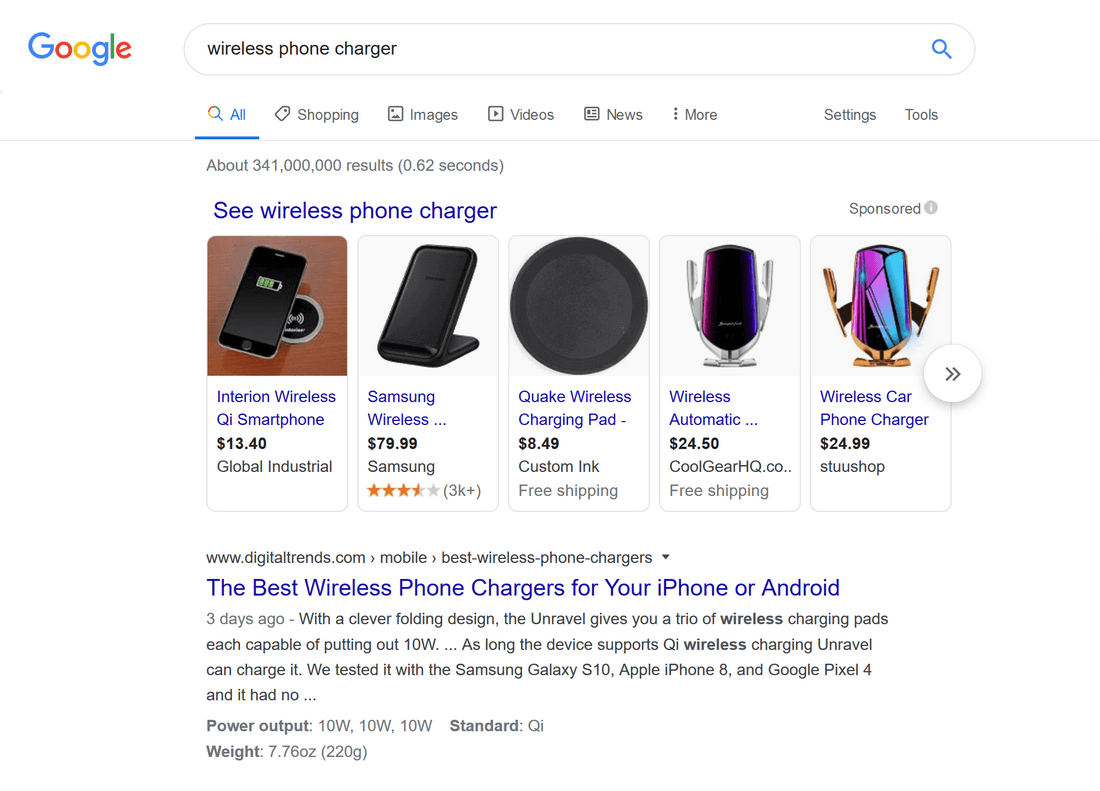 Which one is better: SEO, PPC or SEM?
There are times when it is better to use PPC over SEO and sometimes, it is best to combine both of them. Let's take a look:
When to use SEO?
In general, SEO is the best tactic to go for if you want to see and keep results in the long run. No matter whether you use PPC or not, SEO is a must.
Simply put, if you get a page's SEO in order now, it might do well for another 5 years if updated regularly.
When to use PPC?
If you want to get traffic to one of your pages fast, the PPC technique is the way to go. You might need to bring attention to an event or exclusive offer and since you're limited by a deadline, paid advertising will provide the traffic you need.
Overall, it's a good decision to assume that PPC might be better for transactional keywords as opposed to informational ones. But never rely on PPC alone if you want to grow your website in time. Also, keep in mind that even the best PPC campaign most probably won't work if your website's SEO is totally bad.
The SEM strategy
Of course, you can do the whole SEM package – both SEO and PPC. Don't take them as competing strategies, they actually complement each other.
With SEM, you're putting the complete SEO effort but you're also dedicating part of your time to acquiring paid advertising space. As with any online ads, this can bring in lots of traffic at a certain point. However, it's all temporary and, not to mention, costly.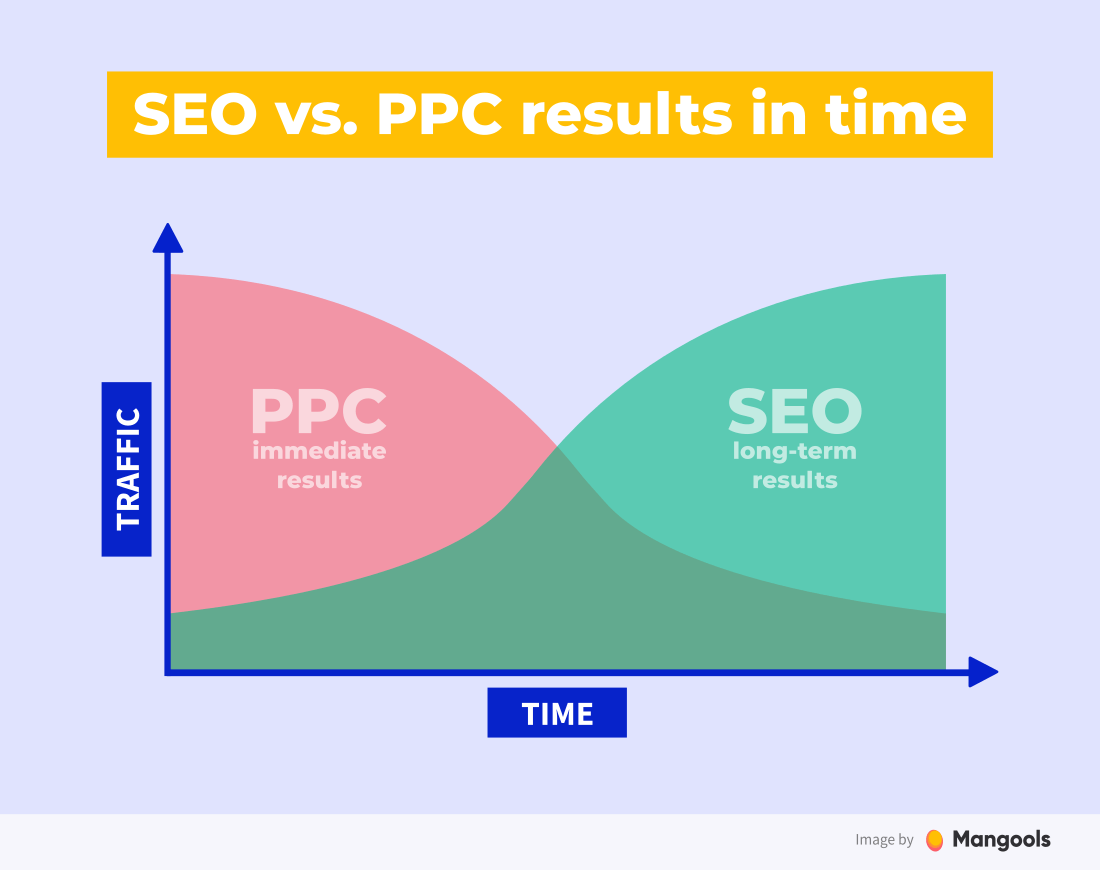 Since both SEO and SEM rely heavily on keyword research, the best way to start is to use a tool like KWFinder to find the best keywords for your business goals based on indicators such as search volume, keyword difficulty, and cost per click (CPC).
Can SEO benefit from PPC?
If you're asking whether PPC ads in the search results can help your organic rankings, the answer is: no. Based on how the current Google algorithm works, organic rankings never take into account any PPC efforts.
However, PPC can benefit your SEO efforts indirectly:
Any data and information you collect while doing PPC can help you better tailor your organic SEO campaigns. For instance, keywords that did exceptionally well for your ads will probably be easier for you to target since you already know you're able to cater to the needs of searchers.
Alternatively, you can use your PPC efforts to test several keywords before putting in weeks of work to rank for them organically. To do this, run small, targeted ad campaigns within Google's Search Network. Display advertisements won't really help here because you can't use them to understand a person's search intent.
Key takeaways
Although SEO and SEM may look similar, these two marketing buzzwords are never to be confused.
Here are some key takeaways from this post:
SEM = SEO + PPC, so comparing SEO and SEM is not correct as SEO is part of search engine marketing
People often use the term SEM to actually describe only PPC advertising in search engines
The main difference between SEO and PPC is that the former is a long-term strategy and the latter usually consists of shorter, time-limited ad campaigns with immediate results
SEO is a must for all websites but PPC might not be an option for you if you have a limited budget for ad spending
Your industry or type of business might not be suited for SEO alone. PPC is great to bring traffic from highly-competitive, time-sensitive keywords or to boost your brand awareness
To get a better picture of where you stand, start by creating a list of things you need to improve based on your marketing and business goals.
For instance, if you want to generate more sales, paying $10/click for a one-time $5 purchase is certainly not a good move. Don't think too much of your company's size or years of experience though. What matters is:
where your potential customers spend their time
what their needs are
what they search for
Until next time, be open to testing new methods for optimizing your presence in the search engine results page but remember to always make decisions based on their ROI.