Content and SEO are interconnected.
Not even the best optimization will help your site if the content sucks. (pardon my French)
That's why search engine optimization is not only about "using HTTPS" or "getting authoritative backlinks". At its core, SEO is about producing great content and getting it closer to people.
In this guide, we'll take a look at how to transform this knowledge into a sustainable SEO strategy that can bring great results in the long-run.
A big thank you goes to SEO experts Suganthan Mohanadasan and Jason Acidre for contributing with their own valuable insights.
What is an SEO strategy?
SEO strategy is a term that describes the way you approach search engine optimization in the process of getting more organic traffic to your website. It should consist of a goal and a plan on how to achieve it.
A good SEO strategy is holistic. It must include all the essential parts of search engine optimization, understand their connection and set out the key steps to achieve success in each of them.
SEO strategy = goal + actionable plan
1. Goal
You can follow the well-known SMART goals criteria to make sure your strategy is easy to follow:
Specific – vague SEO strategy will bring vague (or no) results
Measurable – set out what SEO metrics are important for you and make sure to measure them
Achievable – be realistic and aware of your capabilities, budget and the level of the competition
Relevant – your goal should make sense from the business point of view
Time-bound – make a timeline with desired milestones
Here's a simple example to illustrate the difference between a vague and specific goal/plan: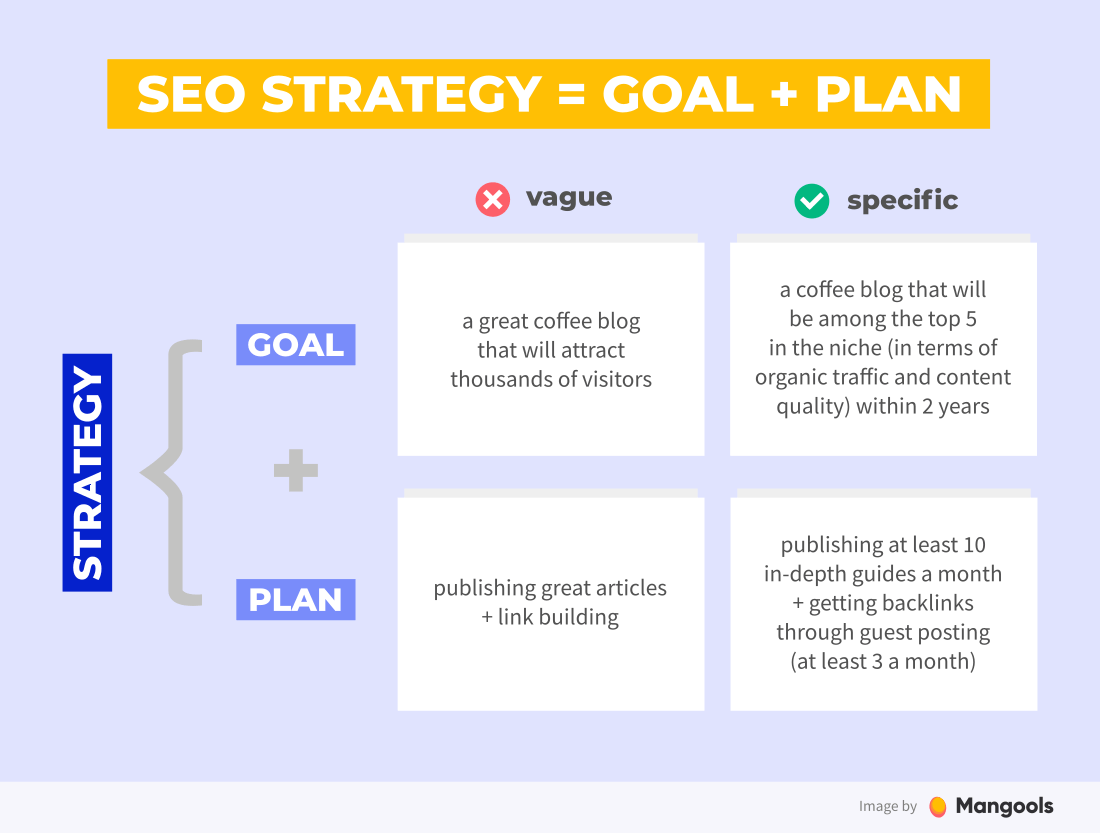 2. Actionable plan
An SEO strategy requires planning in the long-term. It should consist of a series of well-thought steps that are scalable and flexible.
Flexibility is the main difference between an SEO strategy and SEO technique. 
Let me give you an example:
The strategy of creating great content may include various SEO techniques but doesn't depend on any of them solely. If one fails, the plan will be adjusted, but the strategy won't change.
In this guide, we'll follow 7 essential steps to get sustainable SEO results.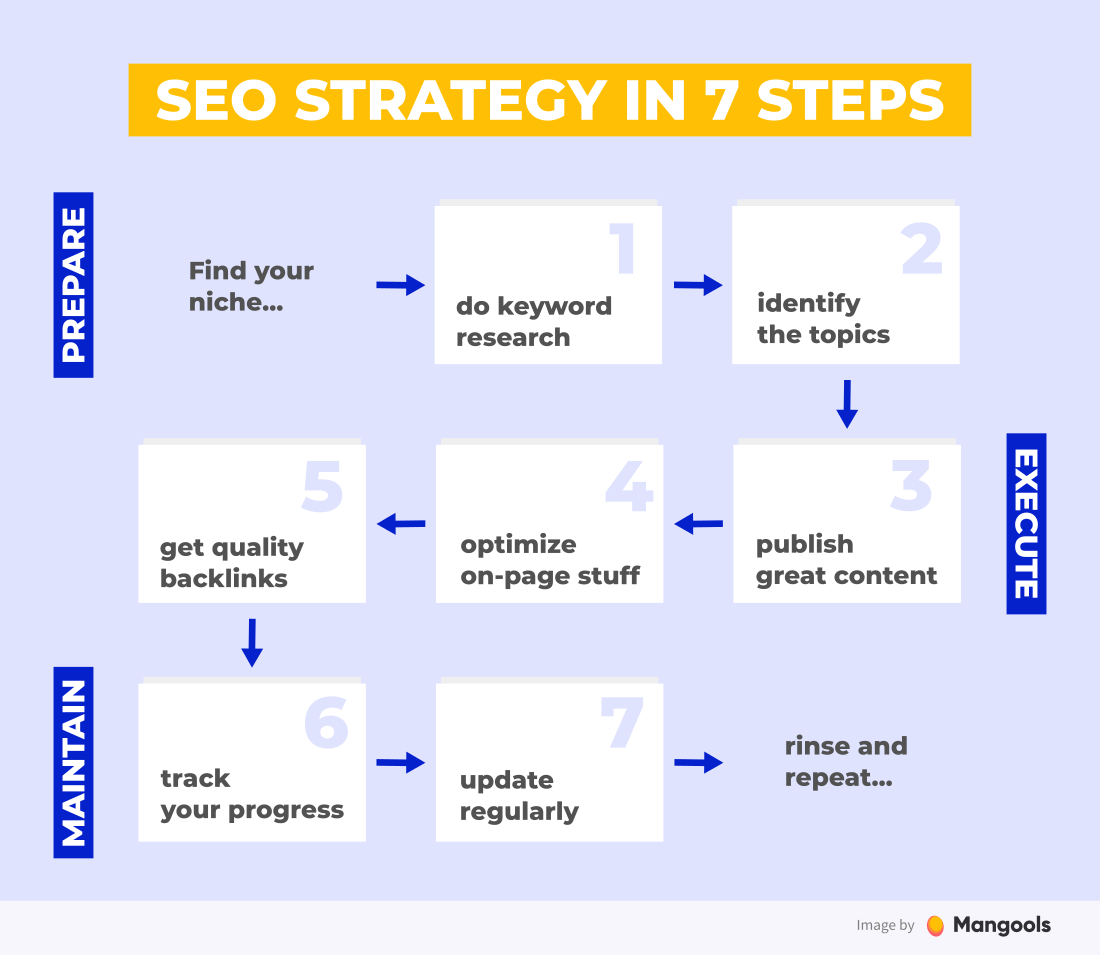 Let's dive in…
Step 1: Do keyword research
Every SEO journey starts with a proper analysis of the niche.
You need to find out what content people look for and what keywords they use to find it – and this process is called keyword research.
There are two basic ways to approach it:
1) Topic-based keyword research
To start the topic-based keyword research, you need a seed keyword – the keyword that will serve as an entry to the niche.
Let's say you are starting a coffee machine review portal.
In this case, you can take the seed keyword – "coffee machine" – and put it into a keyword research tool like KWFinder. The tool will spit out hundreds of terms related to your seed keyword.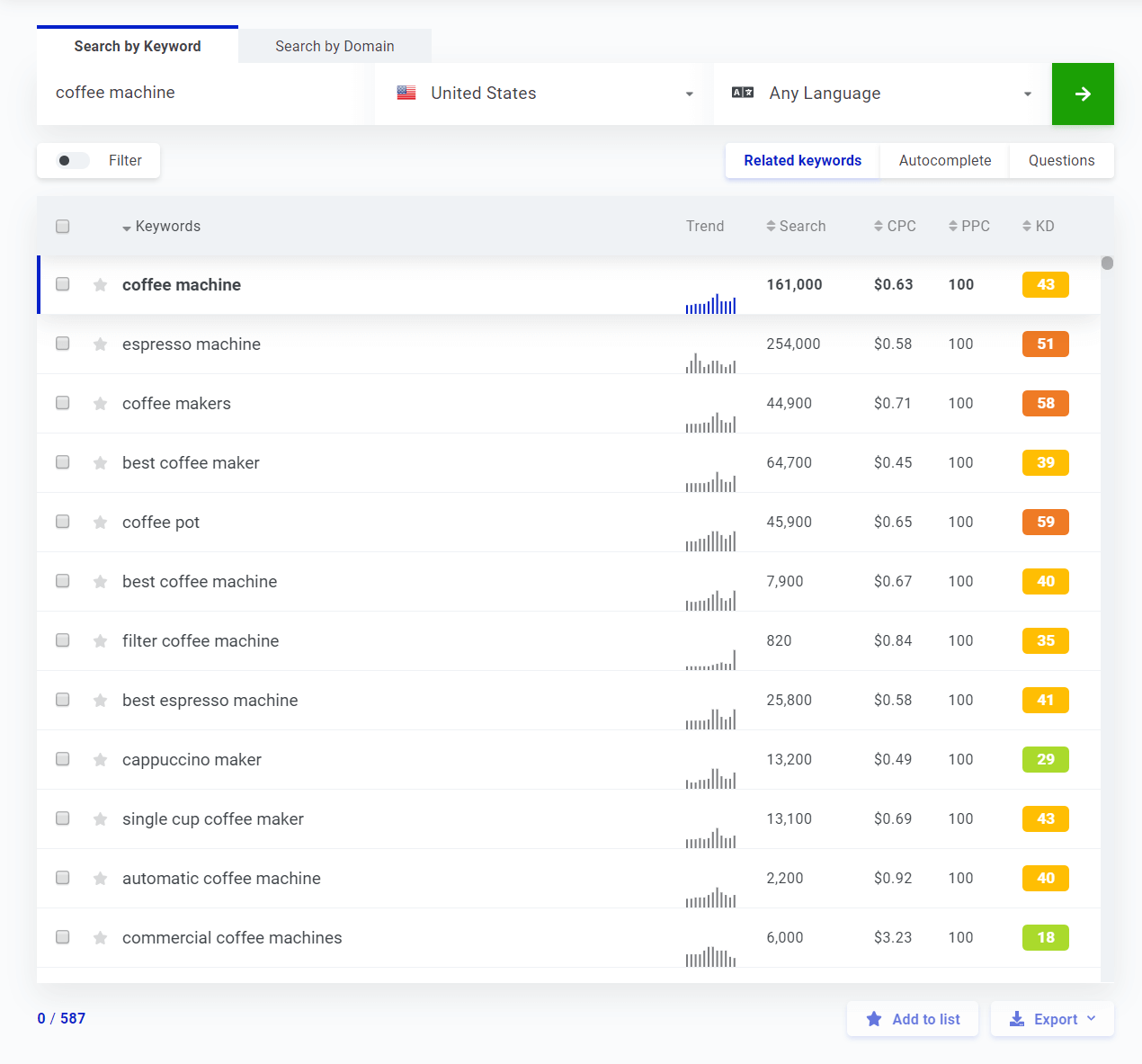 Now that you have a list of keywords to start with, you can dig deeper. Every keyword in the list can be a seed keyword for a new search for related keywords.

This way, there are endless opportunities to find new keywords as every single keyword can be a seed keyword for a new search.
2) Competitor-based keyword research
With competitor-based keyword research, you start with the domains of your competitors and look at the keywords they already rank for.
This will give you a better idea of what keywords are important in your niche as well as what it takes to rank for them (based on the quality/type of the content of your competitor).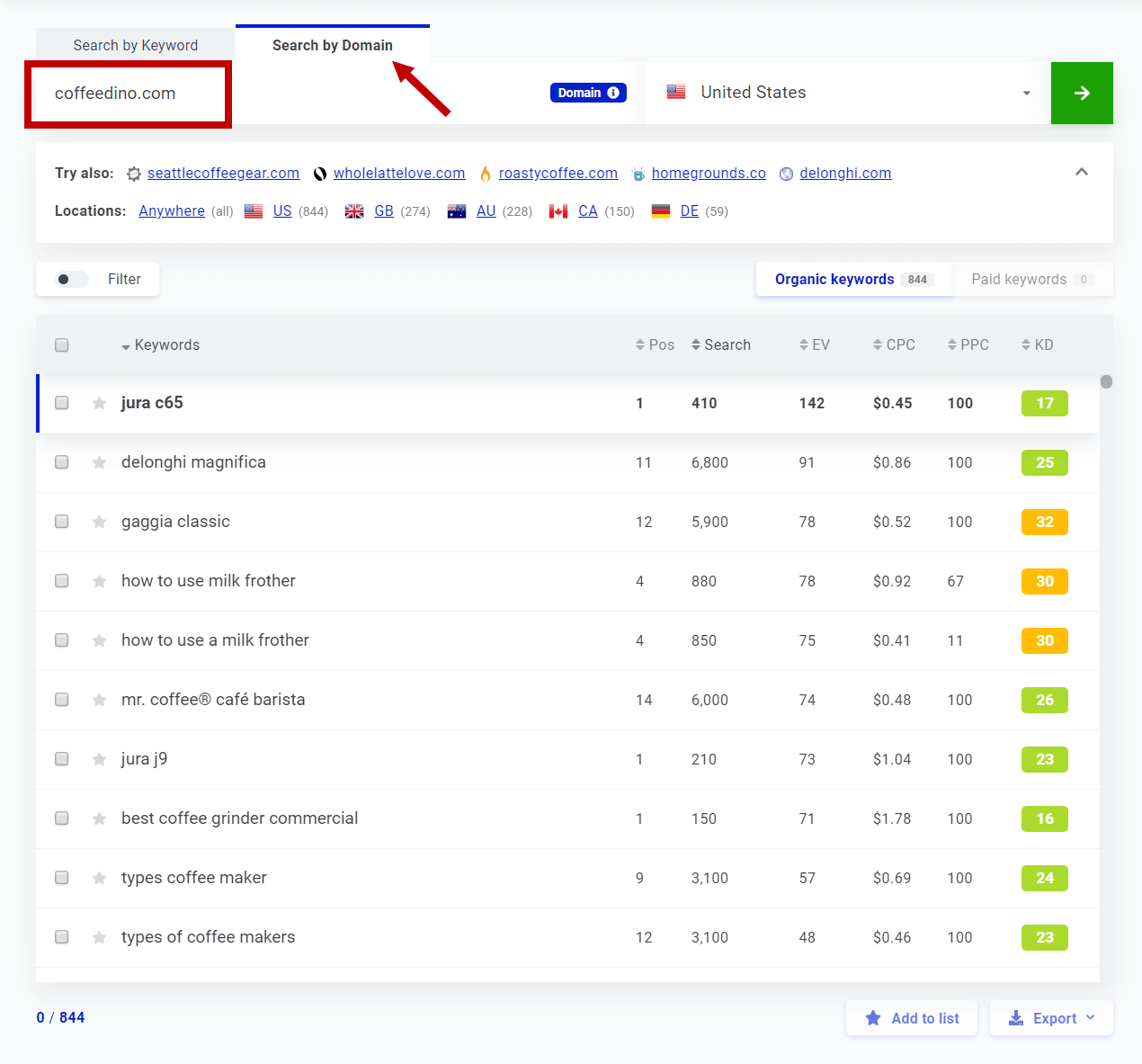 The tripod rule of keyword research
When looking for an ideal keyword, you should pay equal attention to these 3 aspects:
Popularity – What is the search volume and overall search trend?
Difficulty – Will you be able to rank for the keyword?
Relevance – Is your content in accordance with the search intent behind the keyword?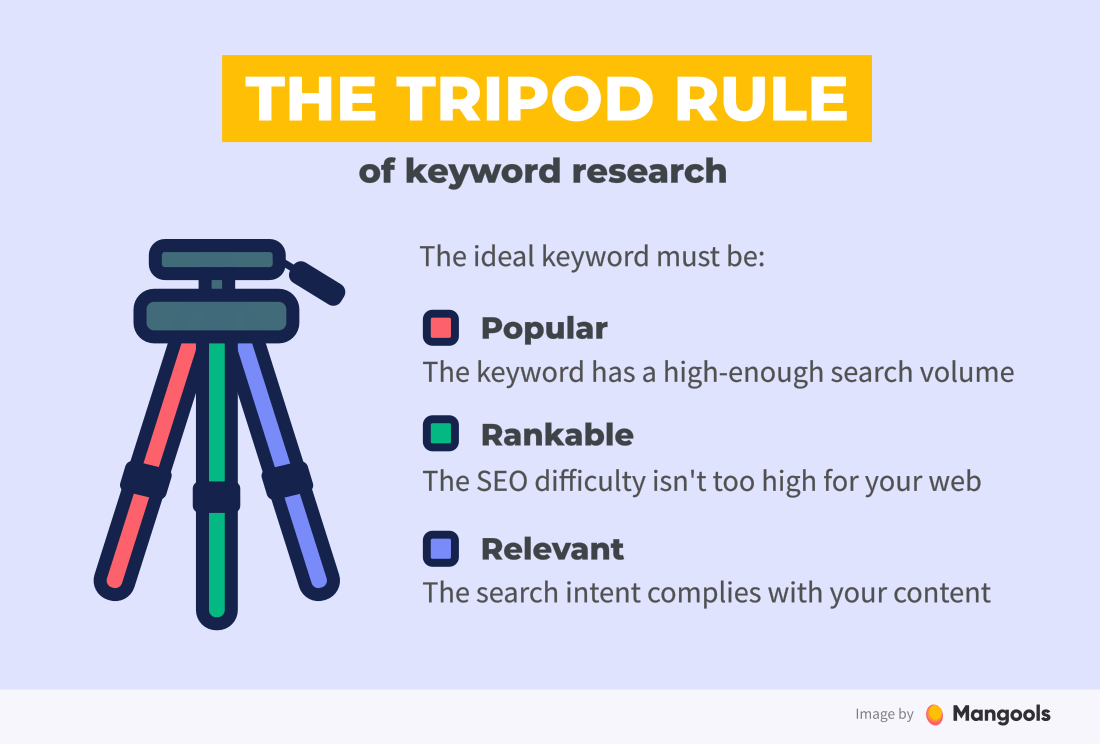 If you omit one of these aspects, your keyword will collapse – like a tripod without one of its legs.
If you want to dive deeper into keyword research, check out our ultimate guide to keyword research for SEO.
Step 2: Identify topics and create a content plan
Search engines are much more intelligent than they were years ago. Look at these 3 keywords:
running shoes reviews
best running sneakers
best shoes for jogging
Three different keywords, right?
The thing is, in Google's eyes, they are almost the same.
Why? Because the search intent behind them is the same: The user wants to buy running shoes and looks for some reviews before the purchase.
So instead of writing 3 different posts focusing on these 3 keywords, you can write one great review. There's a chance you'll rank for all of them. The same way Runner's World did with their big review of best running shoes: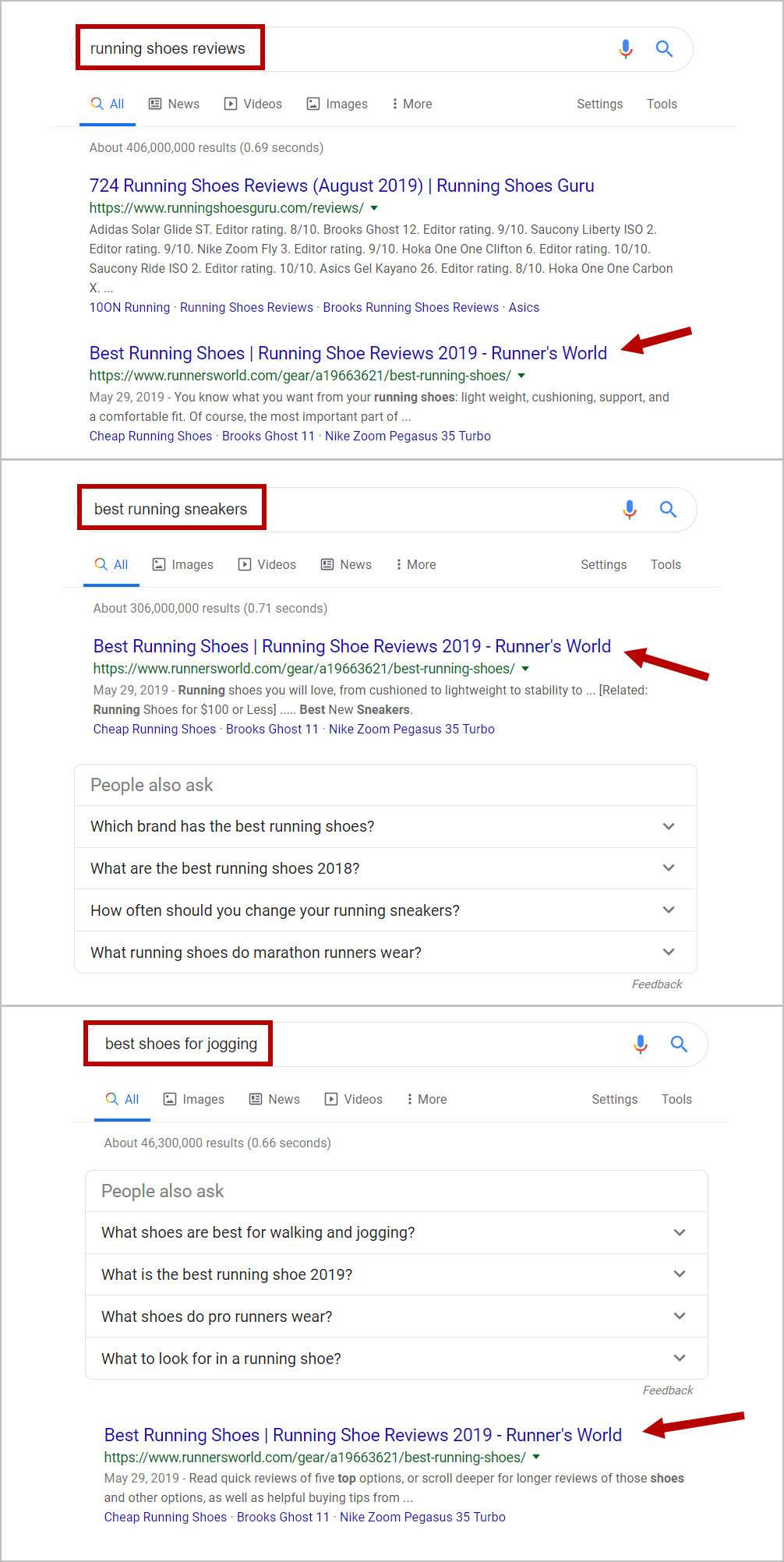 See? No "jogging" or "sneakers" mentioned in the title of the post. Yet it ranks for all of them.
What does all this mean?
Instead of trying to rank for every single keyword, group the keywords topically and cover the main topic in the best way possible.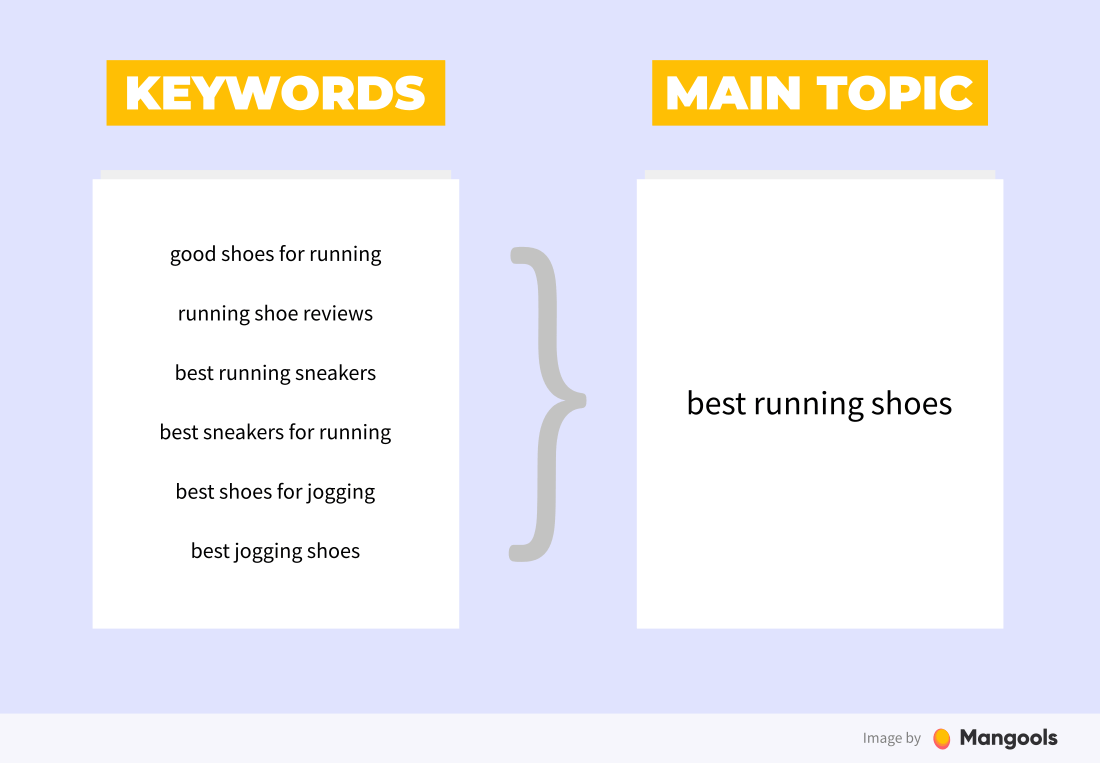 Here's another example:
how long does it take to walk the Appalachian trail
how long does it take to walk the Pacific Northwest trail
how long does it take to walk the Kalalau trail
Although these long-tail keywords are very similar to each other, it would be perfectly acceptable to create 3 separate posts for them.
Someone who wants to hike the Appalachian trail probably doesn't care about the length of the other trails. Instead, he wants to find as much information as possible about that particular hike. Length, difficulty, practical tips…
Always look at what is best for the visitor.
Create a content plan
Creating a content plan is no rocket science. All you need to do is to write down all the content ideas and create a plan on how to publish them.
Note: If you don't have a blog at this point, it's time to set one up!
I mean, there's no point in continuing with this guide without a blog 🙂 If you're not sure how to set it up, here's a handy guide by Blogging Wizard. It won't take you more than an hour.
I personally love to visualize the topics using the mind maps (MindMeister has a free plan with up to 3 maps).
It helps you to organize the content topically and set up a basic structure for the internal links (more on that in step #4).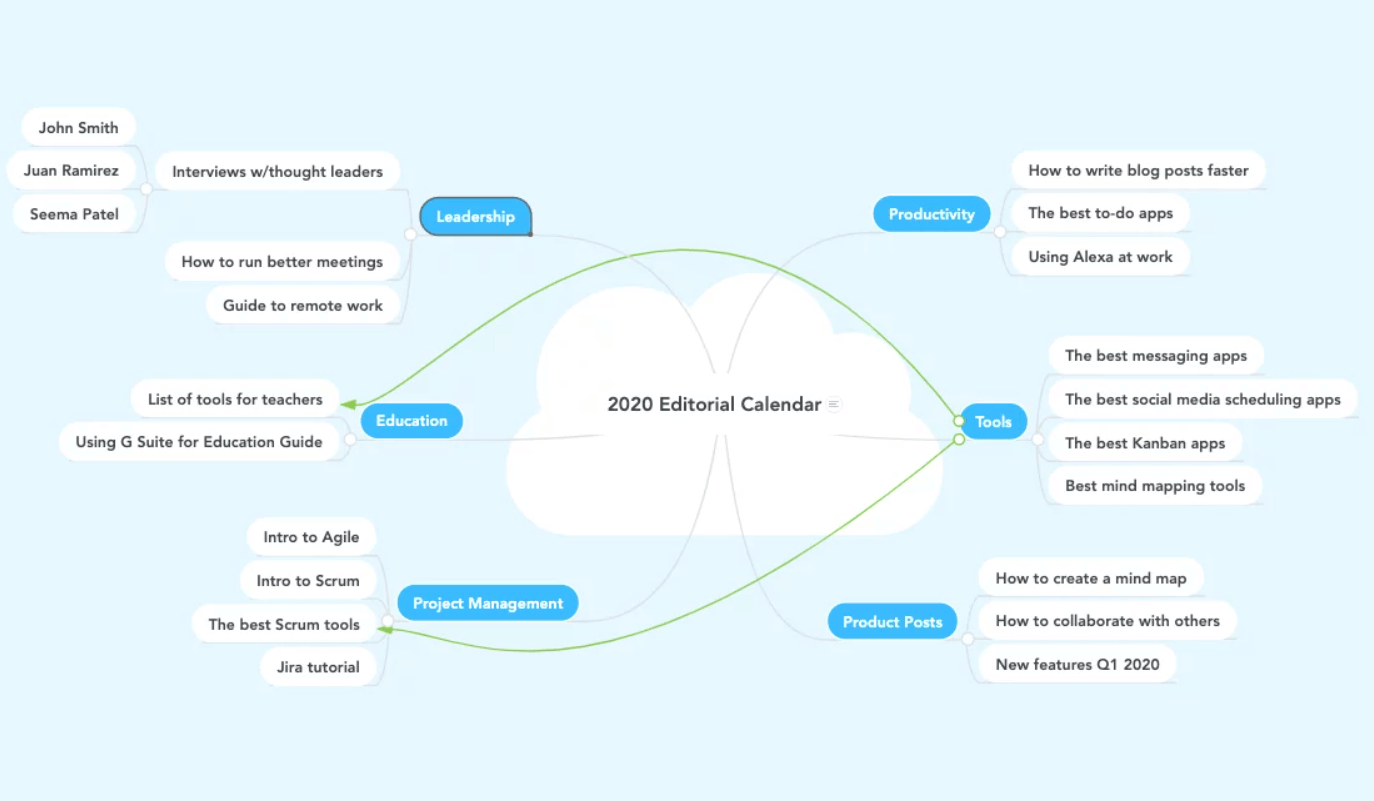 Of course, a simple Google sheet will be just fine too 🙂
Target various intent types
Remember, that not every single piece of content must have a commercial value for you. In other words – you don't have to "sell" in each post.
There's plenty of informational keywords you can target. They may not bring you direct sales, but there are some considerable indirect benefits:
You're establishing yourself as an authority in the field
You're building trust and brand awareness
You're increasing the overall website traffic
Be consistent
You should be consistent in your publishing. It's not a good signal for your readers if you write 10 posts in 2 weeks and then don't publish anything in 3 months.
Step 3: Publish "10x content"
If this post would consist only of one specific tip, it would be this: Publish great content.
Rand Fishkin calls it the 10x content strategy.
His definition of great content is simple:
"Content that is 10 times better than the best result that can currently be found in the search results for a given keyword phrase or topic."
So, how do you write a great piece of content?
Find content that's already been published on the topic
Get inspiration from what is great about it
Think about ways to make your content even better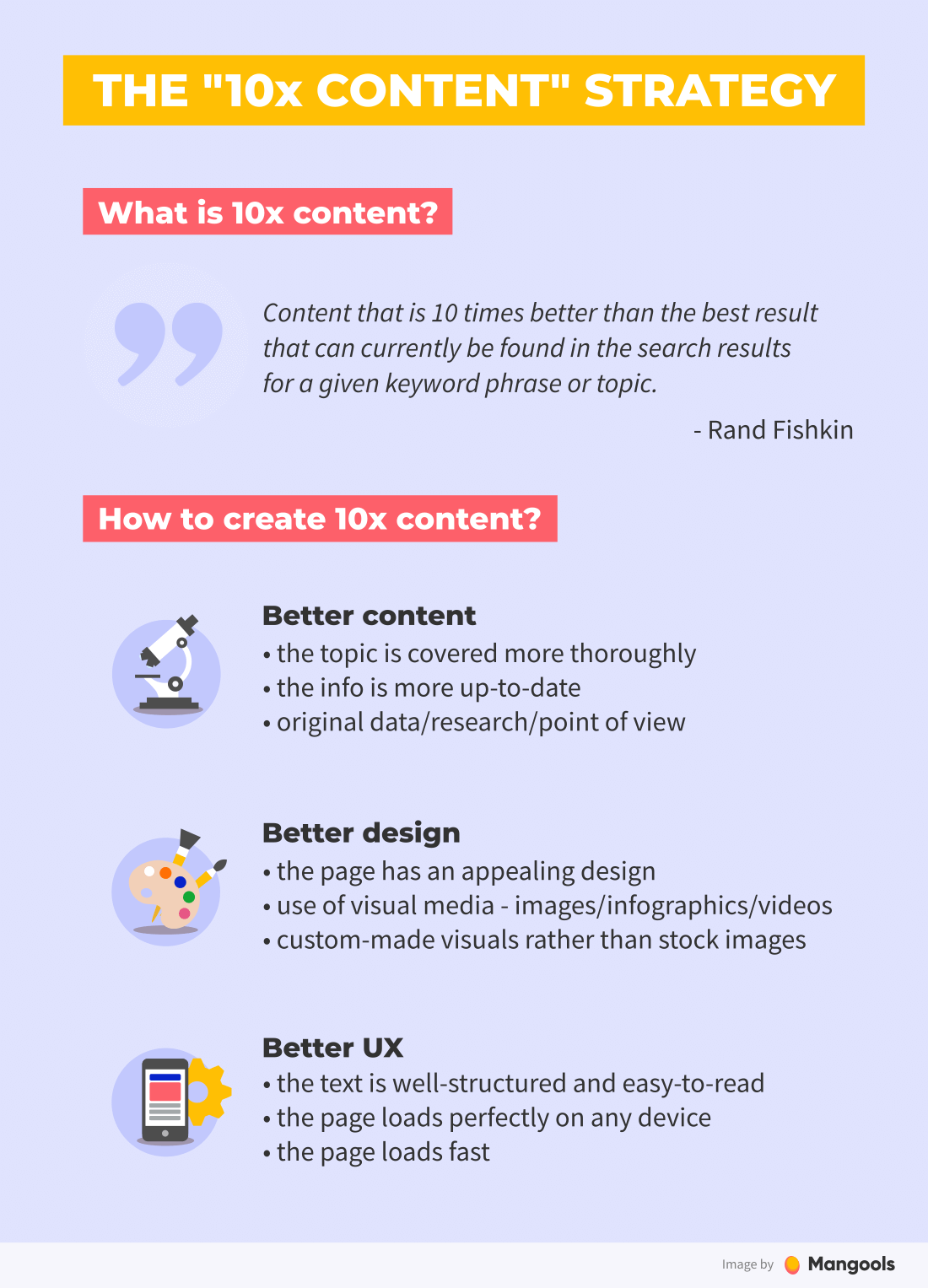 What should you think about if you want to write a post that is better than your competitors:
Can I cover the topic more thoroughly?
Can I contribute to the topic with more up-to-date information?
Can I add an expert insight or support the claims by personal experience or data/research/study?
Can I add media (infographics, charts, gifs, screenshots, videos) that will make the post more interesting?
Can I make the design of the post more visually stunning?
Can I improve the UX of the page? (readability, pages speed, responsiveness)
I highly recommend reading the Search Quality Evaluator Guidelines to make sure you're following the right steps to build your content.
Google has introduced a concept called E-A-T (Expertise, Authoritativeness, Trustworthiness) which they use to evaluate the quality of your content. It's crucial for the so-called YMYL sites (Your Money, Your Life) – medical, finance and potentially e-commerce websites. But it impacts any other website too.
Although E-A-T is not a ranking factor, there have been several updates in recent years that aimed at improving the detection of E-A-T signals.
The general idea is to demonstrate you have actual knowledge and expertise in the area you are writing about. Here are some things you can do:
build the authority of your author profiles
add professional qualifications
contribute to other leading industry-specific websites
get brand mentions (linked or unlinked)
improve the overall reputation of your brand
A quick tip: If you have an affiliate site that falls under YMYL and uses an excessive amount of affiliate links, you should consider keeping them to a minimum or even better remove them altogether and find other ways to monetize the traffic. I have seen these types of sites get hit by Google lately.
Analyze your competitors
Analysis of your competitors' ranking in the 1st SERP can help you find out what it takes to rank for a certain keyword.
Tip: I usually write down the top 10 posts with the number of words and website authority metrics like DA, PA, CF and TF. I also add the number of referring IPs to have a very rough idea of how many backlinks will be needed.
To get all this data quickly, I use our SEO extension (currently available for Chrome and Mozilla), but you can use any other tool.
The main goal is to get to know the competition, the type of content they published and the authority they have.
What about the content length?
You may have come across claims that writing content of this or that length is the best way to rank in Google.
In general, longer content tends to rank higher. There's a famous study by Backlinko that analyzed 1 million websites and found out that the average post length on the 1st SERP is somewhere between 1,700 and 2,000 words.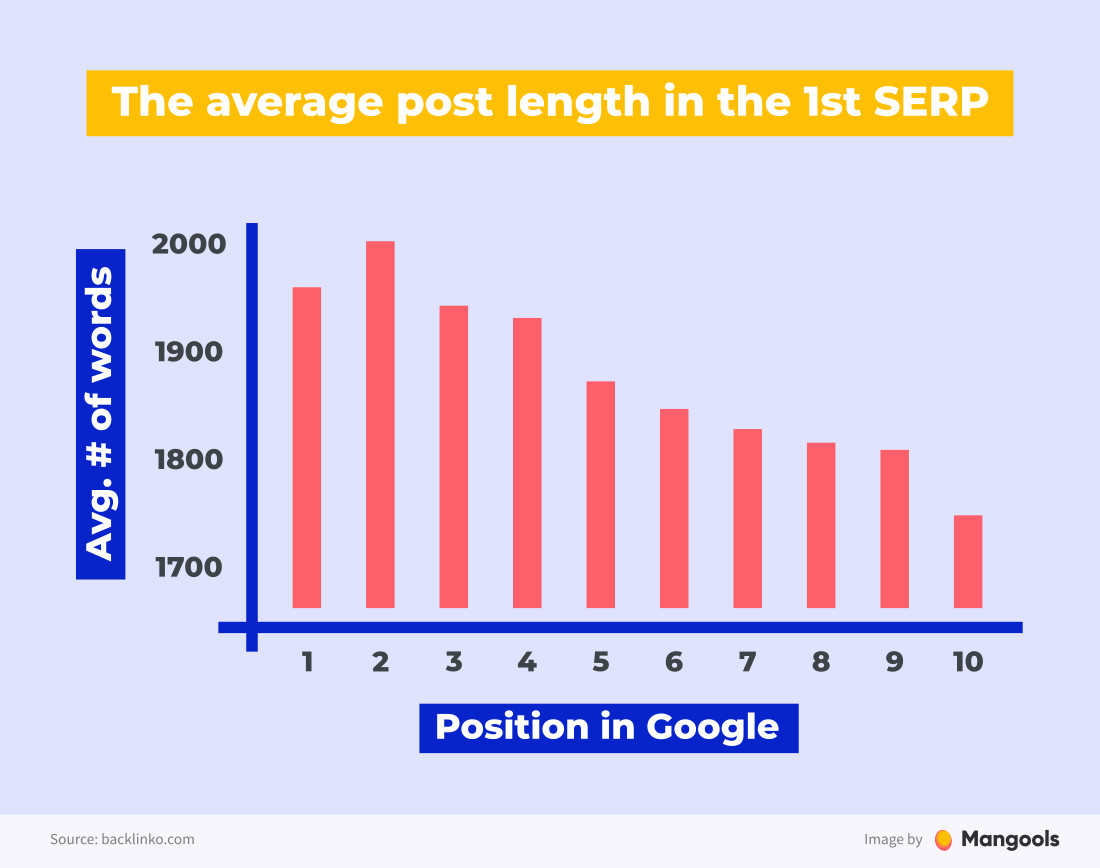 But the truth is, there is no ideal content length. You won't rank high just because you write a super-long post on a certain topic.
It is not the number of words that brings high rankings, but the fact that the long post usually covers the topic in the most comprehensive way.
What's more, this type of in-depth, well-researched content will most probably attract more backlinks and social shares which naturally contributes (both directly and indirectly) to better rankings.
So instead of focusing on the length of the content, write the best content possible.
Factors that are more important than the number of words:
Covering the topic in a comprehensive way
Satisfying the user's search intent
Providing value to the reader
Great user experience (readability, speed)
Correct grammar and spelling
Step 4: Don't forget the on-page optimization
Technical and on-page optimization is one of the key elements of SEO. It's like a good foundation that ensures your content can be found and read easily.
You may think: There's not much "strategy" in setting up an SSL certificate.
And you are right. But there are many on-page SEO practices that aren't just a question of a one-time setup.
Here are 4 on-page SEO practices you need to incorporate into your SEO strategy and do consistently:
Image optimization
Large image file sizes are one of the most common reasons a website page speed is slow.
However, image optimization is not only about installing an image compression plugin.

In the first place, you need to:
Use the right image type – the general rule of thumb is to use JPEG for photos and PNG for images containing text or detailed illustrations
Use the right image size – don't use images that are way bigger than your content width (the photo really doesn't have to be 2500px wide if your blog content width is 800 px)
Internal linking
The beautiful thing about internal linking is the fact that it's a link building that is fully in your hands.
Your pages should be well interlinked so that the visitor can navigate your website easily. There are two types of links you can use for that:
Structural links – menu, breadcrumbs, further reading
Contextual links – manual linking to relevant content from within the body of the text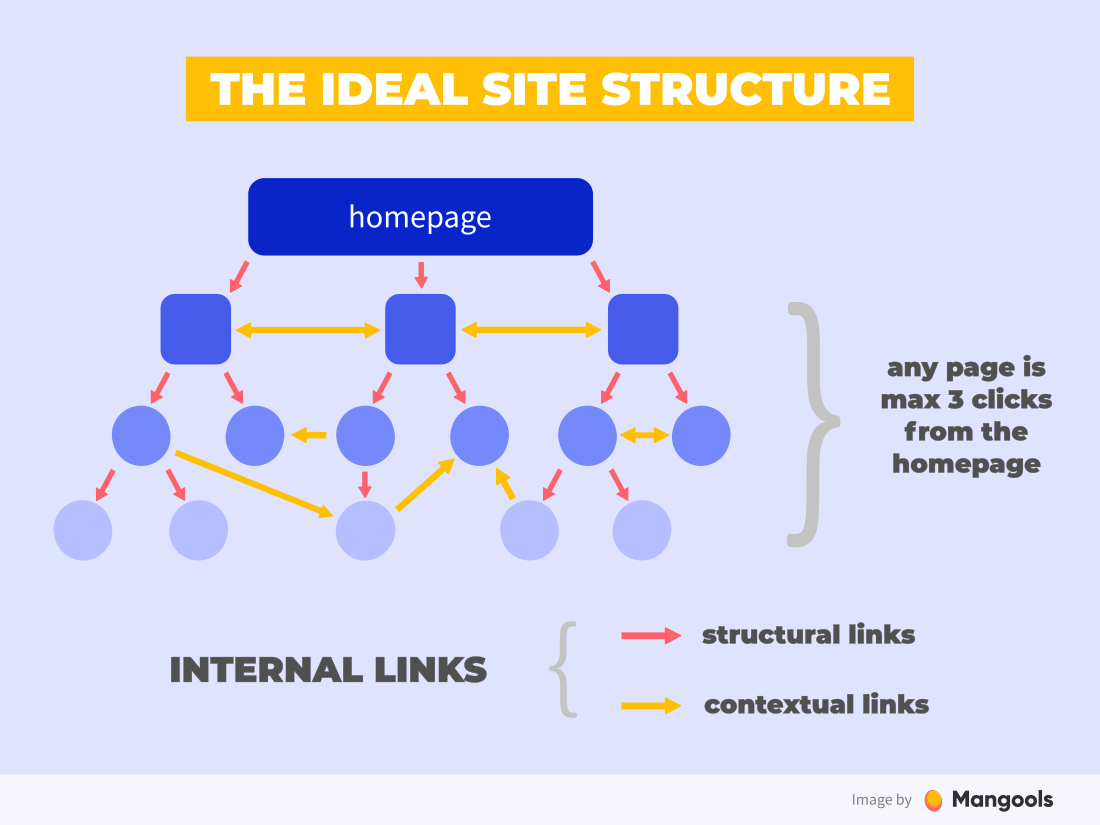 The golden rule of the site structure says that every page should be no more than 3 clicks from any other page on your website.
"Mobile first" approach
Mobile-friendliness is much more than a responsive website and readability on small screens.
Google uses mobile-first indexing, which means it "looks" at your website through the eyes of a mobile user. Mobile is no longer just an additional device your visitors use. Most probably, it is how the majority of people access your website.
So here are some things you can do to keep the "mobile first" approach:
Look at every new page/post you publish through the mobile
Create rank tracking for mobile positions
Optimize for mobile title tags and descriptions
Outbound linking
There's still a very widespread and harmful idea that you shouldn't link out to other websites too much in order to prevent the "link juice" from spilling out of your website.
The truth is, linking to other relevant, authoritative resources may actually have a positive effect on your rankings. Just make sure to:
Use relevant resources
Keep user experience in mind (Always ask: Is this link helpful for the user?)
Avoid linking to low-quality websites
Use common sense
Here's what John Mueller said in the Google Webmaster hangout:
"Our point of view, external links to other sites, so links from your site to other people's sites isn't specifically a ranking factor. But it can bring value to your content and that in turn can be relevant for us in search."
Make linking out to quality and relevant resources part of your SEO strategy.
Step 5: Get quality backlinks
Backlinks are still an integral part of SEO.
That's why getting quality backlinks can be a pain in the neck sometimes. Joshua Hardwick summed it up pretty well:
Struggling to get high-quality backlinks to your website?

That's why it's STILL a ranking factor. 😂

— Joshua Hardwick (@JoshuaCHardwick) May 13, 2019
Now, there are plenty of link building techniques. But if you want to make link building part of your SEO strategy, it needs to be scalable.
That's why we'll focus on two commonly used link building strategies that are both scalable and effective – link insert outreach and guest posting.
Outreach-based link building
Both these techniques are based on email outreach and consist of more or less the same steps, just in a different order:
Link insert outreach
Create a great piece of content (post, video, infographic)
Find relevant and quality link prospects
Reach out and ask whether they would link to your content
Guest posting
Find relevant and quality guest post prospects
Reach out and ask whether they accept guest posts
Write a great post (you can also have one written in advance and reach out with a specific topic)
Sounds easy, right?
Well, there's one problem. The outreach-based link building is overused and misused. Everybody does it and many people do it the wrong way.
If you have a blog, there's a high chance you've received one of these: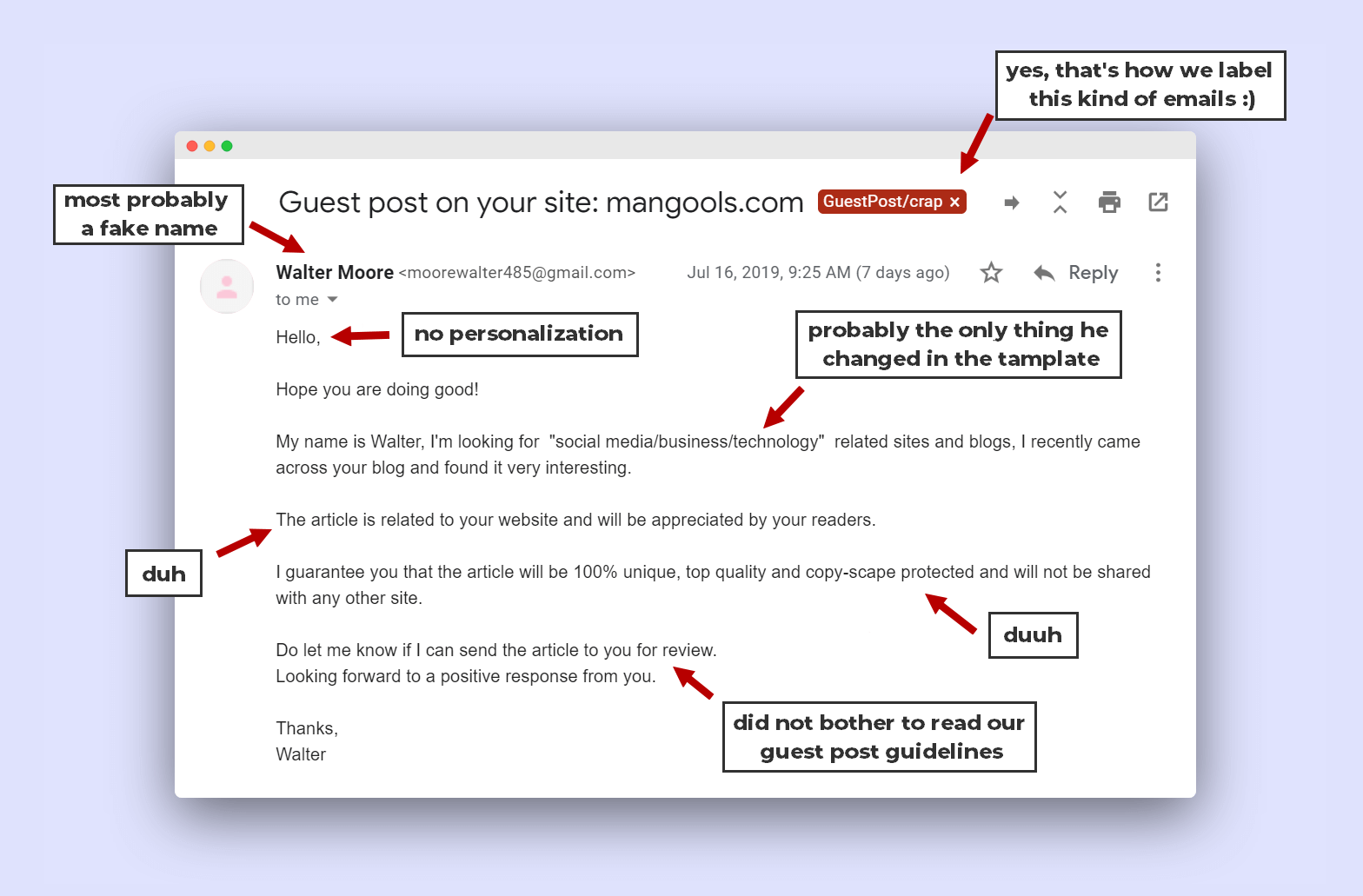 What's the overall message of this email?
"I am too lazy to write a personalized email or find out anything about your web but I do want an easy backlink."
So…
How to do link building outreach the right way?
First of all, you should find relevant websites.
Finding potential link prospects can be tedious work, but you can cheat a little and "steal" your competitors' backlinks.
The idea is quite simple:
Find your competitors
Analyze their backlinks in a backlink analysis tool
Select the ones you can replicate
Here's a screenshot from LinkMiner, our backlink analysis tool: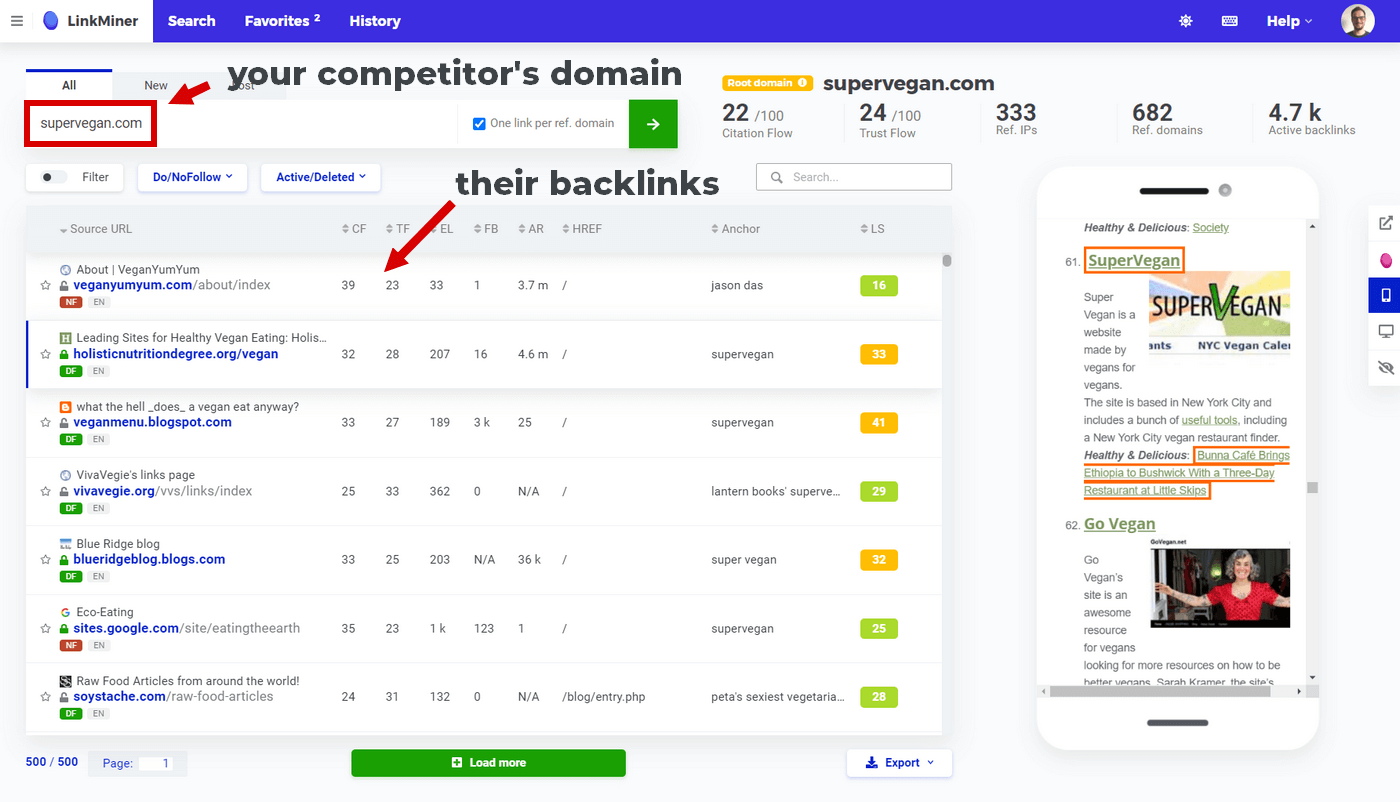 There are other ways too. To find guest post opportunities, you can:
contact your existing partners
use search operators to find relevant websites that accept guest posts
check existing lists of websites that accept guest posts
monitor your industry keywords
Always focus on quality rather than quantity.
The same applies to email outreach. Here are some quick tips:
Personalize the email/avoid public templates
Contact the right person in the company
Don't use too much flattery (unless you're a real fan of the site)
Be short and straightforward
Be careful about grammar and formatting mistakes
Last but most important – OFFER REAL VALUE
Not even the best outreach email in the world will help you if your content is garbage.
The biggest issue with the state of today's email outreach is the fact that most people take it as a necessary evil. They write mediocre posts and get backlinks from mediocre sites (if any at all).
If you create content that is unique and valuable (remember? the 10x content), it will be much easier to get quality links or get it published on a highly authoritative website.
Throughout the years, I've learned that to be truly effective in your link building strategy, it's imperative to invest in linking opportunities that will have a positive effect on the business from an SEO, branding, and sales-perspective.
With this in mind, you'd be able to simplify the set of metrics or factors to consider for which types of links to acquire or tactics to implement, such as focusing on:
Topically relevant and highly authoritative sites
Preferred link placements and context of the brand mention (in which the target audience will have higher chances of clicking through or at least leaving a positive impression of the brand).
Having an ROI-driven approach to link building also allows you to zero-in on tactics that will actually work in your own unique situation – a couple of samples would be:
Forming strategic partnerships with indirect competitors and other content publishers in your space (through cross-promoting content/products/services and/or exploring contextual link exchange opportunities).
Investing in assets that are simply hard-to-miss even for your competitors (ie: ranking for informational queries that can easily attract links from other content publishers and amplifiers).
Step 6: Track your progress
Tracking the results to see what works and what doesn't is a crucial part of any SEO strategy.
If you're just starting a website, you'll do just fine with these 3 basic tools:
Google Analytics
A free tool by Google that gives you an overview of your traffic – how many people visit your website, where do they come from, what pages do they visit, how much time they spend on the site and much more.
Read more in our SEOpedia post What is Google Analytics?
Google Search Console
Search Console is a series of dashboards that show you how your website is performing on Google.
Besides other useful features (performance report, index coverage, sitemaps, enhancements overview) it is a great tool to quickly find out what keywords your site is ranking for.
A nice bonus is a monthly email report about your top-performing content and keywords.
Rank tracker
A rank tracking tool like SERPWatcher is a must. The idea is quite simple – you enter your most important keywords and the tool tracks your rankings in Google on a daily basis.
This way, you can watch your overall progress and get alerted about any sudden changes.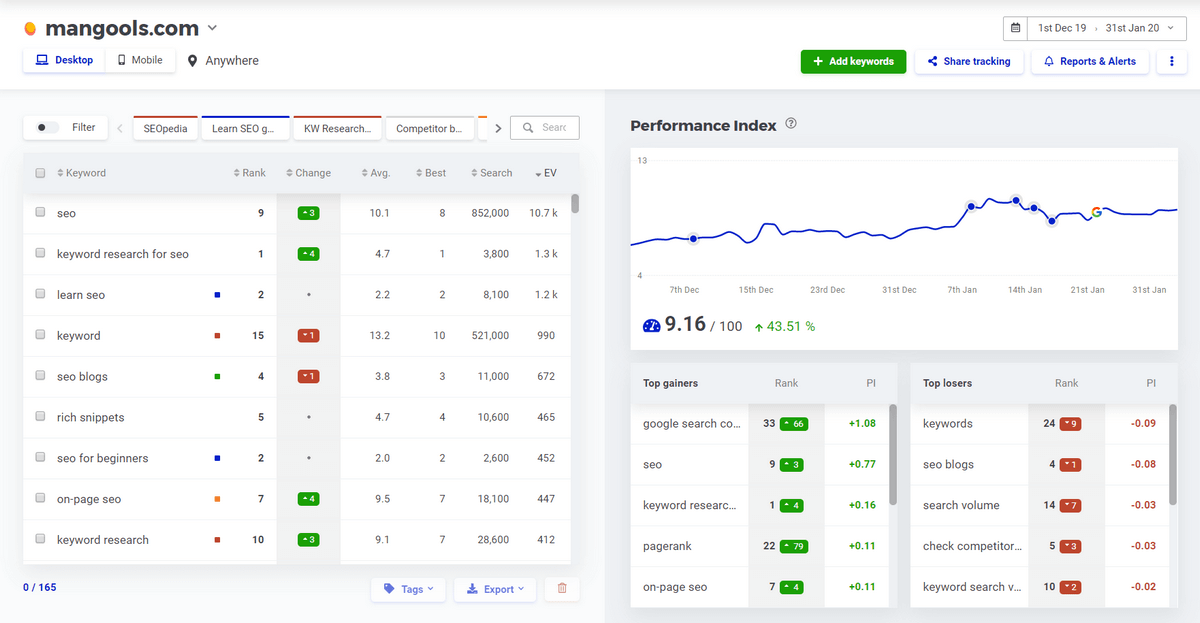 If you want to learn more about website analytics and SEO metrics, I can recommend the last chapter of our SEO guide.
Step 7: Update and/or republish the content
The lifespan of a content piece doesn't end when you hit the publish button and send some outreach emails.
You should take care of it over time, see what works and what could be improved.
The truth is, even the best piece of content will most probably face the so-called content decay over time.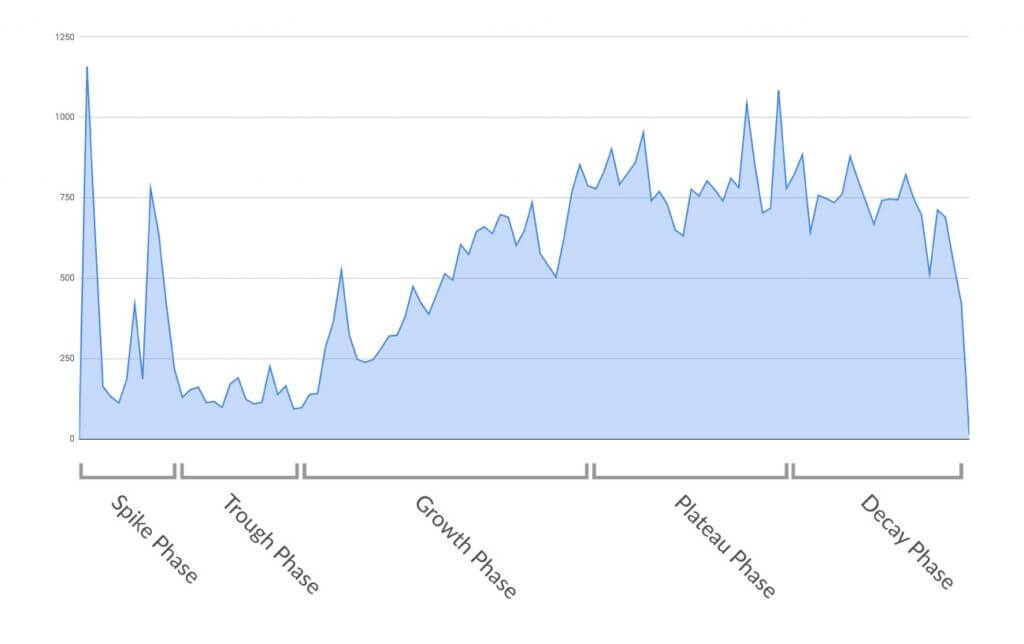 In order to prevent it, you should refresh your most successful posts regularly.
You can:
Update the content – make it better, more up-to-date, more thorough or to improve the visuals, structure or UX
Republish the content – remake the content completely or merge smaller posts into one bigger piece
Pro tip: Use a free tool called Revive by Animalz that will connect to your Google Analytics and analyze what content needs to be refreshed based on the traffic trends.
Rinse and repeat…
The beauty of this SEO strategy lies in its simplicity. You can scale it as long as you're able to find new topics for your content.
It is good to go through your plan on a regular basis (monthly, for example) and look for:
new content topics
new link opportunities
ways to improve your existing content
If you manage to produce unique, valuable content for long enough, you'll see the results.
Just be persistent, always look for quality over quantity, and don't forget that SEO is a marathon, not a sprint.