Have you ever wondered why sometimes a freshly created website isn't making a dent in Google search results, despite the painstaking optimization of every web page?
If you're scratching your head over your website's rankings in the search engine, you might have stumbled upon the SEO concept called Google Sandbox – the SEO world's most dreaded cryptid.
So, sit tight and grab your favorite snack; we're about to dive deep into this Sandbox legend and take a look at:
Trust us, whether you're an SEO novice or a seasoned veteran, this guide is something you might find useful at any time.
What is Google Sandbox?
The term "Google Sandbox" refers to an alleged set of algorithms that restrict freshly created websites from ranking well in Google SERPs for a certain time period, irrespective of how high-quality and well-optimized their content and web pages might be.
The concept of Google Sandbox started to be popular in 2004 and since then it has become concerning for many websites that needed to rank in Google Search ASAP.
The idea behind this concept is that every new website is subjected to a "probationary period" during which it is not allowed to rank well.
According to some sources, the Sandbox period may take from a few weeks up to several months (no matter how hard you try to optimize your pages):

Once this period is over, the site's rankings should improve.
Because of concerns like these, it is natural that you might be worried about your website and whether or not it might get affected by Google Sandbox.
Let's now take a quick look at what might be (in theory) the potential SEO consequences of Google Sandbox.
Why is Google Sandbox so concerning?
The main reason why many website owners and SEOs are so worried about the Sandbox period is simply because it might prevent them from reaching their business and SEO goals right from the beginning (and for quite some time).
Generally speaking, there are 2 website categories that could be (allegedly) affected by Google Sandbox:
New websites: Any freshly created websites are supposed to experience the Google Sandbox for a certain period of time.
Inactive websites: Some people claim that Google Sandbox may affect even old websites that did not publish anything new for quite some time (but then started to create new content).
Because of that, the "Sandbox period" would be a serious issue from the SEO and business perspective. Here are a few common reasons why Google Sandbox sounds so scary to so many people:
Slowed-down brand awareness – when launching a new business with a new website, the slowness of this Sandbox algorithm would create initial challenges in building brand awareness.
Burned SEO budget – quick wins in the SEO world are very rare for new websites, which would make the "Sandbox" period quite a challenge (and an additional headache) for website owners to overcome.
Business goals out of reach – being stuck in some low-ranking period can be particularly frustrating if your business model heavily relies on rapid online visibility.
Does Google Sandbox actually exist?
The concept of Google Sandbox is quite a controversial topic in the world of SEO.
Some people claim that Google Sandbox is real, while others believe it is not, and some argue that it is only partially true.

To make things even more chaotic, a few popular online marketers and website owners (such as Randy Fishkin) claim that they were capable to detect and evaluate the Google Sandbox effect based on various factors: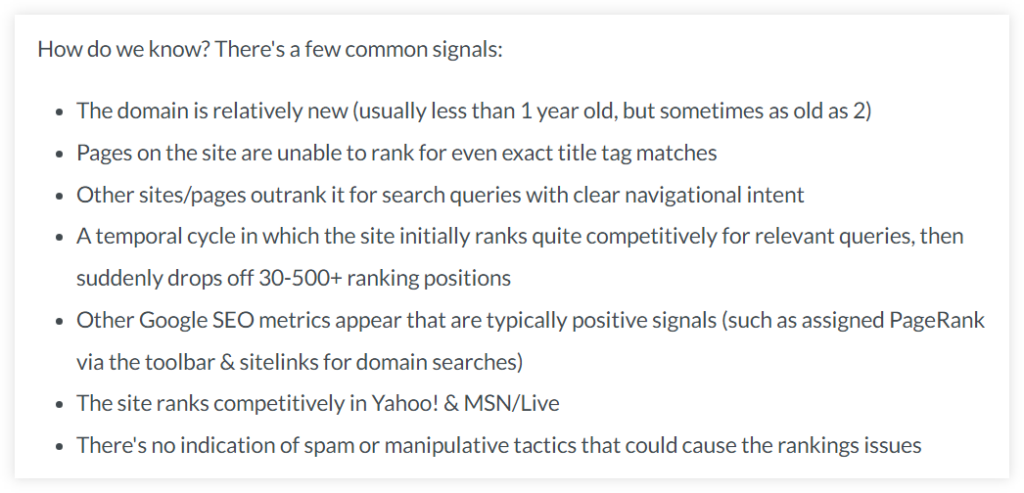 The problem with these claims and observations, however, is that Google never really confirmed the existence of Google Sandbox.
In fact, many Google representatives (e.g. John Mueller or Gary Illyes) stated multiple times that there is no such thing as the "Sandbox effect":
So how can these random ranking slow-downs be explained if Google Sandbox doesn't really exist?
Well, the simplest explanation might be that Google, in some cases, needs additional time in order to properly evaluate the website's content, find out how relevant it is for various search queries, and compare its quality against the other websites that are already ranking in Google Search.
Think of it like this: Let's say that you have just launched a website with dozens (or even hundreds) of web pages and every web page is state-of-the-art when it comes to content quality and on-page SEO.
In a scenario like this, Google has to run several processes that may take quite a while, such as:
Crawling every available web page on your site
Indexing the content into the search engine's index
Ranking your website for relevant search queries
Evaluating and comparing your pages against those of your competitors
Because of this, it is quite natural that it may take some time until you see some significant ranking improvements – since Google needs to know first what your site is all about.
Or as John Mueller (Google Search Advocate) stated:
"From what I can tell, your site is still fairly new – with most of the content just a few months old, is that correct? In cases like that, it can take a bit of time for search engines to catch up with your content, and to learn to treat it appropriately. It's one thing to have a fantastic website, but search engines generally need a bit more to be able to confirm that, and to rank your site – your content – appropriately."
How to start ranking faster (and avoid the "Google Sandbox" period)?
Although you can't directly force Google to rank your pages ASAP, there are a few things that you can do to speed up the crawling, indexing, and ranking processes:
1. Focus on long-tail keywords
A good strategy to start ranking faster is to create and optimize your content for long-tail keywords.
Ranking for longer search queries is usually much easier (and quicker) because they have lower search volumes and fewer competitors in their search engine results pages (SERPs) compared to shorter, more popular keywords.
You can use our keyword finder tool to quickly discover "low-hanging fruits" in the form of long-tail keywords. Simply follow these steps:
Enter your seed keyword into the KWFinder and press enter.
Scroll through the "Related keywords" tab or utilize the "Autocomplete" and "Questions" tabs to find even more relevant long-tail keywords suitable for your website.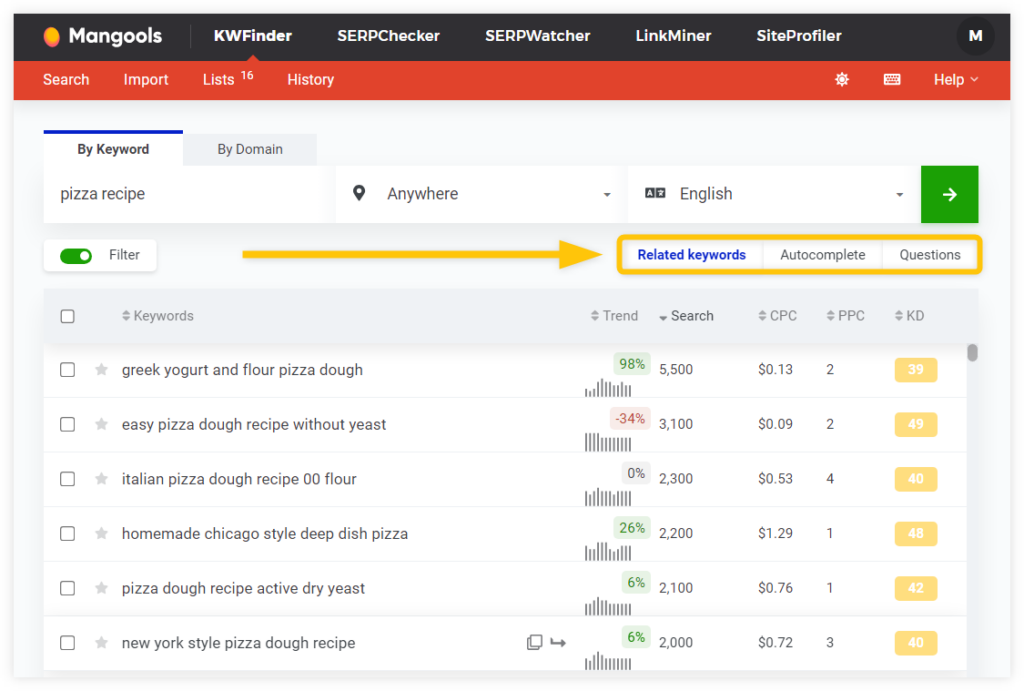 2. Create a high-quality content
Search engines, especially Google, place a lot of emphasis on great content.
Therefore, always make sure you're consistently publishing articles or pages that offer value to your readers and cover the important topics thoroughly.
Remember: If your content is trash, it simply won't rank well (if at all).
3. Improve your on-page SEO
Having properly optimized web pages is simply a must.
Without it, Google will have quite a difficult time finding your content and determining which pages should rank for specific search queries.
This can ultimately slow down the overall ranking process for your site.
Here are a few fundamental on-page SEO factors that you should be focusing on all the time:
4. Speed up the crawling & indexing process
The quicker Google's bots can crawl and index your site, the sooner you will see improvements in ranking.
Although you can't directly influence when will Google visit your web pages, you can at least let Google know about the existence of your site.
Here are a few things that can speed up the crawling/indexing processes:
Submit an XML sitemap: An XML sitemap acts as a roadmap for Google's crawlers. It outlines the structure of your website and helps the bots to find essential pages more efficiently. Submitting a well-structured XML sitemap can make it easier for Google to understand your site's content.
Request indexing manually in GSC: You have the option to manually request indexing for a handful of web pages directly in the Google Search Console URL Inspection Tool. By submitting your web pages, Google will prioritize them over the other URLs on your site.
5. Improve your backlink profile
Don't underestimate the power of backlinks from sites with high domain authority!
Building strong backlinks can send trust signals to Google that your website is reliable and authoritative.
In addition to that, getting a few backlinks right after the launching of your website can prompt Google to visit (and index) your pages faster.
To enhance your backlink profile, you can use tools like LinkMiner to quickly check your competitors and replicate some of their backlinks right from the beginning: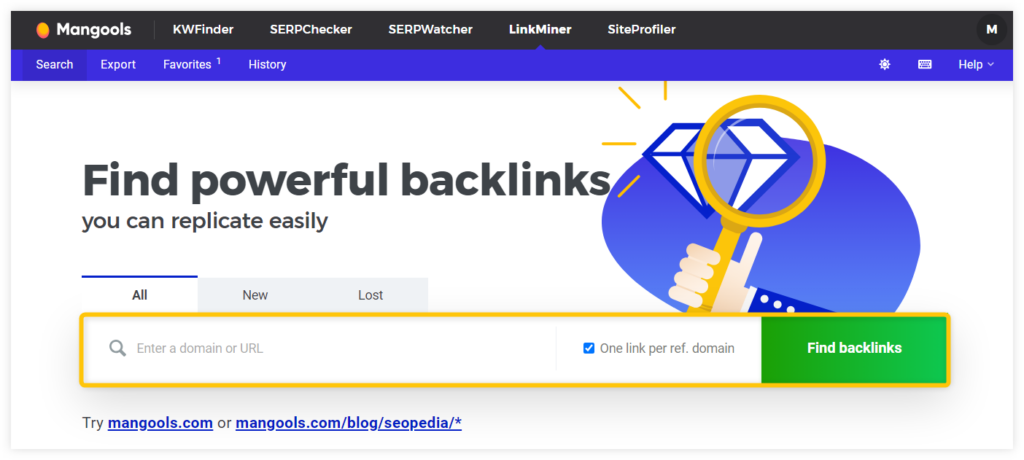 6. Monitor your rankings
If you have done everything in your power to create great content with proper optimization, you can start monitoring the ranking performance of your website and evaluate when (or how quickly) your pages started ranking in Google Search.
With tools like SERPWatcher, you can keep an eye on the most important search queries and regularly check how your pages are ranking for them. To do this, simply:
Set up a new tracking in SERPWatcher and enter your domain
Add the important keywords you would like to track, whether for desktop or mobile search engine results pages (SERPs).
After some time, the tool will display the current ranking status of your pages for the selected keywords.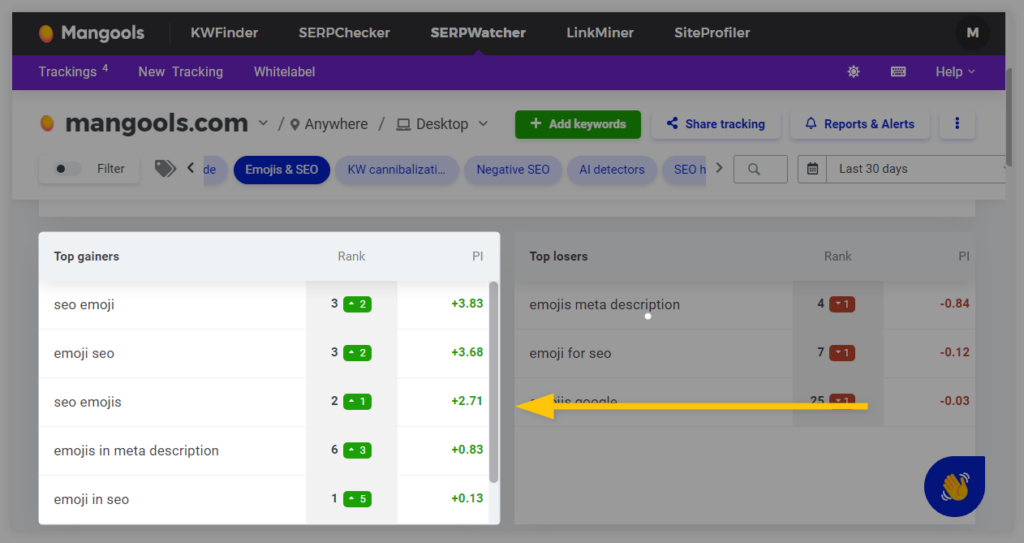 Final Thoughts
The Google Sandbox effect is a highly debated and often misunderstood topic in the realm of SEO.
While it may be frustrating for website owners and SEO experts alike, understanding the nuances of this mythical theory and implementing strategic efforts can help you navigate your way to the SERP more effectively.
By focusing on long-tail keywords, using social media, and constantly monitoring your performance through SEO tools like Mangools, you can set your site up for success right from the beginning.
We hope this article has given you valuable insights into the world of Google Sandbox and how to make the most out of this challenging yet critical phase in a website's life.
Stay tuned for more updates and strategies to keep you ahead in the ever-changing landscape of SEO!