If you've hung around in the SEO circles for some time, you've probably come across the term PageRank or the claim that it is "dead".
Although the topic is quite easy to grasp, there's still a lot of controversy around whether PageRank is still relevant these days.
Let's resolve it once and for all.
Is PageRank dead?
Yes it is.
Or, to be more precise, the Toolbar PageRank is dead.
Google Toolbar PageRank was an official numeric value from 0 to 10 assigned to all the web pages and accessible through Google's browser toolbar.
Here's what it looked like: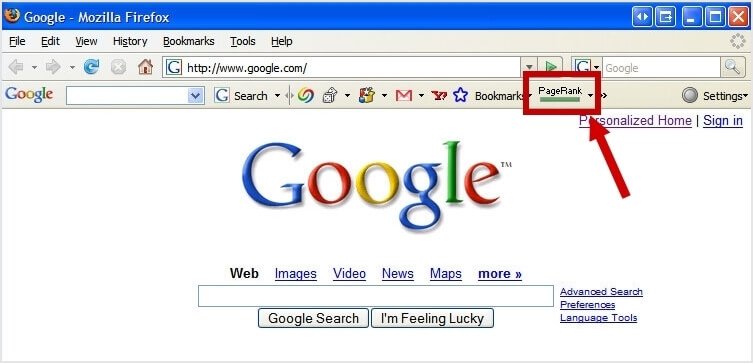 A metric directly from Google meant marketers were obsessed with it and many people tried to manipulate it. However, the search giant ceased to update PageRank from early 2013 and dropped support for it in 2016.
History of Toolbar PageRank
2000 – Google releases its toolbar with a PageRank meter on a scale from 1 to 10.
2005 – Google teams up with Yahoo and MSN to introduce the nofollow tag to fight comments spam (we'll learn more about it in the next section).
2009 – Google has removed the PageRank distribution feature from its Webmaster Tools.
2013 – In November, the last known update of visible PageRank was performed.
2014 – Matt Cutts says that another PageRank update won't come.
2016 – Google officially shuts down the toolbar for public use.
After not being updated for a few years, Toolbar PageRank is no longer relevant.
As a result, if anyone mentions PageRank in any way today, he usually gets a response similar to this:

The thing is, the answer like this is not true at all.
While the Toolbar PageRank (the metric on a scale from 0 to 10) is no longer available and supported, PageRank is much more than an obsolete metric.
Let's try again. Is PageRank dead?
No, it's definitely not.
How come? Well, there's PageRank and PageRank.
While PageRank as a toolbar metric is no longer relevant, PageRank algorithm remains one among many other signals that Google uses to organize the information on the web.
We need to differentiate between "two PageRanks":
Google Toolbar PageRank – the metric from 1 to 10 used in Google's toolbar, no longer supported or relevant
Google PageRank algorithm – one of the foundations of Google algorithm used as one of many signals to this day
Here's the truth from the horse's mouth – a Google employee Garry Illyes. The tweet is from February 2017 (long after Google discontinued the Toolbar PageRank):

If you scroll down the conversation that follows the tweet, you'll understand the confusion that SEO folks fall for.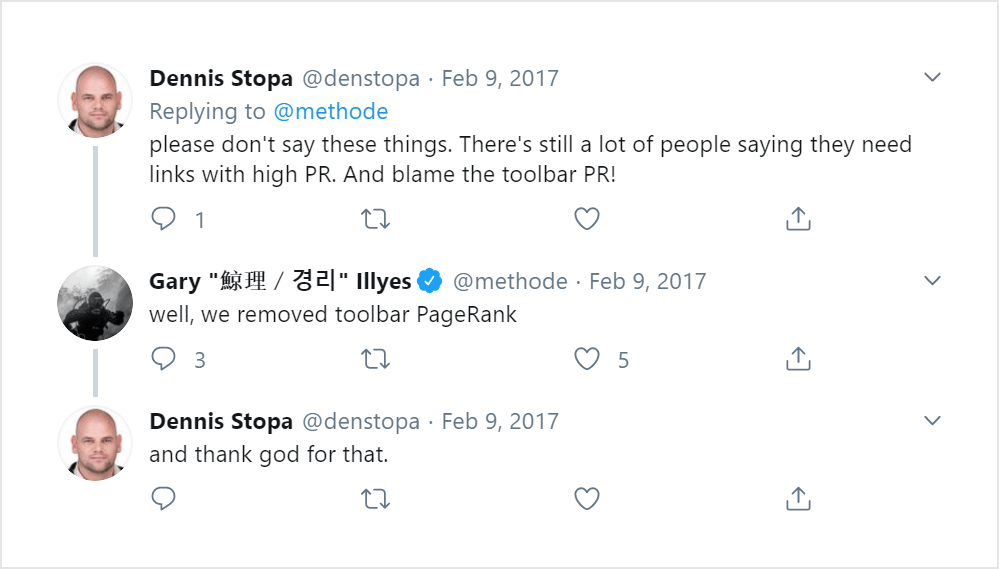 That's why many SEO people think "PageRank is dead", while it's alive and kicking.
PageRank (metric from Google toolbar) is dead. PageRank (the algorithm used by Google) is alive and kicking. Learn the difference.
What is the PageRank algorithm?
PageRank sits at the heart of the Google algorithm and determines the relative importance of web pages in search results. It was devised by Google founders Larry Page and Sergey Brin at Stanford University as a part of their research.
Essentially, PageRank is a numeric value that plays a vital role in prioritizing the order of search results.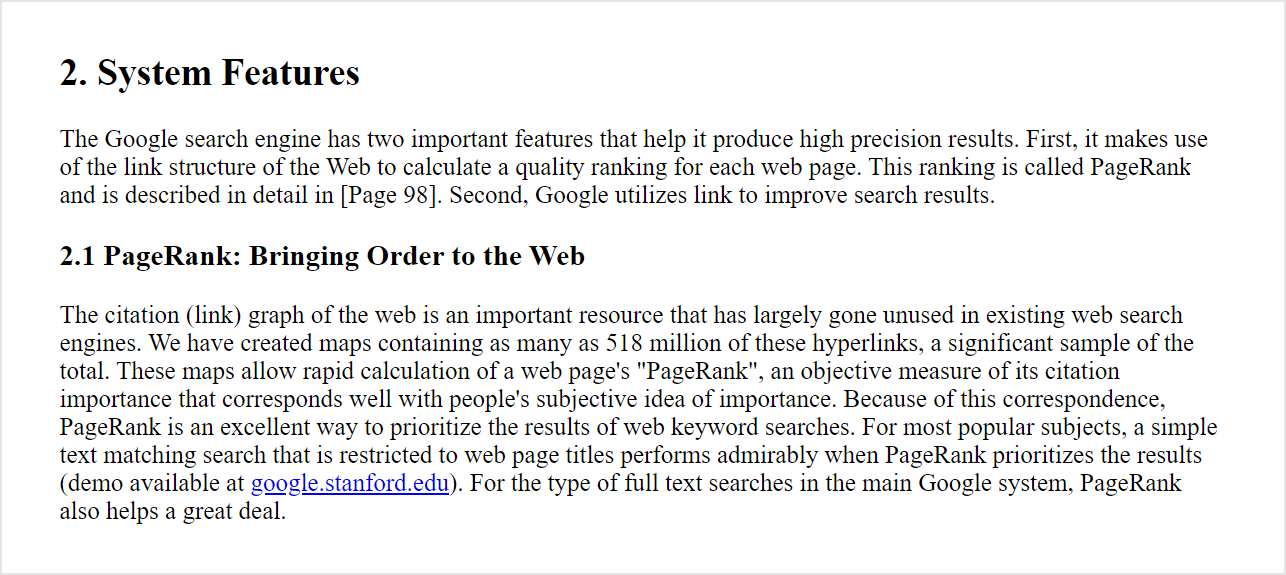 In the academic world, citing previous research papers plays an important role in advancing arguments. So Larry Page thought applying the same citation principle will make the web a more valuable place.
PageRank is based on an assumption that more important websites are likely to receive more backlinks from other sites.
Google looks at the quality and quantity of pages linking to one particular page. So a link from page A to page B counts as a vote for B. However, the algorithm will also analyze the quality of page A.
Top 3 factors that influence PageRank
PageRank is a mathematical formula that may look scary at first sight. It takes into account the citations (links) to a page, a damping factor, and normalizes the number of links on a page.
Here is the formula as per their first research paper:
PR(A) = (1-d) + d (PR(T1)/C(T1) + … + PR(Tn)/C(Tn))
Don't worry. I'll simplify the algorithm for you in a practical way. Here are three key factors that influence Page Rank:
quantity of backlinks
number of links on the linking page
PageRank of the linking page
Here's a simple graphic explanation of how PageRank works: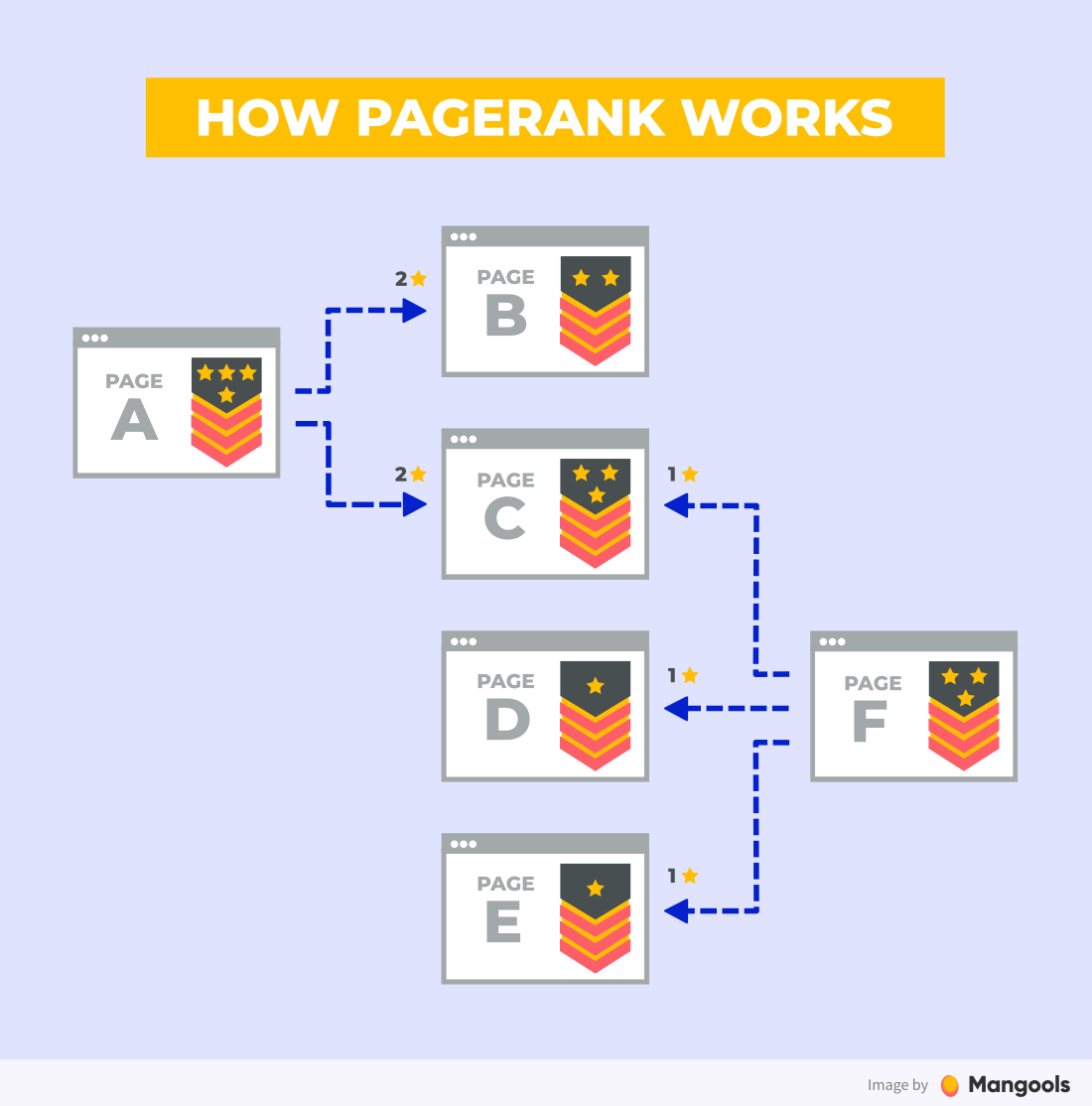 Using the scheme above, let's take a look at these factors one by one:
1. Quantity of backlinks
Every link to your page counts as a vote. The more votes you get, the more "authority" your page has.
In the example above, page B and page C both get backlinks from page A. However, page C also has another backlink from page F. Therefore, it has a higher PageRank.
However, the quality of the links is also important. Here are some factors that influence how Google perceives the quality of the link:
PageRank of the linking page (see point #3)
Relevance of the linking page
Position of the link
2. Number of links on the linking page
The PageRank of every page is evenly distributed to all the pages it links to.
Page A links to 2 other pages, so the PageRank it passes is split in half. Page F with 3 PageRank "points" links to 3 pages, so each of them gets 1 point.
3. PageRank of the linking page
The PR of a page depends on the PR of the pages linking to it. So the backlink from a website with a higher PageRank is always better than the one from a low-PR page (provided all the other conditions are the same).
If you're interested in a detailed description how PageRank is calculated, check this study.
PageRank and nofollow links
In the early 2000s, blogging was rising to prominence, and many SEOs knew that Google counts links as votes.
Commenting on blogs with links seemed a simple way to accumulate authority for your site. Hence it ushered an era of blog comment spam (that, unfortunately, continues until today).
Here's a typical example:

In 2005, Google teamed up with MSN Search and Yahoo to introduce the nofollow tag. The idea was to restrict the PageRank flow through some links.
Nofollow link is a backlink that has a rel="nofollow" attribute in its HTML code. This attribute tells search engines not to pass the authority through that link.
In general, there are two main cases when you should use the nofollow attribute:
1. Untrusted content
If you don't want to pass PageRank to bad neighborhoods on the web unintentionally, nofollow is a good choice.
This is the reason why most commenting systems (including the native WordPress comments or services like Disqus) use nofollow links by default.
2. Paid links and ads
Due to extensive link selling, Matt Cutts (former head of webspam at Google) recommended using the nofollow attribute on paid links. He said:
"What if a site wants to buy links purely for visitor click traffic, to build buzz, or to support another site? In that situation, I would use the rel="nofollow" attribute.
The nofollow tag allows a site to add a link that abstains from being an editorial vote. Using nofollow is a safe way to buy links, because it's a machine-readable way to specify that a link doesn't have to be counted as a vote by a search engine."
New attributes
In 2019, Google introduced two more attributes: rel="sponsored" and rel="ugc" as an addition to the nofollow attribute.
You don't need to make any changes to your existing nofollows. But you can use the new rel attributes to give Google more information on your relationship with the linked pages. Here's a brief description of how you can use all the attributes.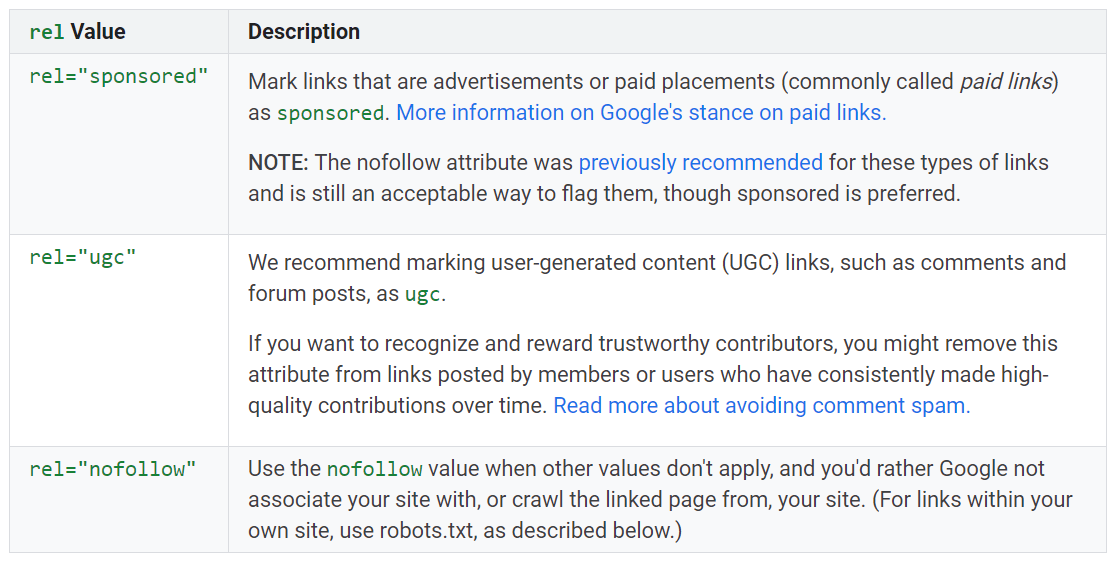 PageRank sculpting
While we're talking about Google not crawling nofollow links, let's also discuss PageRank manipulation connected to the nofollow attribute.
Although this technique (also called PageRank scultping) no longer works, there are still many people out there who believe that you can "pass more link juice" to your own pages by nofollowing the other links on your page.
Let's discuss why it's not possible.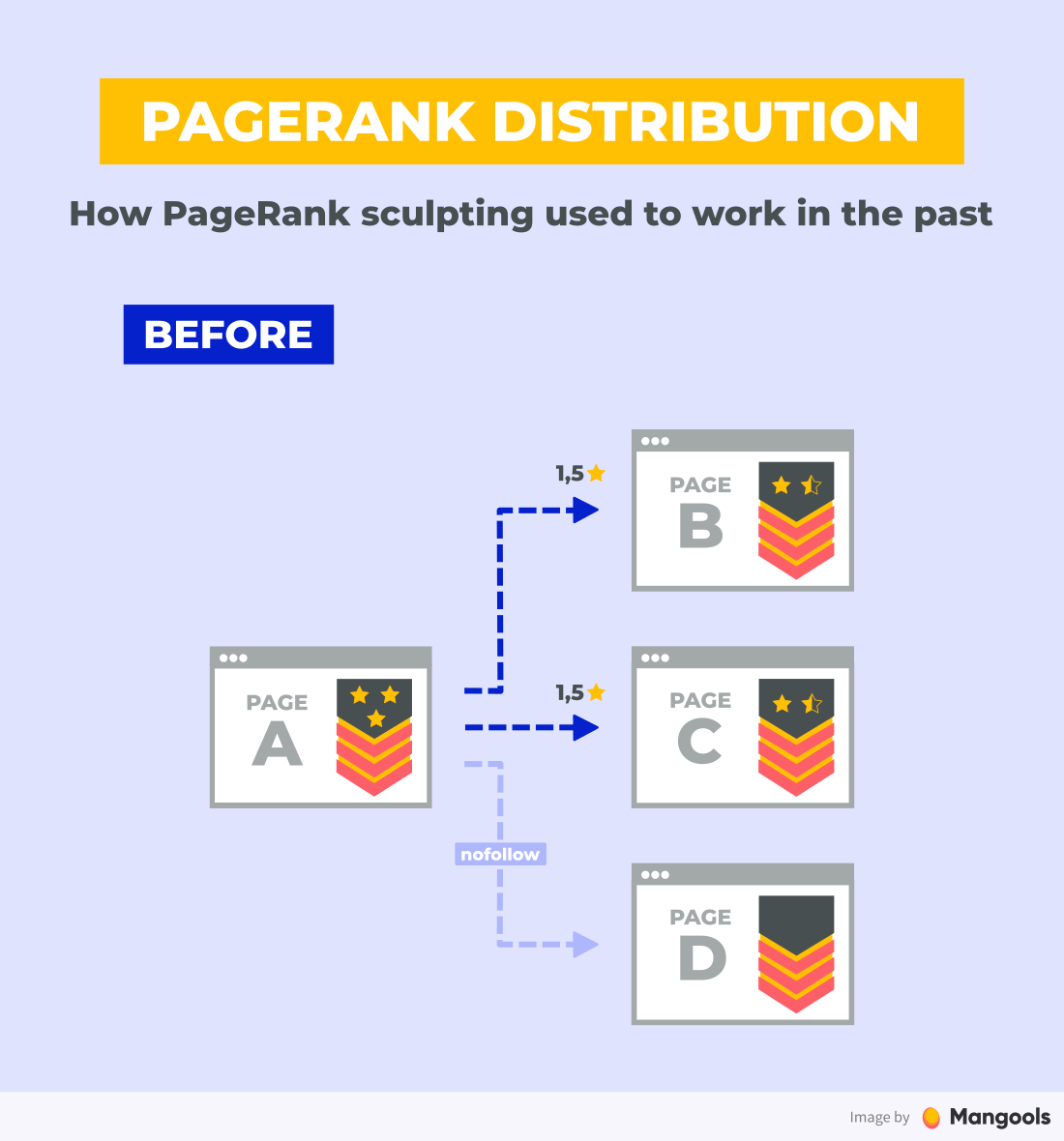 In the past, if your page had three outbound links and you nofollowed one of them, the link juice got split equally between the remaining two dofollow links.
Many webmasters manipulated this technical loophole to restrict the flow of PageRank across their sites. They transferred the link juice preferentially to their money pages so that they could rank better.
However, in 2009, Google changed the way the PageRank flows.
In the present, the link juice is divided equally based on the number of links on the page – both dofollow or nofollow.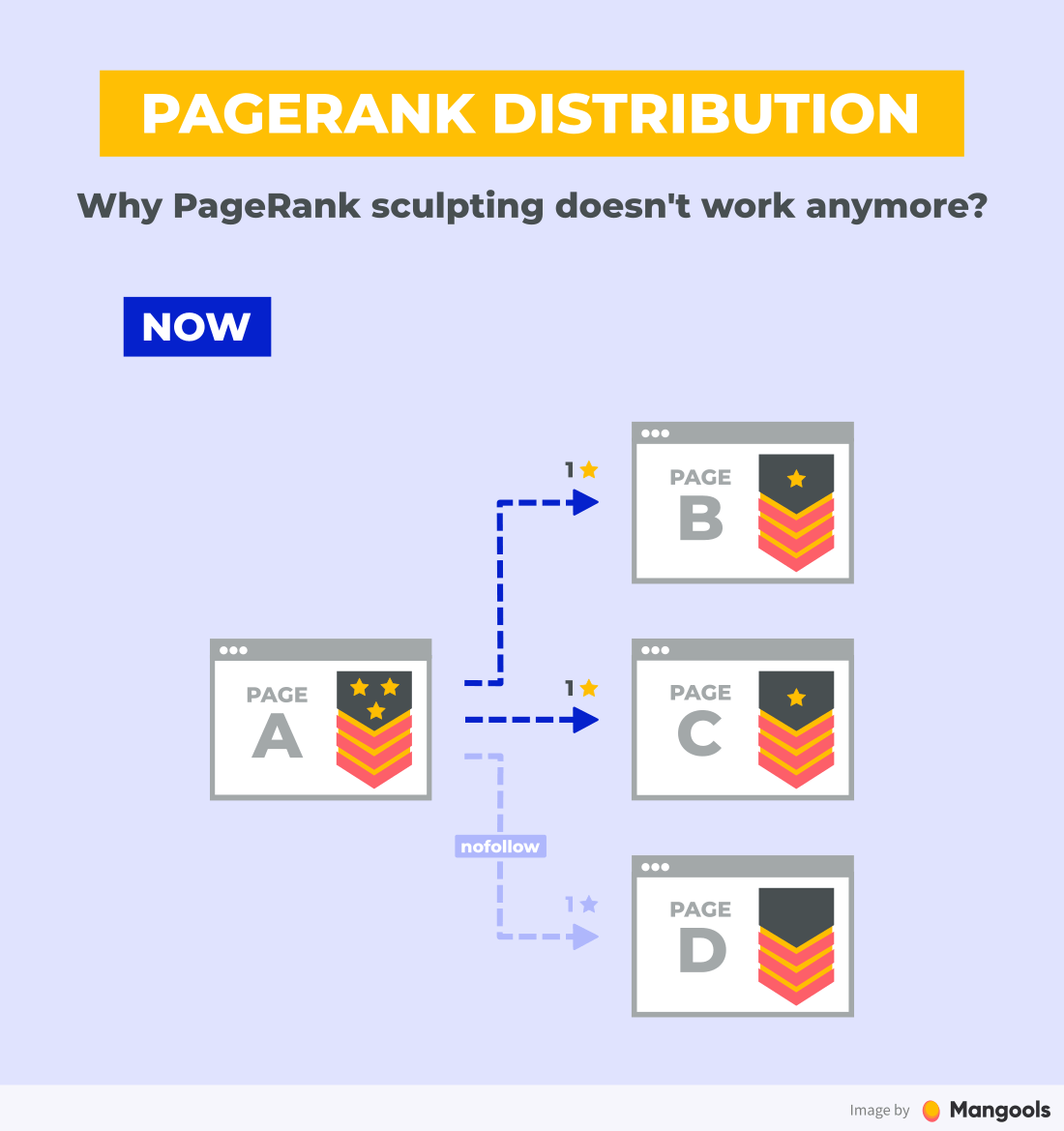 How to measure PageRank
Now that PR is not publicly available through the Google Toolbar, what kind of metrics can you use to measure the authority of a site?
To gauge the health of a site, you can use metrics like their search traffic, their social media following, engagement on their articles, and the overall traffic. They are largely useful when planning your marketing campaigns and collaborations like guest posts.
However, strictly speaking, PR was only a measure of the number and quality of backlinks.
So the specific metrics that come closest for evaluating a website's link profile are the following:
1. Domain Authority (DA) / Page Authority (PA)
After the Toolbar PageRank was discontinued, people soon found a simple alternative that would help them to estimate the authority of a website on a scale from
Domain Authority and Page Authority are now regarded as the industry standard for measuring the quality of websites. Both DA and PA are measured on a scale of 1 to 100.
Those shady ads promising "links with high PR" have been substituted with "high DA" links.
Take a look at the Fiverr service below: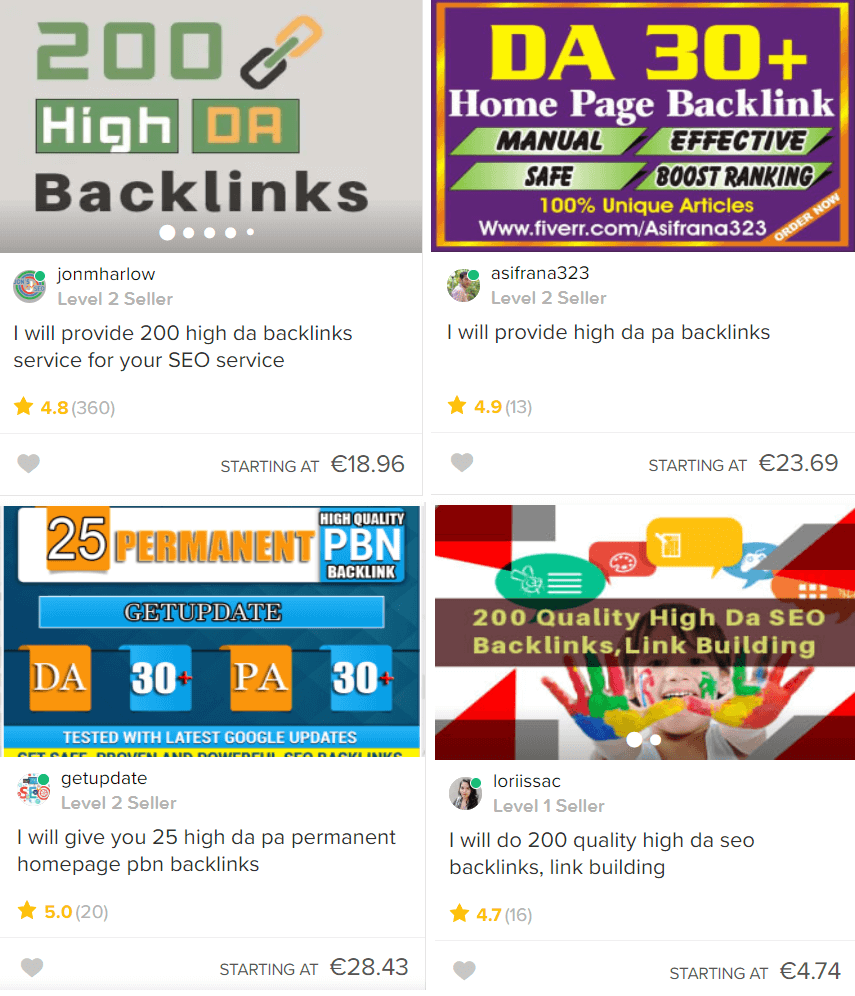 Remember that DA and PA are not official metrics by Google, and are only relative metrics comparing your site with other sites.
2. Citation Flow (CF) / Trust Flow (TF)
Another trusted industry source for understanding the link profile of a website are CF and TF. They are a trademark of Majestic.
Citation Flow predicts the influence and popularity of a URL based on the number of sites linking to it and their quality.
On the other hand, Trust Flow analyzes the trustworthiness of the page based on the relative "linking distance" from the most authoritative websites.
Here's a screenshot of the SiteProfiler. It returns all 4 metrics mentioned above, so you can use it to analyze the authority of a site quickly.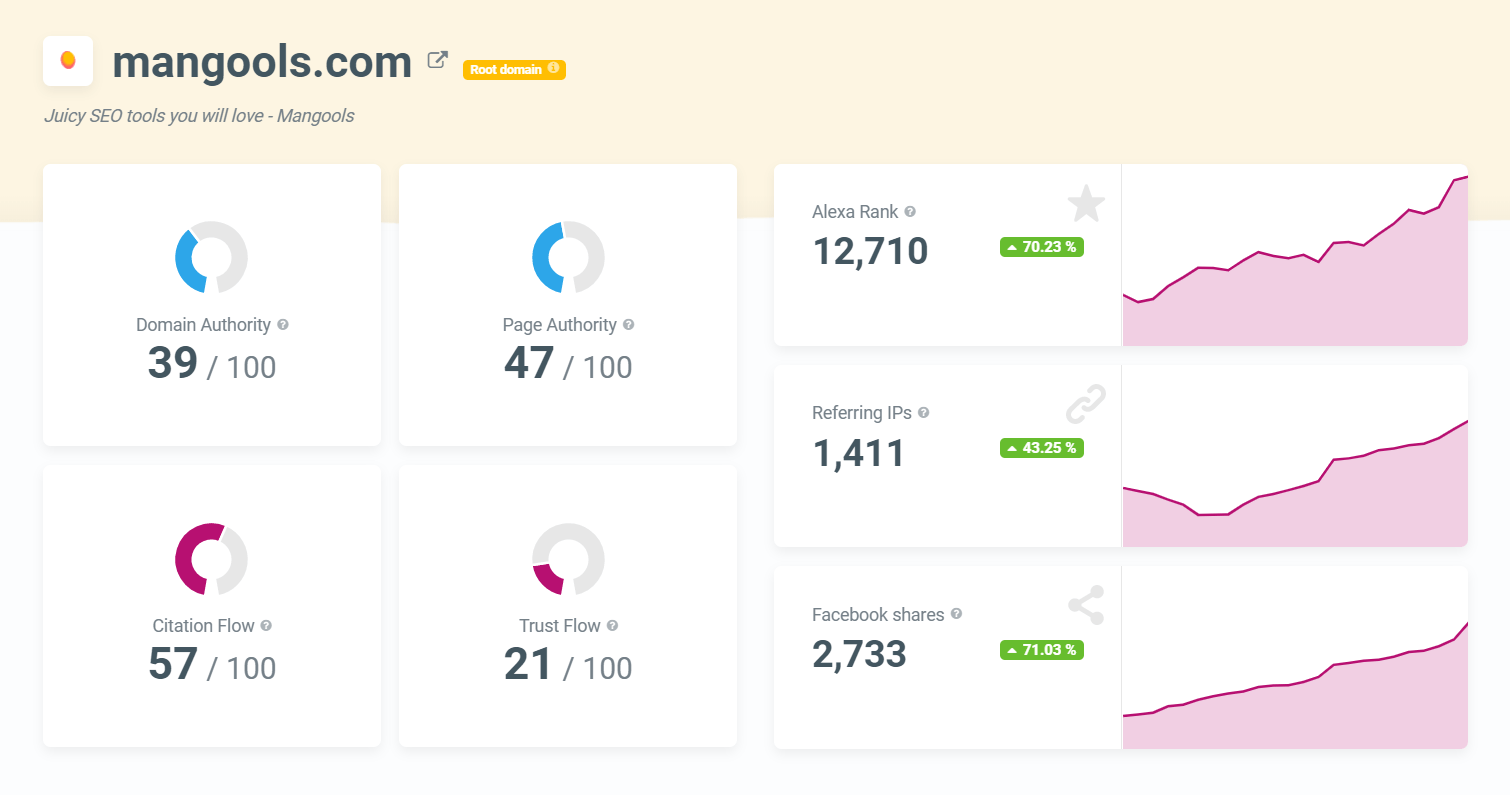 3. Number of referring domains
Every additional link from the same website carries less weight than the previous one. For growing authority, a website needs many and diverse domains to link to it.
You can look at the number of referring IPs and referring subnets to find out the number of entities linking to a site.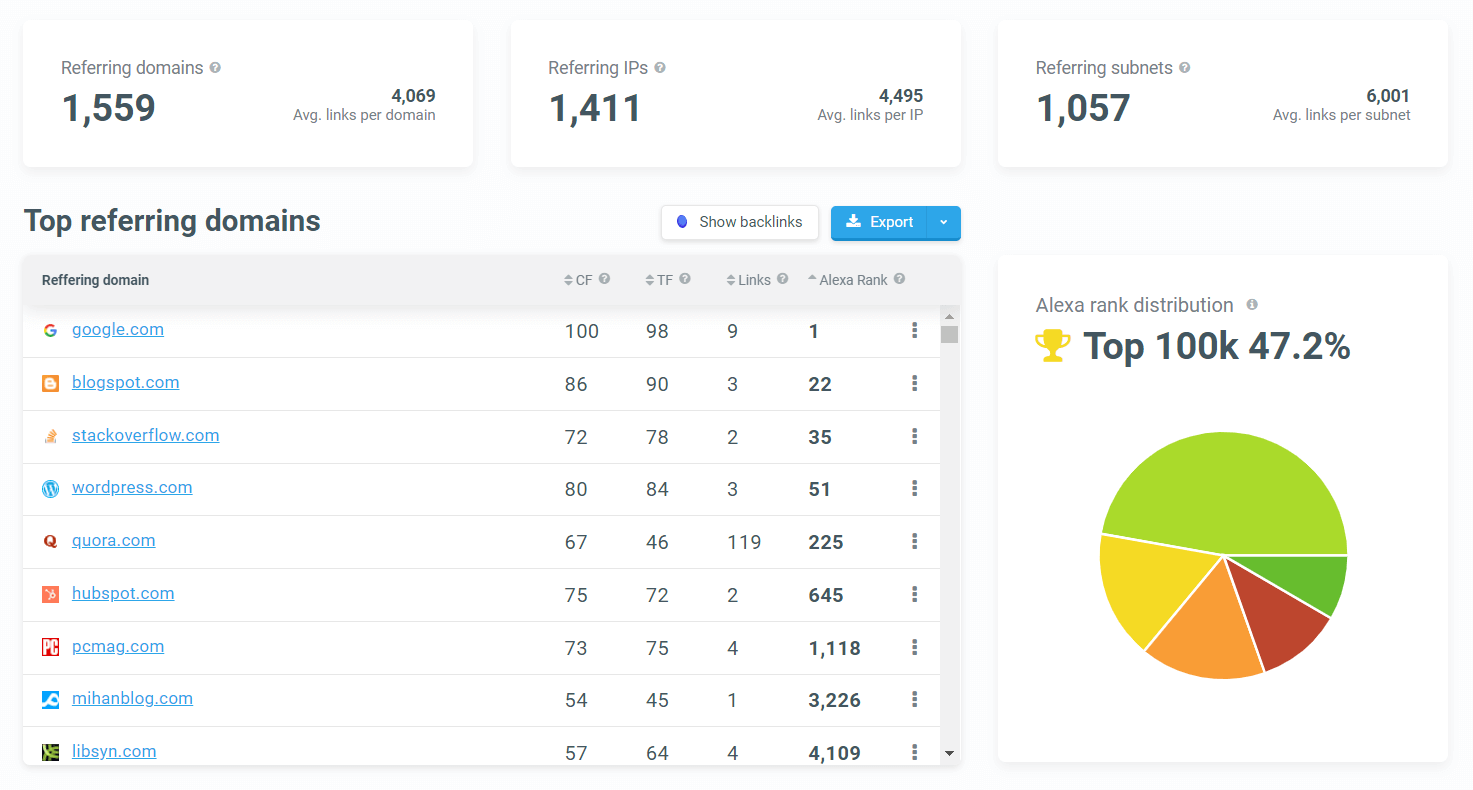 Conclusion
Although Google has discontinued the toolbar and you can't see the exact PR value of a page, PageRank still plays a crucial role in Google's search algorithm.
As an SEO, you don't need to do anything special to optimize your website for PageRank. It's always been important to have high-quality editorial backlinks.
What's your take on PageRank? Did the post bring out decade-old SEO memories? I would love to hear your thoughts in the comments below.