Hey there,
I hope you're doing well and have managed to meet your marketing goals for 2022. I bet your thoughts are already slowly moving towards holiday festivities and the celebration of the New Year.
But before we say "happy holidays", we've got some exciting news to share with you.
In the most recently released Mangools update, we've improved SERPWatcher and are now able to detect and show if you're ranking for multiple positions for a keyword. Hooray! 🎉
What's it good for?
This doesn't happen with every keyword, but sometimes a keyword can rank more than once. Previously, we only displayed the current highest ranking URL, but now we show every URL that ranked in the selected period.
This means that from now on you'll have a comprehensive overview of your website's dominance in the SERPs and you will also be able to immediately detect problems such as keyword cannibalization.
In addition, our EV (Estimated Visits per month) metric is more accurate than ever because we now calculate it based on the rank of all URLs for a given keyword.
How does it work?
Keywords that rank with multiple URLs can be identified by a red dot in the Rank column.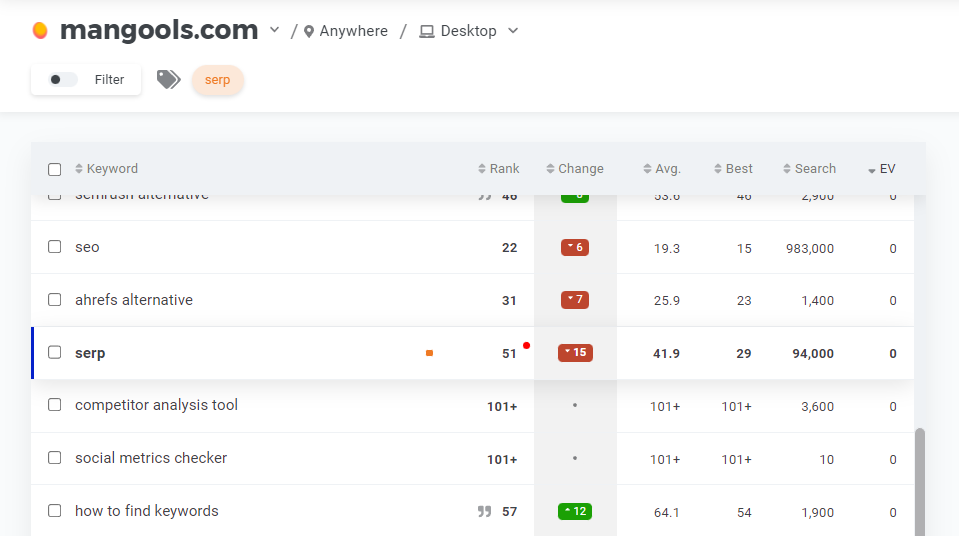 By clicking on a keyword, you'll find the positions for the selected period displayed in a graph. Below the graph you'll find a listing of all the URLs that ranked during that period.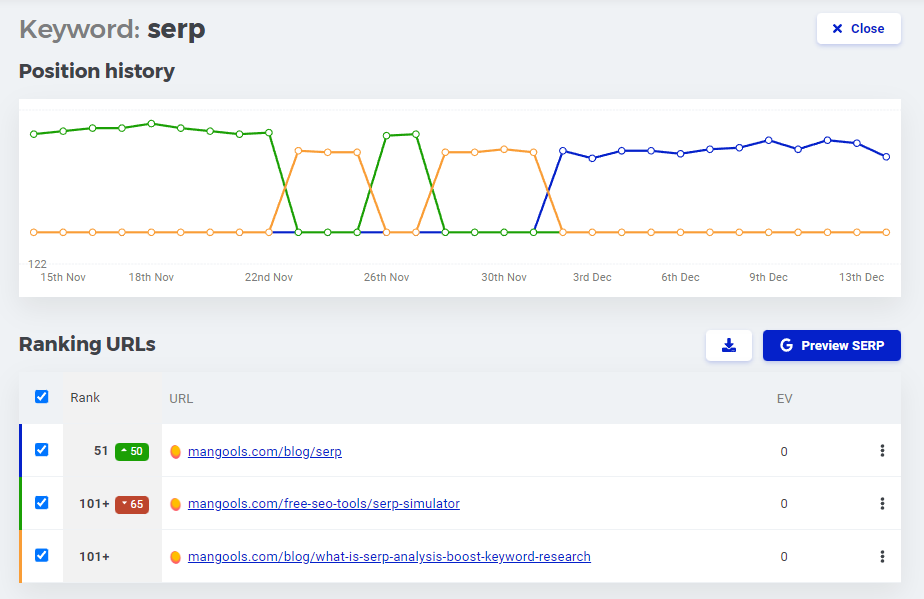 Use the checkboxes to manage the URLs individually. This way you will only see what you are really interested in. For URLs and keywords that did not rank during the selected time, we show a rank of "101+", which simply means that they did not rank and need to be worked on.
What do you think?
Do you like the new Mangools update? I'd love to hear your opinion.
Got another improvement to suggest?  We'd love to hear it! Feel free to share on our suggestion board.
Not yet subscribed to our newsletter? Subscribe now to get access to all important news.
Thank you for being with us. 🧡