Hey there! 👋
I hope you are having a great day and an amazing SEO blast on your websites!
Although it's been only a couple of weeks since our last product blog post, we already have another exciting update we would like to share with you.
Spoiler alert: Mangools has become more affordable than ever before!
So, without further ado, let's dive in!
A brand new Entry plan 🆕
As you might have guessed from the title of this blog post, we are releasing a new subscription plan that will be a new family member alongside our Basic, Premium, and Agency subscriptions.
Let us introduce you to the Mangools Entry plan – the most affordable subscription we've ever launched! 🚀
For a very reasonable price, any new user can now enter (pun intended 😄) the world of SEO fully prepared and enjoy all of our juicy SEO tools and their perks from the very beginning.
For only $19.90 per month (annual subscription) with the Entry plan, you can get:
…along with many other cool features and perks within our tools!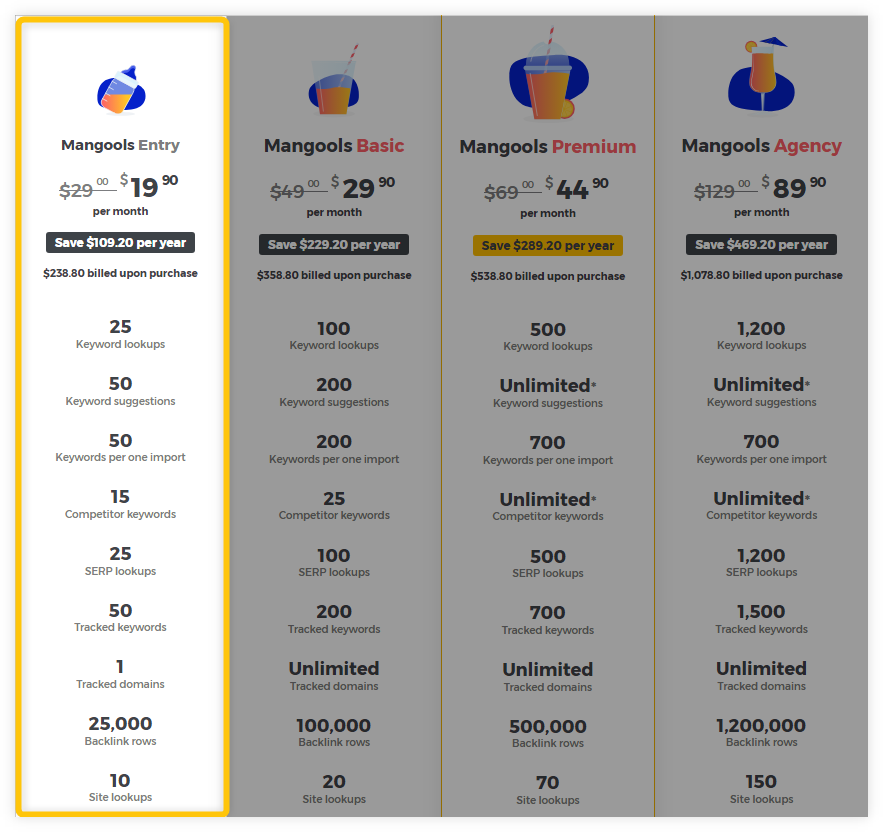 Tip: If you are not sure whether our new Entry plan would be the right fit for you, you can always try out our Mangools Free and Free+ plans first (no credit card needed) before making the final decision. 🙂
Why are we doing this?
Our motto is (and always will be): Making SEO more affordable.
That's why we've created this very affordable plan that will help new users get the most out of our Mangools SEO tools and start their SEO journey fully equipped.
Of course, if the Entry subscription won't be enough for you, you can always step up your game and upgrade to one of our juicer plans (with even more powerful perks and benefits)! 👍
Tip: Make sure to also recommend our Mangools Entry plan to your friends or colleagues who would like to get the best value out of the SEO tools!
You can even use your own affiliate links to earn commissions 💲 if your friends upgrade to one of our paid plans 💛
Let us know what you think!
We hope this update has made you as excited as we are right now – after all, the purpose of our new Entry plan is to make our SEO tools more affordable and help users to kick off their SEO campaigns.
If you have any questions, feel free to reach out! We always like to hear from you. 🙂 You can also share your ideas on our Mangools suggestion board where you can add any suggestions or feedback on how we can improve our products.
Tip: We are also working on many interesting stuff that we would like to show you in upcoming months (shh, no spoilers allowed 😉) so make sure to subscribe to our newsletter and follow us on our social media!
Thank you for staying with us 🧡