Hey there!
Today I wanted to share how we at mangools.com have recently improved our SEO toolkit to provide you with the most accurate data possible.
Improvements to KWFinder
We believe that KWFinder is the best keyword research tool far and wide. Whether you need to find the right keywords or find out which competitor sites to outrank, KWFinder should be your obvious first choice.
If you have been with us for a number of years, you also know that KWFinder is a time-tested and polished tool that has truly made a mark in the world.
So what's new? Well, we've supercharged KWFinder with new updates to keywords, competitor data, and locations, and we've refined a lot of our metrics as a result.
Processing huge amounts of data is really complicated business, but it's something that we at Mangools know how to do well, so we're now working with a keyword database expanded to almost six billion keywords. And, best of all, our user interface has remained lightning fast. Great, right?
You know what the best part is? This isn't a one-time update, our data will continue to update continuously.
Changes in detail
Join me for a detailed look at the individual changes:
KWFinder – Search by Domain
Do you use search by Domain in KWFinder? It's great, huh? If you do, I have good news for you: you now have 3x more locations available — specifically, you can now choose from 90 different countries.
The list of competing domains has been updated so you can find more accurate data, see image below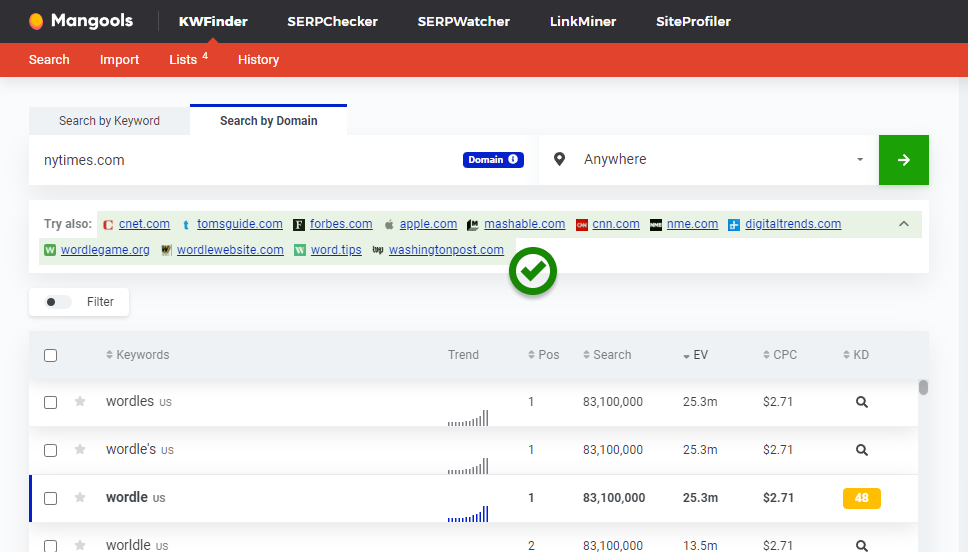 SERPWatcher – Creating a new tracking
Our rank tracking tool SERPWatcher also benefits from this update. When you start a new tracking again, you'll notice that there are a lot more suggestions for keywords for which the domain has already ranked.
SiteProfiler – Competitors
We also display competing domains in SiteProfiler, in the Competitors section. You now have a more up-to-date and accurate list of competitors listed there.
We also did some cleaning up
We got rid of some things: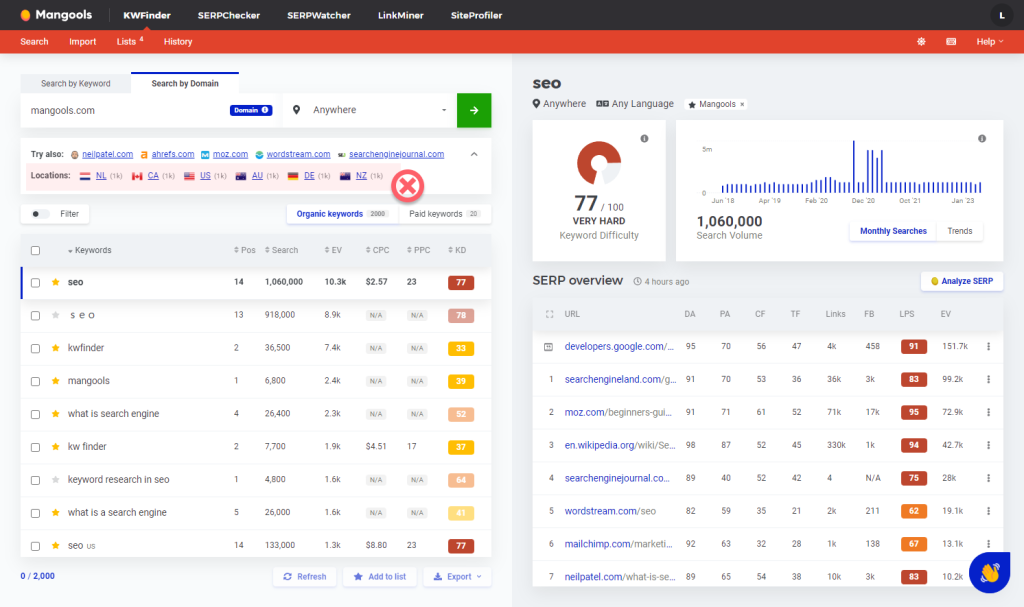 In KWFinder > Search by Domain you will no longer find suggestions for searching other locations. Instead, you can now manually select from the updated list of countries in the drop down menu next to the search. If you search for an "Anywhere" location, we'll show you the country in the results next to the keywords. You can take a look at it, check how the keyword ranked, and immediately know which country to look at in detail.
Did we overdo it with the cleaning up? Let us know and we can talk it over.
What do you get out of it?
What does it all mean for you? Simply, that you can now make even better use of our KWFinder, SiteProfiler and SERPWatcher tools to find the best keywords and identify competitors. Our SEO tools give you a comprehensive overview to improve your strategy and your website. So go ahead, roll up your sleeves and come improve your SEO!
At Mangools, we're happy to help you with your SEO and support you in getting the best results. If you have any ideas or suggestions for improvement, don't hesitate to contact us. We're here for you!
Thank you for being with us. 🧡
P. S.: Follow our blog and subscribe to our newsletter to stay up to date with important news.