SERP analysis is a process of looking at the top ranking websites in the SERP (Search Engine Results Page) in order to evaluate whether the keyword you want to rank for is relevant and the possibility to outrank your competitors. It is an important part of keyword research.
Google SERP analysis will help you to:
Make sure you picked relevant keywords for your niche
Find out whether you are able to outrank the competitors
In case you don't know much about SERP and how it is generated, make sure to visit our What is SERP article.
1. Make sure you picked relevant keywords for your niche
This applies to people who are well-experienced in their business field and look for new keyword ideas as well as affiliate marketers looking for their new niche.
It can easily happen that a keyword which seems to be super-relevant will end up as a wrong option because it's not semantically correct. It simply doesn't reflect the intention behind user's search query. (To find our more about this topic, check out our ultimate guide to keyword research for beginners).
Quick tip:
Semantic keyword research is a great way to find more related keywords. However, make sure to analyze SERPs of these keywords before optimizing for them.
Generally speaking, you don't want to rank in the SERPs full of guides if you have a product landing page (this can differ depending on the niche you are targeting).
You may disagree with me on this one but let's take a look at examples.
Example #1:
If you are searching for "how to make pizza" your intention is not to BUY a pizza, right?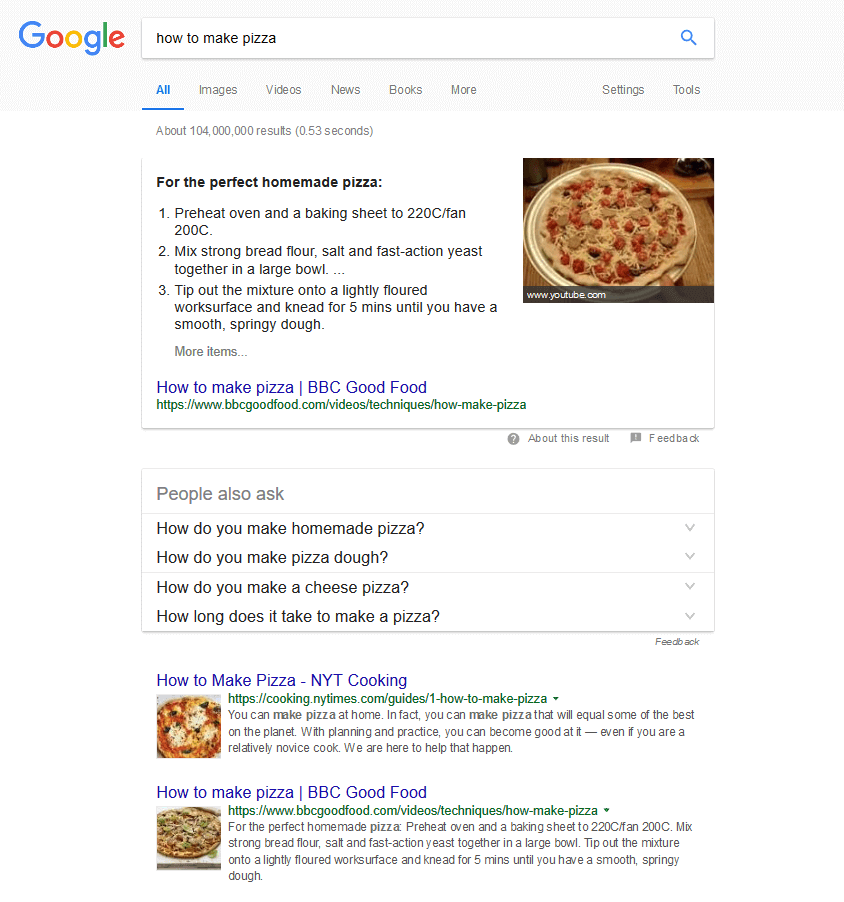 This is one of the most significant examples of how search intent changes the game when you do keyword research. Well, things get easy when we talk about food, don't they?
Example #2:
Let's move on and inspect the SERP for another product. If you want to buy a "small bedroom desk" for your new bedroom, you don't probably want to make it on your own unless you're a carpenter.
It sounds easy to understand, yet so many SEO specialists forget about it.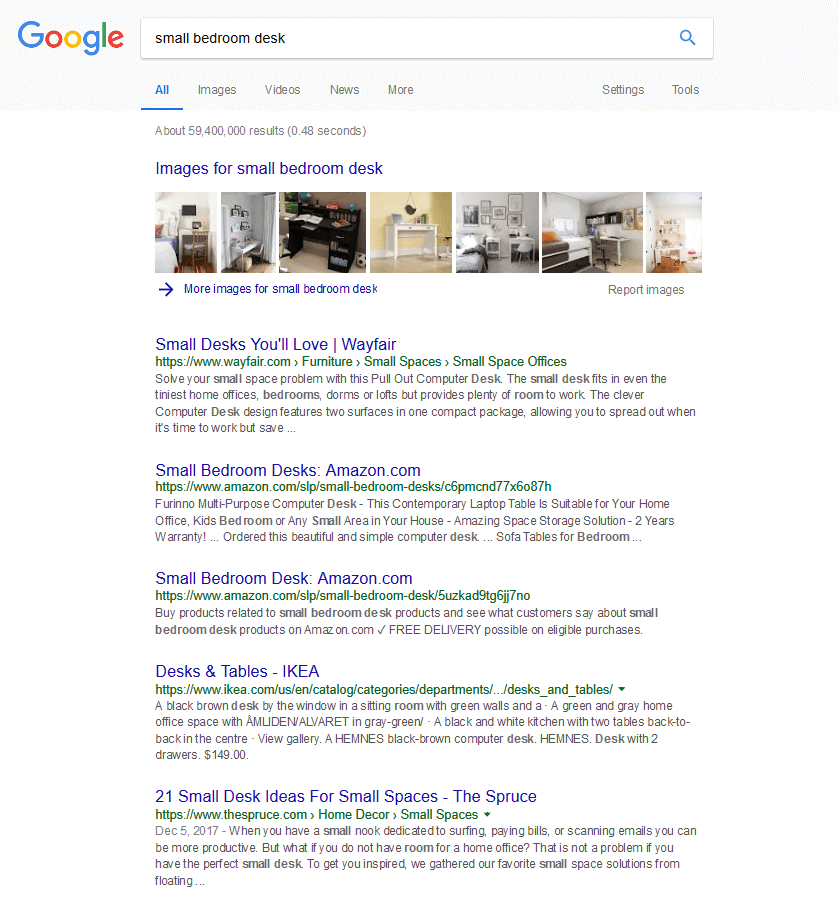 The informational vs. transactional search queries are the most common examples. Naysayers may argue that ranking for any related keywords will always bring extra traffic. That's true, it will. But what will be the engagement?
Example #3:
These two keywords are so familiar to me: "keyword research" vs. "keyword research tool"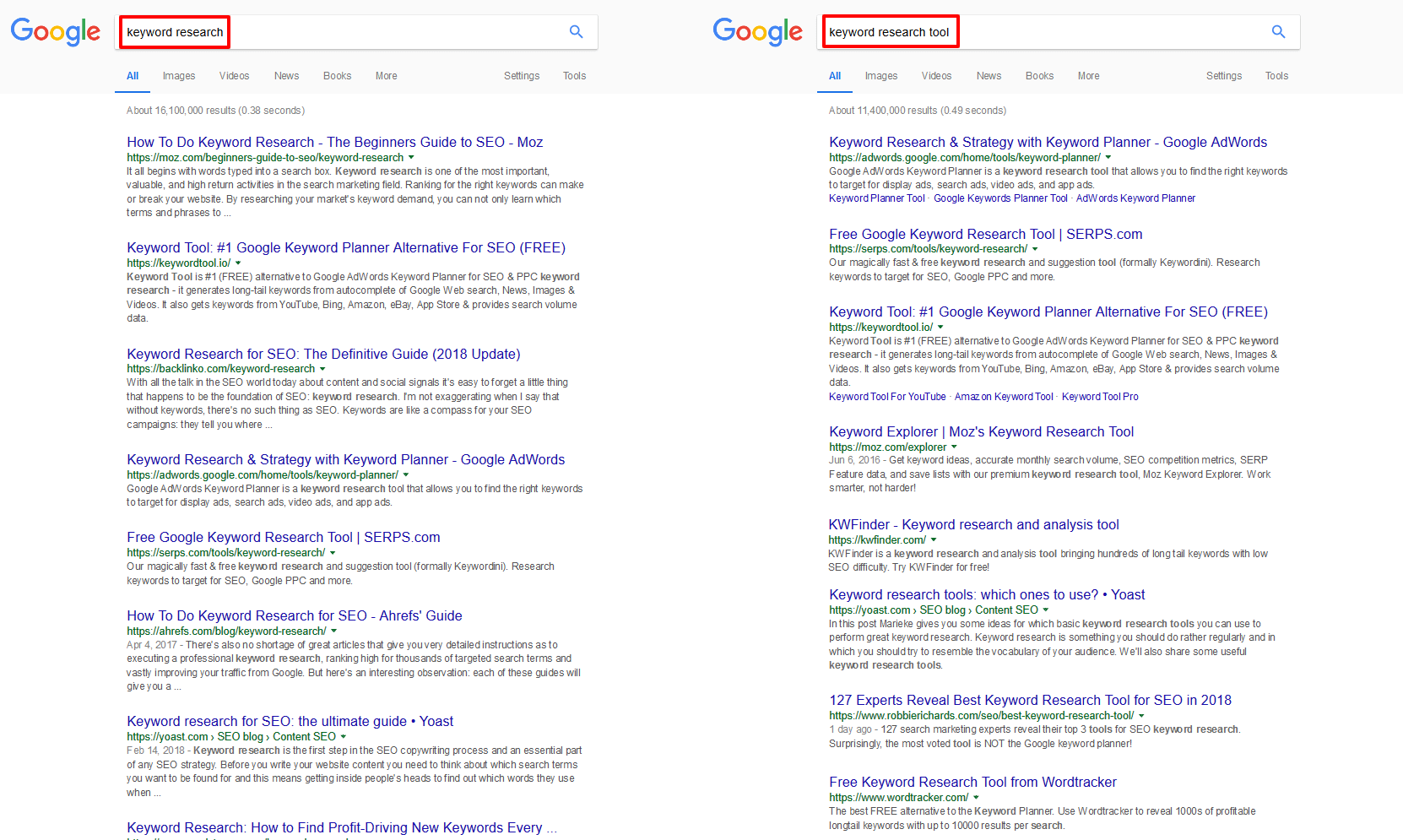 KWFinder used to rank #7 on "keyword research" with other keyword research tools. A few months ago, Google basically removed the majority of these product landing pages and pushed guides and "how-to" articles to higher rankings.
When I checked the search results for "keyword research" at the time of writing this article, 3 tools made it back to the 1st page:
keywordtool.io which product landing page is basically a blog post, so it's enough for the Google algorithm
Google Keyword Planner, well there's nothing to discuss as it's a Google product 😀 but if you would like to know how it works and how to make the best of it, check our GKP guide.
serps.com with a modal window which includes a short "how to do keyword research in their tool" guide and it's somehow enough for the Google algo
Quick tip:
Besides Google Ads that differ from case to case, I found 2 Google rich snippets in the search results: "People also ask" and "Search related to". They give us useful ideas of what people search for = new keyword ideas. In this case, it's a combination of both informational and transactional queries.


We can see exactly the same results in SERPChecker: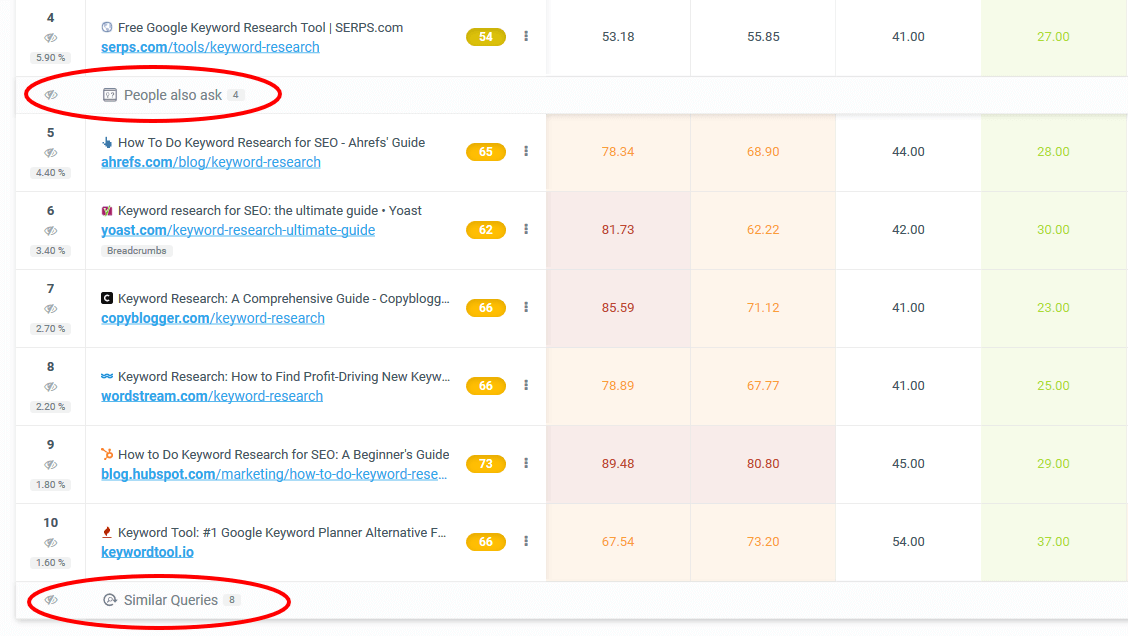 2. Find out whether you are able to outrank the competitors
As soon as you find the SERP that you want to rank in, you automatically start benchmarking with your competitors. The trick is to evaluate how difficult it will be to outrank them.
This can be done in 3 ways:
Google Search
Keyword research tools
SERP analysis tools
Google Search
Traditionally, you would install one of many SEO extensions and toolbars and analyze the results by submitting a search query with selected keywords directly in Google Search.
Recently, Google changed the localization settings so it is no longer possible to see accurate search results for different locations in Google at all.
There are two things we can do about it:
Submit the search query in "google.com/ncr" in incognito mode – applicable only for the US (.com) location results
Use browser developer tools in Google Chrome and set custom GPS coordinates. My colleague wrote a quick guide to local search results. Be sure to check it before using this option.
This way however is not so convenient for me as it is very limited and I am forced to leave the keyword research tool and switch among more browser tabs.
Keyword research tools
Another way is to use keyword research tools with SERP analysis. You'll be able to cover the whole process of keyword research with sufficient information for search results analysis. When selecting your tool, focus on these features:
Accurate results for specific locations
SERP preview to see how it really looks like
Incorporated rich snippets such as answer boxes, Google Ads, featured snippets, carousels, etc. as they can have an important influence on the keyword relevancy, organic CTR and the ability to dominate 1st-page results
The screenshot below is the SERP analysis available in KWFinder. You can analyze the following metrics of each URL on the 1st SERP:
Domain authority, Page authority
Citation flow, Trust flow
Number of external backlinks
Number of Facebook Shares
Link Profile Strength
Estimated Visits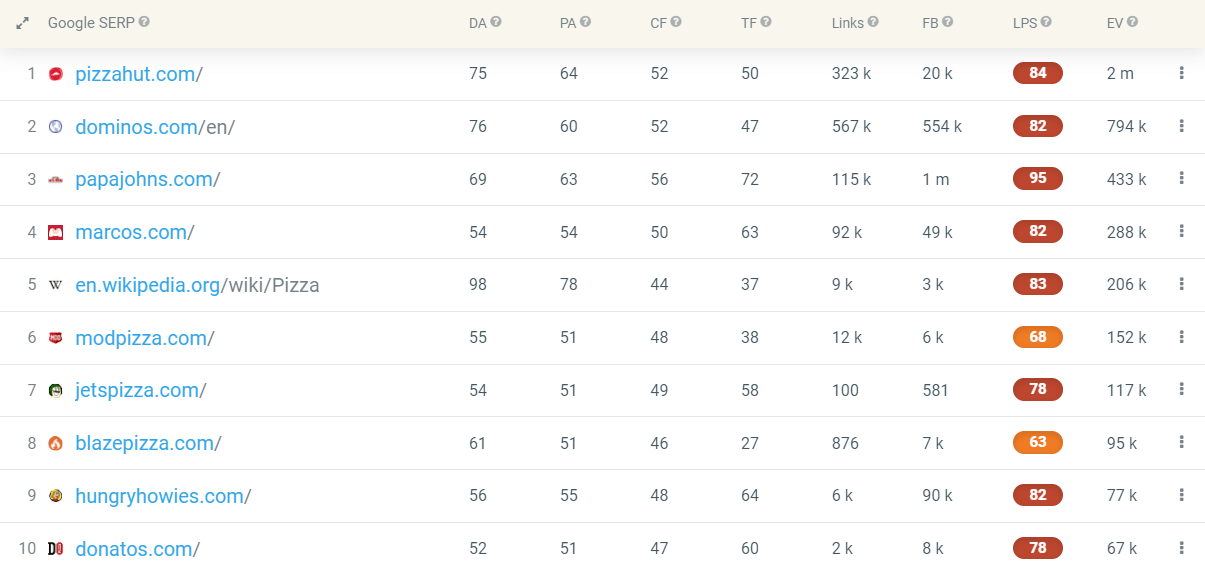 These metrics quantify the authority of URLs in SERP. Analyze them and compare with metrics of your website to determine your ability to beat them.
Quick tip:
Don't take the metrics as the only one reason (not) to optimize for a particular keyword. They are here to help but not to do the whole job for you. The LPS is mainly based on the link profile of the URL. However, it's possible to rank on the top positions with low DA and/or without any backlinks. Google algorithm with relevance which is unquantifiable so websites with low authority are able to outrank authoritative websites.

SERP analysis tools
You can continue with a deep analysis in tools such as SERPChecker to:
Compare your website with competitors
Select from more than 45 SEO metrics
Analyze Google SERP features
See the search results snapshot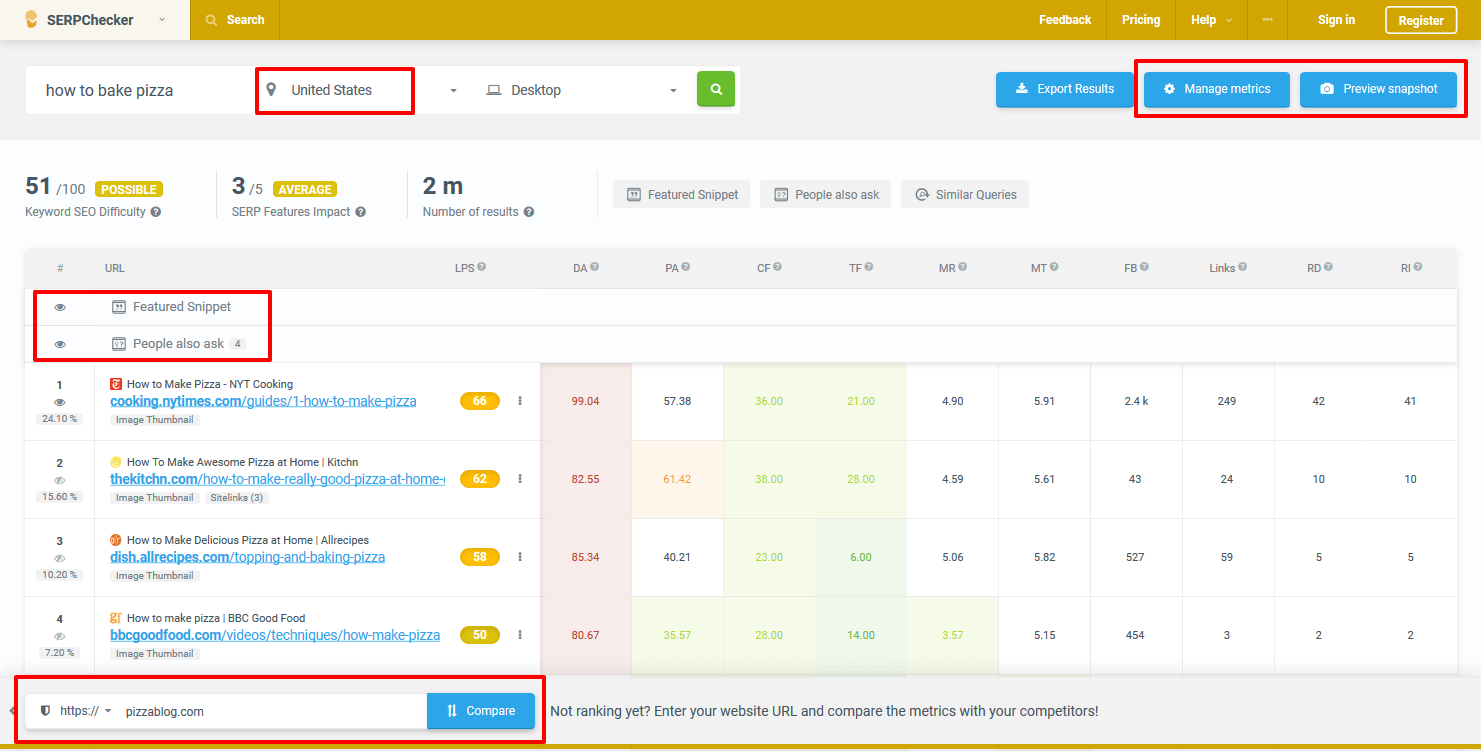 SERP analysis summary
At the beginning of this article, I promised to include a quick guide on how to do the SERP analysis. The process is covered in the content above but for your easier orientation, here is a checklist that will skyrocket your SERP analysis as an inevitable part of keyword research.
SERP analysis checklist:
Do SERP analysis for every keyword you plan to optimize for.
It's up to you whether you go the old-school way and analyze the results directly in Google search or you use a keyword research tool with SERP analysis and an option to see the SERP preview. But always make sure the SERP you analyze is accurate for your desired location.
SERP analysis is a combination of working with SEO metrics and search intent. Once you know the keyword is relevant, the next step is to evaluate your competitors' strengths and weaknesses thanks to different authority and backlink metrics based on various calculations to get a detailed view. That's why I recommend using specialized tools such as SERPChecker or keyword research tools with basic SERP metrics.
I hope you enjoyed reading this article as much as I enjoyed writing it. SERP analysis is another proof of how keyword research is a complex process. And how about you? Do you analyze search results when doing keyword research?