Hey folks!
Hope you're doing well during these crazy times and have secured another set of #1 positions for yourself or your clients.
The last few months have been really challenging but also exciting at the same time – we've managed to finish some long-awaited feature updates!
New competitor data in KWFinder's Search by Domain
We know this has been one of the most requested updates and we've been working really hard to release it as soon as possible.
However, we've experienced a bunch of unexpected issues. At some point, it looked like the whole universe was against us, but eventually, all ended up well.
Compared to version 1.0, the current data consists of:
100 million more keywords (66% increase)

78 million more domains (43% increase)

14 more countries (78% increase)
Let's talk numbers…
Now, let us give you some numbers to get a better idea of what's been updated. We launched version 2.0 based on the following data:
200 million keywords

32 locations

258 million competitor domains
All in all, it's more than 28TB of data processed. That's more than you and your cat can watch on Netflix in a lifetime.
For data processing, we used engines with an overall RAM of 1048 GB (that's like 33 fastest MacBooks Pro 13) and 128 vCore CPU (similar to 16 M1 Apple chips overall performance). These engines were processing the data for the whole 240 hours!
Why did it take so long?
We spent a huge amount of time and resources on the following activities:
Digging in the database of more than 2 billion keywords to find the most popular ones for given countries

Including more long-tail keywords

Scraping 100 SERP results for each keyword (in total, we had to process more than 20,000,000,000 Google results)

Solving the technical debt and fixing an infinite amount of errors

Scraping, processing, analyzing, aggregating, fixing, processing. And again… and again…
We've also done a lot of preparation work for further updates in order to do them more frequently and smoothly.
What is Search by Domain?
You are probably familiar with the Competitor Keyword Research feature, but let us remind you of the basic functionality:
Just enter the domain or URL of your competitor, choose the location, and hit the green button. You'll get the keywords they rank for in seconds.
Along with the SERP position of the keywords, you'll get other well-known key metrics all in one place: search volume, keyword difficulty, estimated visits CPC and PPC.
Key benefits for you
Competitive keyword analysis can be a very effective way to get great keyword ideas you can cover with your website. This can save you a lot of time and energy. 
Or, you can check the keywords your own domain ranks for and add them to your tracking in SERPWatcher. By doing this, you can have a daily overview of your ranks and track your progress. You can do this easily through the KWFinder.
One way or another, having an actual overview of the keywords you or your competitor ranks for is crucial. 
Additionally, a competitor keywords database helps us enhance the related keywords search as well. So the relevancy of keywords in KWFinder has become even better in general.
So what are you waiting for? 🙂 Try now our new competitor data in KWFinder.
Note: You can also quickly access the competitor keywords in our browser SEO extension, so make sure you have it installed 🙂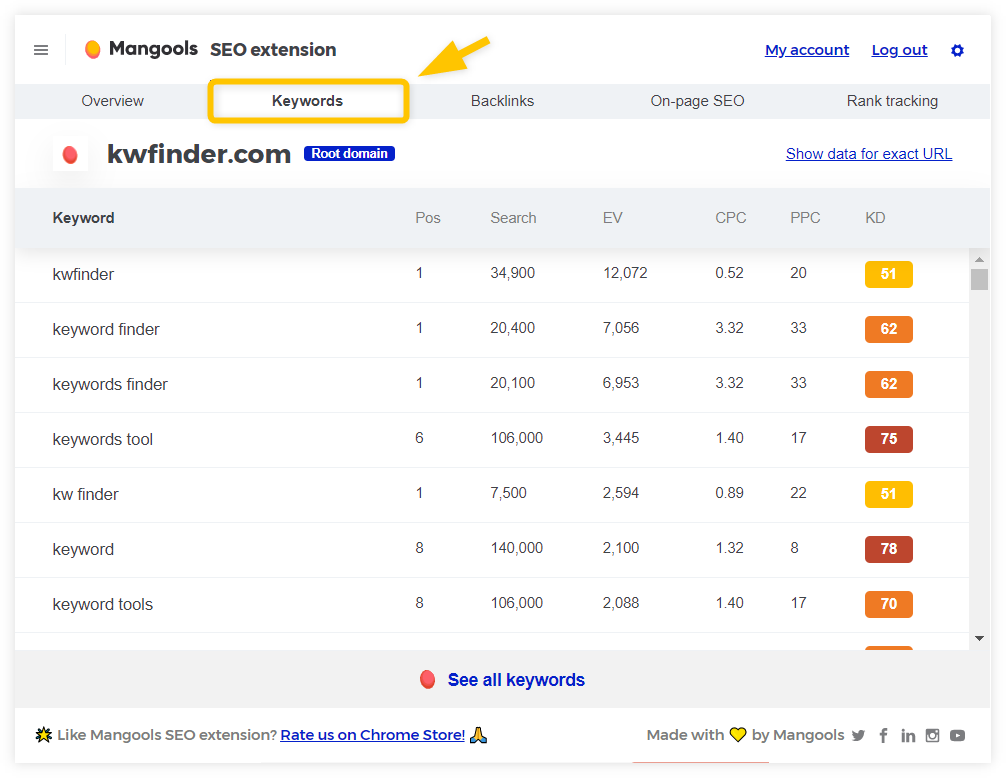 White-labeling in SERPWatcher reports
Many of you who work as freelancers or in agencies have asked for this feature, so here it is: White-labeling in SERPWatcher!
As you know, we love to simplify things and processes as much as possible, and the white-label feature for SERPWatcher is not an exception.
Let us show you how to transform SERPWatcher into your own white-labeled rank tracker.
The settings you can find in the Whitelabel panel:
Company logo

– Upload your company logo here (only PNG files are supported)

Accent color

– This color is reflected in a bold line above the report

Company name

– Displayed in the page title on the browser tab and in the email report

Company website

– It's linked to the company logo

Contact email – Displayed in the email report and used as a "Reply-to:" email address
You can also preview both the online report and the email report before you submit the changes:
As you can see, you can easily boost the visibility of your brand and strengthen the loyalty of clients with just a few clicks!
Go ahead and explore the Whitelabel feature in SERPWatcher!
Even better live support
As some of you may have noticed, we changed the chat widget design.
Well, it's far more than just the design. We're changing the whole support system in the background. Among other things, our new support system includes great automatization features.
We believe this will benefit you because it helps us to:
Prioritize urgent chats

Answer the most common questions faster

Provide basic support when we're offline

Give you some useful tips
Moreover, the new support system allows us to create a knowledge base so our guides and all the knowledge will be even more connected to our tools. This will help you to get the information you need easier and faster.  
So that's it for now. We're looking forward to announcing further improvements in our next update. Stay tuned!