We have great news for you! Despite last year was outstanding for us, we wanted to come up with another tool. To be honest, it's been a part of our plans since last autumn.
What is it going to be?
Some of you might know we've been working on it. Many of you were even asking for such tool. You helped us to get pumped up to develop a rank tracker!
We're delighted to say we're almost in the early beta testing stage of our new tool SERPWatcher! A brand new tool will change your view on keyword position tracking thanks to its unique user interface and metrics.
How is it going to work?
Our main aim is to implement the innovative design and user-friendly interface known from our tools KWFinder and SERPChecker.
We decided to split the main screen to feature all critical information.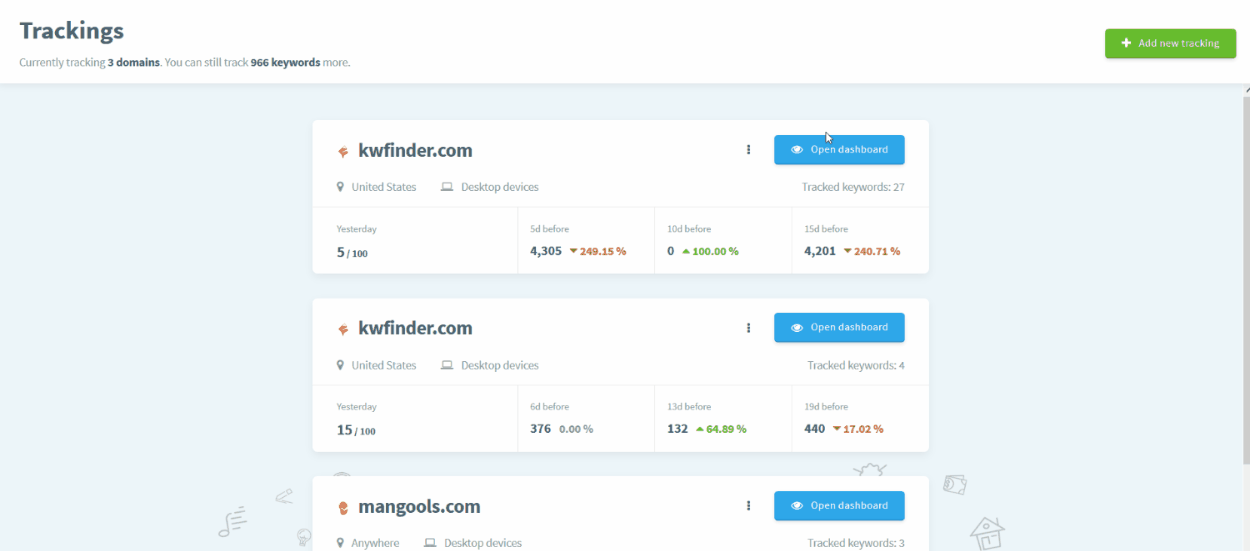 On top of that, we will introduce "Dominance index" on a scale from 0 to 100 and "Estimated visits" metric in an absolute value. These metrics will give you a clear picture whether your rankings are improving or getting worse.
Time-saving rank tracker
Why did we come up with new metrics? We wanted to make sure our rank tracking tool wouldn't waste your time. This way, you can focus on optimizing instead of spending hours analyzing your website rankings. Thanks to the "Performance index", you'll be able to evaluate your tracking project without checking the ranks one by one.
Last but not least, synergy is what we all aim for. SERPWatcher will be integrated with our other tools. When creating a new project, you'll be able to import existing keyword lists from KWFinder. Moreover, there will be an option to check keyword SEO difficulty and Google SERP of tracked keywords.
Besides the mentioned features, SERPWatcher will bring:
daily rankings
innovate online reports
desktop and mobile segmentation
localized results
SERPWatcher will be available for FREE as a part of existing Mangools SEO package for all currently subscribed users and those who subscribe before the tool is released. Present prices of our plans won't last forever.
Sign up for BETA is closed now.