Don't know where to start? We've got your covered! Follow these 8 simple steps to find easy-to-rank keywords that will boost the organic traffic of your website.
1. Type the main seed keyword into the search form and select the location based on your niche and target audience:
Are you a pizza house in NYC? Start with something like "best pizza" and select "New York…" (we have more than 50k locations to choose from).
Do you have an Amazon niche website for foosball freaks? Start with "foosball table" and leave the location as "Anywhere".
Running a vegan food blog? Type something like "vegan burrito recipe" and leave the location as "Anywhere".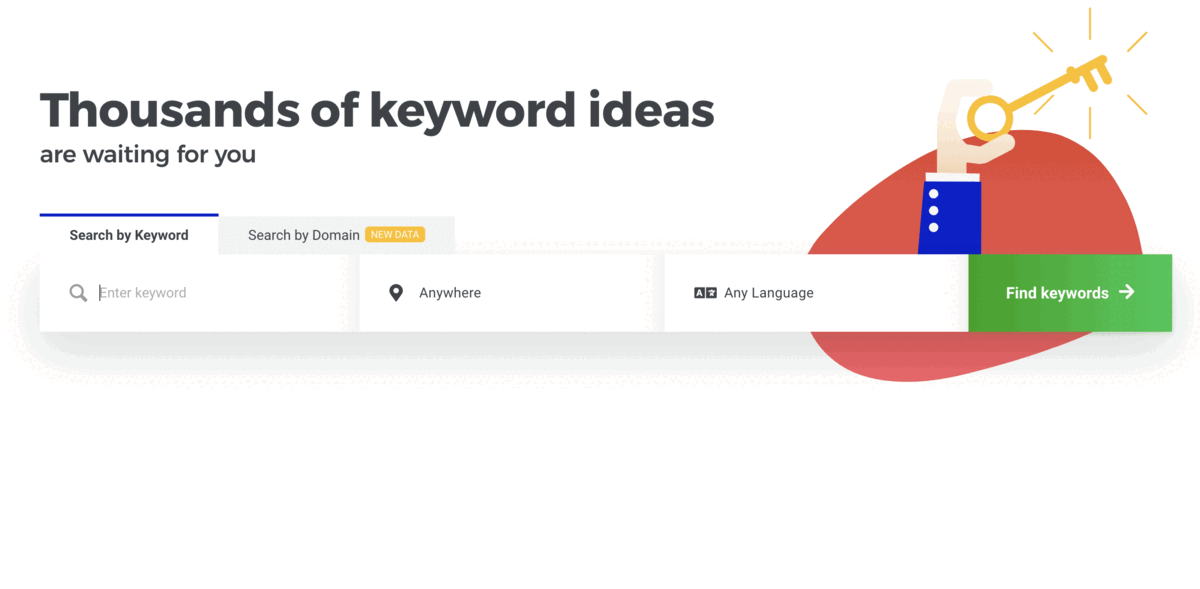 2. Sort the results by "Search" volume to check the popularity of the keywords – you'll see the avg. monthly search volume for each term.
3. Check the Keyword Difficulty (KD) to find out whether you're able to rank for keywords that are relevant for your niche and have a solid search volume – look for green or yellow values for the easiest terms.
4. Set up a "Filter" to see the most relevant results. Usually, the best long-tail keywords contain at least 3 words.
5. Don't waste your search requests! Once you see potential in a keyword (it is relevant to your niche, has a solid search volume and reasonable Keyword Difficulty), click on it and get even more details on the right part of the screen.
6. Check the long-term interest trend of the keyword thanks to the Monthly searches/Trends chart.
7. Make sure the keyword is truly relevant and get a detailed view on how hard it will be to rank for it thanks to our SERP analysis table:
If you're a pizza house in NYC the ranking websites shouldn't be DIY pizza recipes.

If you're writing a foosball tables review the ranking websites shouldn't be places where you can play foosball.
If you run a vegan food blog the ranking websites shouldn't be the best Vegan restaurants on the opposite side of the world.
8. Save your research in a keyword list and create your new amazing piece of content. We have a detailed guide on how to use keywords.
Quick tip: Read our guide to see what your competitors rank for and get the most relevant keywords with a few clicks.
We've included this quick guide for you in the chat message. Once you close this window, it will appear there!