Andy Crestodina is a guy whose marketing advice you should listen to.
In 20 years of his digital marketing career, he helped more than a thousand businesses, co-founded a successful digital agency, and wrote hundreds of blog posts.
I've been following him for a while and really enjoyed his in-depth guides packed with actionable advice (not to mention his valuable tips in our SEO roundup).
So asking him to share some of his wisdom in an interview was a no-brainer. He kindly agreed and here's the result:
(Caution: The following tips by Andy may help you improve your content marketing results dramatically 😉 )
Let's start with an actionable question: What SEO technique have you used recently that worked perfectly for your piece of content?
Here's one that may not be obvious…
An article isn't optimized unless it has a helpful, original diagram in it. Of course, this has no direct impact on rankings. But the indirect benefit is huge.
If an article has a helpful diagram, you have the opportunity to do "image source link building" which is simply using the diagram when you contribute to the content on other websites.
Were you invited to contribute a quote to an article? Add the diagram to the contributor quote (the editors will love that you've added a visual) and add the image source link below it.
I find it hard to promote content that doesn't have original charts or diagrams.
Now you know! As you read the rest of my answers below, notice how I'm adding visuals and referencing the original post …with an image source link.
Smart right?
Many niches are oversaturated these days. Is it still possible to create a successful blog from scratch? What should you do differently than the others?
It's still 100% possible for a smaller player to beat the big guys. It happens every day. But you have to nail the one, key success factor in winning traffic… the headline.
In social streams and inboxes, the little guy doesn't look much different than the big boys. The reader is scanning through headlines (social posts and subject lines) and doing a quick cost/benefit analysis for each one.
"It's still 100% possible for a smaller player to beat the big guys. It happens every day. But you have to nail the one, key success factor in winning traffic… the headline."
Basically, this is what's happening in the mind of your potential visitor:
"Is the value of clicking (or tapping) on this headline worth two seconds of my attention?
If so, you won a visitor. The key to traffic is to win in this split-second calculation. So your job as a new niche player is to get so good at headlines, that you can compete in social streams and inboxes.
Here are some tips:
Write at least 10 headlines for every article before choosing the best.
Use different "headlines" for various elements (title tags, headers, social posts, subject lines, etc.) by tailoring the headline to perform well in its location.
Use data from social media (click-through rates from Twitter for example) to learn which headlines trigger the right psychology and win clicks.
As your followers and subscribers grow, it gets easier and easier.
No blog, big or small, can win without great headlines.
If you just started a blog, what type of topics would you cover first? Big keywords to lay the foundations or long-tail phrases you can rank for faster?
Start with something big.
Pick a topic that your audience cares about. Target a keyphrase even if the KWFinder says it's out of reach. And make the best page you possibly can.
It's not going to rank right away. That's fine.
But it's going to do some other important things for you…
It gives you something to link to from the other articles on your site.
It gives you something to link to from the guest posts you'll be writing.
It will help impress editors who look at your content when you pitch guest posts.
It gives you something to share on social, and keep in heavy rotation.
It's a URL that can gradually begin to accumulate authority and links, giving you an opportunity to rewrite it someday in the future.
What link building tips would you give to a beginner blogger?
Write for everyone.
Probably, if you're just starting out, most of your content should be published on other websites. After you've published a few great articles on your own site, go on a guest blogging blitz and write for any site that will take you. Any site that has a higher DA than yours.
Here's a suggestion for how much to guest post, depending on your own level of Domain Authority.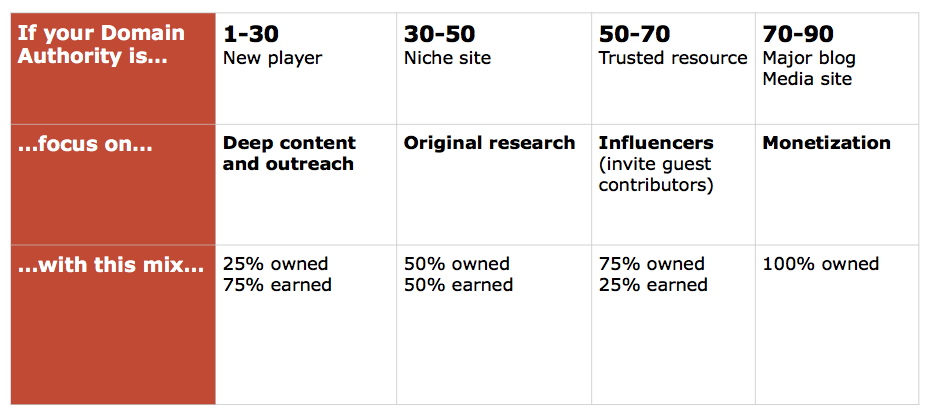 Years ago, I went on a guest posting world tour. I made a list of every site that I admired, and I worked hard to connect with their editors, pitch articles tailored for their readers and then promoted them hard after they went live.
I track all of my publishing (this is my "Lifetime Body of Work" or LBOW) and when plotted on a chart, you can see this era of guest posting. It was mostly in 2012 and 2013.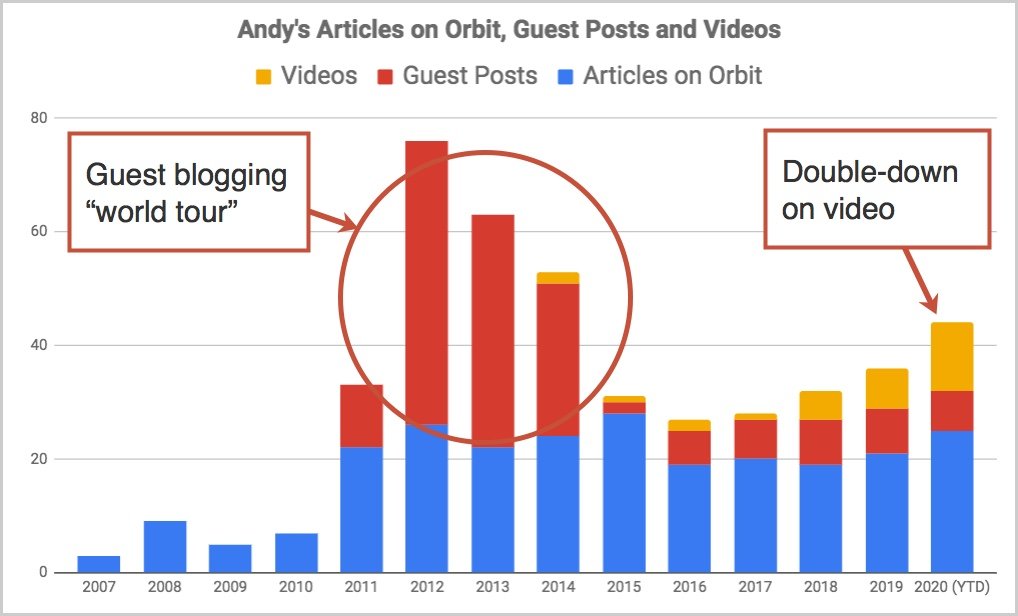 This did wonders for the authority of my site.
Also, you can see on this chart my Covid-era video efforts…
No travel time for conferences? I'll use that time to build out the Orbit YouTube channel.
What about the publishing frequency – is it still "the more often, the better"?
Actually, yes. There is a strong correlation between frequency and marketing results. Content programs with higher frequency are more likely to report "strong results" according to our annual blogger survey.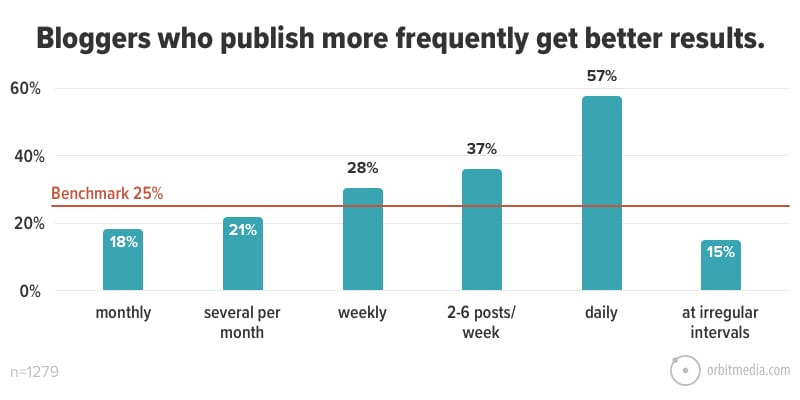 But that doesn't mean that high-frequency is necessary. Obviously, there are high-frequency programs that fail and low-frequency programs that win.
My recommendation is to think about your sales cycle, especially for B2B service companies like ours. How long does it take for your potential buyers to decide who to hire?
And think about your buying interval. How often does your audience need your services?
With these in mind, you may conclude that a weekly or bi-weekly newsletter is plenty to keep your brand top-of-mind.
In my case, we do web design. The sales cycle is often 6+ weeks and the buying interval is 4+ years. So why would I need a weekly blog/newsletter to stay top-of-mind? I don't.
In the end, content strategists often set their frequency at whatever they can sustain with their staffing and resources. Publish as often as you can consistently produce and promote a high-quality piece of content.
In my case, that's bi-weekly. I write a long-form, practical piece of content every two weeks. I've done it for 10 years.
You often recommend content updates as an effective SEO technique. Any practical advice on how to approach them?
It's a fantastic SEO technique.
Here's the hypothesis:
You will get better results by going back and updating an old post than writing a new one. You don't need 1,000 articles. You need 100 great articles.
First, you need to know which posts to update.
There are two kinds of articles that get the best benefit from a rewrite…
Articles that almost rank high
Articles that did rank high but the rankings are starting to slip
Next, you need to seriously make it a much better article. If the rank has declined, it's probably because newer, better content has been produced on the topic.
"You will get better results by going back and updating an old post than writing a new one. You don't need 1,000 articles. You need 100 great articles."
Here are some of the ways to upgrade the quality…
Add detail, length and answers to related questions
Add data and statistics
Add charts and diagrams
Add formatting (subheads, bullets, bolding, internal links)
Add contributor quotes from relevant experts
Add examples and case studies
Add a video
Once complete, your re-written article will likely be 5x the quality (as in, helpfulness) of the original. It's also probably 5x as long.
Wait one week and check the rankings. Here's what you might find.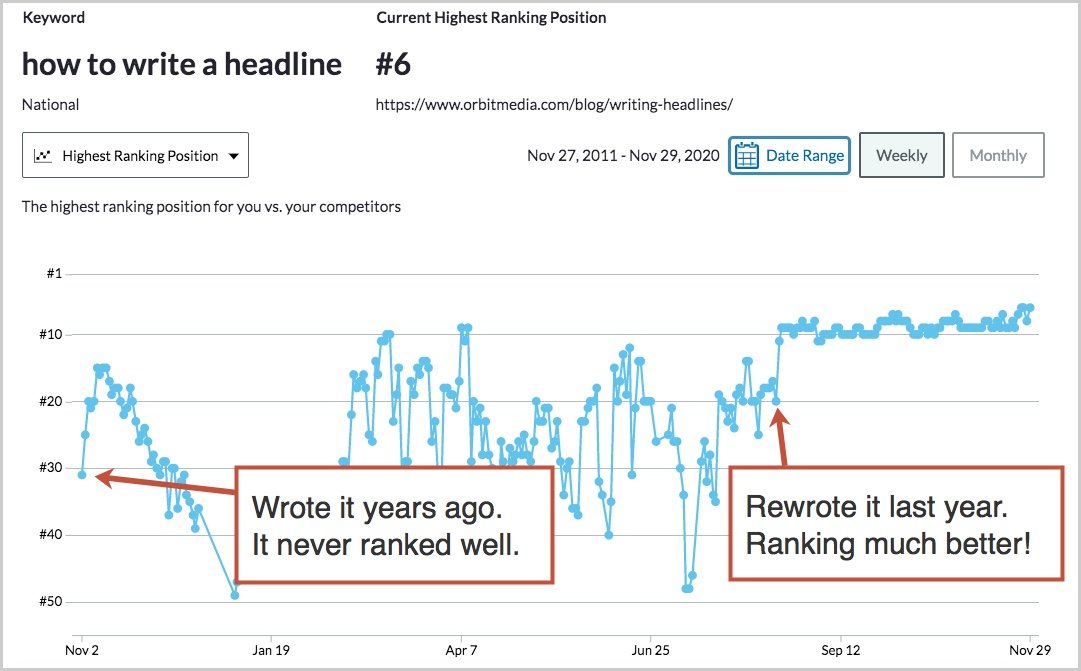 Caution: Do not change the URL when you do this. The idea is to leverage a URL that is already indexed, already ranking and already has a few links to it. Change the URL and you screw that up.
Do you have an article that doesn't rank? Maybe that's because you've only written it once!
Of the 25 articles that I published this year on my own site, half of them were updates to older articles.
"Do you have an article that doesn't rank? Maybe that's because you've only written it once!"
What blog post made you "wow" recently?
I know this is a Mangools post, but I'm sincere when I say that this post about SEO techniques made me say "wow."
Why?
It's just packed with value.
It's not the typical advice.
It's easy to understand.
It's well-supported with visuals and contributor quotes.
That's my kind of article. Bookmark it. Share it with your network. They'll thank you.
Finally, let's play a little game. Never have I ever:
Sent an outreach email with the wrong recipient's name in the greeting:
Honestly, I've never done this. I don't send a lot of outreach emails.
I've gotten outreach emails to "first_name" or to the wrong name. I forgive them. Who really cares? People who get uptight about this should relax. It's just an email.
Published a post I am embarrassed about now:
Yup, I've done this. I used to write a lot of weird stuff, with headlines like "SEO Zombie Hunt" and "Nice Blogs Finish Last" …notice I didn't link to them. Please don't look them up.
Bought a backlink:
Honestly, I've never done it. I actually don't think it's unethical, but I also don't think it's sustainable.
Far better to build the two things that make links happen organically: relationships with influencers (specifically, content creators) and link-worthy content (specifically, original research).  If you step back and deconstruct everything needed in lead generation, you'll realize that these are key ingredients.
I'll leave you with this one little diagram that breaks it down. Hope this helps!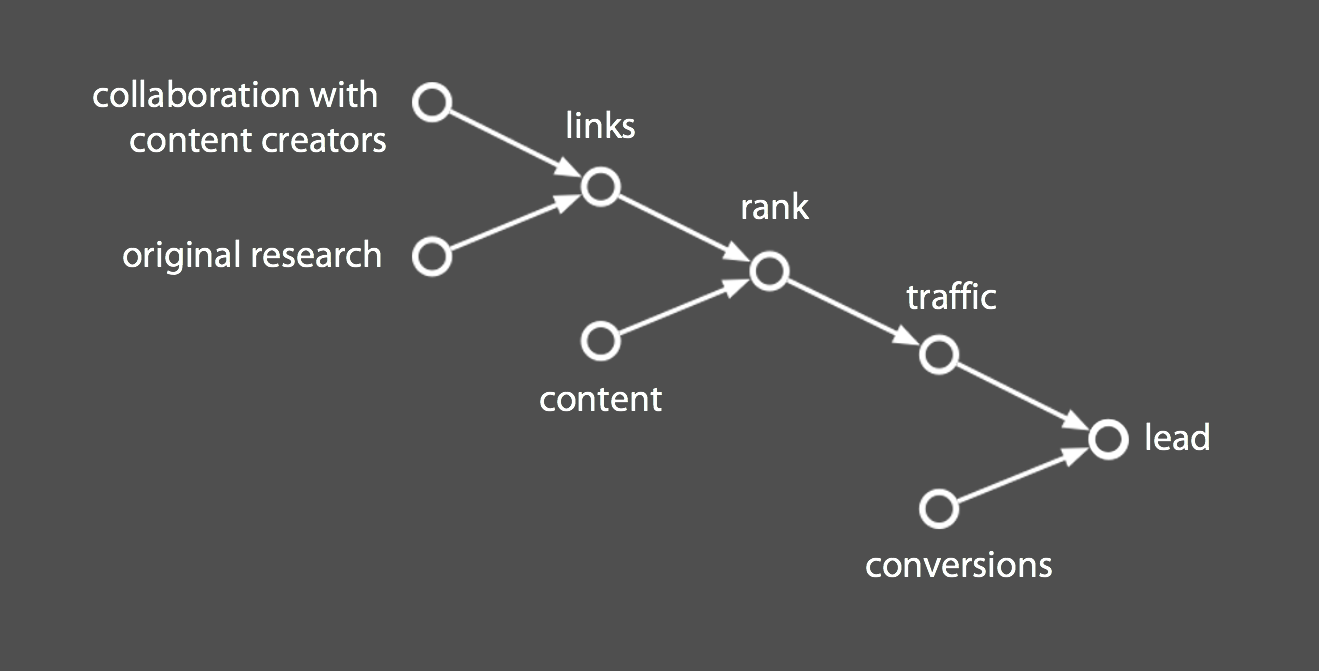 Andy Crestodina @crestodina
Andy Crestodina is the co-founder and Chief Marketing Officer of Orbit Media, an award-winning 40-person digital agency in Chicago.
Over the past 20 years, Andy has provided digital marketing advice to 1000+ businesses. He speaks at national marketing conferences and writes for big marketing blogs. He's also the author of Content Chemistry: The Illustrated Handbook for Content Marketing.
Andy has written 400+ of articles on content strategy, search engine optimization, influencer marketing, conversion and Analytics.
Top 10 Online Marketing Experts to Watch, Forbes
Top 50 Marketing Influencer, Entrepreneur Magazine
Top 20 Content Marketing Influencers on Twitter, SEMrush
Top 25 B2B Marketing Influencers to Follow in 2021, TopRank
Top 20 Content Marketing Thought Leaders, Alexa
Top 25 Content Marketers, Buzzsumo
Top 100 Digital Marketers, Brand 24
Top 10 Social Media Influencers to Watch, Social Media Explorer
Top 50 Content Marketing Influencers to Follow, Outbrain
Top 15 Growth Marketing Speakers, Read Write
3x Inc 5000 Winner
Andy gives up to 100 presentations per year and is a frequent repeat speaker at many of the top conferences:
Content Marketing World (7x), Social Media Marketing World (6x), Call to Action Conference (5x), Marketing Profs B2B Forum (5x), Content Jam (8x), MozCon (2x), WordCamp, Social Media Success Summit (5x) and SXSW