When I was implementing structured data for mangools sites in June 2017, I was quite confused whether I was doing it right. I followed all the rules of schema.org and Google structured data guidelines, however, our sites weren't showing in Google SERP as rich snippets for months!
I was like "Okay, maybe it's not implemented yet on Google side, maybe our sites aren't authoritative enough to get a rich snippet. We'll see what the future brings."
Starting the Mangools migration
And the future did it! During last days, we started migrating our tools' landing pages under domain mangools.com (e.g. mangools.com/serpchecker instead of serpchecker.com). Check our detailed case study about the redirect campaign.
We did 301 redirect from serpchecker.com to mangools.com/serpchecker 2 days ago and Google already noticed this change. The algorithm can see our redirect. But that's not all. We have a beautiful rich snippet with star rating, price and software application category! Finally.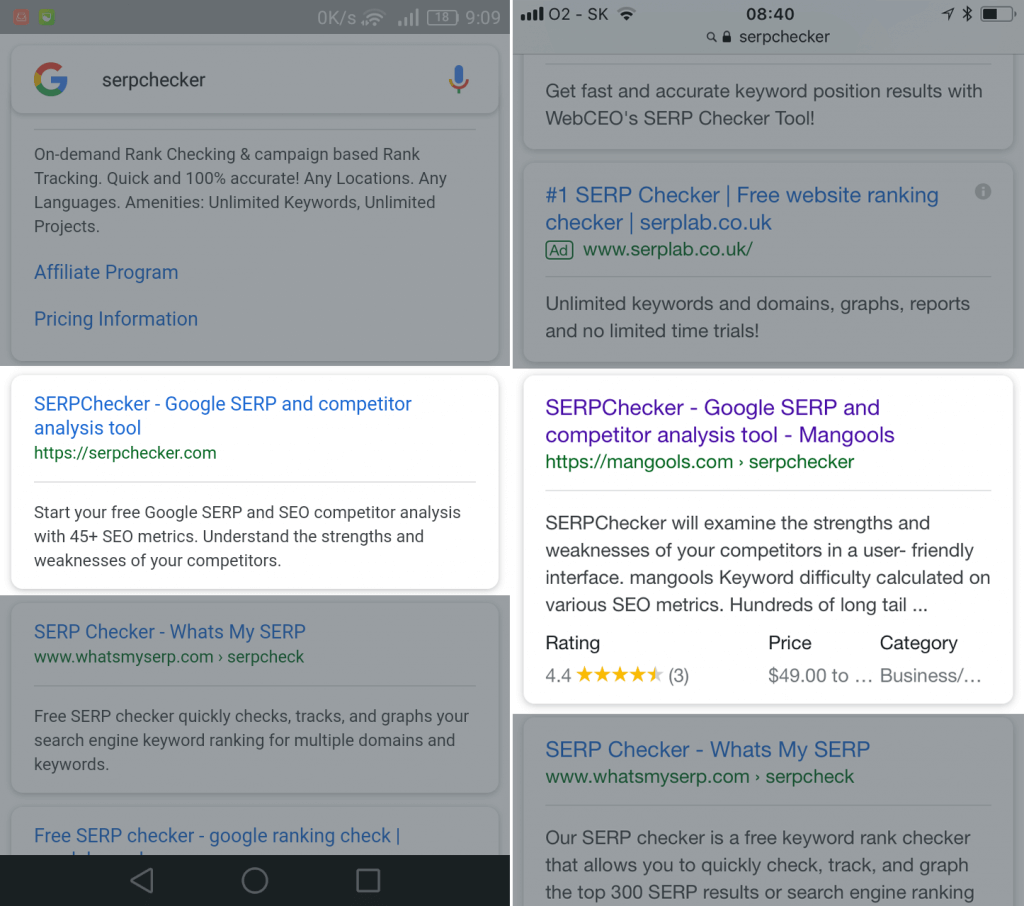 I have to say not everyone will see this SERP yet. The screenshot (on the left) shows the original appearance of SERPChecker in search results. The screenshot on the right is the "new" SERP with redirection and rich snippets.
So what is the deal?
Well, it's super simple. After some additional research, I came to this: Google ignores star rating, price and similar markup on a homepage (such as serpchecker.com).
However, the markup was done right. The only reason it was ignored all the time was that Google doesn't accept rich snippets for homepages; rich snippet annotations should be placed on leaf pages. It's stated by Google employee here, here and here.
Add schema to leaf pages
Yes, that's it. For example add company contact information markup only to /contact/ page, recipe markup only to a page with Homemade cookies recipe. On a homepage, it's all irrelevant even if you have a single-page site with just a one homemade cookie recipe.
You can review the code of mangools.com/serpchecker/ page to get an idea how to do the markup.
Conclusion
Well, this is all clear I guess. Everything happened because we have one domain per product. A few weeks later, we'll have a product on leaf pages so it will be clear even for Google.
Do you have any questions? Feel free to ask me in the comments below!