Many link building campaigns start something like this: googling the best email templates, mixing them up, changing the links and sending the outreach email to hundreds of people.
It's not necessarily wrong to get some inspiration from proven techniques. Why would you reinvent the wheel, right?
The bad thing is that it got to the point where many people keep using almost identical outreach email all the time, mostly based on Brian Dean's template from 2013:
Be honest, how many times did you receive a very similar email? Likewise, how many times did you send one inspired by this?
The email outreach template itself is great. If it wasn't, thousands of marketers and SEOs wouldn't use it. It goes straight to the point, explains how you found the outreach opportunity, what you did and what you want the outreached person to do.
I was inspired by this template as well when I did my first outreach campaign for one of the first articles I wrote on the Mangools blog. Of course, I personalized it a lot, but that template feeling remained. The response rate was rubbish. I forgot the exact number, but I guess it wasn't more than 2 or 3%.
Maybe it wasn't only because of the template as it was one of my first SEO blog posts. On top of that, I was new to blogger outreach at that time and had a lot of things to learn.
Our latest email outreach campaign
Enough about the history. I would like to share the results from a recent outreach campaign I did with Vlado, my new marketing buddy in the office. He used to be our customer support hero, so thumbs up for him!
Background
Recently, we discussed how to improve our set of guides called the SEO Academy for beginners.
We decided to revamp it, add new content, tips, additional internal and external resources but most importantly, we put together all the chapters to create one ultimate SEO guide for beginners called Learn SEO (boom, new internal link earned).
Challenge
As soon as you create this kind of "ultimate guide" content that you are really proud of, it's time to persuade others to link to it by doing the email outreach.
Besides doing social campaigns and sending newsletters, building a solid backlink profile remains one of the most important tasks that pay off from a long-term point of view.
We all know that link building remains a must in SEO. The challenge was to find the right backlink opportunities and write an email outreach message that would make those people link to our guide.
Research
Doing research is the first half of the success. You have to target relevant people with personalized messages that will convince them to give you a backlink. That means finding a specific article and possible placement of the backlink.
In some cases, you may need to write a short text to wrap up the link, or at least to propose the anchor text.
1. Create a list of websites
There are many tools such as Buzzsumo to explore blogs and other websites based on the topic but we decided for the old-fashioned way of using Google search operators, namely the exact match, allintitle, intitle of the following queries:
Learn SEO
SEO guides
SEO tutorials
SEO guides for beginners
How to learn SEO
Best SEO guides
Top SEO guides
List of SEO guides
The majority of targets we found were from the exact match searches.
Quick tip:
If you already worked with some bloggers in the past, don't hesitate to contact them.  You have nothing to lose, and they will probably be more willing to help you than people reached by cold emails.
2. Categorize the list
We divided the websites into 2 main categories based on the type of message we planned to send:
Skyscraper – The point was to test whether the thesis "My article is better than one of those you linked to" still works in the SEO niche
Lists – The goal was to get a backlink to our guide from different lists of SEO resources
Another categorization which is good to think of is dividing the websites according to their authority and/or popularity. These categories depend on the metrics and their values. And the selected metrics depend on the focus of the link building campaign:
To get authoritative backlinks
To get a lot of referral traffic
We went for the 1st option with this campaign. If you decide to do both, use them as your categories. You can evaluate the referral traffic potential with the Alexa Rank, the number of Facebook shares and referring domains (it's a more precise metric than the number of backlinks).
We focused on the DA and PA. PA is more important in this case, as you want the backlink from that particular URL. Anyways, DA will help you to get a bigger picture of the domain.
You will find all the mentioned metrics in our upcoming tool SiteProfiler.
Depending on the values, we can divide the websites into these categories according to their PA:
20 or lower
21 – 40
41 – 60
Above 60
It's not a rule, it's just an idea for you. I have created a spreadsheet template you can use. Feel free to download it!

Quick tip:
Consider your authority. Would you link to your website if you were one of the biggest influencers? Maybe it's good to have a website with good organic rankings and some quality backlinks before targeting the biggest sharks.
3. Find valid email addresses
Yeah, this is time-consuming and sometimes disappointing. Only a few websites have their contact details published. What you usually find is a contact form or links to social profiles. And in many cases, you won't find anything.
Fortunately, there are many ways to find the email addresses. Here are 4 actionable tips that will help you to do so:
Use email finders and verifiers
We used Hunter and Anymail Finder. Both are freemium tools, but if you combine both, it should cover up to 200 search requests.
Hunter gives you 100 searches in the free plan.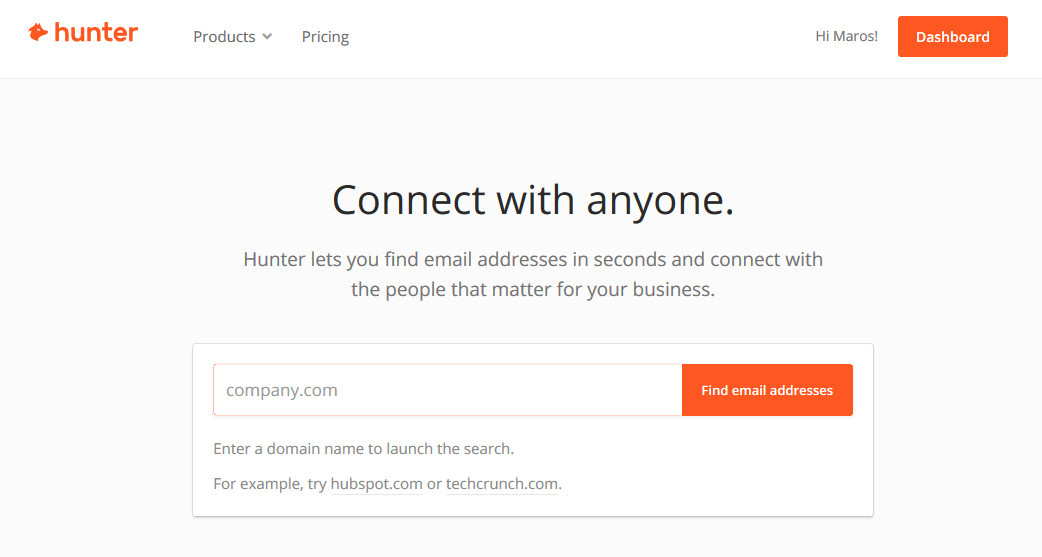 I did around 40 searches in Anymail Finder and there were still 9 credits left out of 20.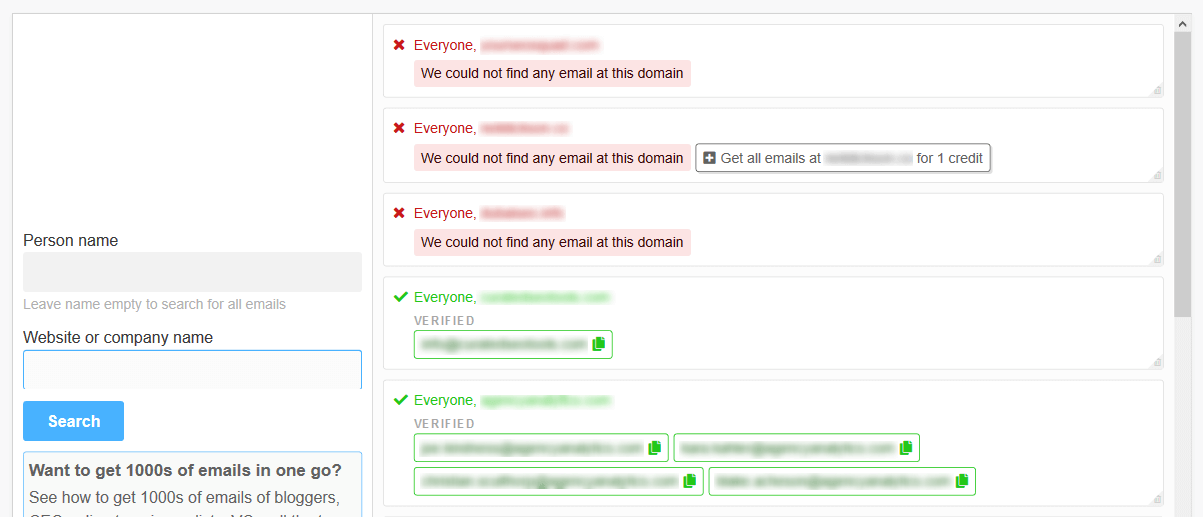 Both tools are super easy to use. However, you won't find all email addresses. Recently, I found another tool called AeroLeads. I've never tried it but it looks solid so you can give it a try.
Quick tip:
If you find more addresses, make sure to contact the person who wrote the article you want the backlink from.
It enables you to personalize the message even more. What's more, the chances are higher when compared to "info@…", "contact@…" or "hello@…" emails.
They verify many of the results so you can be more or less sure that the email will be delivered. If you don't find any email address in one tool, use another. In many cases, there were no results in Hunter, but we managed to find them in Anymail Finder and vice versa.
If you don't find any address, you can try tools such as Email Guesser where you write the name, surname, domain and you'll get a list of possible email addresses.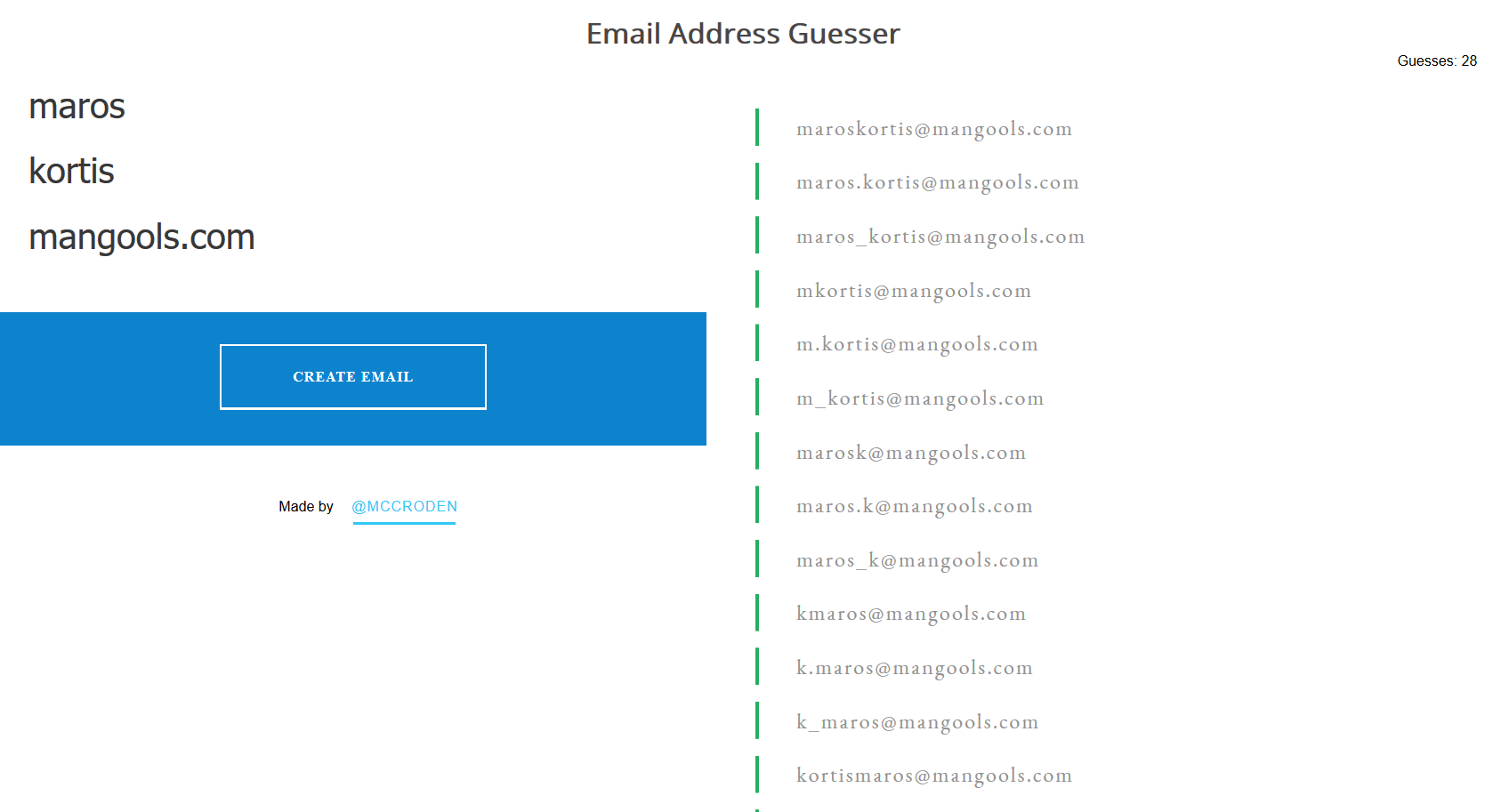 Quick tip:
Email finders usually offer a feature that verifies the email addresses. Have you already found the address somewhere else? Verify it.
We used Email Hippo and Email Checker for verification as we didn't want to spend all free searches in Hunter and Anymail Finder.
Use Gmail
If you end up with a bunch of guesses but you are not sure which one is valid, one of the additional ways is to paste these addresses to Gmail when composing a new message.
One of them may have a photo. That means the address exists. Hover over to find out. Keep in mind that if there's no photo, it doesn't mean the address is not valid. Using Gmail is just another hint.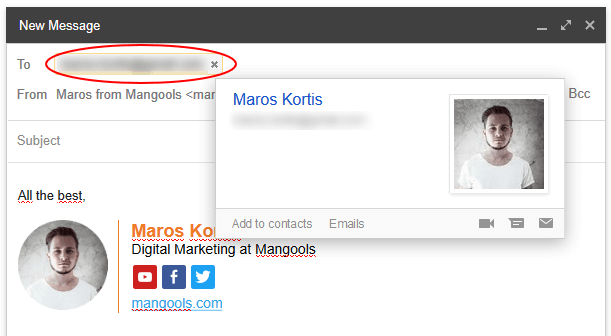 Dig in the code
Alhough it was probably the last option that came to my mind, I once managed to find the email address in the HTML code on the contact form subpage.
It was only 1 success attempt out of around 10, but you may have luck too.  "Inspect" the submit form button and look for "@domain".
Try Google+ (Not working anymore because the tool is shut down from April 2019)

The last tip I would like to mention is stalking the Google+ page (if there's any) of the blogger/company.
I thought there's no other way to get the email I was looking for so I gave it a try and it turned into a success. Many bloggers/websites keep their emails top secret, but they somehow leave them public on their Google+ profile. I managed to get about 5 addresses this way.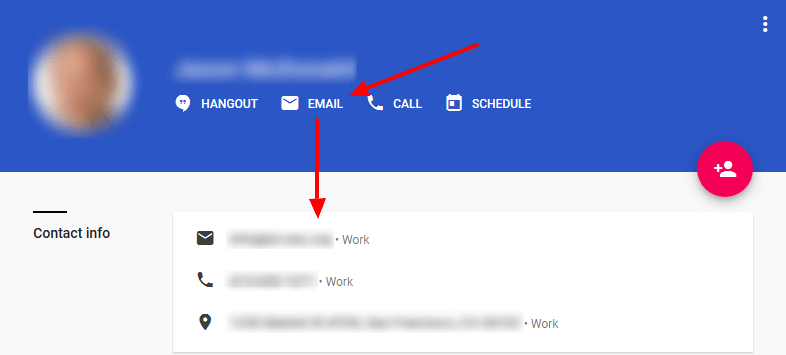 Email message
Generally, we don't have any problem to link to a great piece of content if it lands in our inbox and the message is well-personalized and targeted. However, we tend to delete this kind of emails:

The proposed article has an almost identical title as one of our blog posts published a few months ago. Moreover, there's no added value for us, neither a subject of exchange we could benefit from.
One more thing I want to mention is that even though this email doesn't directly ask for a backlink, the intention of "…which we think your readers would absolutely love" to do so in the following message (if there's any) is obvious.
Quick tip:
Stop thinking about the blogger outreach email as if it was a template. It should be a personalized message so the targeted person doesn't have a feeling he is just one of the many receiving the same email.
I don't say our email messages are perfect. We just followed the basic rules, we wanted to be original, and most importantly, we looked at them from the outreached person's point of view. We asked ourselves:
Would I open this email?
Would I read it?
Would I do what they want me to do?
This is our message for the skyscraper technique: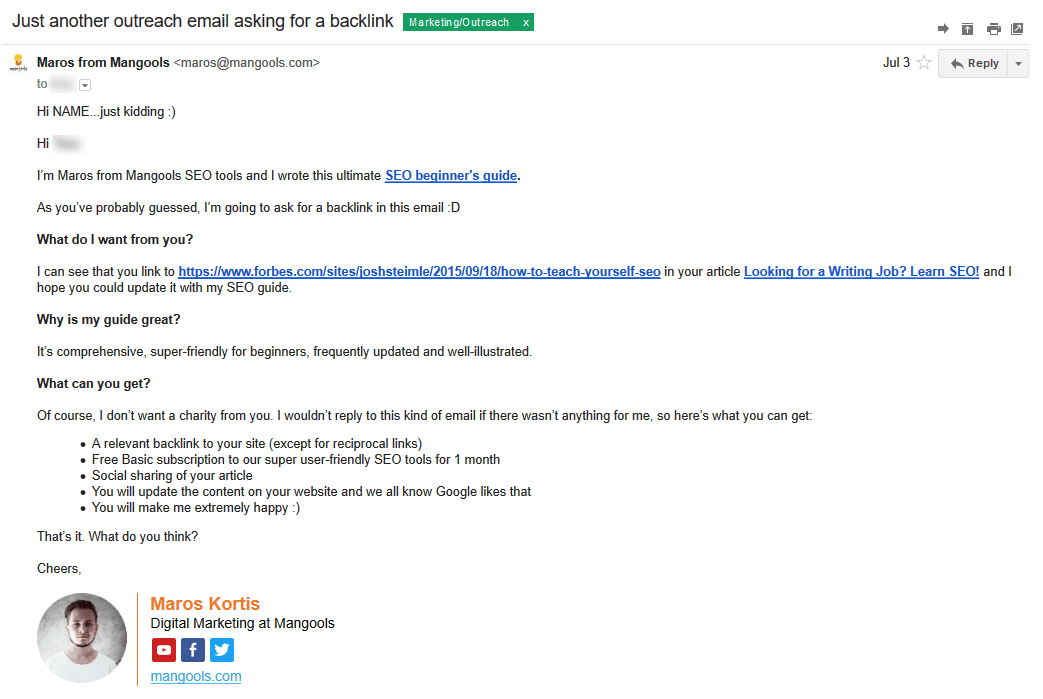 This is our message to get a backlink from the "Lists":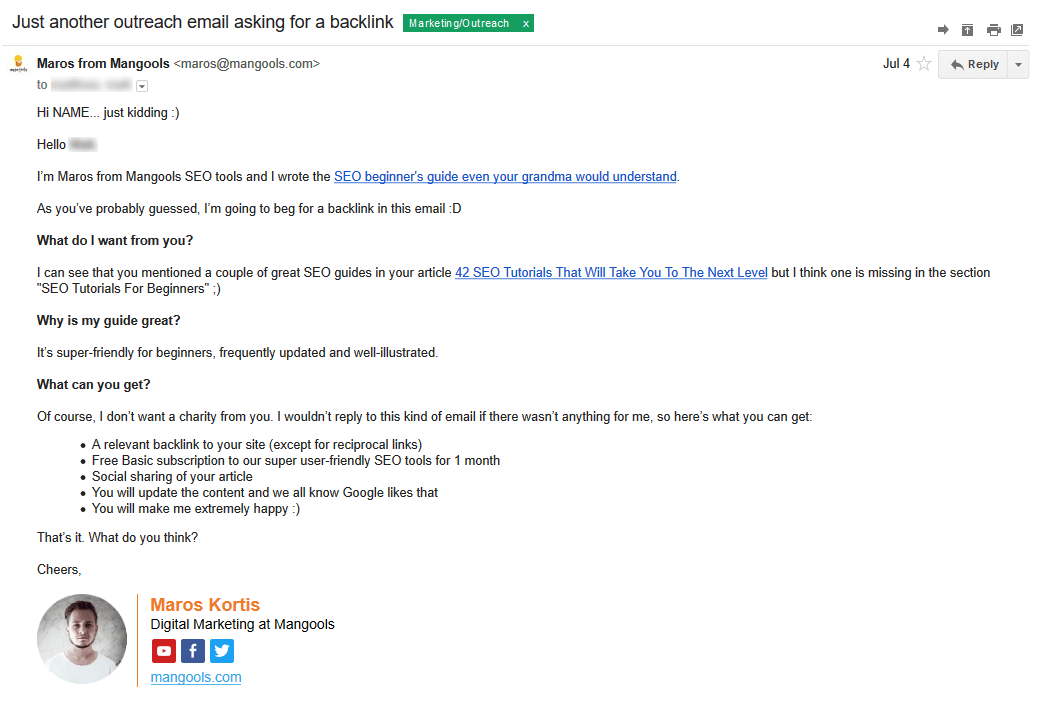 We used 2 subject lines:
Just another outreach email asking for a backlink
Shameless outreach email asking for a backlink
This was our offer as an exchange for linking to our SEO guide:

We personalized the message as much as we could if there was anything we could use as an additional motivation to link to our guide.
One thing we didn't pay attention to was timing. I know, there are many guides dealing with the "best" sending times and days. But hey, this wasn't a campaign aimed on thousands of people. We used the common sense based on the recipient's expected time zone and that was it.
On the other hand, if you plan send thousands of emails (I don't recommend it for this type of campaign) such as promo campaigns, deals, etc., I recommend reading this research about email timing.
Results
We sent emails to 81 people:
Skyscraper: 28 emails – 1 backlink earned

Lists: 53 emails – 9 backlinks earned (+3 to be confirmed)

Doing email outreach in the SEO niche where you target people who actually do SEO means that there's no way to fool them. When you try the skyscraper technique, it gets even trickier.
Here are the results of both lists:
We've gained only 1 backlink from the skyscraper list which is a 3,6% success rate.
The "Lists" campaign is a completely different story. We've got 9 backlinks, and 3 more are about to be added in the coming weeks. Not counting the 3, the success rate is 17%.
The total success rate from all 81 cold emails is 12,4%. The total number of responses is 13 when we count the three in progress. That is a 16,1% response rate.
Many of the responses were honest and funny. Here are the top picks: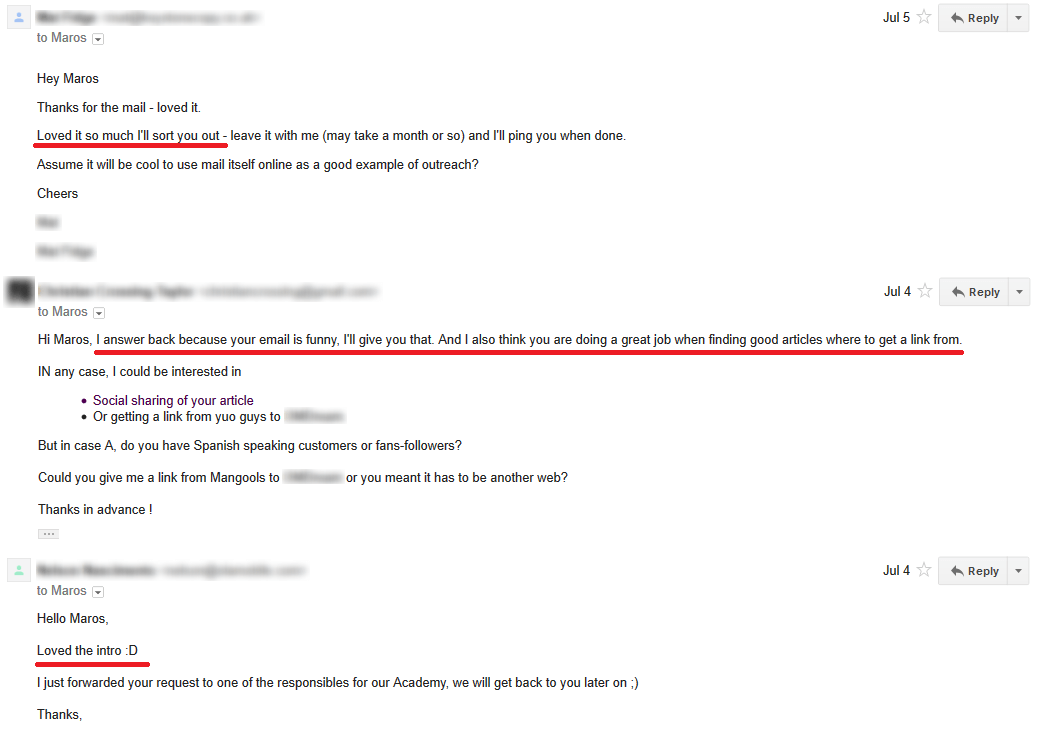 Key takeaways
… or 9 actionable email outreach tips for you.
Based on our experience and some best practices, I've formulated the following email outreach tips:
1. Do website research:
Create a list of relevant blogs (websites) and find where exactly your link could be placed
Categorize the list depending on the campaign type and metrics
Find valid email address by using the mentioned tools and techniques
2. Plan the 3 most important parts of your email:
Catchy introduction
What do you want from the person
What's in for the person, why should they do it
3. Prepare for some exchange
These are the recipients' responses when it comes to the offer we proposed in our email:
5 asked for a backlink
5 didn't ask for anything
2 used the option of the free subscription
1 wanted social sharing
That being said, you don't need to sell products to motivate people to link to your article. But be prepared for asking for the backlink. It looks like it still remains one of the strongest motivators. Watch out for reciprocal linking!
4. Content, content and content again!
If you decide to do email outreach, your article has to be great. It doesn't need to be super unique when it comes to the content itself but make sure your point of view, design and style of speech are unique.
5. Content vs. email
It is a bit questionable, but from 1 or 2 responses we had the feeling that email exceeded the content. Not in the terms of quality but from the psychological point of view.
I'm not telling you to write superb outreach emails while promoting low-quality content. Absolutely not! The synergy of the two is what you should have in mind.
6. Personalize more than ever, but don't be too cheesy
If you find an article written by a guest blogger but you plan to contact the website owner, it's good to mention something like "… in the article by NAME, one of your guest bloggers".
Likewise, don't forget to mention the author's name in case you didn't find their email address. On the other hand, don't be too cheesy. I would avoid clichés such as "… amazing article by [NAME]
" or "your readers will love this!"
How on earth would someone who is targeting 100 different bloggers know what their readers love to read?!
7. Send email reminders
We were sending the reminders after 6 or 7 days. There's no reason to spam after a day or two. It is another reason not to respond or to simply delete your email.
Keep the message in the same tone as the previous email. If there's still no response, don't bother by sending another reminder. I think that 1 is enough.

8. Track the results
Tracking the results, the date of the first message, interaction and other remarks will help you not only to evaluate your current campaign. You'll have valuable data for your future campaigns.
And when you get in touch with one of the outreached persons in the future, you will know how to communicate with them based on the previous interactions.
9. Test and learn
I mentioned my first not very successful blogger outreach campaign at the beginning of this article. Personalization didn't help that much. In this "Learn SEO" email outreach we decide to try something new.
As we were reaching out to people from the SEO/blogging sphere, we could bet on the fact that they probably get a lot of outreach emails and use it to our advantage.
We decided to make fun of ourselves and the traditional outreach emails while keeping all quality aspects on a high level. I think the 16,1% response rate proves it can be another way to succeed.
That's it! How about your experience with link building email outreach? Don't hesitate to share your thoughts in the comments.