Successful content marketing campaigns are defined as being able to build a connection between the brand and the customers.
It's not just about creating content and showing it to the viewers. It must bring real values, fulfill the needs of customers, and touch their most vulnerable emotions. Brands can easily make this type of content if they can take advantage of empathy.
According to Dr. Brené Brown: "Empathy is to feel with people. When you put yourself in the viewers' shoes, you will definitely understand what difficulties they are experiencing, and you can think of possible solutions more judiciously."
That is the reason why Content Marketing based on the empathy is a powerful strategy for B2B as well as B2C companies. If you are not a SEO copywriting specialist, you can outsource content writing. And if you are still not assured about its relevance, let's take a look at content marketing campaigns that are based on the empathy from different angles.
1. Lush
Type of content: Video
With the motto: Fresh and Handmade cosmetics, Lush is a cosmetic brand being famous for their natural-origin products. Honestly, we can clearly see this fact in the series "How's it made" (produced by Discovery Channel).
In the series, viewers are allowed take a look at the backstage, and witness their renown manufacturing process. Each episode specifically describes a real activity of Lush employees in the "kitchen", demonstrating step-by-step how they make a single product.
The viewers can experience the real "Lush" – the freshness of every ingredient: a basket of fresh lemons, a pack of tea leaves, and pure salt; all of them blend with each other. Those images are not only interesting but also highly educational.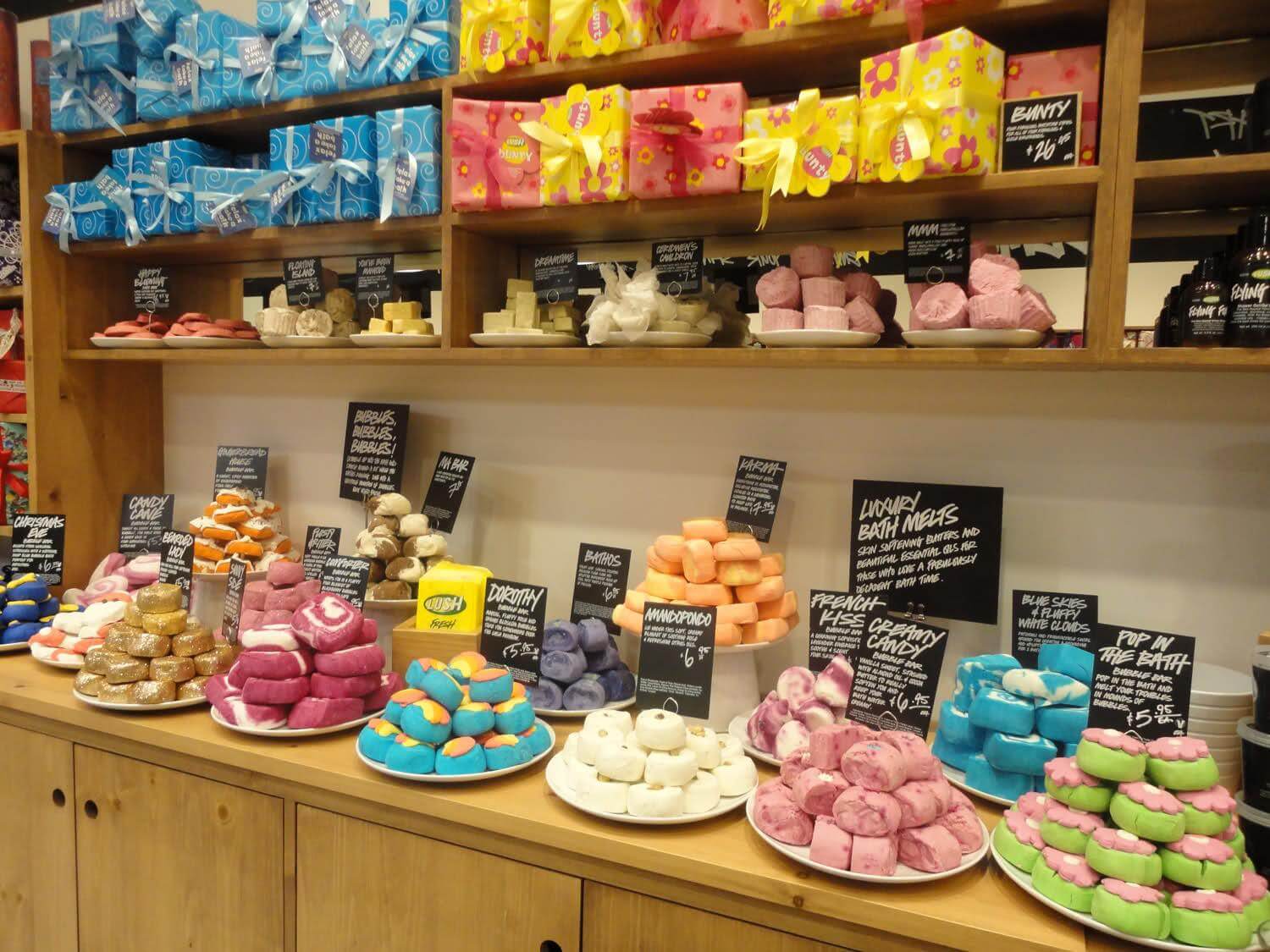 How this content expresses the empathy
Customers always want to purchase products which have natural origins. They concern about the fresh, organic ingredients in the cosmetics, and Lush has a clear understanding off this matter. Those colorful, close-up, and specifically described videos certainly dispelled the worries of prissy customers.
Taking them to the factory and let them watch every procedure, with real faces and real action, are the most solid insurance for the customers to continue purchasing products made by Lush.
2. Linkedin
Type of content: eBook
The solution for marketing of LinkedIn is to persuade marketers to develop different targeting audience and to create effective content by exploiting LinkedIn to reach their final aims. The developers of LinkedIn have created a lot of content that belongs to a diversity of topics on the blog so they are able to serve all types of marketers.
"Native Advertising: What It Is. How to Do It" is a 27-page e-book which provides a lot of useful information regarding this subject; it has become one of LinkedIn special service for enterprise marketing.
The e-book contains tips, statistical figures, in-depth analysis of many methods of natural marketing, as well as their strategies and benefits.
How this content expresses the empathy
One of the most effective topics of content marketing is education. LinkedIn offers the customers the right to improve their business by themselves (with tools and methodology provided by the company).
Through this kind of service, customers know that they can trust LinkedIn as a reliable guide, and LinkedIn can continue to supply appropriate solutions through selling their products. It is a move that will bring benefits to both sides.
3. The Home Depot
Type of content: Infographic
Home Depot is a trademark in the field of housing, gardening products, and service, serving all types of customers, from construction workers to amateur gardeners. In other words, their targeted customers belong to a wide range of the demographic
Aiming for handmade, craft commodity, Home Depot marketing focuses on what their products help you to do (not simply what they have). The "Growing a Living salad bowl" infographic instructs consumers to plant their own vegetables, provides information about methods, most suitable time for veggies to grow, and necessary equipment. At the same time, the brand element is minimized.
How this content expresses its empathy
Customers always want to build a vegetable garden by themselves for their family, but they require helps in terms of information, and they need to be encouraged. Infographic has great effects on urging the customers to start their gardening.
4. Dove
Type of content: Instagram post
Dove is a very successful beauty brand when it comes to creating a positive, friendly, and love-filled atmosphere for their fans on social media networks. Most of the Dove posts on Instagram are for the purpose of motivating girls and women to pay more love for themselves; their messages and interaction are also created to inspire people to follow this idea.
Not only they share wonderful messages, but also these posts usually assign some "exercises" for the viewers to practice loving themselves: tagging a friend or writing a short diary paragraph. Dove is using Instagram as a free but powerful online marketing tool while giving inspiration to their customers for action at the same time.
How this content expresses the empathy
Dove posts and articles remind the customers about their values continuously; it's also a method to recognize the good characteristics of themselves as well as people around them. This is not only a tactic from Dove to build relationships but also a proven mean to bring merits and happiness to people.
A study from the University of Carnegie Mellon (2013) showed that self-confidence helps you work more efficiently under stressful conditions. This is an honest and scientific approach to pour liveliness into people's daily life.
5. Extra
Type of content: Interactive website
We have encountered numerous chewing gum advertisements which are based on the motif: a sweet, romantic date. Extra also develop their content depending on this idea. They realized that gum is a part of daily life; it seems to be a common product, but its widespread existence allows it to witness numerous moments in human life.
Therefore, the purpose of "#givextragetextra" content marketing campaigns is to celebrate those moments – an exciting fishing trip or meetings with friends by using artistic drawings.
This interactive website recommends users to upload pictures of memorable moments in their daily life, and these images will be transformed into sketches. They even get a chance to appear on the packaging of Extra products.
How this content expresses the empathy
Gum is usually tied to the idea of increasing the intimacy; it keeps the breath fresh so that people can get close to each other. In the age of technology, daily moments of intimacy are usually ignored; this campaign helped users to treasure and passionately celebrate those wonderful moments with their family. Extra is helping its customers to live a more fulfilled life.
6. Microsoft
Type of content: Interactive Infographic
Security solutions from Microsoft keep the users' data safe. The next goal is to educate the users and explain to them why this Microsoft product plays an important role.  However, data confidentiality is probably not an attractive topic to the majority of the audience, not to mention numerous brands have been talking about this issue on a daily basis.
Microsoft made a turning point – an interactive website called Anatomy of a Data Breach. This website explains problems related to data breaching via a new and entertaining perspective: data-invasion cases in real life.
The audience can take the role of hackers; they are guided through steps used to invade the database, as well as the exact method to steal the information from it. Via the statistics shown on the website, the message of the brand becomes extremely apparent.
How this content expresses the empathy
We all know that data breaching is a serious threat, but not everyone has a precise understanding of its causes. Using infographic that contains interesting stories and visual data, Microsoft made the problems interactive and accessible more than ever. Through this method of interaction, customers realize their shortcomings and what they should do to protect themselves.
7. Michael's
Type of content: blog
Michael's is a long-established brand supplying handmade or job-teaching tools and commodity, but what makes them able to fully integrate into the world of the audience is a blog named The Glue String having a variety of content.
Some articles such as "12 ways to store Washi Tapes" seem a little silly. However, they offer what handicraft lovers consider as the most intimate aspects of the life.
How this content expresses the empathy
Crafting is an interesting hobby, but almost everyone occasionally gets some confusions when dealing with it. Giving away free tutorials and tips can greatly assist the audience in improving their results and reducing possible headaches. Besides, followers are eager to share those articles, helping Michael's to approach more people.
8. JetBlue
Type of content: Video
Jetblue is a brand that is well-known for its remarkably humorous and unique customer service. This American low-cost carrier often aims to promote the world on the planes and in the airports.
With a great sense of humor, Video Flight Etiquette talks about issues that anyone can encounter when they travel: too excited to travel by airplane, the person next to you is too talkative, etc. Using a "contrastive" tutorial of  "How NOT to", they have expressed the voice of their brand.
How this content expresses the empathy
Many situations that may happen in your flight can turn your trip into a nightmare. Those short films offer some ways that can help you to "rescue" those difficulties with an insight and educational comprehending.
9. J.Crew
Type of content: Instruction through visual effects
J.Crew is a trendy fashion brand which always conducts marketing in regard to people's lifestyles and their fashion within that context.
The above article is a perfect demonstration of the idea. The design is the main part of their job and it's totally natural if it is shown to the public. Through these designs, J.Crew present tips for usage, illustrations, annotation, and finally the direction to their products.
How this content expresses the empathy
Customers want to express their styles and personalities through fashion. The brand offered more options, more styles to the customers through its own products.
Are you ready to follow this direction?
No matter which fields you are working in, from writing digital product reviews to conducting marketing for a big company or selling goods as a small vendor, you need to remember: When you create the content, prioritize your customers' wishes, requirements, and expectation over yourself is a smart way to develop your brand.
By doing so, you give out a message to your customers that you truly care about them, above all else. Customers will want to work with (B2B) or support (B2C) the companies and characters that they adore thanks to these content marketing campaigns. Take a hint of this matter!