At the beginning of October 2022, we made another update to Mangools that included, along with a few minor UI improvements, a major and much requested feature: the ability to create and manage sub-users.
Sub-users and team management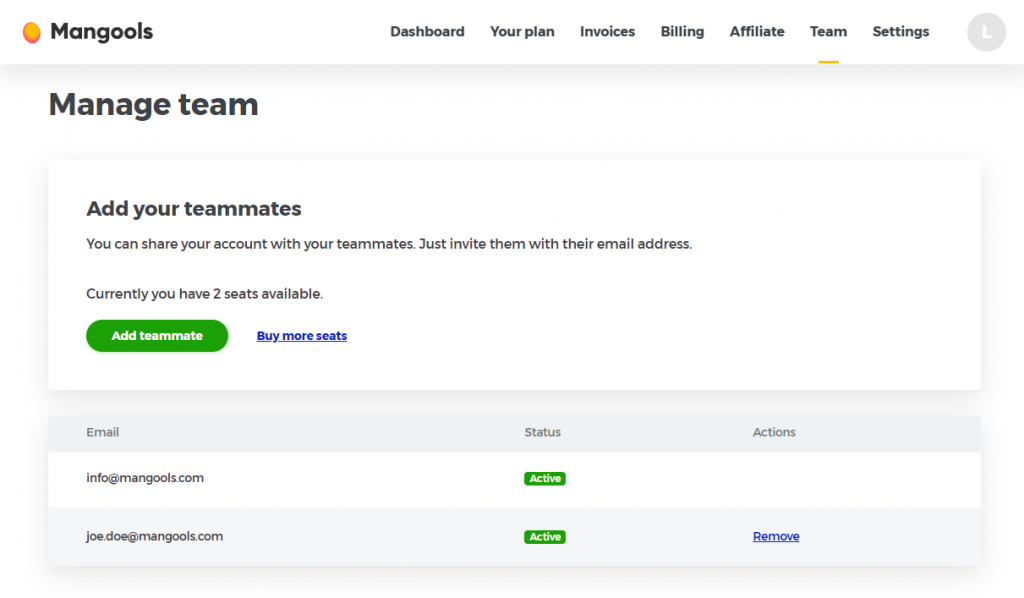 Previously, we offered the ability to use one user account on up to ten different devices at once. This solution allowed you to share Mangools within your team. However, the downside was that you had to share login credentials and all users had access to billing information, subscription settings and shared common search history across all tools.
In response, we've now added user management in which you as an account owner can add your teammates to share your account resources and rank tracking projects.
In other words, each user now has their own login and password, and only the account owner can change billing information and subscription settings.
Activating the new feature is easy!
When you log into Mangools, you'll notice that the "Team" item has been added to the main menu. Take a look on the Mangools dashboard. Here you can easily add or remove your subordinate users.
The great news is that, depending on your plan, you already have 3 to 5 subordinate users included in your subscription. However, if the number of free users within your plan isn't sufficient, you can purchase unlimited additional seats. For more information on prices and limits, see the Plans & pricing page.
If you have a Basic plan, keep in mind that only Premium and Agency plan subscribers have the ability to add and manage sub-users. There's more reason than ever to upgrade now, not to mention the much higher limits you get as a result.

When you want to add a new user to your account, simply click the "Add teammate" button, fill in their email address, confirm and that's it. Now all you have to do is wait for the invited user to accept the invitation. If the user with the above email address is not registered with us yet, it's okay, in the first step he can easily create an account in Mangools and then we will include him as a sub-user in your account.
Additional things to keep in mind
When referring to an existing user, it's important to remember that only a user who does not have an active subscription can become a sub-user. Simply put, you can add a user to your team if they currently have a trial plan or an inactive subscription.
What's shared within the team?
Each subordinate account has its own login, however, a team can still use Mangools to seamlessly collaborate on joint projects. Limits, saved keyword lists, and created trackings continue to be shared within a team. When it comes to history and favorites, each user keeps this data separately.
Work as you need to
Online marketing is quite a wild ride and sometimes it can be pretty challenging. It takes a special breed to succeed in this industry, which is why you're our heroes. Whether it's to work diligently over data every day, on the go, or in a client presentation, our goal is to make your job as easy as possible.
That's why we've set it up so that each user has the ability to log in from two different devices at the same time. This applies to both main and subordinate users. This way you can work from your computer without interruption, and simultaneously, on your smartphone or other device.
Let us know what you think
Have we hit the mark? Let us know how you are now working within the team. If you run into any problems, contact our support team.
Got an improvement to suggest?  We'd love to hear it! Feel free to share on our suggestion board.
Not yet subscribed to our newsletter? Subscribe now to get access to all important news.
Thank you for being with us. 🧡