What is Google Keyword Planner?
Google Keyword Planner (GKP) is a free tool included in the Google Ads (formerly AdWords) suite. The name of the tool clearly indicates its features. It's designed to find the right keywords for your Google Ads campaigns.
GKP's main features haven't changed that much since it was launched back in 2013. However, at the beginning of 2018, it was redesigned according to the new design trend across all Google tools.
A couple of useful new features were added to the tool such as historical and mobile search volumes or new metrics.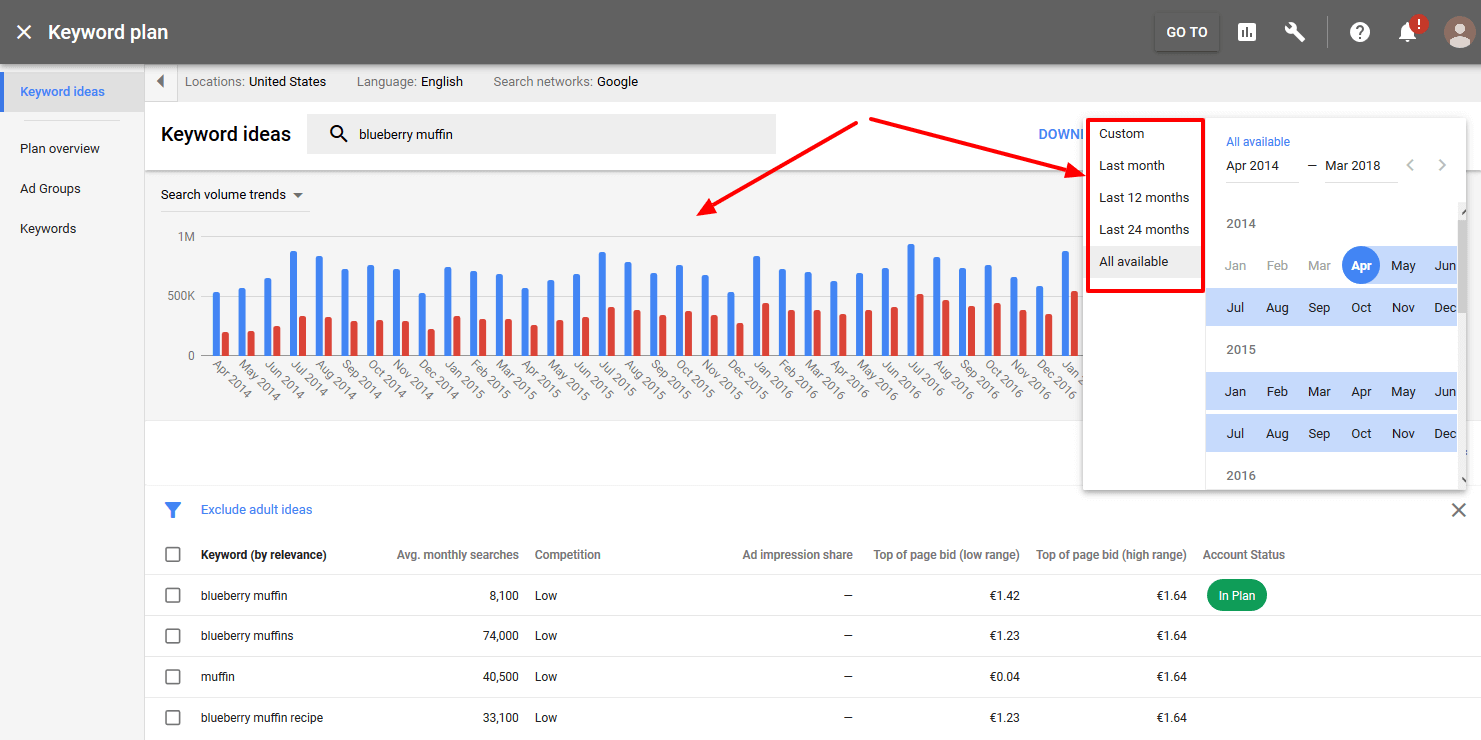 How do I get Google Keyword Planner?
In order to use Google Keyword Planner, you need an active Google Ads account. Right after, you can access the tool in the Google Ads interface by clicking on the "Tools" in the upper-right menu.

Quick tip:
Make sure to have an active Google Ads account in order to use the Keyword Planner. Google automatically deactivates accounts without any spendings in the last 15 months. It can be reactivated, but if you don't spend any money within the next 3 months, it will be deactivated again.
Can I use Google Keyword Planner for free?
Yes, as long as you keep your Google Ads account active. But it may happen that you will not see all the data. Why? Despite the fact that "free" is probably the best selling point of any product, Google decided to stop showing all the data for free.
In 2016, the exact search volumes of keywords stopped showing for users that don't spend enough money on their ads. No one truly knows what "enough money" means but what we could see and read, at least $100 per month is necessary. Of course, this can differ so don't take it as the only applicable rule of thumb.
In case you don't spend enough, you will see the following search volume ranges:
0
1–100
100–1K
1K–10K
10K–100K
100K–1M
1M+
In other words, if you want to use Google Keyword Planner for search volumes, it will be useless unless you don't have active campaigns.
What data can I see in Google Keyword Planner?
GKP is a powerful tool widely used by PPC specialists and SEOs alike. It offers crucial data that some other tools (many times paid tools) can only dream of.
As of today, you will find the following data in Google Keyword Planner:
Exact monthly search volumes or ranges (depending on your money spendings in Google Ads)
Historical search volumes from up to 2014
Mobile search volumes
Keyword ideas based on your main seed keyword
Competition in Google Ads
Suggested bids
Ad impression share
Forecasts for impressions and clicks based on your bids
Forecasts for locations and devices
Organic average position and impression share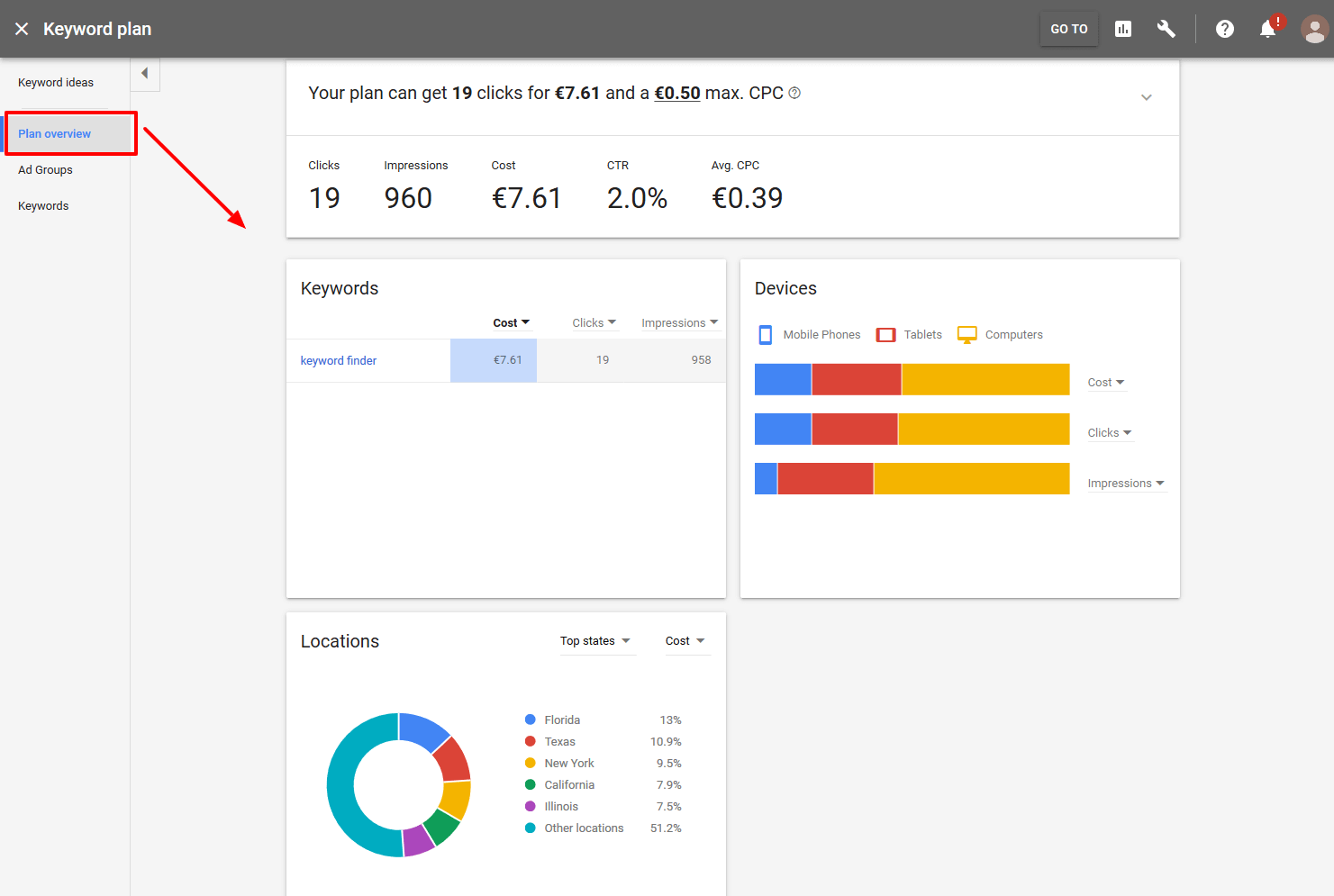 How to use Google Keyword Planner
Once you launch the tool as we mentioned above, you can start the research in 2 ways:
Find new keywords – this will help you to find new keyword ideas
Get search volume and forecasts – this will help you to get search volumes and forecasts for your keywords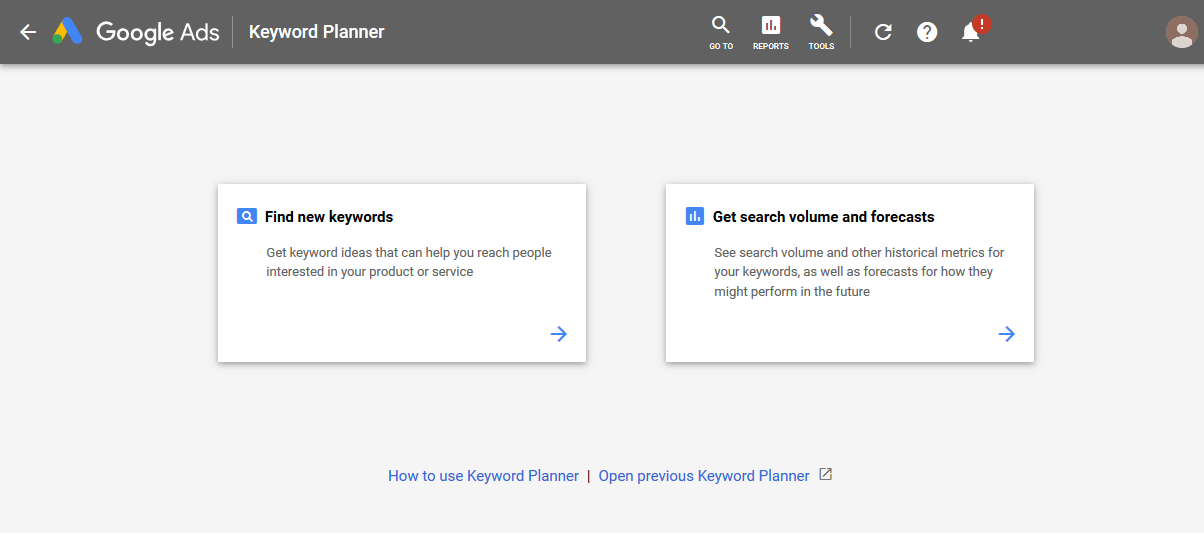 1. Find new keywords
Type in words, phrases or URL related to your business and you'll get the following data (these are keyword ideas for "blueberry muffin"):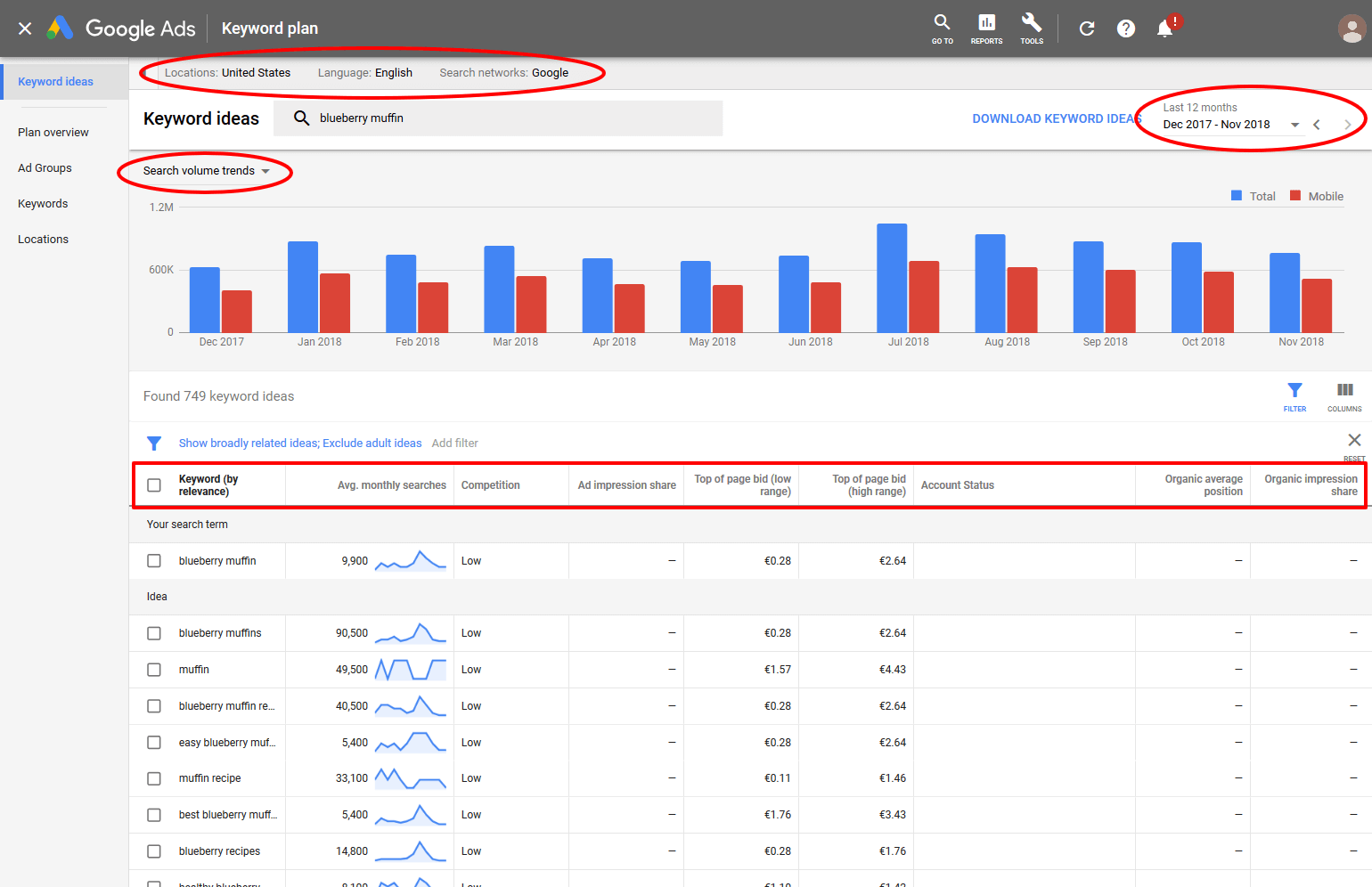 You can adjust the results by changing the location, language or time period. Keyword planner found 749 keyword ideas with the following metrics:
Avg. monthly search volume
Competition in Google Ads
Bid ranges
If you connect your Google Search Console with Google Ads, you will also see the organic average position and impression share if you rank for any of the listed keywords.
2. Get search volume and forecasts
When you already have a list of keywords, bring them on to get the following data: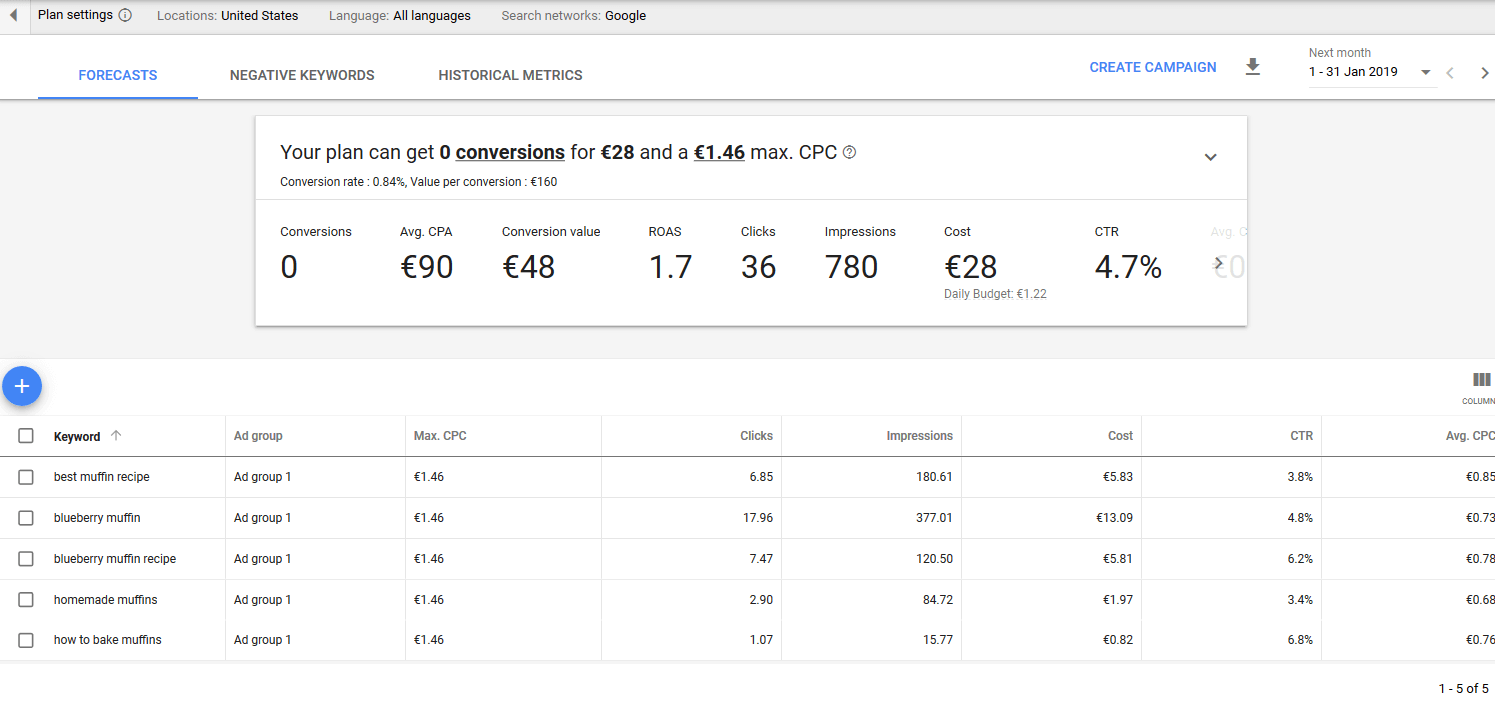 Keyword Planner will calculate a bunch of useful numbers including the impressions, clicks, cost, CTR, conversions, or CPA. The funny thing is, you will not see the search volumes despite the fact that this feature is called "Get search volumes and forecasts".
How to get the search volumes:
To see the search volumes, you have to click on the "Historical Metrics".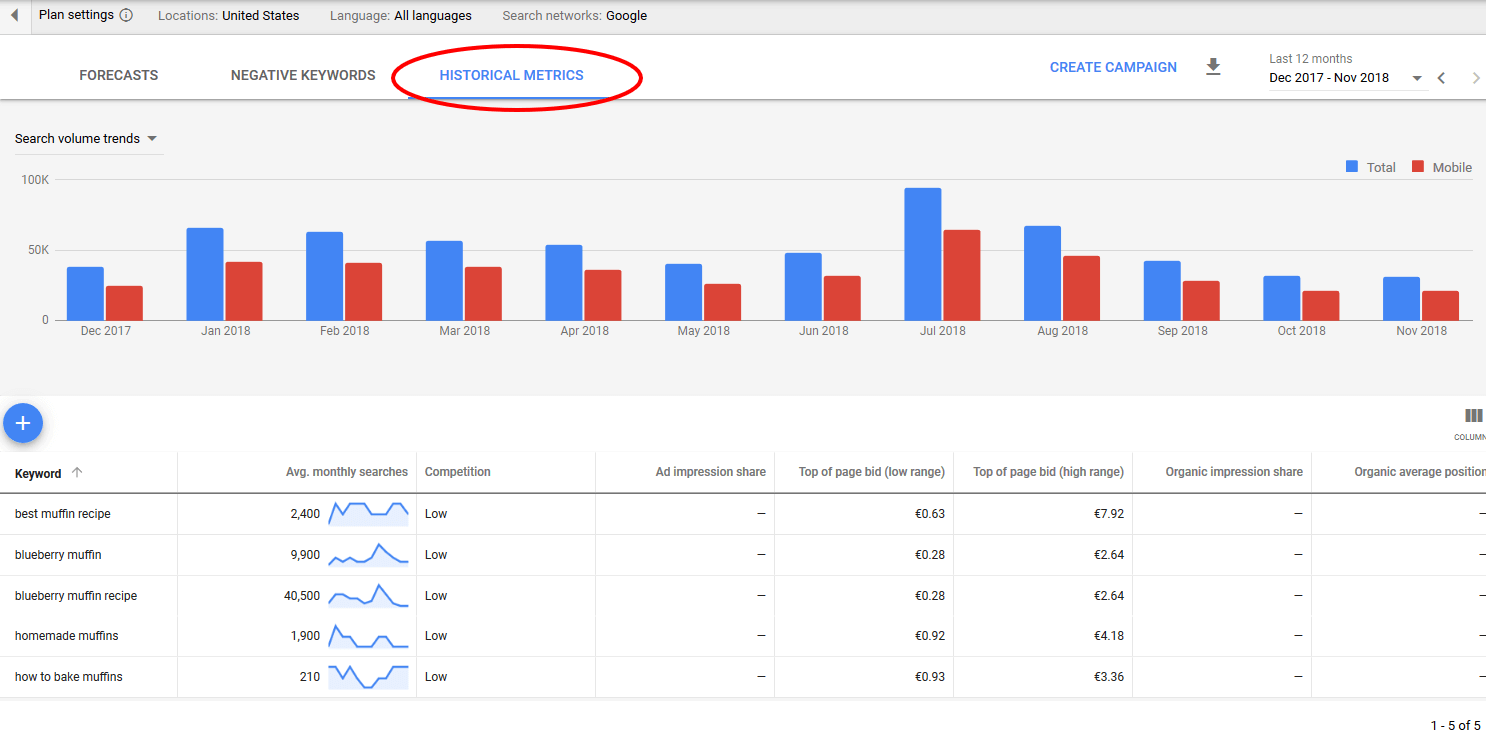 Just in case you would like to check the official Keyword Planner guide, you'll find it here.
Can I do proper keyword research for SEO with Google Keyword Planner?
Though it was primarily designed for PPC advertisers, Keyword Planner quickly became a favorite keyword research tool for thousands of SEO specialists across the world.
The free data available in GKP were enough for SEO in the past. The SEO industry came a long way and so did the tool. Nowadays, Google Keyword Planner does not provide all the necessary information for SEO keyword research. These are the main reasons:
Search volume ranges instead of exact data
No SEO keyword difficulty
No SERP analysis
No other SEO metrics
Keyword research for SEO has many specifics you can't miss. That's why we always recommend using specialized tools.