With millions of pages competing for a spot on Google's search engine, it's nearly impossible to make your way to the top without having some extra help from technology.
SEO extensions are specifically built to help you find your niche, get the coveted spots at the top of the search page, and optimize your website for maximum quality and efficiency.
What can they do, exactly?
SEO extensions can provide insights into various aspects of your website performance, keyword rankings, site speed, backlinks, and other criteria that can affect your SERP standings. There's that, and a whole lot more!
So if you're looking for a free or cheap extension that will save you time and give you a major leg up in the quest for those top search engine spots, read on to find the perfect SEO extension for you.
Why do we need SEO extensions?
SEO is far more complicated than meets the eye, and unless you're a God-tier SEO master or part cyborg, optimizing your content for search engines just won't come naturally to you.
And that's okay! That's what SEO tools and extensions are for.
Not only can they do the job quickly and easily, but they will also save you hundreds of hours of time. So, what are the benefits of SEO extensions? Here are a few of the most notable ones:
Get information fast: Extensions allow you to see a wide range of useful data for any given webpage with just the click of a button. Things like engagement rates, loading speed, overall performance, and keyword research are all at the tip of your fingers, with no extra work for you.
Automate your routine: Some tasks are better left to robots, and SEO extensions can help with many of them. You can automate things in your day-to-day SEO routine like competitor analysis, link checking, and meta tag analysis with an extension, and focus on the more pressing tasks that come with running a business.
Stay competitive: When everyone else is using SEO tools, they kind of become a must. Using powerful tools to your benefit keeps you on the same level as everyone else, and with some finessing and hard work, you'll be able to improve your standing in your industry.
18 Best SEO extensions (free & paid)
Mangools SEO extension
Keyword Surfer
Detailed SEO Extension
SEO Meta in 1 Click
Keywords Everywhere
Majestic Backlink Analyzer
GrowthBar
Similarweb
META SEO Inspector
Sitechecker
SEOQuake
SERPStat Website SEO Checker
NinjaOutreach
SEO Analysis & Website Review by WooRank
GMB Everywhere
Google Lighthouse
vidIQ Vision for Youtube
SEO Minion
Mangools is the ultimate all-in-one SEO tool with a super affordable price tag to boot. Really, Mangools can do it all – keyword research, SEO metrics, rank tracking, SERP checking, and backlink analysis.
The toolbar extension gives you all of these features right on your browser, and its easy-to-use interface is perfect for beginners who want to dive right in to the world of SEO.
Price: Free with a Mangools subscription, with a 10 day free trial
Pros: Complete kit with everything you need, free guides and other helpful information, a simple interface that won't overwhelm you
Cons: You need a subscription to access all of the premium features
Availability: Chrome, Firefox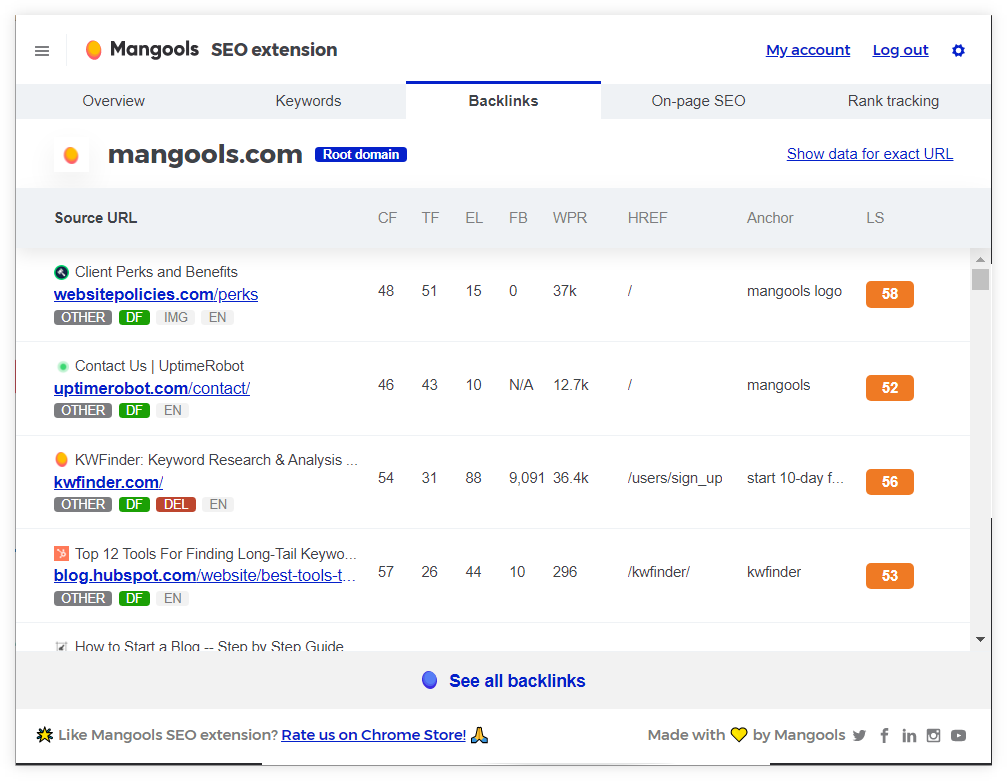 Keyword Surfer is a product of Surfer SEO, and along with providing keyword search volume data and other SEO metrics directly on your Google search page, Keyword Surfer also lets you bookmark your favorite keywords for later.
This free tool can help you optimize your content for specific keywords, and improve your overall SEO strategy.
Pros: More streamlined keyword research, lots of keyword metrics
Cons: Only used for keywords, no site audit options
Detailed SEO Extension offers users extremely detailed insights for whatever page you're on, including meta descriptions, title tags, and tons of other info you can only find in the source code in an easy-to-read format.
This extension offers many different categories to delve into, and will save you hours of time and won't hurt your wallet!
Pros: Fast loading speeds, suggestions on how to improve
Cons: Can be overwhelming for beginners
Availability: Chrome, Firefox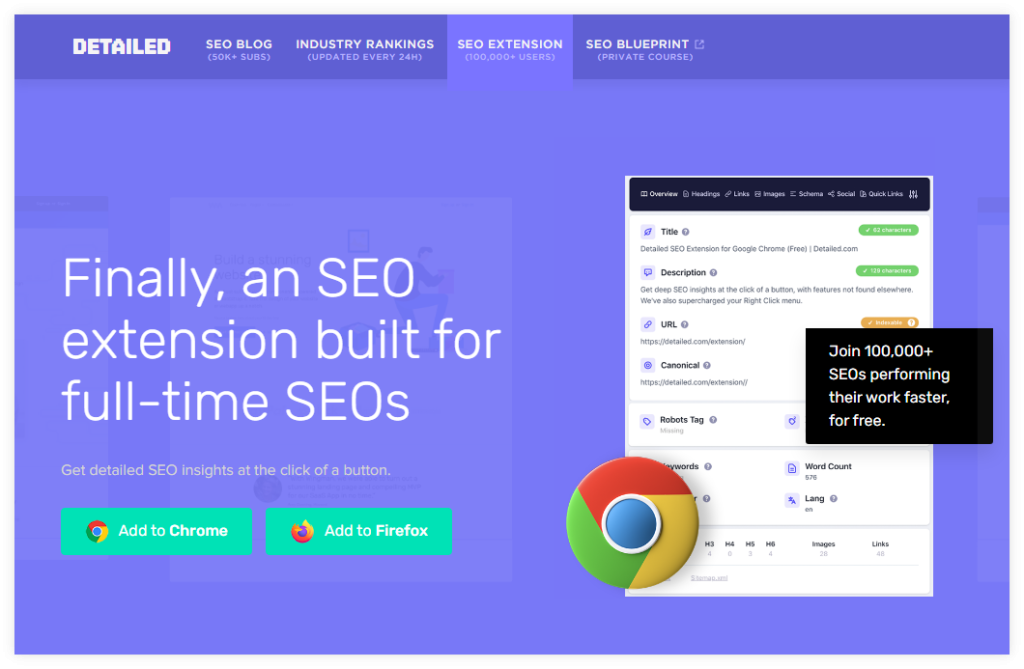 This extension describes itself pretty well already – it allows you to get metadata about websites quickly and easily!
You can see meta tags and data for headers and images, get alerts if your page has too many links, and it has an easy to use interface. You'll also be able to see how your website will look on SERPs, based on your metadata.
Pros: Simple and effective, full access with no paid plans
Cons: No export abilities, data can be lost if you click off the page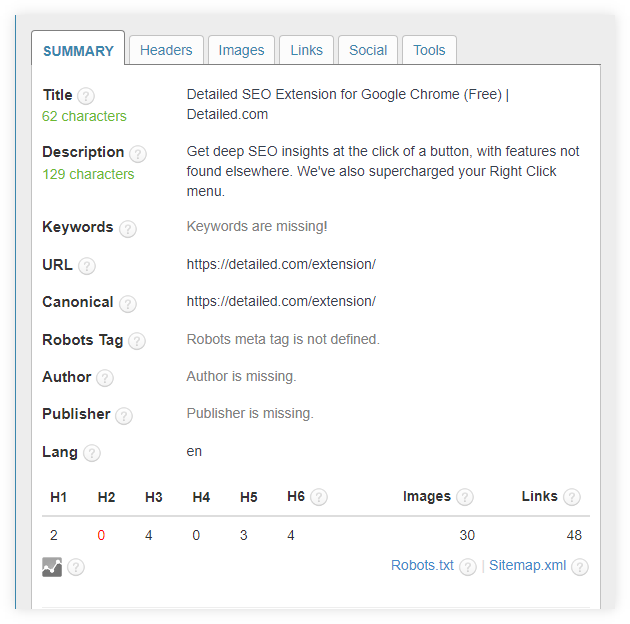 Keywords Everywhere displays search volume, CPC (cost-per-click) data, and competition data for keywords on the popular websites, such as Google, YouTube, and Amazon.
This tool is best used for keyword research and content creation. You can also download this data into a CSV or Excel file for easy readability and sharing.
Price: Free version available
Pros: Easy to use, affordable pricing, pay as you go
Cons: Only for keyword research, full access only in the paid version
Availability: Chrome, Firefox
Majestic Backlink Analyzer will give you valuable data about backlinks, including link quality analysis, and the number of referring domains. Additionally, you can see a graph that will show you the number of backlinks you've had or lost over time.
When you know the quality and quantity of the links referring back to your webpage, you can then seek out other link building opportunities, and further improve your metrics.
Price: Free to use, with the option to subscribe to Majestic for full access
Pros: Comprehensive backlink data, simple to use
Cons: Some users report inaccuracies and glitches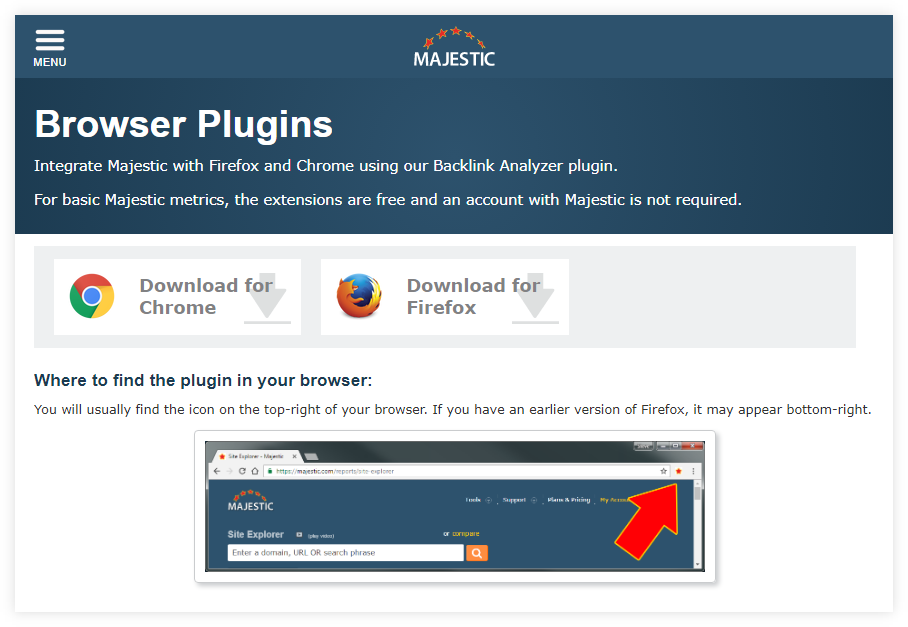 With GrowthBar, you can optimize long-form blog posts in minutes, and get SERP analysis in an instant. You'll also be able to get keyword insights, letting you make the best and most relevant content for your audience.
The paid version of GrowthBar offers users access to a range of additional features, such as an SEO checklist tool, Google Ads data, and access to GrowthBar's private community of SEO professionals and marketers.
Price: Plans start at $25 a month, with a 5 day free trial
Pros: WordPress and user friendly, several different functions
Cons: Not fully free, shorter free trial than other tools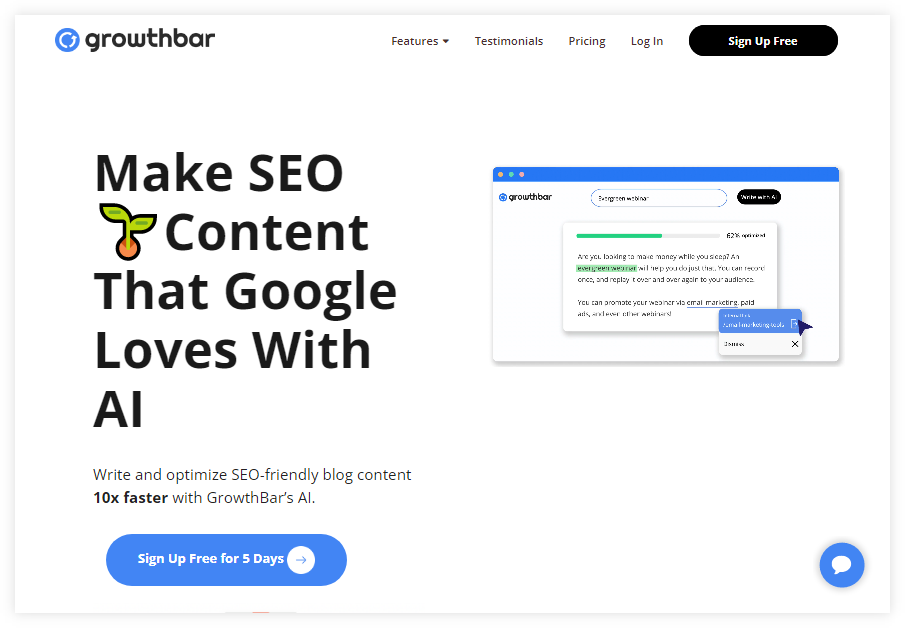 Knowing your audience is vital to getting the clicks you want. In addition to providing traffic and engagement data for websites, SimilarWeb also offers audience insights, referral sources, and competitor analysis.
This data is great for understanding market trends and identifying the best growth opportunities.
Price: Free, with premium plan options
Pros: Compatible with multiple browsers (Firefox, Chrome, Edge, and Opera)
Cons: Limited functions with their free plan, not as versatile as other tools
Availability: Chrome, Firefox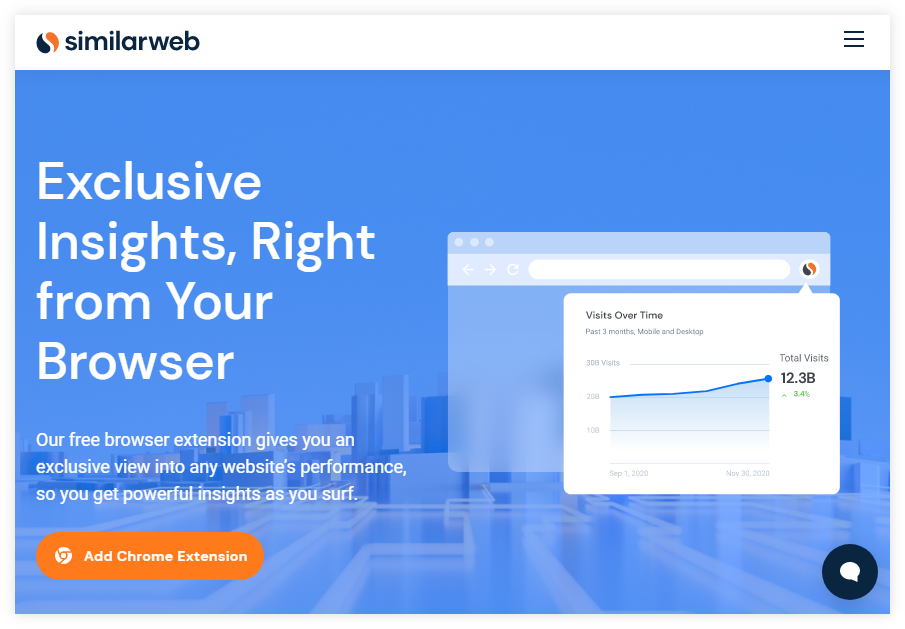 SEO isn't just for your marketing team! META SEO Inspector is geared towards web developers, and offers quick, valuable insights into a website's meta data, which makes finding and solving issues a breeze.
Users can also analyze your competitor's sites and use that data to improve your own pages.
Price: Free, with the option to donate via PayPal or with a cup of coffee (yes, you read that right)
Pros: Great for on-page SEO elements, easy to navigate
Cons: Can be glitchy according to users, fewer functions than other tools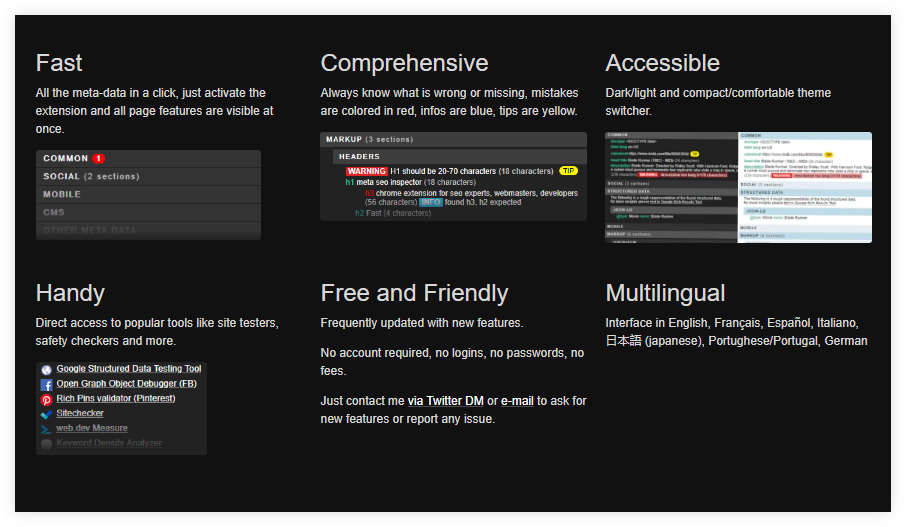 This Chrome extension has a few features in one, all focused on optimizing your content by checking keyword density, analyzing links, analyzing search engine compatibility, and rating your loading speed.
You can also check alt and title attributes for images, which you won't find with other SEO extensions.
Price: 14 day free trial, plans start at $41 per month
Pros: Good for checking images, comprehensive tool
Cons: Limited trial version, can be difficult for beginners
SEOQuake offers on-page SEO analysis, including keyword density, internal and external links, and SERP analysis.
You can also see your ranking on Alexa, and your social media engagement rates. This extension is great for identifying areas of improvement for your website's on-page optimization.
Pros: Toolbar or dashboard options, easy to use
Cons: Some users complain about loading speed and decreased readability
Availability: Chrome, Firefox, Opera, Edge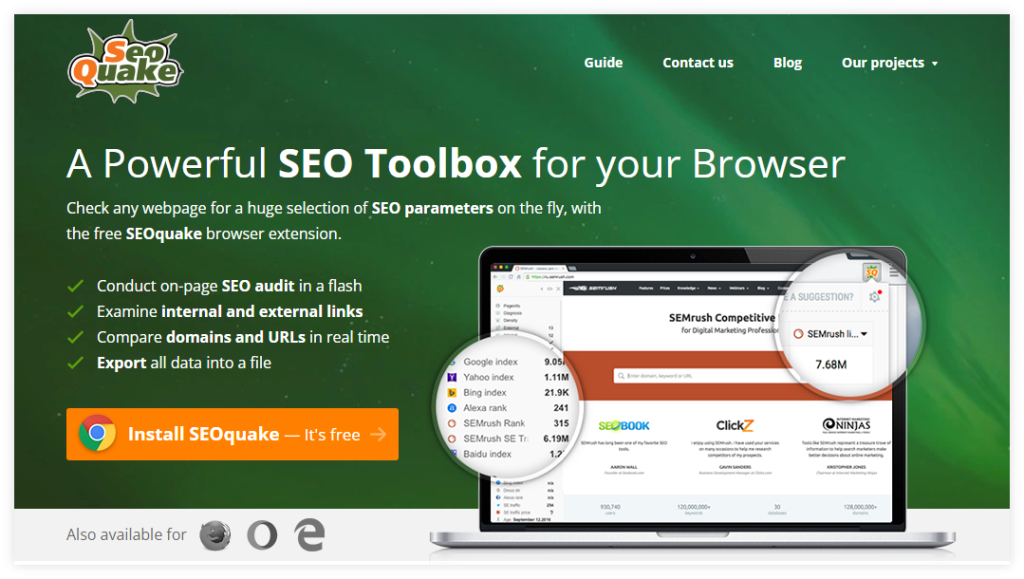 Love site analysis stats? SERPStat will give you all of that juicy data you crave on multiple browsers. The main features include on-page analysis, keyword analysis, and traffic stats.
This tool is especially useful for seeing the data of your competitors' websites, such as their backlinks, organic search visibility, and keyword rankings.
Price: Available for free for all paid plans, with use credits based on your account type
Pros: Lots of metrics, no need to switch between multiple tools
Cons: Must have an account, results may be too technical for some users
Availability: Chrome, Firefox, Opera, Edge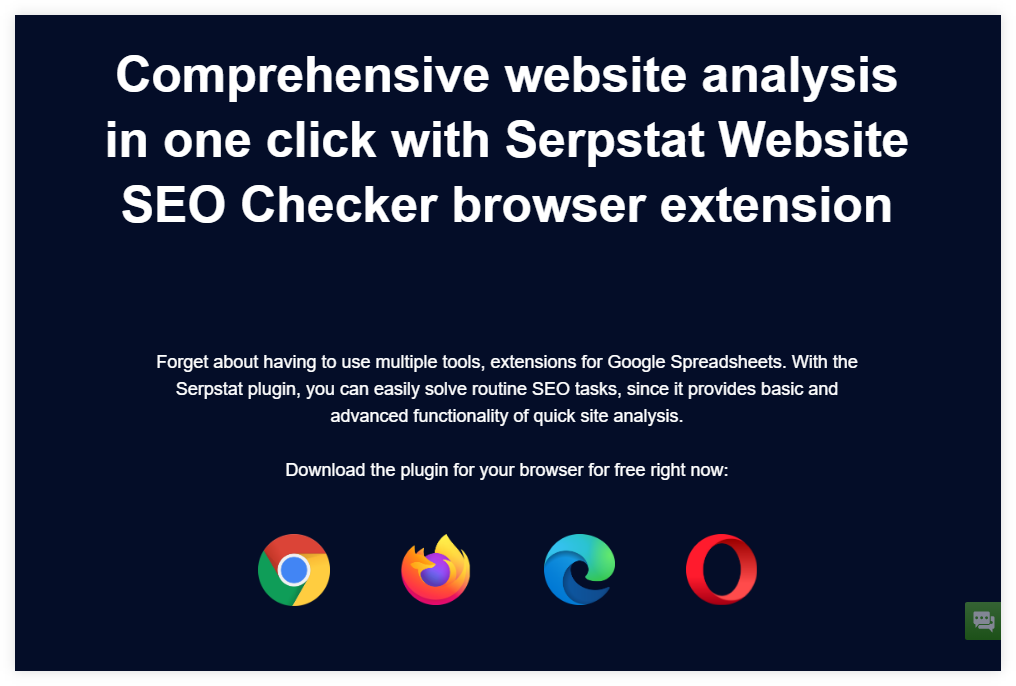 Interested in being a data ninja on Chrome? NinjaOutreach gives extremely detailed breakdowns of your web traffic, including in-depth demographic data like gender and location, bounce rates, and the number of views per visitor.
Users have the option to see ranks for platforms like Alexa, Moz, social shares, and backlinks.
Price: NinjaOutreach Lite is free, with a paid Pro version
Pros: Very detailed information, multiple features
Cons: Need the paid version for full access
This Woorank tool is another SEO extension that provides a comprehensive analysis of your website's overall SEO performance.
It can tell you your social media metrics, website speed, rate your mobile-friendliness, and much more. It also provides customized recommendations to improve your website's SEO and overall online presence.
Pros: Multiple functions with suggestions for improvement
Cons: Some users report inaccuracies in the data
Availability: Chrome, Firefox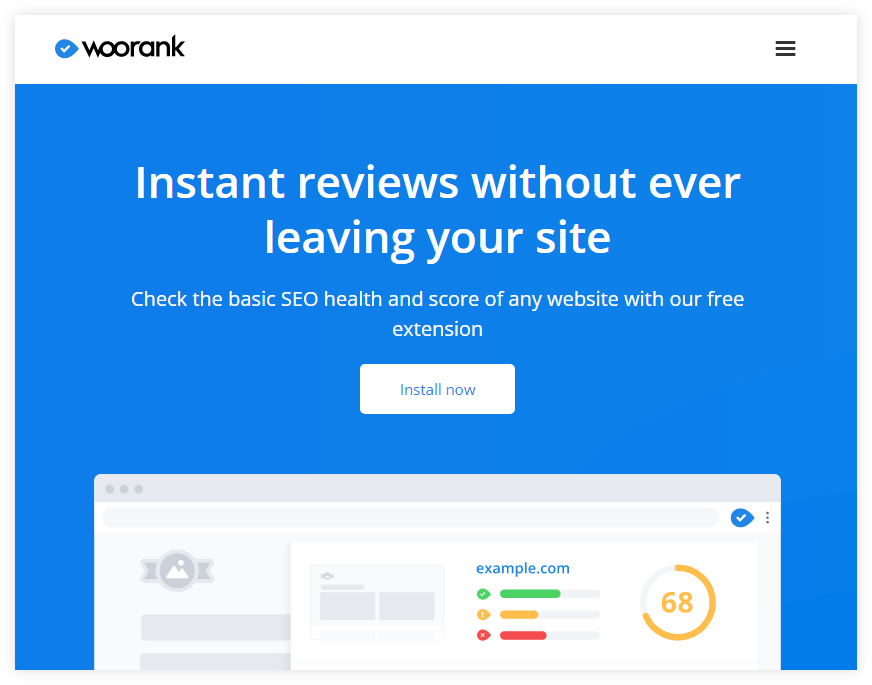 Local SEO is vital for businesses that rely on search results in their areas of operation. GMB (Google My Business) Everywhere will give you a detailed analysis of your GMB listing, which can help you make further improvements to your rankings.
This extension evaluates key GMB factors like category, reviews, images, and more. Not sure what to do with this info? No problem, it also provides actionable suggestions!
Price: Free, with limited use
Pros: Has guides and other helpful info on their website, easy to use, local SEO focused
Cons: Limited number of uses in the free version (5 audits per month), paid plans cheaper than other tools ($25 per month at most)
Lighthouse is a technical SEO extension that gives you insight on your website's performance, speed, and user experience.
You'll also get easily readable reports that will help you make improvements to your page. There is also an SEO audit feature that checks aspects such as title tags, meta descriptions, headings, and other helpful information.
Pros: Can be used both as an extension or with things like DevTools, good for technical and non-technical users
Cons: May not catch all issues, can be complicated for some users to set up
This one's for the YouTube folks! With vidIQ Vision, you can get detailed information about your YouTube channel, including engagement metrics, keyword research, and competitor analysis.
This extension helps you optimize your video content for search engines, and you'll also get customized tips that will help you improve your content.
Price: Free, with paid plans available starting at $7.90 per month
Pros: Good for coming up with titles and descriptions, see stats for any video
Cons: User interface can be confusing, not great for beginners
SEO Minion features several functions, including on-page analysis, broken link checking, and SERP previews.
With SEO Minion you can quickly analyze your website's SEO performance and get tips to improve your website's visibility in search engine results pages, as well as check hreflang tags.
This is an ideal extension for beginners because of its easy interface and the fact that it's not overly technical.
Pros: Plenty of functions, great for beginners
Cons: Can be slow when processing lots of information, some users have reported inaccuracies
Availability: Chrome, Firefox
Honorable Mentions
Looking for more SEO extensions? Check these out!
With Hunter, you can quickly find email addresses associated with any given website. You'll also get a confidence score, which tells you how confident the program is in the email's validity.
Price: Free with premium plans available
Pros: Provides email verification, integrates with Gmail and other email services
Cons: Can be difficult to find the right information
Check My Links for Chrome, like the name suggests, checks all the links on a webpage to ensure they are working properly. Then, you can easily replace all the dead links with live ones in a flash.
Pros: Straightforward and easy to use
Cons: Slow processing time, can only audit one page at a time
This tool not only allows you to see how your website's meta title and description will appear in Google search results, but you can also see how your competitors' titles and descriptions are performing from any 'location' in the world.
Price: Free, and Full program plans are available
Pros: Helps you see how your competitors are doing, provides insights for improving click-through rates
Cons: Fewer functions than other toolbars, doesn't integrate Google Data Studio
Need some keyword research when you're away from your desk? Fatrank is not only a Chrome extension, it's also on the App Store and Google Play!
Pros: Available in mobile app form, simple user interface
Cons: Less accurate in non-English speaking countries, can only search one keyword at a time
Hreflang tags are codes that specify the language and geographic targeting of your webpage.
Price: 14 day free trial, with paid options after
Pros: Easy to read, paid plans come with other benefits
Conclusion
There you have it! Our top SEO extensions that will help you grow your audience and bring in more viewers, and hopefully more sales.
Interested in learning more about SEO and how to improve your website? Check out our Complete SEO Guide for Beginners.
Frequently Asked Questions
Do I need an SEO extension?
Technically no, but if you want to outrank your competitors, learn how your website is performing, automate your daily SEO tasks, or provide the best possible content for your audience, then you'll find these tools to be extremely helpful in reaching your goals.
Which SEO extension is right for me?
The right SEO extension all depends on your needs. By comparing various tools and your goals, you can find one that best fits your objectives. Trying out a free extension at first may help you define your goals, if you are unsure of what they are.
What are some of the most popular SEO extensions?
These are some of the most popular SEO extensions:
– Mangools
– Majestic Backlink Analyzer
– GrowthBar
– Keyword Surfer
– Keywords Everywhere