SEO blogs are still the most popular way to learn anything about search engine optimization.
In an ever-evolving industry such as SEO, it is important not to miss the train and stay updated on any news and educate yourself on a regular basis.
That's why we hand-picked the top blogs we think every SEO beginner should know and follow.
When creating the list, we took into account two main things:
quality of the content
beginner-friendliness
The blogs are divided into 3 main categories – multi-author blogs, single-author blogs and news magazines.
Multi-author blogs

Moz has become a leader in the industry for the whole generation of SEOs. No one doubts that it is thanks to their awesome inbound strategy of creating tons of useful and educational content for anyone interested in search engine optimization.
A special attention definitely belongs to the iconic Whiteboard Friday series with Moz's former CEO Rand Fishkin.
Editor's choice: 10 Things that DO NOT (Directly) Affect Your Google Rankings

A popular marketing toolset with a great blog that belongs to the best SEO blogs available. As they describe their blog – it is written by marketers for marketers, so don't hesitate and enjoy the knowledge and experience SEMrush shares with the rest of the world.
Editor's choice: A Guide to the Biggest SEO Myths on The Web

Another big player among the professional SEO tools is Ahrefs. In the recent years, they really boosted their blog so they definitely shouldn't be missing from the list of SEO blogs that are worth following.
Moreover, Ahrefs love data-driven case studies so their content is usually backed up by real numbers.
Editor's choice: Ahrefs' Study Of 2 Million Featured Snippets: 10 Important Takeaways

Everyone who ever had a WordPress website probably knows a famous SEO plugin by Yoast. Not so many people know that they also run an awesome SEO blog full of useful posts not only for WordPress users.
Most of their content is written in the form of guides and how-tos so it can serve as a great starting point for any SEO beginner.
Editor's choice: WordPress SEO – The definitive guide to higher rankings for WordPress sites

If the name sounds familiar, it's because you're reading this blog right now 🙂
Do we really think our blog belongs to this list? Yes. Can we force you to take our word for it and follow this blog? No. The desicison is up to you.
Mangools blog is targeted on both newbies and advanced SEOs. That's why we focused on writing comprehensive, beginner-friendly guides on various topics from keyword research to on-page SEO.
Editor's choice: The Complete SEO Guide for Beginners

CognitiveSEO is another blog written by a team of people behind an SEO toolset.
The blog may not be very visually stunning, but the guys behind it do a great job at writing in-depth articles on various (mostly technical SEO) topics.
That's why they definitely belong to this list.
Editor's choice: Do Social Signals Influence SEO? A Study on 23 Million Shares
Single-author blogs

Brian Dean a.k.a. Backlinko is a well-known name in the SEO world. He popularized the skyscraper technique and proved that quality really beats quantity.
Although he posts new articles rather rarely, when he does, you can be sure that the topic will be covered from top to bottom and since the content is regularly updated, you can usually return to his guides anytime. To put you into perspective – his latest post has over 900 comments and almost 19,000 Twitter shares (at the time of writing this post).
Editor's choice: 201 Powerful SEO Tips (That Actually Work)

Tommy Griffith, the founder of ClickMinded, is no beginner in the SEO world – he worked as an SEO in companies such as Airbnb and PayPal.
He teaches various online marketing courses and writes an awesome blog full of actionable tips and insights. Go check it out now!
Editor's choice: The Website Analytics Strategy Guide

Nathan Gotch is another SEO expert who gained popularity through sharing his knowledge on his blog.
Besides the blog, he runs a successful agency and an SEO academy where he teaches advanced SEO techniques.
Editor's choice: The Definitive Anchor Text Guide

Robbie Richards is known for writing ultra-long guides, case studies and SEO tools reviews.
He also teaches a popular SEo course called The SEO Playbook that is aimed at advanced users.
Editor's choice: SEO Copywriting: 15 Killer Techniques (With Examples and A/B Test Results!)

Matthew runs an award-winning blog that covers almost all the essential SEO aspects in actionable, comprehensive guides.
He's been blogging for many years now and he became quite popular with his detailed monthly blogging income reports.
Editor's choice: 18 SEO Copywriting Hacks That Get Instant Results

Matt Diggity is probably a name that does not need to be introduced to anyone that came across affiliate marketing.
Diggity Marketing is one of his many projects – very useful especially when it comes to posts about link building as well as SEO News Roundups.
Editor's choice: How to Prepare Your Website for a Google Algorithm Update [Case Study]
SEO news magazines

Probably the most popular community-based portal that consists of SEO experts from all around the world writing news articles, guides, analyses and how-to's related to SEO.
Over time, Search Engine Journal has built a solid reader base and their articles are shared by hundreds of users. The engagement in the comments is, on the other hand, rather low.
Editor's choice: 21 Experts Share Their Single Best Piece of SEO Advice

Search Engine Land is a sister to Marketing Land and MarTech Today, all of them published by Third Door Media. Similarly to SEJ, it focuses on daily news from the world of search engines and online marketing written by both Search Engine Land staff and external marketing experts from different fields.
Editor's choice: The complete guide to optimizing content for SEO (with checklist)

Although not exactly an SEO blog, tl;dr marketing is one of the best SEO resources out there. It offers a highly curated news in the form of a website as well as a daily newsletter.
The greatest advantage? It saves you a lot of time.
Instead of browsing through tens of websites, you can simply check the short summaries of the most important stories (including articles, tweets and official Google updates) to stay updated about the latest SEO news.
3 tips to stay updated
Finally, here are 3 quick tips on how to keep track of all the important new blog posts, case studies and guides from the SEO world.
Newsletters
The first, and probably the most obvious way is to subscribe to the newsletters of your favorite SEO blogs. This way, you'll get an email with all the new stuff they publish. No need to gocheking the blog homepage for new posts all the time.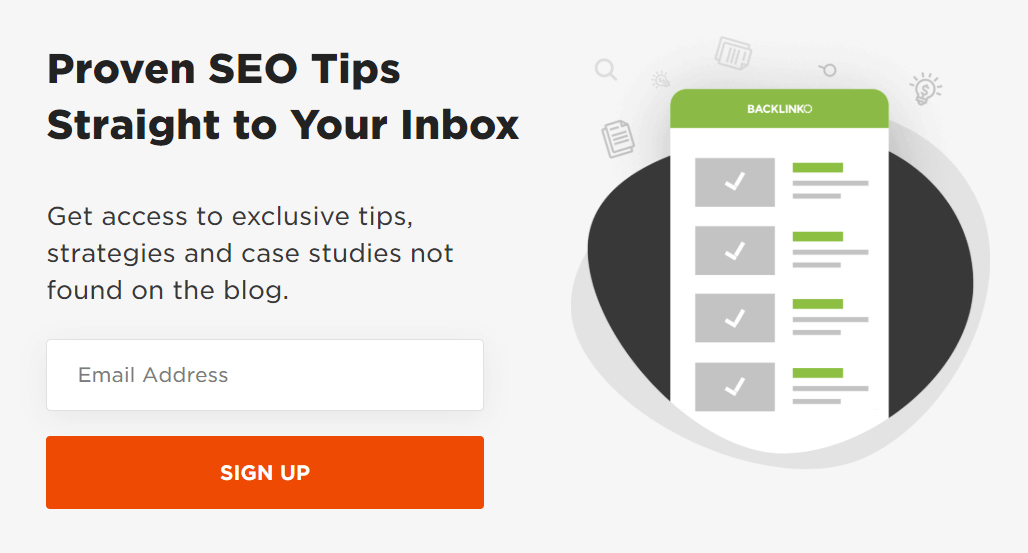 Twitter or Facebook
Most blogs share their latest content on social media. You can follow the best SEO blogs on Twitter or Facebook so you'll be notified about any new content.
Read our latest interview with none other than the legendary @bill_slawski⚓️ We discussed:

– changes in the SEO industry
– the best official Google resources
– popular SEO myths and how to avoid them

…and much more ✌️ https://t.co/b0tTlkKpeI

— Mangools (@mangools_com) June 18, 2020
Feedly
Another great way to stay updated on the SEO industry news is to set up an RSS reader account like Feedly.
The biggest advantage is that you'll see all the SEO-related posts in one place instead of checking numerous blogs or newsletter emails.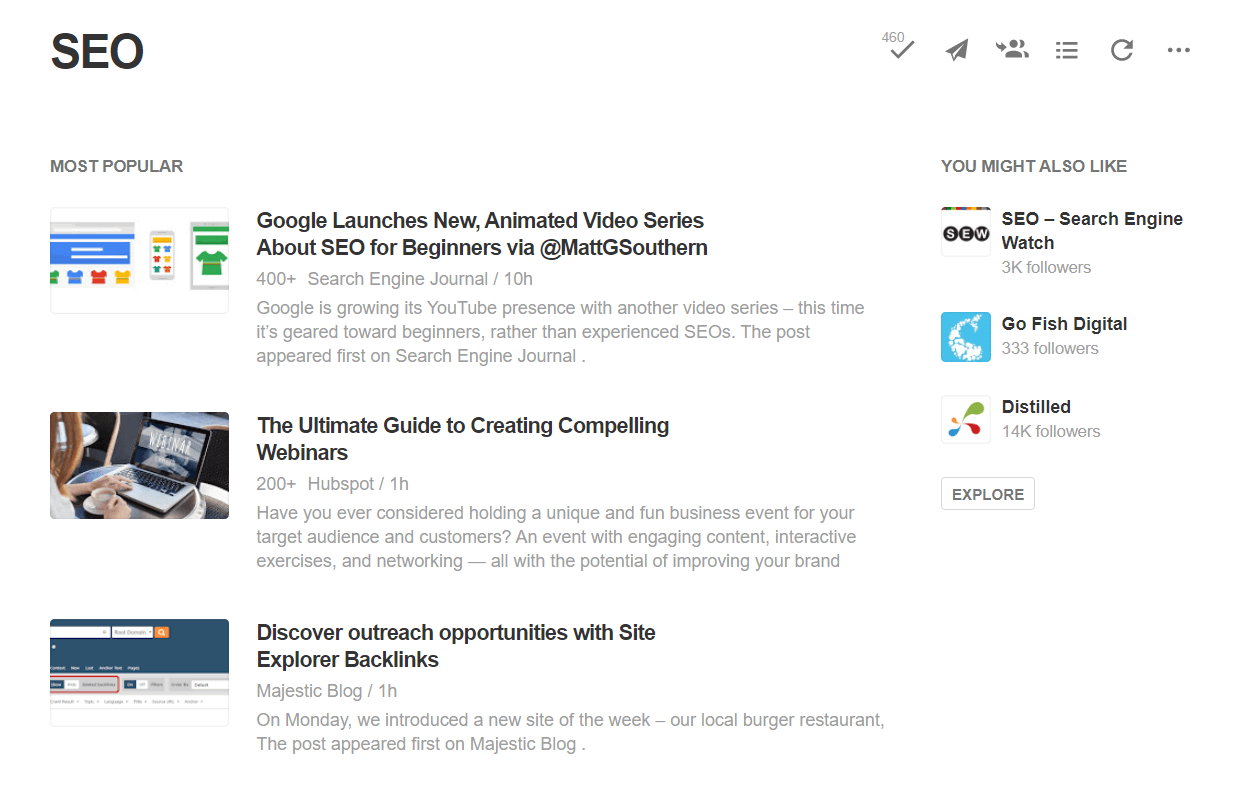 Conclusion
Now that you know what are the best blogs and magazines to learn SEO and stay updated on the industry news, don't forget to add them to your news feed or follow their social profiles, so that you don't miss any quality piece of content!
Do you have any favorite SEO blogs or magazines that were not mentioned in our list? Do not hesitate to share them with us!