Hey there!
We have another exciting news that we would like to share with you – KWFinder will now help you spot search trends in a matter of seconds!
In this blog post, we will take a look at how you can explore and evaluate the popularity of keywords in KWFinder more efficiently.
TL;DR
We have updated our KWFinder tool with a new feature – The Keyword Interest Growth – which will help you see, compare, and evaluate the trend of individual keywords on a year-over-year basis.
Trending keywords are your friends
The keyword trend allows you to check the popularity of a particular search query in Google Search within a certain timeframe.
The search volume trend can vary from keyword to keyword – some queries/topics are getting more popular at a certain time of the year (e.g. "Christmas tree") while other keywords can either stop being popular after some time or start being hit out of nowhere (e.g. "ChatGPT").
Because of this, you should always pay attention to keyword trends when preparing any SEO strategy or evaluating the performance of your ranking pages in SERPs.
And this is exactly where our new Keyword Interest Growth feature comes in clutch.
So what is Keyword Interest Growth exactly?
Keyword Interest Growth is calculated as the percentage difference (%) between the average search volumes of a keyword over the past few months and the search volumes for the corresponding months one year ago.
In other words: You can now check which keywords/topics are gaining or losing popularity (and by how much) just by looking at the KWFinder main table.
Previously, when using KWFinder, you could see the "Monthly Searches" and "Trends" of any keyword as a chart in the main keyword metric table on the left, as well as in the right corner of our tool: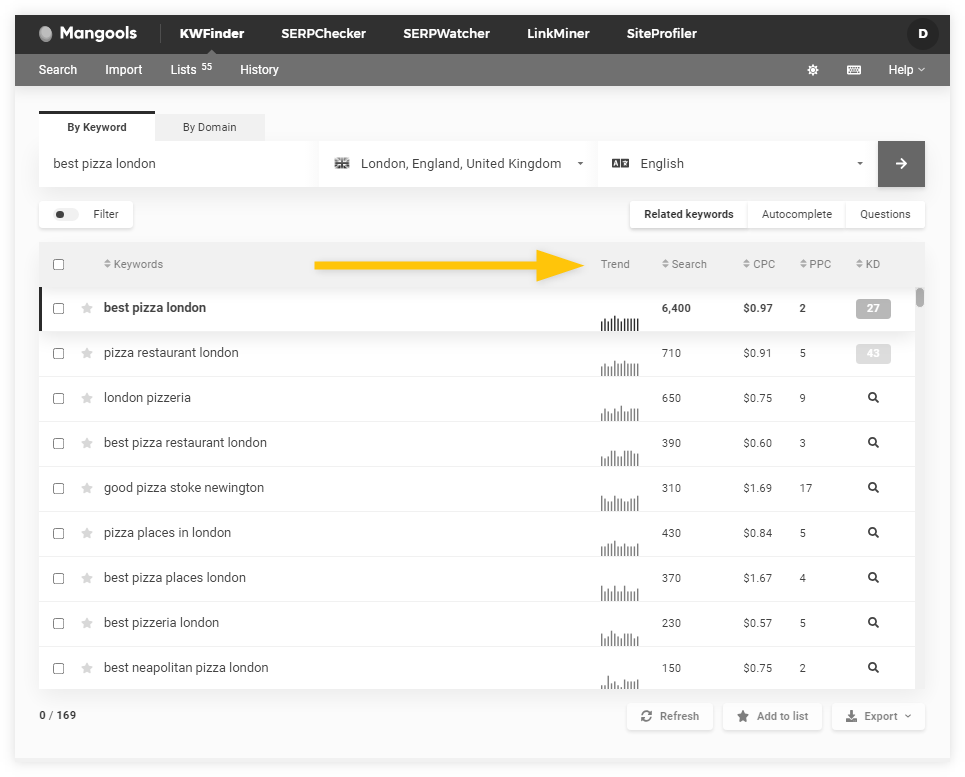 We realized, however, that sometimes it may take quite a lot of time to evaluate the trend of every important keyword within our tool.
That's why we've decided to add the new Keyword-Interest-Growth metric that will help you speed up your keyword research and find trending topics much faster.
You can see this metric as a percentage value next to every keyword in the "Trend" column – the positive trend value of a keyword is shown in green and the negative trend value is shown in red: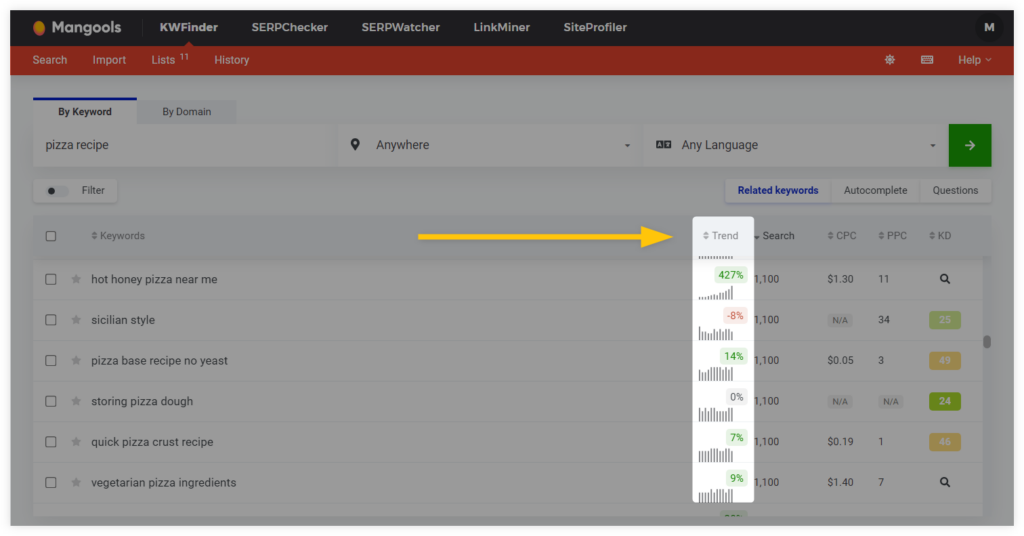 If you click on any keyword from the table, you will also see the keyword-interest-growth value in the chart on the left side of our tool:

Find trending keywords in a matter of seconds
There are various situations in which our new Keyword Interest Growth can be quite handy.
For example, you can simply enter your seed keyword into KWFinder and click on the "Trend" column in the main table to sort out all related search queries according to their increasing/decreasing popularity on a year-over-year basis: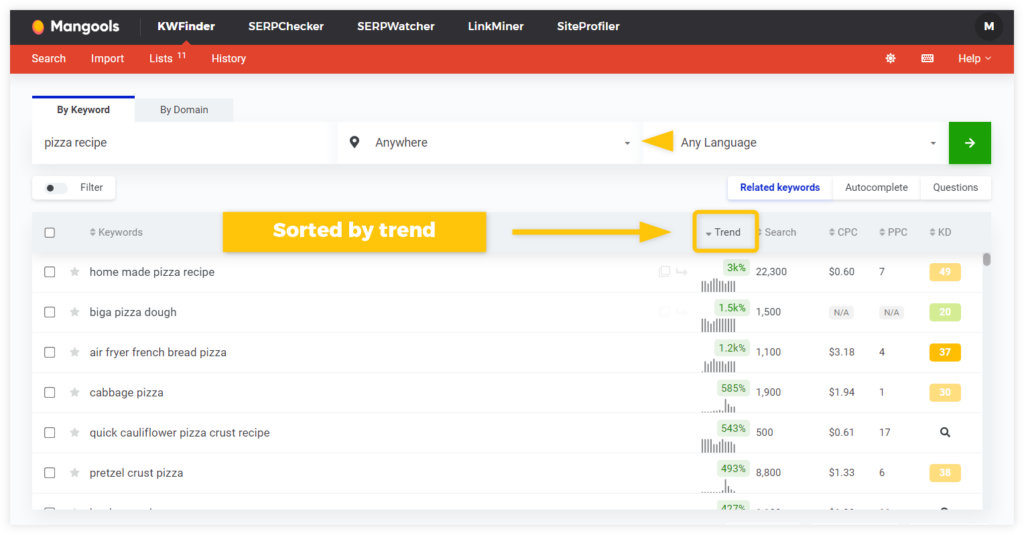 Depending on the scope of your keyword research, you can also use the "Filter" tab to eliminate keywords with very low (or very high) search volumes or keyword difficulty and sort them out according to their popularity after: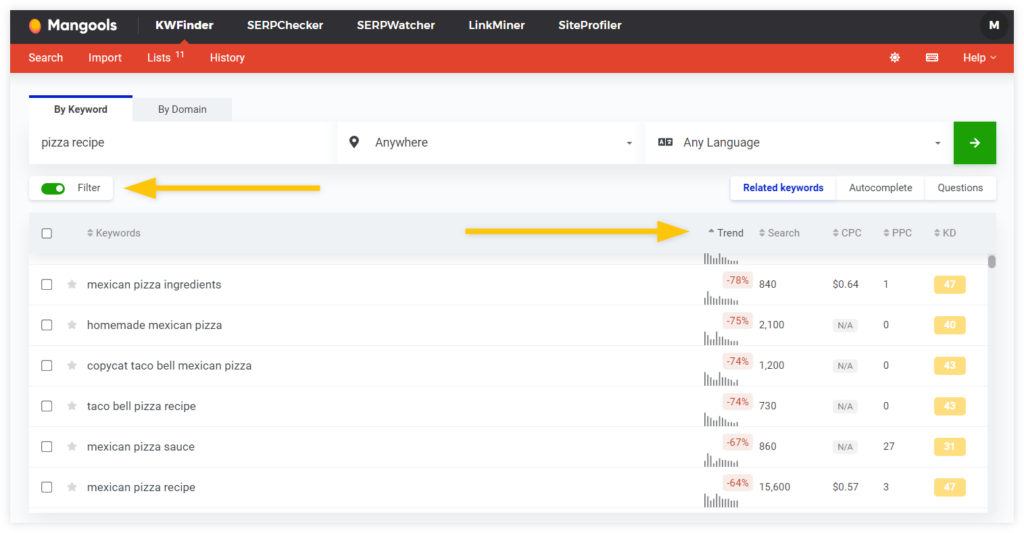 With our new feature, you will get an instant overview of the most trending topics/keywords that might be important to you.
Pretty cool, right?
Extra bonus: KWFinder will now also remember the last column you clicked on in the keyword metrics table before you closed the tool! 🚀
Let us know what you think!
We hope that you will like this feature as much as we do – if you have any questions, don't hesitate to reach out 🙂
There are many great features and updates coming to our SEO tools so make sure to subscribe to our SEO newsletter and follow us on our social media channels!
Thank you for staying with us all this time 💛