Summer 2017 was a massive milestone in the life of Mangools. We released SERPWatcher. The product launch campaign was the biggest marketing effort we've ever done.
We did emailing, content marketing, social media, beta testing, PPC campaigns, in-app promotion, up-selling, cooperation with partners. All in organized waves.
I divided this case study into 4 main parts in which I'm going to show you how we executed our new product email campaign: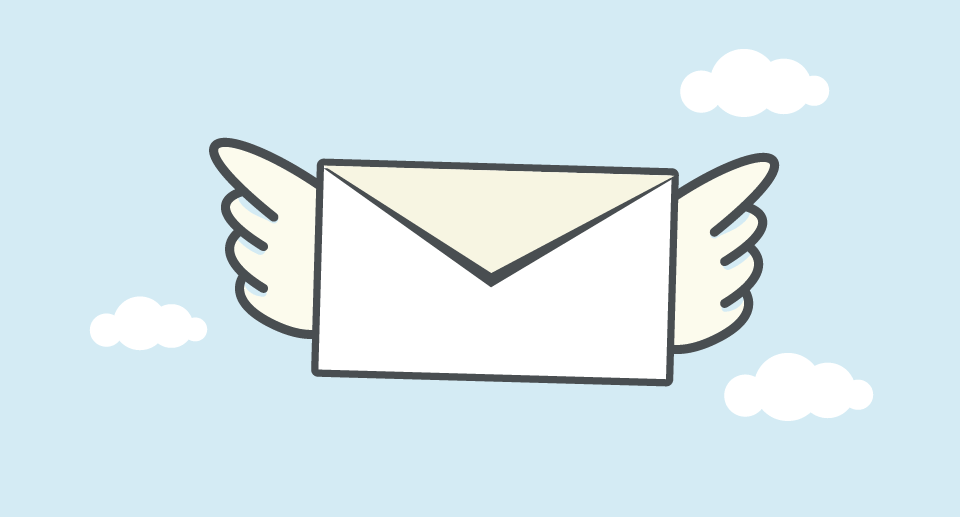 1. What was ahead of us?
There were about 120k registered users in our database at that time. Obviously, the majority of them were free users as we offer a time-unlimited free plan. Not to mention thousands of free users is a common fact if you run a SaaS business. Then there were users subscribed to one of the paid plans.
Besides launching the new product, we were changing the pricing model. The email campaign had to present two main messages:
SERPWatcher launch
Pricing update
SERPWatcher launch message
This was good news. We could finally promote Mangools as SEO tools package. We were promoting SERPWatcher for more than 3 months on our landing pages, apps, in newsletters, and social media. Sometimes I think the hype we built before was even bigger after we sent emails.
That being said, there was no need to inform what type of tool we were launching. We prepared the recipients a long time ago so we just told everyone that SERPWatcher has been launched!
Pricing update message
This could be bad news for price-sensitive customers. However, we transformed it into a special time-limited offer for everyone!
What's more, we used this as an opportunity to grandfather all subscribers with active auto-renewal. In other words, everyone who wasn't about to cancel their subscription got the new tool for free while paying the same price forever!
And we didn't stop there. Everyone who bought a subscription within the special offer time period could grab the same: old prices and SERPWatcher.
2. What did we do?
So we had the offer. The next steps were:
Email list segmentation
Creating copy and email template
Hitting the send button
Email list segmentation
This was plenty of fun! It took us a while to realize how many segments we had to come up with. Free and paying users? This was just a beginning. At that time, there were two paid plans, each with two types of a billing cycle and new users who registered for beta testing. Consequently, we had to make sure there won't be any duplicity as it could happen easily.
Here are the email segments we created:
Free users
Basic users monthly/annual
Premium users with annual billing cycle
Premium users with monthly billing cycle
Beta testers and waiting list
Affiliate partners: free and paying
Altogether, we were targeting 7 different groups. We didn't split the segments into geographical zones as we would end up with 30 groups. It wasn't a priority for this kind of campaign.
Copy and email marketing template
In my opinion, the most important part of email marketing is to keep it simple while providing an added value that makes recipients convert.
Personalization is key to success. We sent 7 different emails. Each of them was based on the segment itself.
Free users had an opportunity to subscribe to old prices while getting the new tool for free. Basic users could upgrade to Premium for old prices while getting more tracked keywords in the new tool. Other segments were served accordingly.
Naturally, the most significant copy change was for affiliate partners.
Here's an example of email we sent to free users: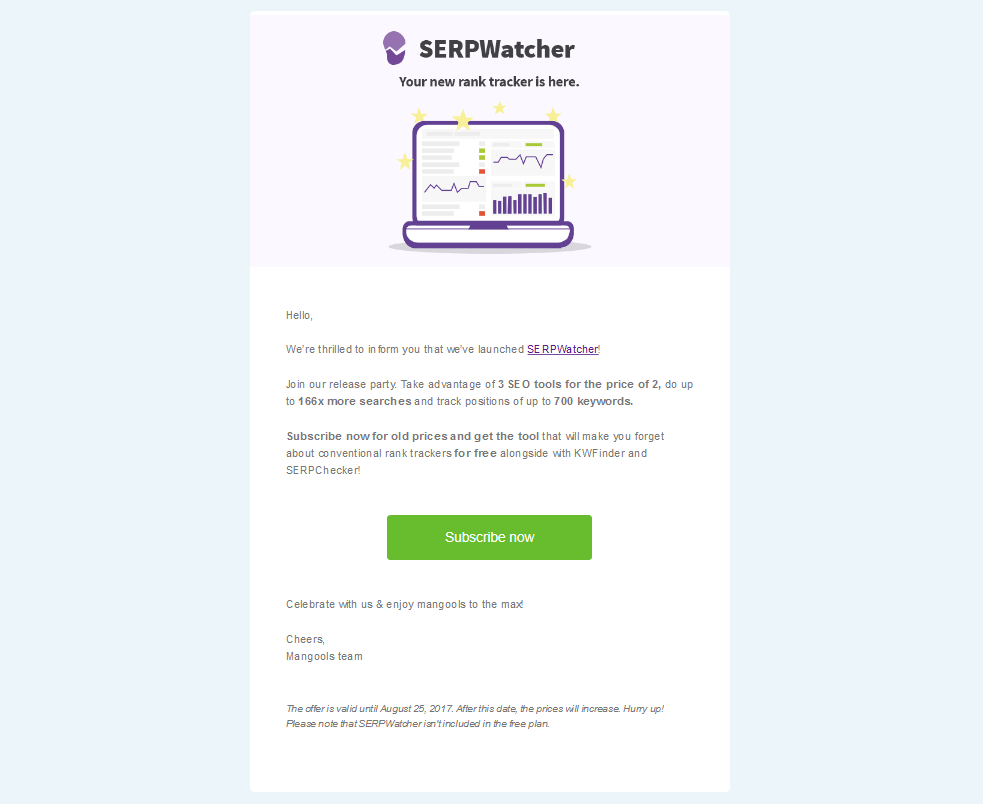 When it comes to the product promotion email template, we made our own we used for every segment. Although it was unified, it provided enough space to personalize the message.
Hitting the send button
I can't imagine executing a proper email campaign without using a mailing app. Don't do this on your own. We've been using Sendgrid for more than a year.
Generally speaking, there are two options how to import contacts:
Uploading a CSV file
Connecting the database via API
I guess this depends on the app possibilities and everyone's requirements as well. We used both options. The majority of emails was sent through API. Only 2 sets of contacts were uploaded to Sendgrid manually.
3. What were the results?
Right below is a report from Google Analytics where you can see how many people clicked, what was their engagement and which of them subscribed.
The conversion rate is something I will talk about in the last part of this case study. To be honest, I'd like to see more conversions. Nevertheless, there's a strong factor that caused lower conversion rate of our email campaign.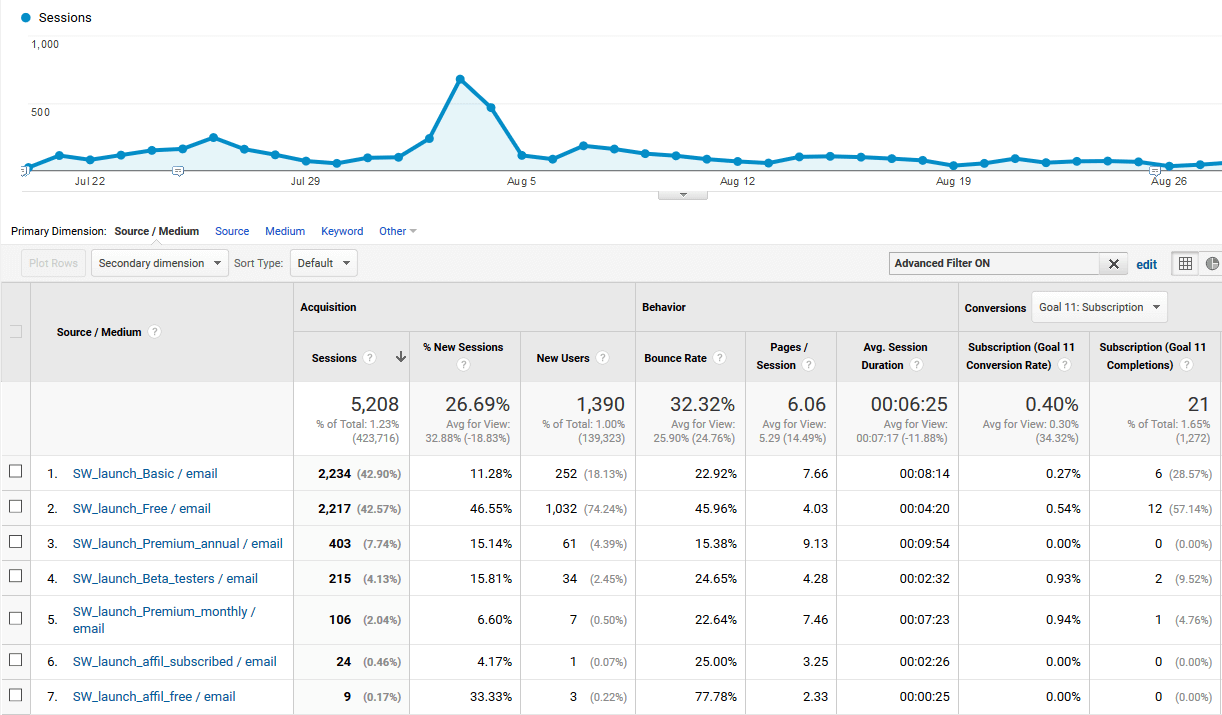 When it comes to open rates, the campaign reached an average 25,7% unique open rate. Unique CTR was as follows:
Free users – 1,19%
Basic users – 4,86%
Premium annual – 6,08%
Premium monthly – 2,53%
Beta testers – 3,50%
Subscribed affiliate partners – 16,67%
Free affiliate partners – 7,89%
According to Smart Insights, the average open rate for software and web apps is 20,95% and CTR is 2,29%. So, good for us!
4. What did we learn?
This was our first ever product launch email campaign and it was huge. We did some mistakes so here are the takeaways. Feel free to use them as email marketing best practices.
Marketing campaign management
We were so stoked about SERPWatcher that we launched the campaign via other channels a few weeks ago before we sent the emails. That's not necessarily harmful.
Hereafter, it's all about revenue. We managed to gain many new subscribers and upgrades thanks to the promotion on landing pages, in-app toolbars, beta testing, and social media.
Though if we coordinated the channels a bit more, I guess the email campaign conversion rate and the overall synergy would be higher. We'll definitely pay attention to this.
Free users, forever
Based on results of many campaigns targeted at free users, we found out the conversion potential isn't too impressive. And the SERPWatcher release party proved it. The CTR was only 1,19% and that's significantly lower than other segments.
We learned many free users don't have an intention to subscribe even if we would cut the prices to half. On the last year's Black Friday, we provided 50% lifetime discount! Many free users decided to subscribe, apparently. On the other hand, the conversion potential was "funny" when we compared it to the up-selling potential.
Other than that, email marketing segmentation is a must when doing mass emailing.
Special offers
They always help! Specifically when launching a new product or changing prices. We guarantee the prices for which users subscribe. That's exactly what we did here.
Our special offer was simple:
Every subscribed user was given SERPWatcher (for free) while paying the same fee forever
Everyone who subscribed within the special time period could take the advantage of old prices and SERPWatcher for free (3 tools for the price of 2)
Time urgency and reminders
We added the information to the very bottom of the email. Maybe this was a mistake. We thought we made the urgency clear enough via other marketing channels. But not every user saw it.
The offer was valid for about 30 days. In case we wrote it in the main body of the email, the response might be better. We didn't send reminders so this could be another helpful idea to try.
Even if you expect the time urgency is well-promoted, it doesn't mean recipients are on the same page. Furthermore, there are regions where time urgency simply doesn't work.
Cooperation with partners
We were communicating with our affiliate partners even before the launch. Some of them were early beta testers and provided us with valuable feedback.
Right after we launched SERPWatcher, we contacted all our affiliates to update their reviews and articles. The new tool is definitely a strong selling point. It's a win-win partnership. We'll do the same when launching our upcoming backlink analysis tool!
You could find many other useful tips while reading this case study.
Conclusion
What we learned can serve as tips for your email campaigns. I'll be glad if you share your experience with email campaigns in the comments below. Moreover, we'll be launching a new tool! We'll learn from our mistakes and show you if we succeeded in another case study.