UX and SEO are a dynamic duo. UX helps SEO and vice versa. Nowadays, search engine algorithms evaluate the user experience so cooperation of the two is more necessary than ever.
SEO tracks positions, engagement, website traffic, keywords and users' behaviour to improve UX. UX works with design, wireframes, projections and techniques for flawless customer experience and to help SEO. Their synergy is the best we can benefit from.
While SEOs need to understand it's not only about rankings, UX specialists have to admit that user experience kicks in even before using the website.
User experience starts by submitting a search query to a search engine.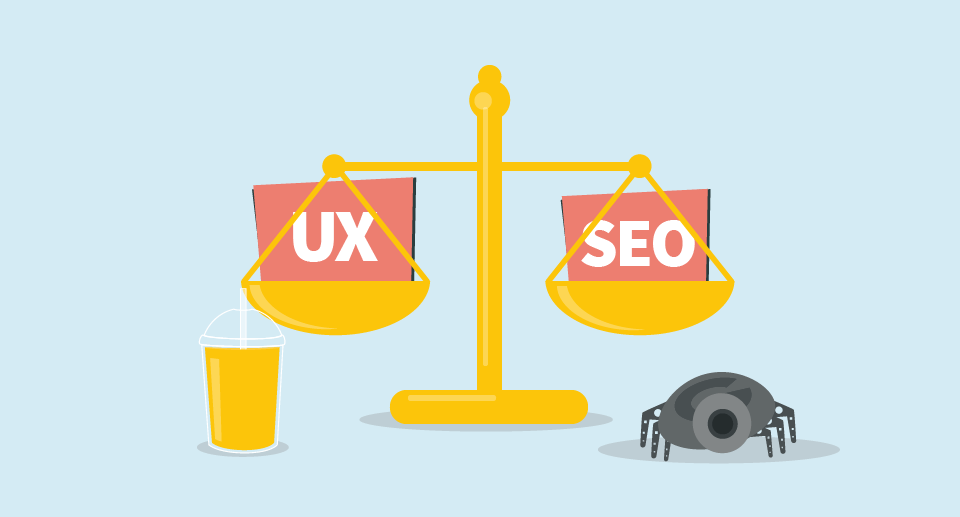 User experience, what's that?
The user experience is every user's interaction with the company, its website or products. It's the overall experience influencing product development, design, marketing and customer support.
We're going to discuss the website/online products user experience and its relationship with SEO. UX isn't about meeting customer requirements anymore. It's about going beyond these requirements. To think out of the box and develop a website that naturally covers every possible need of a customer without bothering or noticing any deficiency.
Keep in mind that UI (user interface) isn't UX. Yes, it's a part of it but we need to distinguish these terms.
Imagine an online store. Despite its UI for finding a product is perfect, the overall UX will be poor if we click on "Order & pay" and suddenly get information the product's out of stock.
UX rules the world
The first and most important part to understand is that UX is a never-ending process of improvements towards customers. It's a philosophy the company should stick to and develop its website accordingly.
Web UX is a mix of content and technical UX. If we wanted to put it extra-simple, we would say UX is everything. That's why we need understand the complexity and its influence on everyone in the company. We're talking about:
website structure
website navigation
design
web development
content quality and density
content structure
technical SEO aspects
real-time customer support
smooth workflow
ability to reach the conversion level easily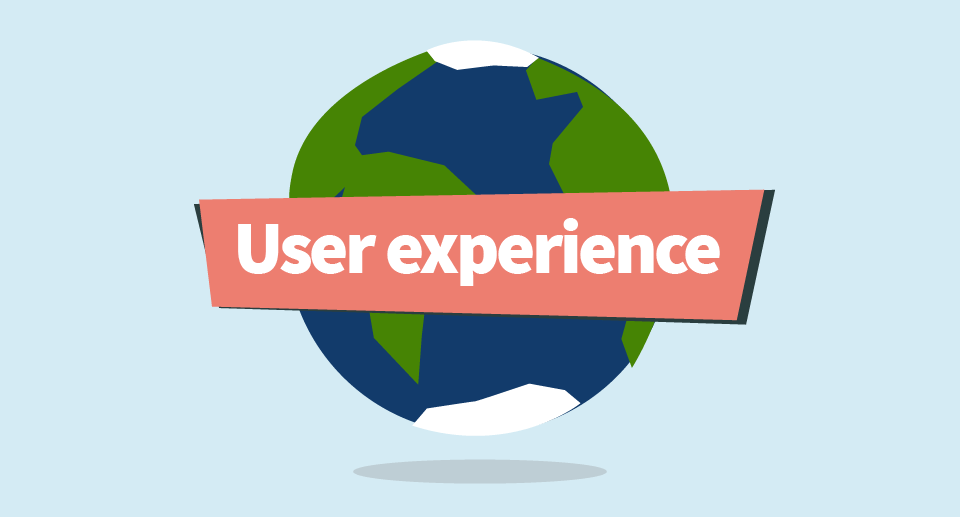 UX and SEO challenges
Even if we think "UX and SEO" instead of "UX vs. SEO", we have to cope with challenges every once in a while. These are just a few of the common clashes.
Websites
Let's put everything on a single page to ensure a smooth experience. This is a valid idea in the UX world. It's easy and it makes sense. But SEOs know organic traffic is at least the half of the success.
The majority of visitors come from organic search results or access the page directly based on previous actions. They are referred from various sources such as social media, blogs or PPC campaigns. Can you imagine a single page experience for all of these different intentions and search queries?
People use Google to find what they want. Your website should be the answer.
Website structure
Based on the previous point, SEOs will think about various landing pages with proper keywords, meta tags, structured data and the overall website structure. The UX specialist will seek for a minimal onsite navigation.
The truth is that on-site navigation hacks such as search bar with intelligent autocomplete, internal linking with anchor texts or immediate customer support boost both UX and SEO.
Infographics
This is a very common UX vs. SEO case. Infographics are a powerful way to make information look great. However, from SEO point of view, infographics uploaded as images have a very low value. UX specialist/designer won't let SEO colleague create infographics in online tools so they can be embedded and the content indexed. In this situation, we recommend to include the content in the website's copy.
Videos
A video is a probably the fastest and most engageable way how to share content. Moreover, it helps SEO by gaining backlinks, likes, comments or shares. But it can eat up all valuable keywords. That's why we should include a transcript on the website.
How to measure UX and SEO
From Google Analytics through specialized reports to internal data, there's a variety of options we can use.
Engagement metrics and behavior in Google Analytics

"Bounce rate", "Pages per session" and "Avg. session duration" provide the basic view on user interaction. They are almost in every report in GA, so we can see them for various traffic sources.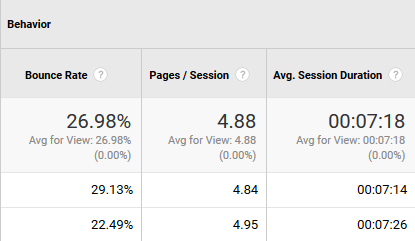 The more detailed information is available in the category "Behavior". Here we can see how visitors interact with various sections of the website. It's up to us whether we want a report based on traffic sources, landing pages or anything else.
"Behavior flow" comes with a handy advice. It tells us how many users went through or dropped-off when visiting that particular section.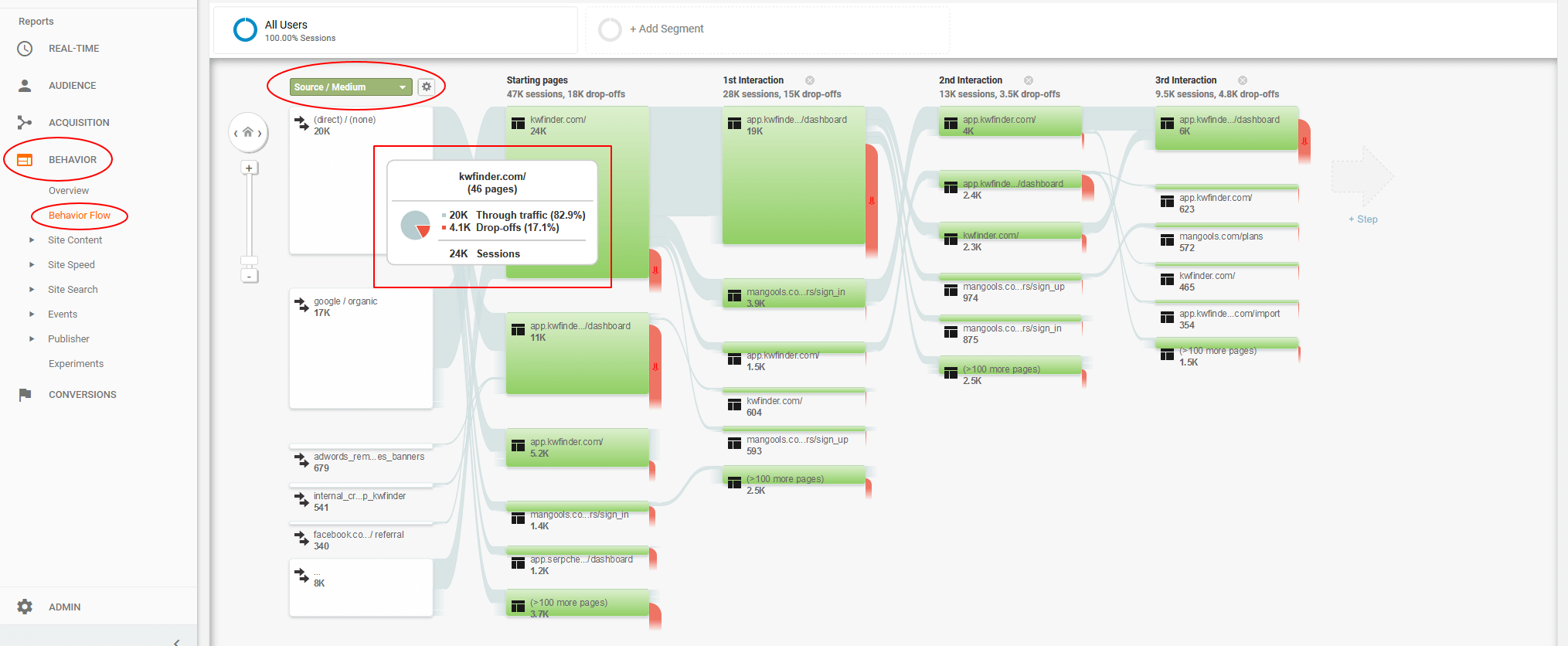 Conversion funnels in Google Analytics
This is very useful if a conversion process consists of more than one step. It can be a registration form, buying process or subscription form. This report will tell us the exact number of visitors who went through the process. Another extremely practical information for UX optimization.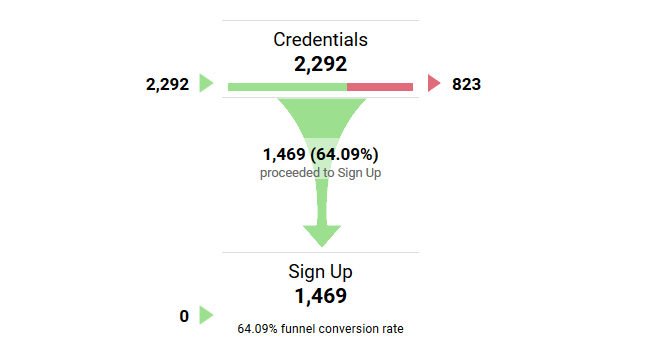 Heatmaps & recordings
Heatmaps basically visualise all the data we get in GA and add more. Sophisticated heatmap tools such as hotjar or crazyegg come with complex analytic solutions but they can be too expensive for bloggers or small businesses. Hotjar has a free plan with limitations but Ptengine will help us with their free plan when tracking one domain.
Heatmaps help a lot both UX and SEO. The power of visualisation is a great opportunity to see where exactly people click, what they expect to be clickable, how they scroll and interact.
Recordings are included in top-notch heatmap tools. Are they worth it? Yes, definitely, but not for everyone. Businesses with more complicated (e-commerce) pages, usually with bigger budgets should go for it. We don't see a point why bloggers should spend hundreds of dollars on this.
Internal data
Do you know what's great about internal data? There aren't any additional costs. You or your colleagues create reports packed with critical information all the time:
customer questions
feedback forms
comments and reactions on social media
customer wishes and complaints
marketing reports
email responses
reports from web developers
Testing and site speed
Testing the website before it's launched is inevitable! Beta testers provide a lot of useful information. They're the first real users. On top of that, do some usability testing with colleagues, friends or fans during the development process.
Pay attention to key elements such as site speed, mobile optimization, and other important technical SEO challenges. Get the complete list with downloadable infographic in SEO Academy part 3.
Go to:
Part 8: SEO test
Take me back to:
Part 6: Link building