Tired of success stories? Keep reading then. We, at mangools, decided to broaden our horizons by trying alternative ads. In this case study, I'll show you what we tried and how we (didn't) succeed.
The plan was to go for:
a social network we haven't tried
Reddit
an ad spot on an SEO news portal
an ad spot on an SEO/digital marketing discussion forum
A social network we haven't tried
One of the social networks on which we didn't spend a dollar was Linkedin. Probably the most significant advantage of advertising on Linkedin is a very detailed targeting.
I targeted our sponsored content only on SEO job titles and specific countries. I also picked out particular groups to influence the right people.
Advertising on Linkedin isn't a cheap way to promote content on social media. I reached the amount of $3.05 avg. CPC and $33.07 avg. CPM. At least I was lucky and could use two or three $50 promo codes to lower the overall costs.
Results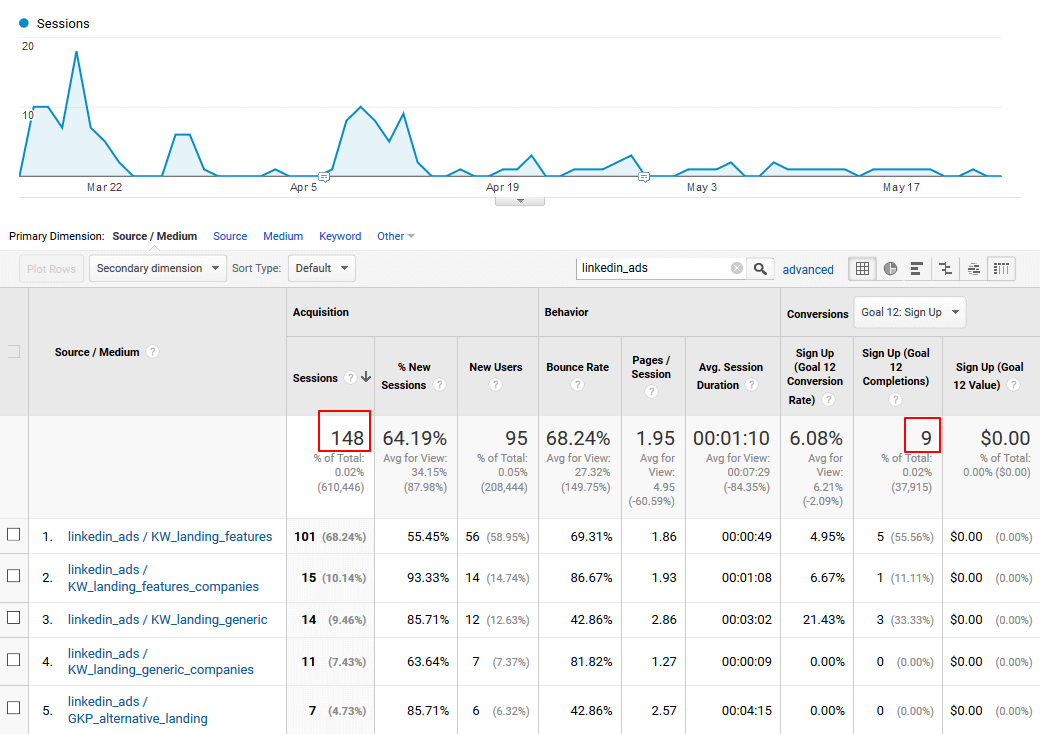 When I look at the conversions (new paid users), it says 0. On the other hand, 0 conversions out of 148 clicks isn't a big deal. It's fine. And how about new registrations (free users)? The campaign generated 9 new users what means 6.08% conversion rate.
Lessons learned
Did I reach the right people? Yes and no. As I mentioned, Linkedin is expensive. Despite you narrow the targeting to let's say, 5000 users, it will take time and money to truly target them.
Every PPC campaign starts performing well after a certain time, optimization, retargeting and testing. However, can I say there would be direct conversions later? I simply can't but we'll see how many of the registered users will subscribe.
Reddit
Reddit is special. It's full of professionals, thought leaders, geeks, you name it. But there's a funny part too. It's full of wannabes and haters who read a blog or two and consider themselves professionals. I strongly recommend keeping this in mind before creating your campaign. I went through many guides but no one had mentioned.
I selected 6 relevant subreddits, wrote the ad, uploaded a logo and set a budget to $20. Neil Patel's guide helped me to find out how it works.
Results
A few weeks later, Reddit sent me a notification the budget wasn't spent and ads will be stopped. True that. I spotted only a few clicks.
Right after, I decided to target more subreddits with more relevant people, changed the copy and uploaded a new logo (we were redesigning our tools and websites at that time). I added $20 to the budget.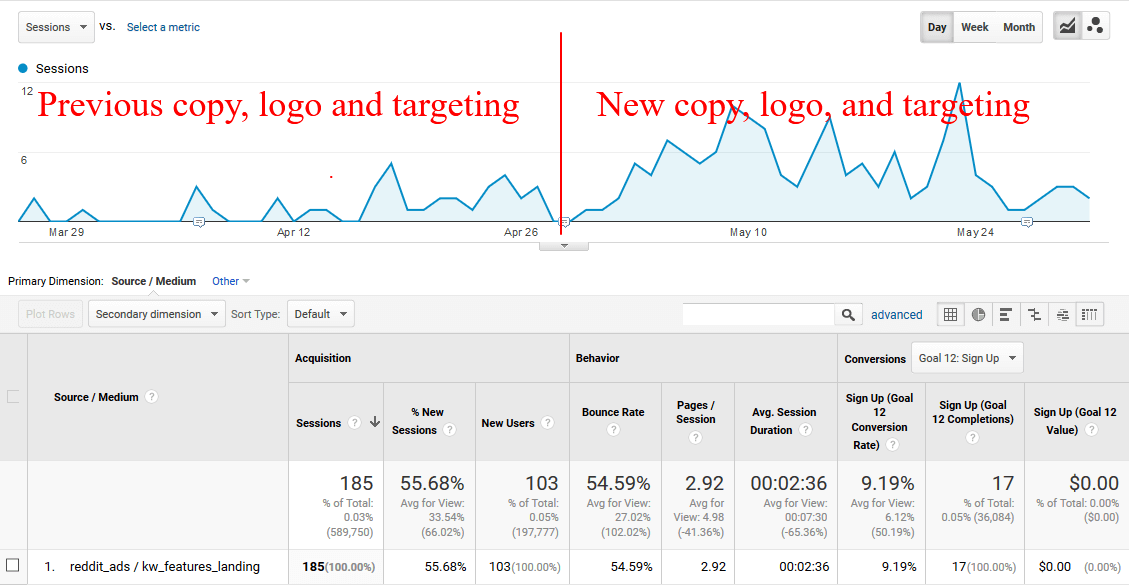 The report from Google Analytics says it all. While spending almost the same amount of money, the landing page received 74% more clicks, generated 100% more new registrations and a couple of positive comments. There were no direct conversions.
These are the 2 logos:

Lessons learned
Don't panic when creating a copy for Reddit ads. Though it's a community, the users are still human beings. The same applies for targeting. You don't need to select only super relevant subreddits.
I would say $20 or $30 is enough to see the potential of Reddit. Remember that your target audience might hear about your product, tried it before, or know about alternatives, so they already might have an opinion.
An ad spot on an SEO news portal
There are many ad networks selling spots for banners. I chose buysellads.com. I went through a few but BSA looked solid, seemed clear and had more billing options.
The plan was to place our banner on one of the SEO news channels. I like reading searchenginejournal.com and with their recent redesign, it became a number one ad spot.
From the listed options, I went for "300×250 Bottom Right" banner and 25k impressions. The price was $162.50.
Results
Let's skip Google Analytics this time. BSA admin panel comes with a nice interface with all necessary data.

It's a bit tricky because there isn't much to analyze. This campaign generated 21 clicks and 0 conversions. The avg. CTR was 0.08%! I've been in the PPC industry for 4 years but have never ever experienced such low number.
Lessons learned
Buying an ad spot with 680k monthly impressions but paying for only 25k isn't a good idea. 21 clicks aren't enough to analyze the quality of the traffic. I think SEJ is a very relevant site for our tools but the competition of advertising is high and CTRs are low.
I would say these ads are great for brand awareness unless you have hundreds of spare dollars. Readers of relevant sites will recognize the brand and occasionally click on the banner to see what's up with it.
An ad spot on an SEO/digital marketing discussion forum
Once again, many options to be found and most of them are listed in ad networks such as Buysellads. But I planned to advertise directly via on of the platforms.
I had to get in touch with some of them to see their conditions and campaign requirements. Our CEO, Peter, came up with recommendations so I ended up with warriorforum.com. And I liked it for the first few days.
It was great because I could launch the campaign on my own, without exchanging any emails. As this was a test, I purchased 10k impressions for $59.90.
Results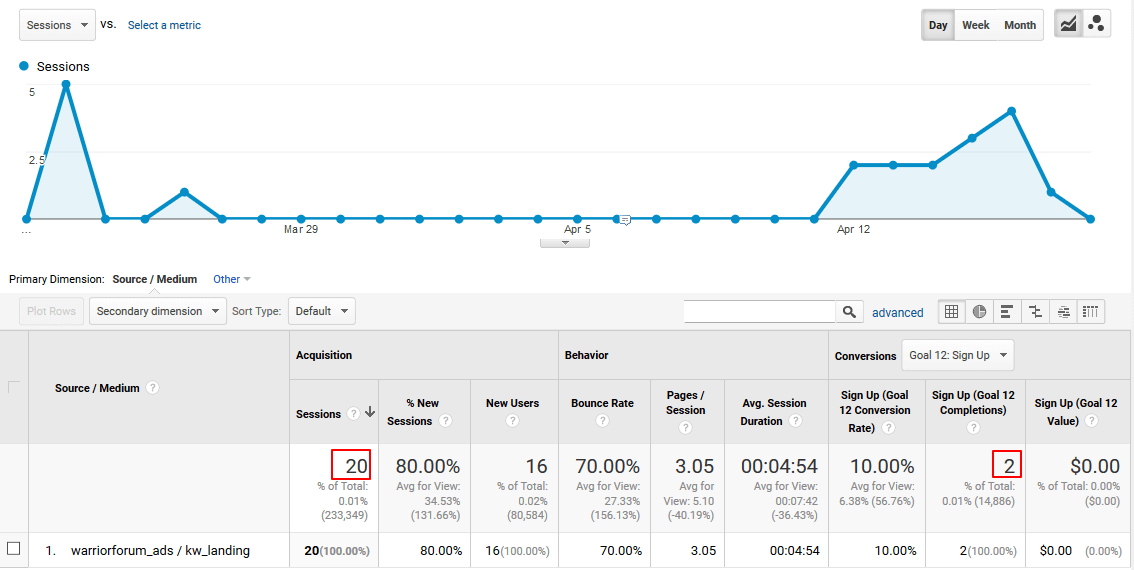 Guess what? There isn't much to analyze. 20 clicks for almost $60 during 28 days. The avg. CTR was 0.2%. Despite the low traffic, the campaign generated 2 new users.
Lessons learned
A decent first impression doesn't mean overall success. I didn't like exchanging emails and budget requirements on blackhatworld.com but maybe it would be better to have a guaranteed exposure.
Or is it because people don't click on banners anymore? Display campaigns shouldn't be a hunt for CTR. Moreover, we all know about banner blindness so this can be the case.
The banners I used:


Conclusion
The banner blindness is a well-known term. Neither I click on these ads. I found out alternative ad networks aren't a way for us. When I compare it to AdWords display ads, it doesn't make sense to spend on BSA or Warrior Forum.
Linkedin and Reddit are more interesting. I think I'll give Reddit another try in the future. Linkedin didn't convince me at first but there's potential.
A product launch campaign is ahead of us as we're finishing our upcoming rank tracking tool, SERPWatcher, so we'll be working with many channels.
To sum it up, alternative display ads didn't work for us when it comes to CTR and conversions. Maybe paying for more impressions would help our branding and overall exposure.
How about you? What experience do you have with alternative ads?